Each Disney Kingdoms series keeps getting better and better!  I'm eagerly anticipating Big Thunder Mountain Railroad as the next mini-series to debut.  The collaboration between Disney and Marvel in comics form has been terrific.  I've liked both Seekers of the Weird and Figment.  It looks like this new series will continue on in this way of great stories and comics.  Here's the information:
Marvel and Disney Kingdoms Take You for a Ride with
BIG THUNDER MOUNTAIN RAILROAD #1!
Newest Disney Kingdoms Comic Book Series to Focus on Disney Theme Park Attraction
New York, NY—October 23rd, 2014— Coming in spring 2015, the world famous, thrill-packed Disney attraction – Big Thunder Mountain Railroad – roars to life as an all-new Marvel and Disney Kingdoms comic book bursting with action, romance, mystery and adventure. The new series, Big Thunder Mountain Railroad, continues the unique collaboration between Marvel Comics, Disney Kingdoms, and Walt Disney Imagineering. This five-issue series, created by rising star writer Dennis Hopeless (Spider-Woman, Avengers Arena), fan-favorite artist Tigh Walker (Avengers Undercover), invite readers all aboard an all-new adventure that reveals the never-before-told saga of how the gold mine in Big Thunder Mountain became the haunted legend it is today!
A mainstay of Disney Parks since 1979, Big Thunder Mountain Railroad has entertained countless guests on this classic attraction in four Disney theme parks around the world. Now, Disney Kingdoms is proud to add 'the wildest ride in the wilderness' with an all-new tale of mystery and adventure set in the wild Frontier!
"Building on the momentum of the sold out Figment series, we are excited to embark upon what may be our wildest adventure yet," says editor and Creative Director Bill Rosemann. "As one of the most famous Disney attractions, Big Thunder Mountain Railroad is packed with a combustible combo of drama, humor, and thrills that will explode across the page and deliver all the action and surprises that the Disney Kingdoms imprint has quickly become known for."
Series writer Dennis Hopeless continues, "Everybody knows Big Thunder Mountain Railroad as a rumbling, tumbling runaway train car attraction through an exploding gold mine. But it's always been more than that. It's a trip back in time to a Gold Rush town where daring men and women risked their lives in the daily battle between man and mountain. And let's be honest, it's the perfect setting for an adventure comic."
Earthquakes! Floods! Dynamite-chewing goats! Can the denizens of Rainbow Ridge survive the clash between mankind's greed and nature's fury? And what is the protective power that dwells deep within the mysterious mountain? Surprises await you in the latest Disney Kingdoms saga coming in spring 2015.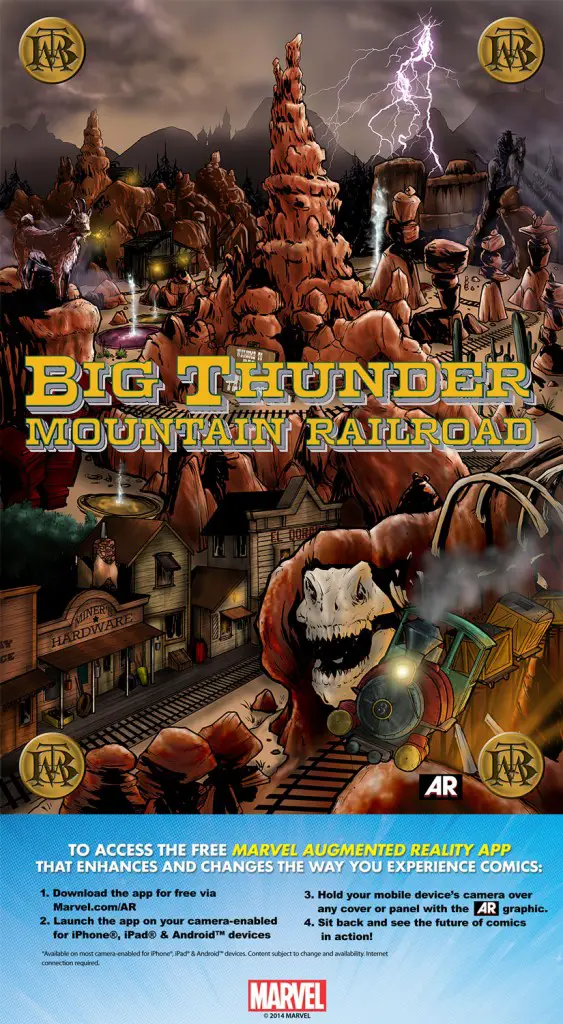 BIG THUNDER MOUNTAIN RAILROAD #1 (OF 5)
Written by DENNIS HOPLESS
Penciled by TIGH WALKER
Elements based on Big Thunder Mountain © Disney
32 PGS./All Ages …$3.99
About Disney Kingdoms:
Created as a collaboration between Marvel Comics and Walt Disney Imagineering's designers, producers and creative directors, the Disney Kingdoms line is home to exciting new comic stories expanding upon already beloved lands, attractions, characters and worlds of Disney Parks and Resorts. Launching in 2014 with Seekers of the Weird, Disney Kingdoms showcases some of the best and brightest Marvel creators as they craft new adventures that can be enjoyed by Disney and Marvel fans of any age.
About Marvel Entertainment:
Marvel Entertainment, LLC, a wholly-owned subsidiary of The Walt Disney Company, is one of the world's most prominent character-based entertainment companies, built on a proven library of more than 8,000 characters featured in a variety of media over seventy years.  Marvel utilizes its character franchises in entertainment, licensing and publishing.  For more information visit marvel.com.  © 2014 MARVEL