With the newest Disney film hitting theaters on November 7,2014, audiences can expect a band new Walt Disney Animation Studio short before the start of Big Hero 6. This new short stars an adorable puppy named Winston!
Winston the Terrier is a dog that connects with his new adopted owner over food. The short, titled Feast, shows Winston receiving a variety of scraps and different types of food. With new types of food, you will see his daily life from his level.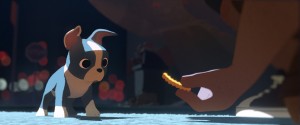 Directed by Patrick Osborne, audiences will fall in love with this character, as well as his journey of trying new food.
Don't miss Feast, right before the start of Big Hero 6 on November 7.
Enjoy!