Princess Sofia takes on a new adventure as she celebrates the holidays in Enchancia. On November 4, Sofia the First: Holiday in Enchancia comes to DVD. This DVD features five episodes: Holiday in Enchancia, Baileywick's Day Off, The Little Witch, The Baker King and Four's A Crowd.
In addition to the DVD, a free light up ornament can be found inside.
Celebrate the holidays with Princess Sofia.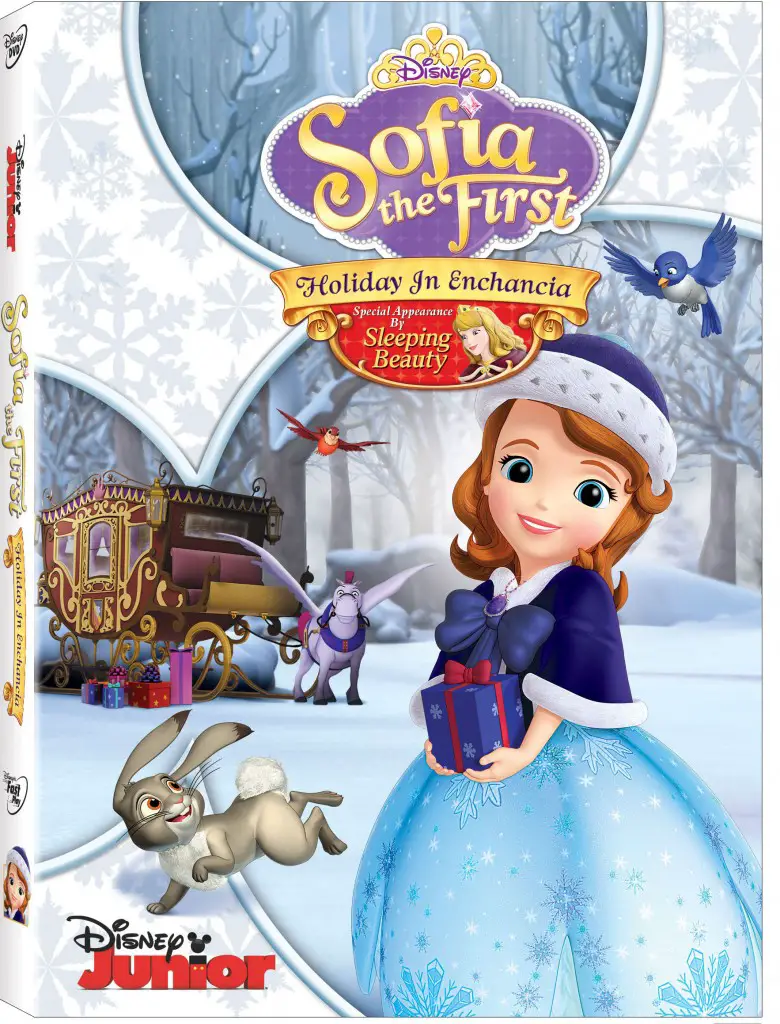 SOFIA THE FIRST: HOLIDAY IN ENCHANCIA

Arrives on Disney DVD Just In Time For The Holidays – November 4, 2014

DVD Contains the adventure + 4 additional episodes and a
FREE Light Up Holiday Ornament packed inside! 

 

Synopsis:                                 When a snowstorm prevents King Roland from returning home in time for the holidays, Sofia leads her family on a brave expedition to find him. Princess Aurora from Disney's "Sleeping Beauty" makes a special appearance to help Sofia and her animal friends reunite the royal family.

Background:                          Created for kids age 2-7 and their parents/caregivers, Disney Junior's Emmy Award-winning "Sofia the First" follows the adventures of Princess Sofia, a young girl who is learning how to adjust to royal life after her mom marries the king. Along the way, she discovers that the inner character of kindness, generosity, loyalty, honesty and grace is what makes a real princess.  "Sofia the First" is the #1 TV series year to date with Girls 2-5 and holds the all-time record for the top two cable TV telecasts for kids 2-5.               

Talent:                                      Ariel Winter (ABC TV's "Modern Family") as Sofia; Sara Ramirez (ABC TVs "Grey's Anatomy") as Queen Miranda; Wayne Brady (TV's "Let's Make A Deal") as Clover; Tim Gunn (TV's "Project Runway") as Baileywick; Eric Stonestreet (ABC TV's "Modern Family") as Minimus; and Kate Higgins ("Naruto") as Princess Aurora.

Executive Producers:      Jamie Mitchell ("Special Agent Oso")

Craig Gerber ("The Pirate Fairy")

 

Director:                                 Jamie Mitchell ("Special Agent Oso")

 

Street Date:                          November 4, 2014 (Direct Prebook: 9/9; Distributor Prebook: 9/23)

Packaging:                              1-Disc DVD + FREE Light Up Holiday Ornament packed inside!

 

Episodes:                                 Holiday in Enchancia, Baileywick's Day Off, The Little Witch, The Baker King, Four's A Crowd

 

Run Time:                               Approx. 118 minutes

Rated:                                       TV-Y (US)

Aspect ratio:                         1.78:1 Widescreen (Enhanced for 16×9 Televisions)

Sound:                                      2.0 Dolby Digital

Languages/Subtitles:      English, French & Spanish

# # #