Why in the World would anyone run over 13 miles for FUN?!
Well…  over 17,000 people continually sign up and participate in a single runDisney Half Marathon and, covering both coasts, there are 7 Half Marathons within the year to get in on. Some amazing athletes participate in ALL of them! Not only that, Disney also offers challenges and specialty medals for completing specific races,  which can also include (but not limited to) the Walt Disney World FULL Marathon at 26.2 miles!
So back to my original question…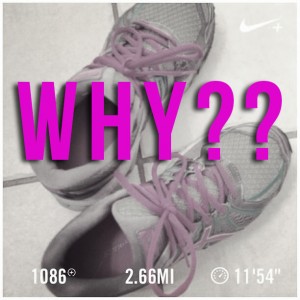 To some it seems like the worst torture imaginable. To others, it means setting an alarm 15 mins before open registration, credit card in hand, and the most intense anxiety until you get that sweet white screen on active.com …  "Congratulations, you are now Registered!".
So what's the draw?
I can only explain it in one word…
Magic.
It happened in 2012 for me.  Up until this time, I was not a runner. I was not an athlete. I wasn't even an "exerciser".  I had absolutely no desire to do anything that would make me sweat. Sweat = Ew.
Most people assumed I worked out because I'm tall and lanky. I also had just hit my goal weight after about a year of dedicated nutrition changes.  But, I hadn't even stepped foot inside a gym nor attempted to do anything that would give the impression of working out. Because of that, I may have looked "in shape" but I would not have been able to run further than a single mile without wheezing and dying for water.
So how did my transformation happen?
I got tricked.
Thats right, I got bamboozled by my own cousin!
It happened about a week prior to my enlightenment.  She called me up and asked for a "favor".  A favor? For family? Sure!
"I need a driving buddy next weekend for a race".  Whoa!  ugh, a race? I knew where this was leading and she sensed my hesitation. She had previously asked me about training for a Half and I literally laughed at her. Um, No.  That's when she brought in the big artillery.
"It's at Disneyland"
Done. Wave the white flag! I can't fight that.
I was a goner.  I was completely and utterly defenseless and she knew she'd hooked me. I was going to the Inaugural Tinker Bell Half Marathon as a "driving buddy".
Fast forwarding to the Expo Weekend… I was surrounded by pink, green, glitter, and Lululemon. I was sooooo intimidated!  I felt like a faker in a sea of running shoe wearing park guests. How did I not know this even existed?? As we started walking around, the mood shifted once we got inside the Exhibit Hall itself.  There were speakers talking about getting started with running, training plans, proper nutrition, and even motivational guests telling how they began their fitness journeys. Not to mention rows and rows and ROWS of merchandise, gear, and goodies to wander through.  I still laugh at this, but I made out like a bandit at Costco with all the fuel/energy samples being handed out! I was set for weeks! It was very inspiring to see the camaraderie and excitement these runners had as they geared up and checked in to get their race packets.
That night at the hotel, my cousin laid out all her running gear and fuel packets.  I heard the words "alarm at 3:30am". I think I literally laughed out loud! I'd NEVER get up that early!
The next morning I heard her get ready and head on out the door while I counted my blessings at being able to sleep in. We had worked out a plan where she would text me at about mile 10 and I'd go meet her at the Finish area.  All too soon the text came and I walked across the parking lot.  I passed the first finishers already wrapped in their space blankets and clinking medals, dodged fairy wings multiple times, and hungrily eyed their post race bananas and bagels. But I wasn't really looking until I stopped at the meeting point and actually paid attention to what I was witnessing.
I wasn't watching "Athletes" cross the finish line.  These runners aren't Olympians.  They're not all naturally gifted sports people. I was watching regular people, just like me, accomplish an incredible goal. And they were HAPPY! These insane running Disney lovers had just gone 13.1 miles (and in fairy wings, tutus, and sparkles no less!) and were still picking up speed to literally leap across the finish line and high-five the Big Cheese himself waiting on the other side.  These were regular people like me, of all shapes and sizes, completing this astonishing distance.  And then I zeroed in on the Medal.  Have I mentioned the finisher's medals?? .. another post.
It was Magic.
I stood there for about 20 minutes in complete awe. Then it happened. I was suddenly thinking the unthinkable.
If they can do this… Why couldn't I?
Dude, I want to high five Mickey at the end of a race!! … that's it … I'm doing it!
The Tinker Bell Half was in January 2012.  By February 1st, I had signed up for a Half Training club, my feet/gait had been checked out so I could purchase the right shoes, and I was anxiously awaiting registration for the 2012 Disneyland Half Marathon.  I completed my training very early and continued my distance work all the way up to the Half in September and it was, indeed, Magical.  My cousin, the avid runner, had to tell me to slow down!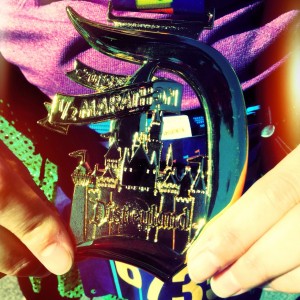 Now don't get me wrong, training is hard! There are days you DO NOT want to get out of bed and days where your legs are yelling at you for adding that extra mile.  But, for me, it was worth it.  Every step. Every blister. Every dollar spent on those bright teal Asics.  Oh and the Lululemon pants I bought soon after…  No one does it like Disney.  These races are some of the most supported runs I've been a part of and as of this post, I have completed 6 Half Marathons and am training for my 7th. Only of them are RunDisney races.
Now, this is not a post to tell you to go sign up for a Half Marathon.  I'm not a Dr. or a Certified Trainer, or anyone that can tell you what your body can and can't handle.  All I can tell you is that runDisney changed my life.  I live healthier, eat healthier, and am able to inspire those around me because of the training and events I have participated in.  RunDisney has not only created a running community of like minded Disneyholics internationally, but they have also used their influence to inspire people to change their lives.  I am one of them. I am proof.
If you would like to experience all these runners crossing the finish line, this next weekend, the Labor Day Holiday hosts the annual Disneyland Half Marathon Weekend.  Go hit up the Expo and listen to some speakers! There will be a 10K on saturday and the Half Marathon on sunday.  It will be busy.  It will be crazy. But in the middle of it all, stop and look at the people proudly wearing that shiny medal "D".  It means more than the 13.1 miles they just finished.  There are weeks and weeks and weeks of hard work and dedication represented around their necks. When you are in the parks, give them a high-five!
What better place to cross a finish line than with 17,000 of your closest friends and Mickey Mouse!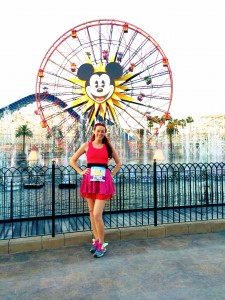 Check out the RunDisney website for more information on Individual races, training plans, and when registration pops up! Even if you are NOT a runner and don't want to be, you can still be involved in race day.  There are multiple opportunities to volunteer along the race course. If you don't want to sign up with Disney itself, come cheer along the race way through the city of Anaheim.  The last few miles are the toughest and having people yell out your name, cheering you on, helps more than you know!
As always, if you would like to register for any of the runs, make sure that you check with your Doctor before you start any training plans.
I will not be attending the upcoming Disneyland Half Marathon Weekend, but I will be running in the upcoming Avengers Half Marathon in November! If you're also running, let me know!
If you have experience with any of the runDisney races that have inspired you or meant a lot to you, or have been special in any way, please share them in the comments!