Shanghai, November 7, 2023 – Just days after Shanghai Disney Resort announced that the world's first Zootopia-themed land will officially open on December 20, the resort today revealed a special Mandarin recording of the hit song "Try Everything," in celebration of the upcoming grand opening of the new land. Performed as a lively duet by leading celebrity singers Ayanga and Esther Yu, the track's brand new musical arrangement, energetic melody and empowering lyrics will have music lovers, guests, and Disney fans brimming with anticipation for the opening of Zootopia.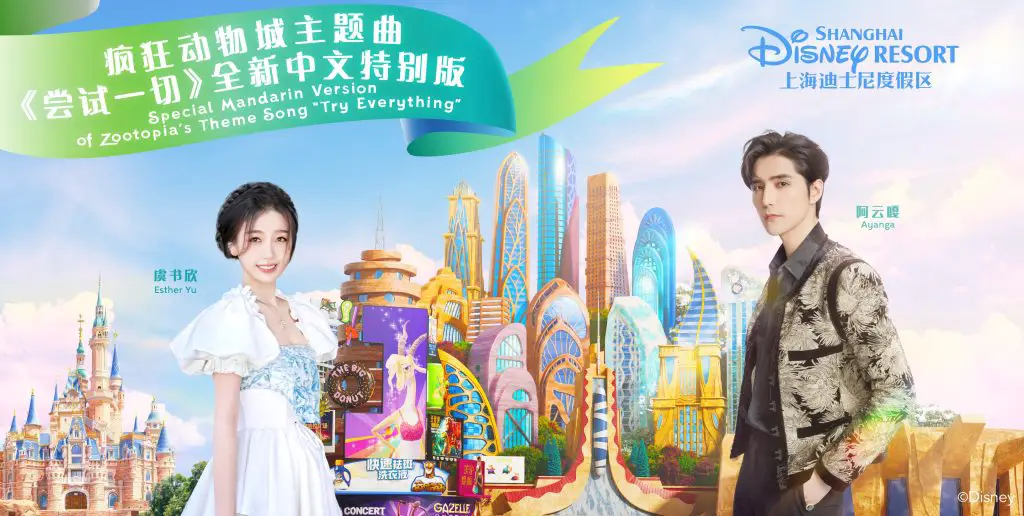 Topping song charts worldwide, the original English version of "Try Everything" performed by Shakira and written by Sia, Tor Hermansen and Mikkel Eriksen from the soundtrack of the Walt Disney Animation Studios' film Zootopia has received numerous accolades since its release. The track's uplifting message inspires listeners to never give up and to break through boundaries, daring them to try everything while staying true to themselves. Layering orchestral symphonies, upbeat contemporary rhythms, and even jazz elements to create a mashup of different instrumentals, the song effortlessly depicts the diversity of the mammalian paradise that is Zootopia.
The special Mandarin rendition offers a fresh perspective, combining the theatrical flair of Ayanga and the sweet and daring style of Esther Yu, who have both captivated audiences across China with their impressive performances. Ayanga's accomplishments in musical theater lend a powerful voice to this vibrant duet, while the trendsetting dynamism of pop star Esther Yu adds a level of energy and passion that transform the track into an earworm designed to spread joy with its positive message. Just like Nick Wilde and Judy Hopps in Zootopia, both artists have an understanding with one another that allows them to pair their vocals together in a captivating harmony.
Starting today, the Mandarin rendition of "Try Everything" is available for streaming and download in China and internationally on major music platforms. Once the land opens on December 20, guests can look forward to hearing the song on a number of special occasions throughout the resort, including welcome moments with Nick and Judy, special events, and some Zootopia-themed performances.
With the special Mandarin version of "Try Everything" out now, it's a musical cue to get ready for the grand opening and the many exciting surprises that await in Zootopia!