The gates to World of Frozen at Hong Kong Disneyland are now open for all to visit. This new land brings the magic of "Frozen" to life and Disney Imagineers didn't miss a beat while designing the details, including the many Easter eggs to be found. From the iconic landmarks right out of the Walt Disney Animation Studios films, to the architecture and landscaping inspiration taken from real-life references in Norway, there are many Easter eggs fans will appreciate.
The first Easter egg you should be on the look out for is Bruni. This adorable fire salamander was first seen in Disney Animation's "Frozen 2" on top of one of the mossy boulders in Arendelle Forest. You can also spot Bruni in two other places, outside Wandering Oaken's Sliding Sleighs and once more in the attraction's queue.
The second Easter egg is an homage to Hans Christian Andersen. Did you know Disney Animation's "Frozen" was inspired by Hans Christian Andersen's fairy tale, "The Snow Queen"? Inside Tick Tock Toys & Collectibles, you will spot a tin soldier and ballerina statue that pay homage to another classic story by Hans Christian Andersen — "The Steadfast Tin Soldier."
Also be on the look out for a Clock Tower and Lighthouse Landmarks. World of Frozen is full of locations inspired by landmarks from the films, including the iconic Clock Tower that Anna and Prince Hans danced on during "Love is an Open Door." The lighthouse just across the way is also seen in the film during the musical number and represents one of many lighthouses that protect Arendelle.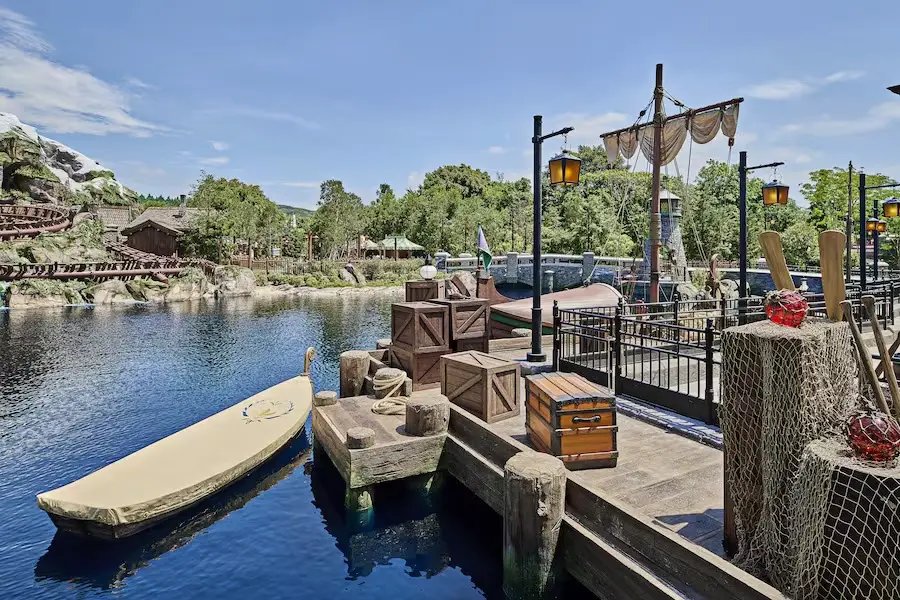 The fourth Easter egg is Anna's boats. In the beautiful Bay of Arendelle, you'll spot a few boats, three of which belong to Anna. "Frozen" fans will recognize the rowboat Anna falls into when meeting Prince Hans for the first time here too!
Another Easter egg is a friendly feline. When you walk through the doors of Golden Crocus Inn, turn around and look to your right and you might see a friendly feline. It's the sweet little kitten from "Olaf's Frozen Adventure"! If you listen long enough, you might hear a little "meow" as he peers at you from above. 
Look closely on the ground as you walk through World of Frozen and you may spot some familiar footprints. Sven and Kristoff seemed to have left some footprints leading through the forest towards Oaken's trading post. Keep a close eye out for them while exploring the land near the Arendelle Forest!
As you continue exploring Arendelle and World of Frozen, look for the Golden Crocus Inn Sketch. Inside the Golden Crocus Inn, you can spot a sketch of a puffin among the animal artwork displayed in the back seating area of the restaurant. This sketch pays homage to the Norway Pavilion at EPCOT, which is home to the first Frozen Ever After attraction. 
Of course you can't forget everyone's characters – Trolls! Take a look around Arendelle Forest and you will see a dozen round rocks covered in moss with swirled-shaped formations. If you listen closely, you may hear some chatter coming from the rocks! Could this be Grand Pabbie and the trolls? For even more troll fun, say hi to Mossie the baby troll, and learn all about Summer Snow Day from her!
So as you explore the World of Frozen and Arendelle, there are lots of hidden details and Easter eggs to be on the look out for. How soon will you visit Hong Kong Disneyland and World of Frozen? What are you most looking forward to? Let us know!