Marvel Studios' The Marvels comes to theaters nationwide this Friday, November 10! In preparation for the film's release, a new slate of merchandise is now available featuring Captain Marvel, Ms. Marvel, Photon, Goose and those absolutely adorable Flerkittens. The selection of apparel, accessories, toys, and much more will satisfy every superhero collector.
Below is just a sampling of the exciting products that celebrate Carol Danvers, Kamala Khan and Monica Rambeau. Check them out and then let us know your favorites in the comments below! Are you excited for the film's release later this week? We sure are!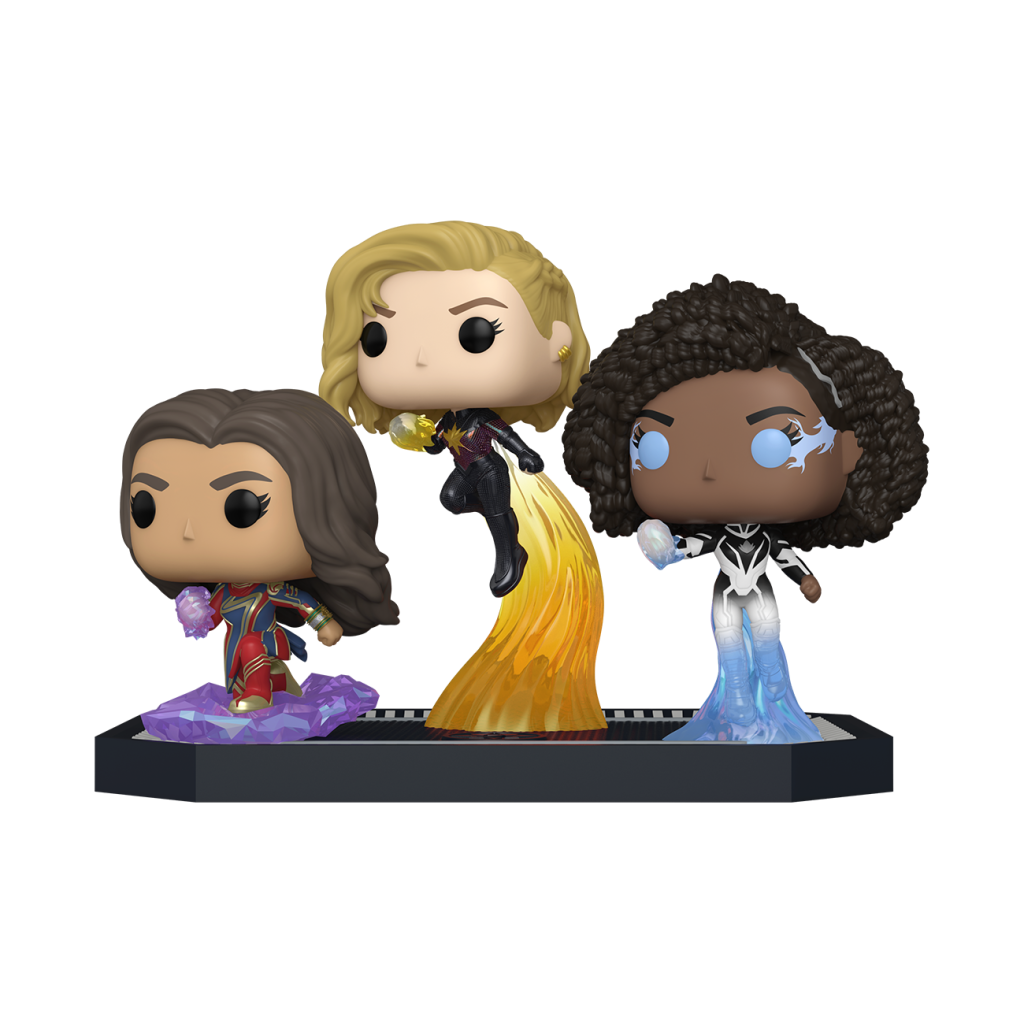 Target Exclusive: Funko POP! Moment: The Marvels – Ms. Marvel/Captain Marvel/Photon Figure Set – $39.99
Blast off on a galactic adventure with the universe's most stellar team! Join Kamala Khan, Carol Danvers and Monica Rambeau on their mission to defeat evil and protect the innocent with this exclusive Pop! Moment, featuring: Pop! Ms. Marvel, Pop! Captain Marvel, and Pop! Photon. Complete your Marvel Studios' The Marvels collection with these exclusive, cosmic Super Heroes!
---
Hasbro: Marvel Legends Series Ms. Marvel Action Figure – $24.99
Kamala Khan has encountered much in her Ms. Marvel adventures, but nothing could prepare her for a cosmic adventure alongside her idol, Captain Marvel! This collectible 6-inch-scale Marvel Legends figure is detailed to look like the Ms. Marvel character from Marvel Studios' The Marvels, featuring premium detail and multiple points of articulation. 
---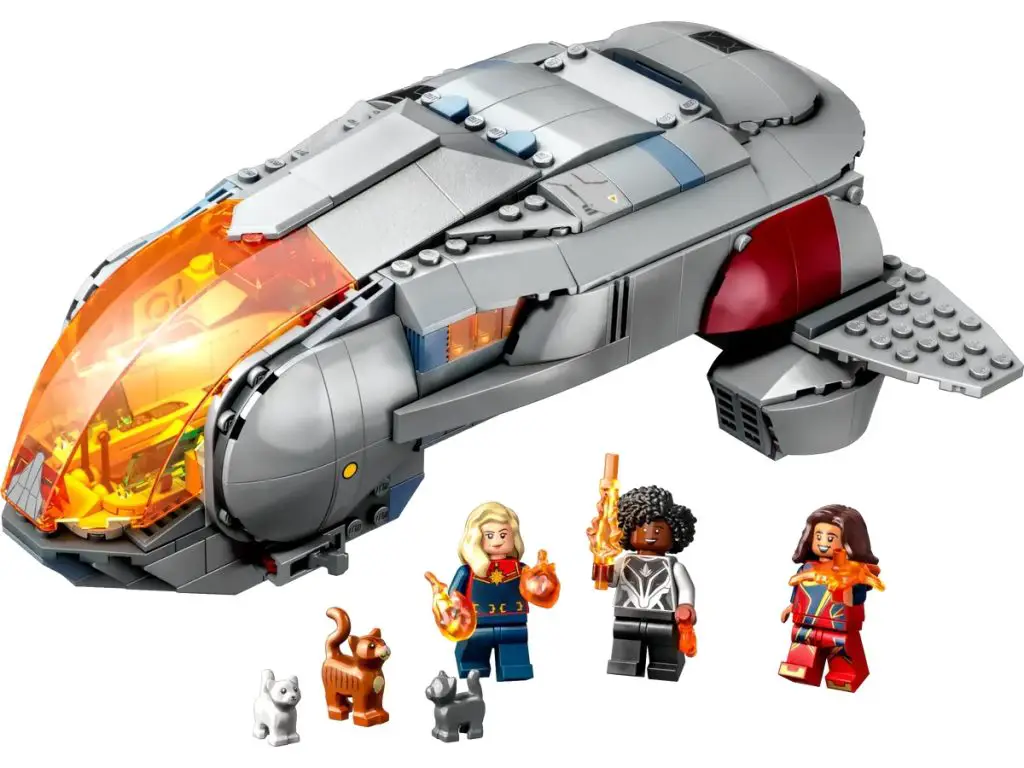 LEGO®: Marvel The Hoopty – $89.99
Put action from Marvel Studios' The Marvels into a young Super Hero's hands with LEGO® Marvel The Hoopty. Kids aged 8 and up join a cast of iconic minifigures from the Marvel Cinematic Universe for intergalactic adventures aboard the movie's supercool spaceship.

Movie-accurate spaceship from Marvel Studios' The Marvels
Take a kid's imagination across the universe aboard the spectacular Hoopty spaceship. As they head from adventure to adventure, kids can use the 2 stud shooters for protection against enemy attack. Opening the cockpit of The Hoopty lets kids access the spaceship's scientific equipment, records and other accessories. There's also room for the 3-minifigure crew: Captain Marvel, Ms. Marvel and Photon – plus Goose the Flerken. For added digital fun, the LEGO Builder app features intuitive zoom and rotate tools that let kids visualize their model as they build.
---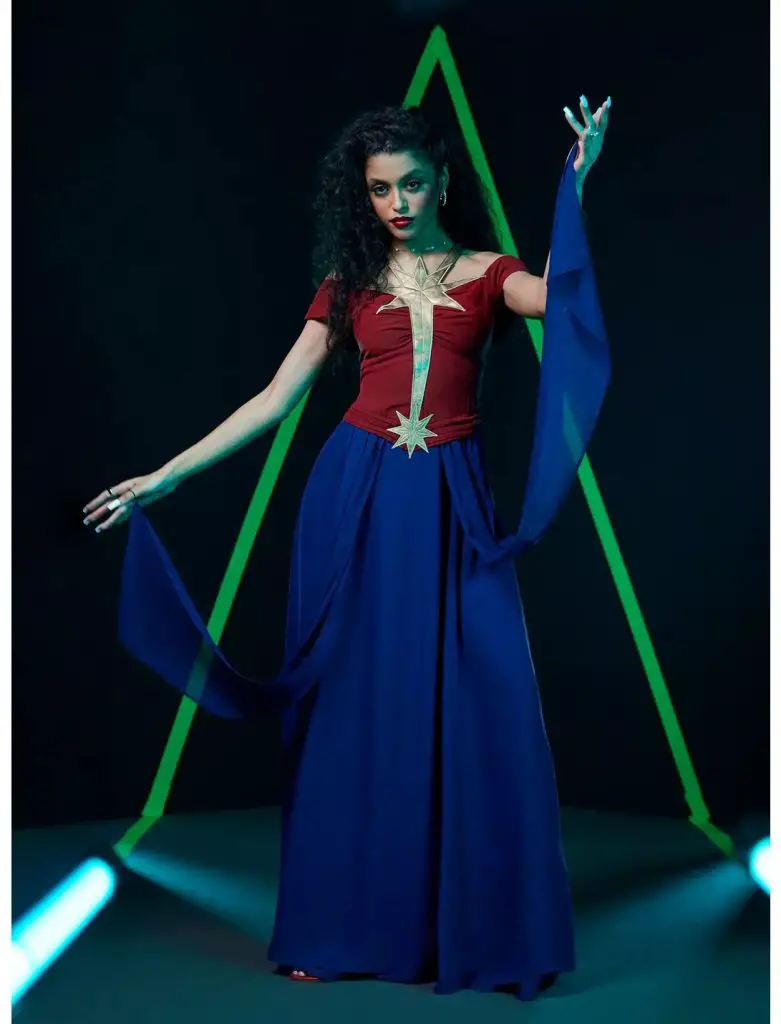 Her Universe: Marvel The Marvels Captain Marvel Maxi Dress – $64.90
Go higher. Further. Faster. And all in a maxi dress! This gown from The Marvels is inspired by Captain Marvel's newest floor length gown from the film. It comes with dramatic cold shoulders and her signature star symbol embroidered from chest to navel. Comes in a halter neckline and additional drapes on the skirt you can connect to your fingers.
---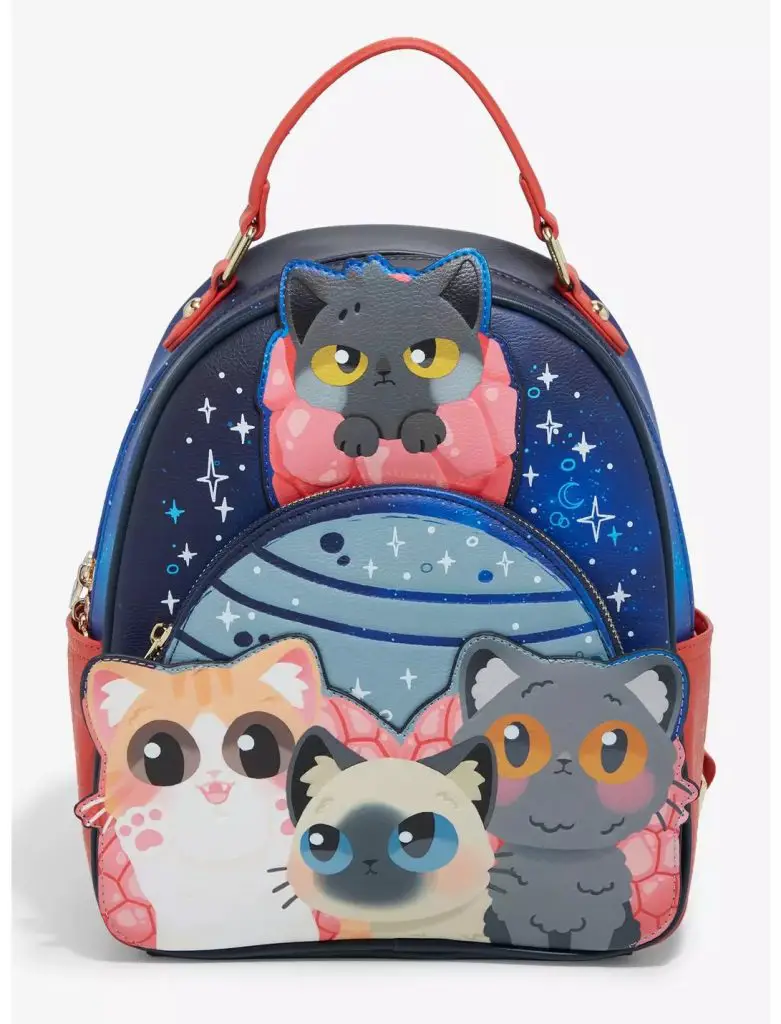 BoxLunch Exclusive: The Marvels Flerken Kittens Glow-in-the-Dark Mini Backpack – $74.90
Your accessory collection will be out of this world when you add this mini backpack inspired by Marvel Studios' The Marvels! Featuring die-cut appliques of Flerken kittens and a planet-shaped pocket on the front, the back of the bag includes a silhouette portrait of Captain Marvel, Ms. Marvel, and Photon. With glow-in-the-dark details and a Captain Marvel logo zipper pull, this backpack is perfect for your next intergalactic adventure.
---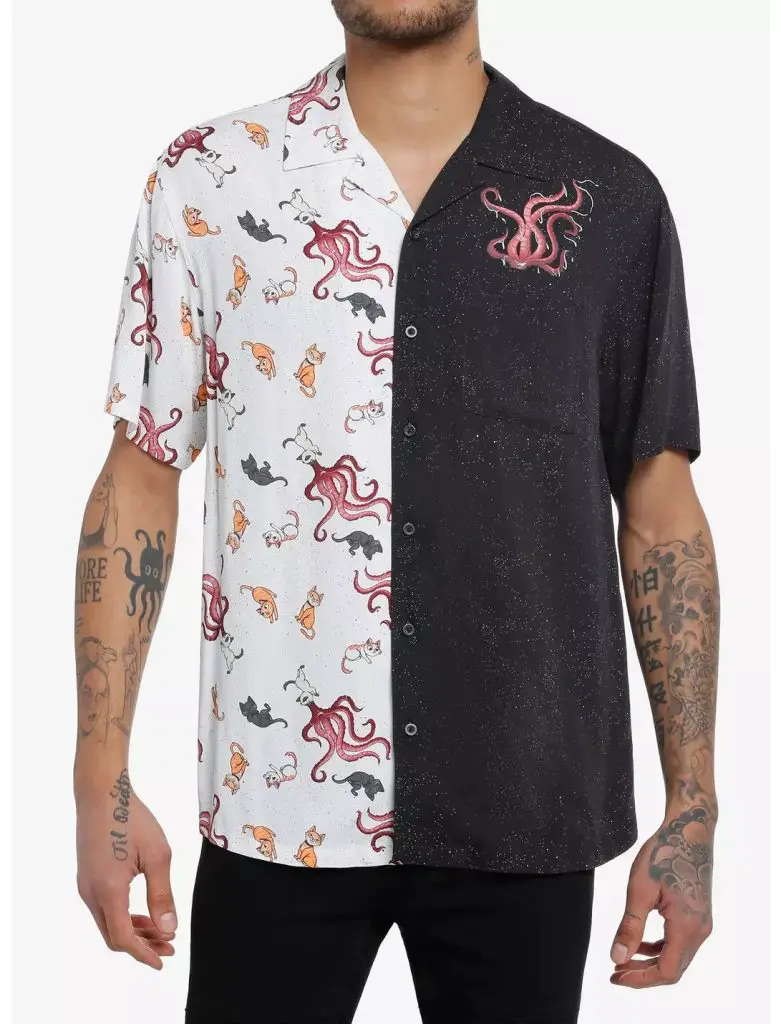 Our Universe: Marvel The Marvels Flerken Split Woven Button-Up – $48.90
Higher, further… Flerken? This cuddly alien creature is landing in your wardrobe! Rep the Flerkittens with this woven button-up, featuring a split design with Flerkens on one half and on the other half, their signature tentacles peeking out above the chest pocket.
---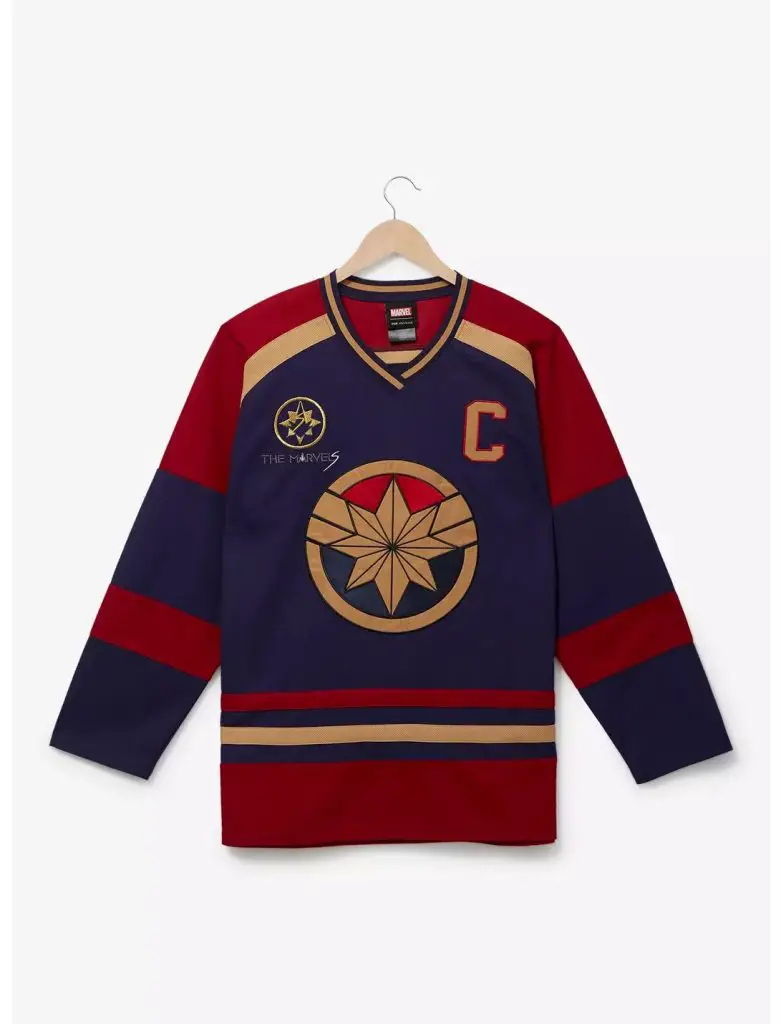 BoxLunch Exclusive: Marvel The Marvels Carol Danvers Hockey Jersey – $59.90
Get ready to go higher, further, faster in this jersey inspired by Marvel Studios' The Marvels! This jersey features embroidery on the front including Captain Marvel and "The Marvels" logos, as well as a C for Captain and, on the back, "Danvers 19" lettering.
---
shopDisney: The Marvels Denim Jacket for Women – $79.99
Three of the stars from Marvel Studios' The Marvels have teamed up on this dramatic black denim jacket inspired by the film. Captain Marvel, Ms. Marvel and Photon are silhouetted on the dynamic screen art on the back, along with the film's title. The front features a trio of symbols embroidered on the chest pocket below the title. 
---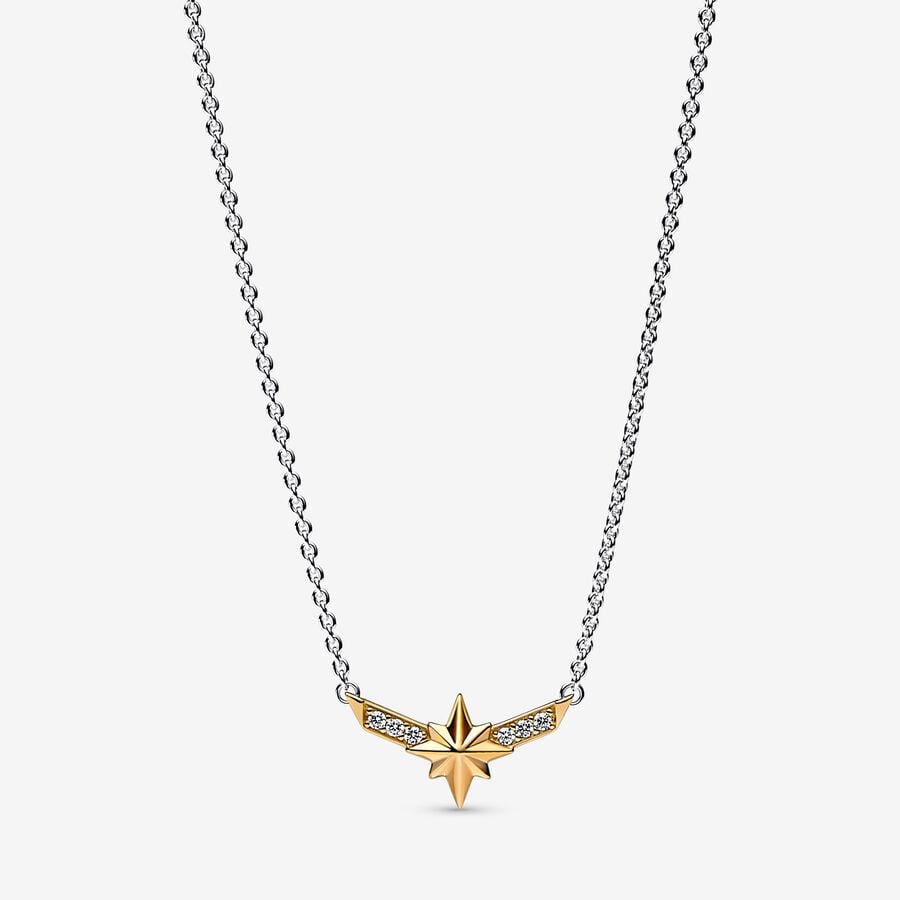 Pandora: Marvel Captain Marvel Octogram Star Two-tone Pendant Necklace – $165
Inspired by Marvel's Captain Marvel, this necklace in a 14k gold-plated unique metal blend features an eight-point star with a row of pavé on its sides and symbolizes strength and daring. It is engraved with the message "HIGHER FURTHER FASTER", which serves as a reminder to always push for your dreams. It features a sterling silver eight-pointed star with sparkle by the closure and is adjustable to two lengths.
---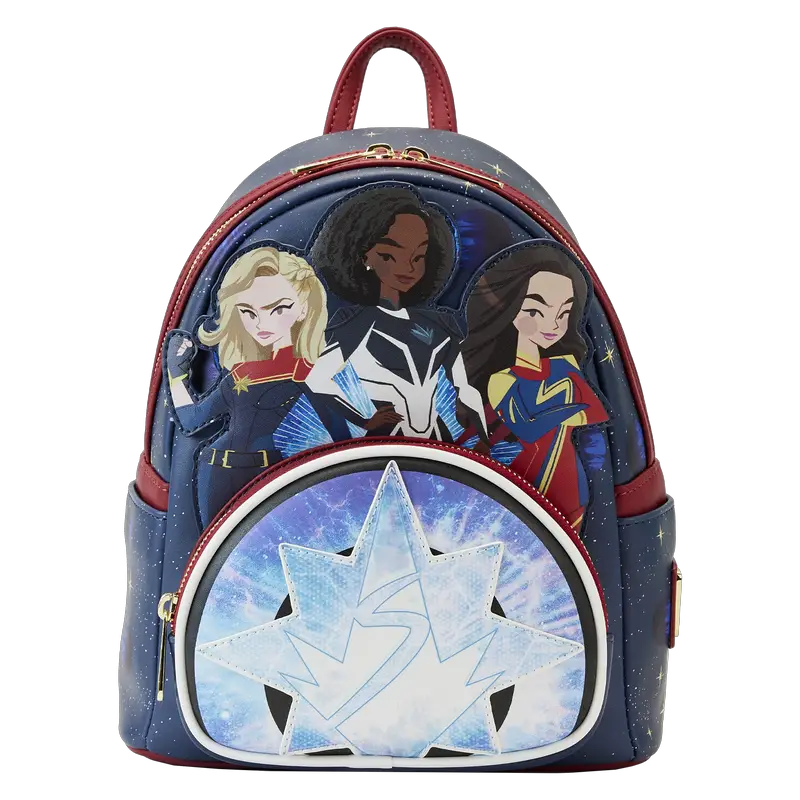 Loungefly: The Marvels Symbol Glow Mini Backpack – $80
Gear up for an adventure of cosmic proportions! The Loungefly Marvel Studios' The Marvels Group Mini Backpack brings together three stellar Super Heroes. On the front, Captain Marvel, Photon, and Ms. Marvel stand together in a Loungefly exclusive art style. Below, a star-shaped symbol takes shape on the front zipper pocket. Turn down the lights to activate the bag's glow-in-the-dark details! On the back, symbols from the three Super Heroes appear in a debossed print. An inspiring addition to any outfit, this mini backpack will keep your belongings safe on any mission.
---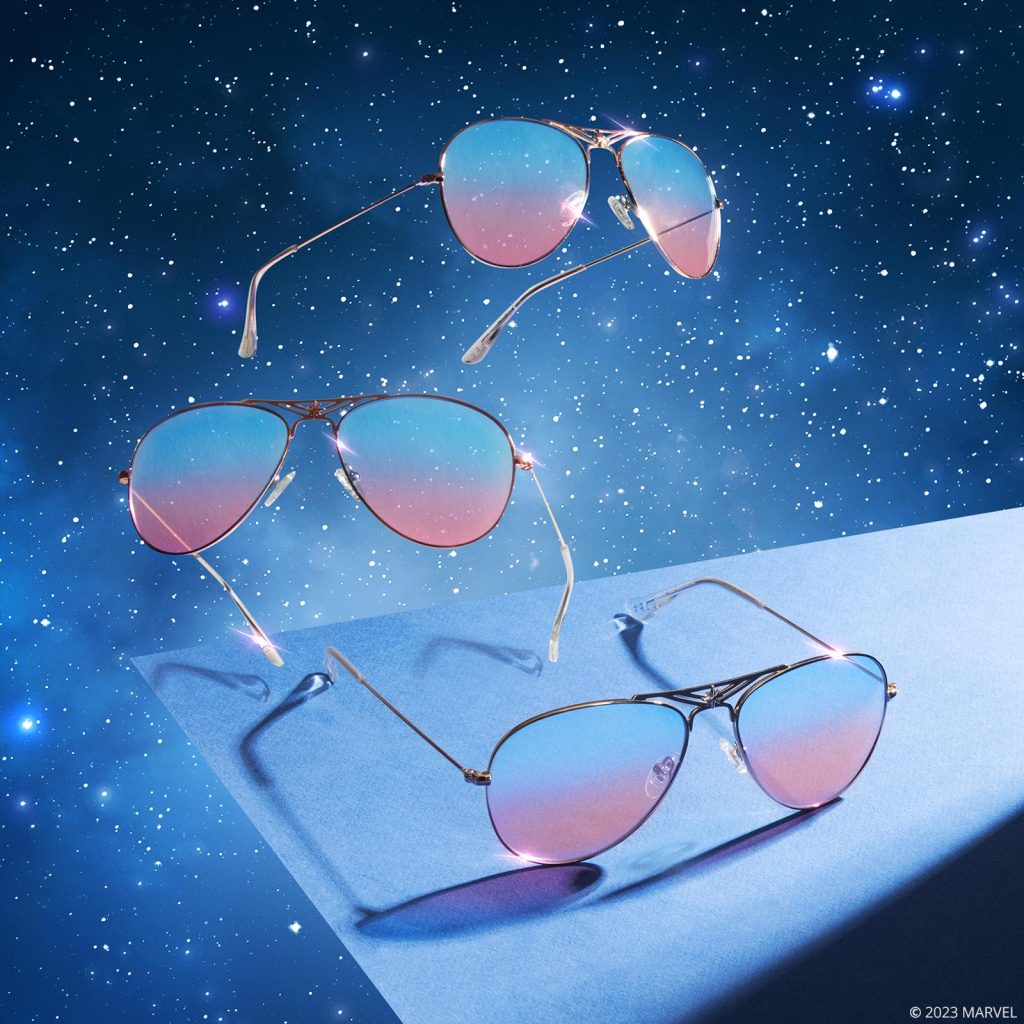 DIFF: Marvel's Captain Marvel Aviators – $115
Classic, retro-modern energy meets modern touches with sleek gold frames and red-to-blue gradient lenses in a nod to the heroic Captain Marvel and her iconic energy. A stunning Captain Marvel emblem on the brow bar completes the look.
---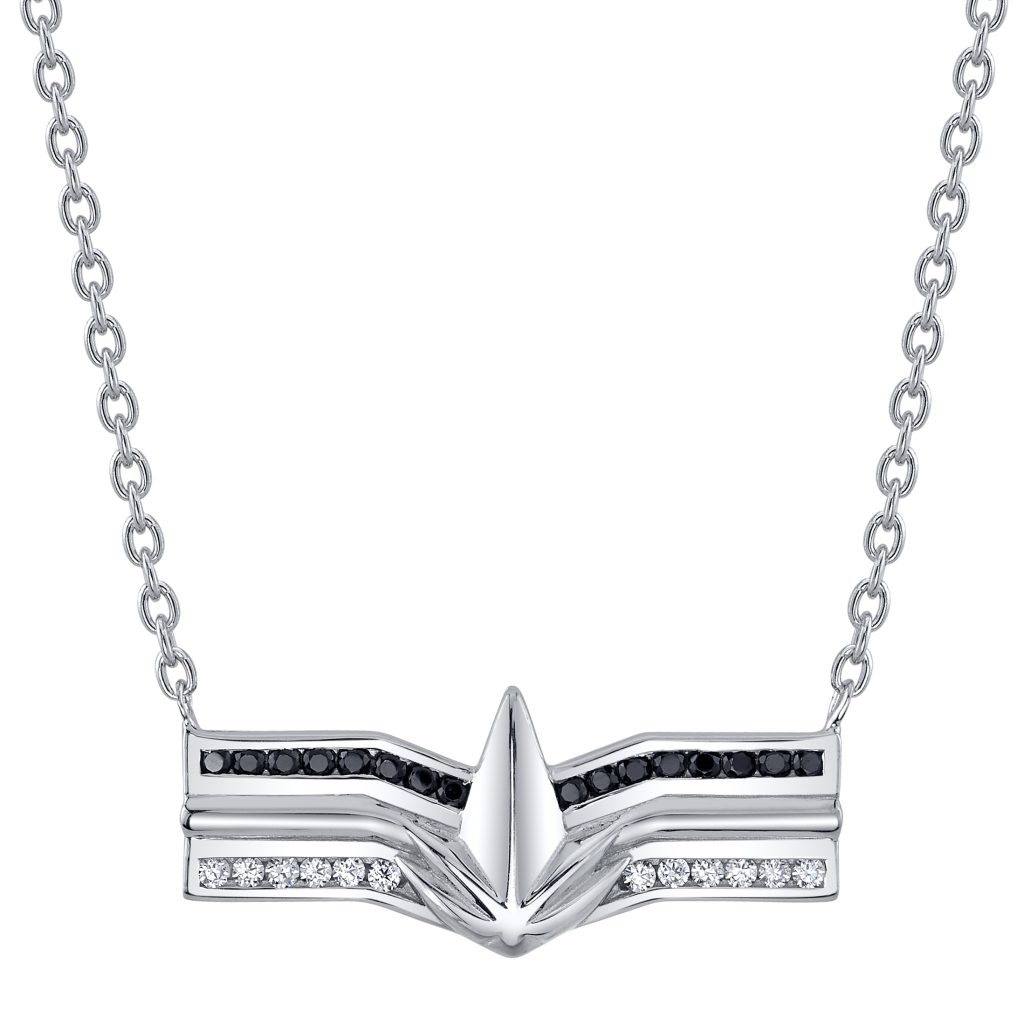 RockLove Jewelry: Marvel Studios The Marvels Crystal Captain Monica Rambeau Necklace – $99
Handcrafted in sterling silver, Captain Monica Rambeau's sculpted energy burst sigil is flanked, top and bottom, with sparkling crystals which create a chevron insignia. Glittering black and white cubic zirconia are channel set to emulate the color blocking of her iconic suit. The petite pendant is suspended between lengths of adjustable sterling silver cable chain with signature tag for an effortlessly stylish homage to the energy-wielding, light-bending Super Hero!
---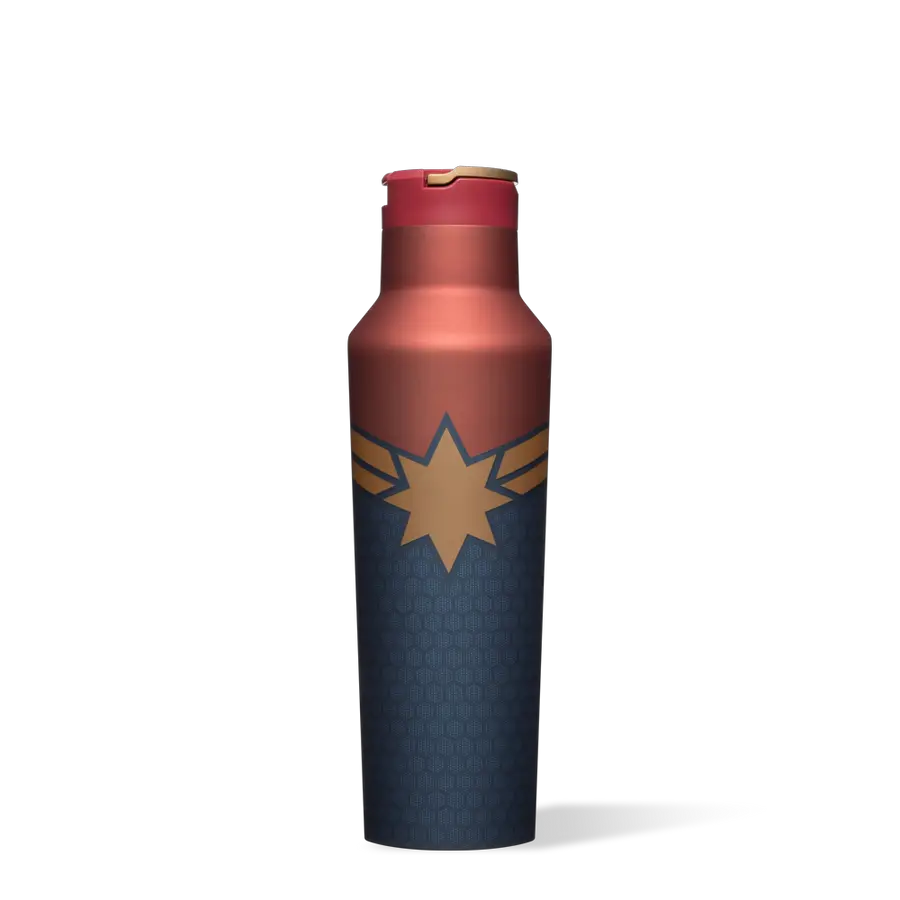 Corkcicle: Marvel Sport Canteen – Captain Marvel – $47.95
Fit for whatever makes you move. The Captain Marvel Sport Canteen features two sport-savvy sizes, a variety of energetic colors and a durable finish that's made to last. Great for the at-home office, tossing in your gym bag or just making sure you're getting enough water throughout the day. Keeps items cold for 25 hours or hot for 12 hours.
---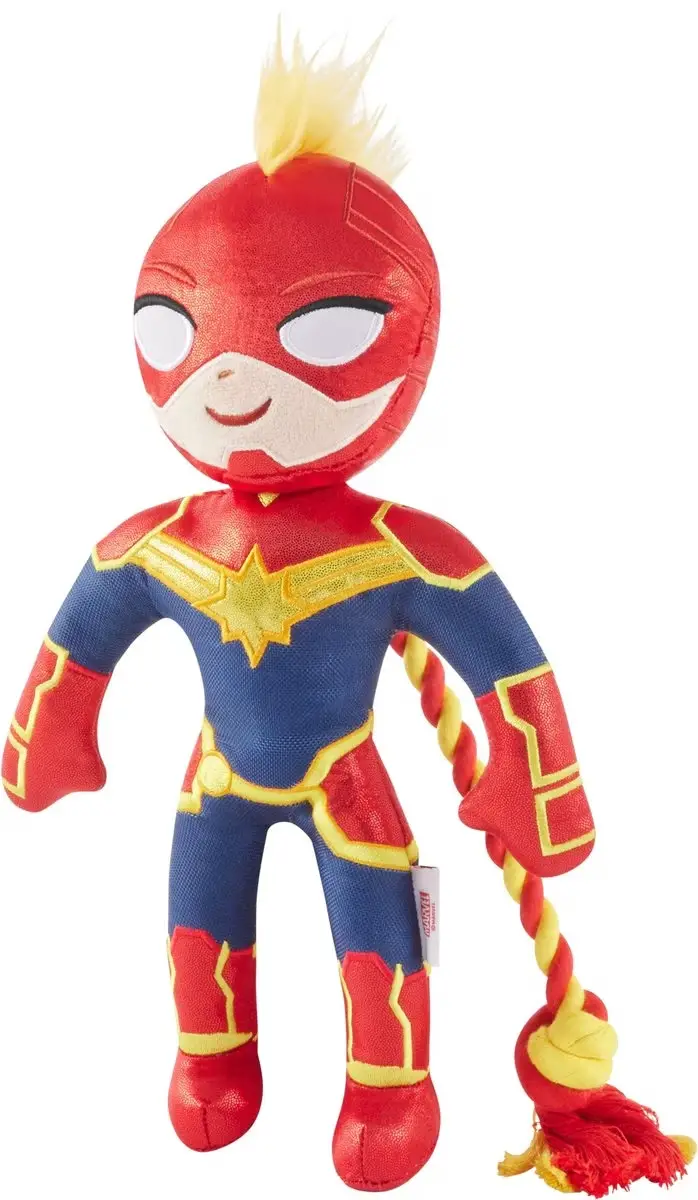 Chewy: Marvel's Captain Marvel Plush with Rope Squeaky Dog Toy – $10.10
The Captain Marvel plush rope dog toy puts a pause on saving the world for some games with your special pal —part of the Marvel collection, available only at Chewy. Velboa plush material is ideal for all the playdates and snuggle sessions with your furry friend. Features two sewn-in squeakers and a connected rope for extra playtime fun. Bring loads of fun to the furry and non-furry Marvel fans in the house.