Shanghai, November 6, 2023 – As the days get colder and the nights draw in, winter magic is beginning to fill the air with the arrival of much-anticipated festivities! This season, there's no better place to feel this enchanting winter spirit than at Shanghai Disney Resort, where the Disney Winter Frostival is set to return from November 10, 2023, to February 24, 2024. As magical and mesmerizing as ever, Shanghai Disney Resort invites guests of all ages to step into a fairytale winter wonderland and celebrate a season filled with special holidays. From Christmas, New Year's Eve, and the Spring Festival, all the way through to Valentine's Day, each festival is packed with exciting entertainment shows, exclusive seasonal gifts, and delicious treats and feasts, bringing guests surprise after surprise to keep hearts warm throughout the long winter!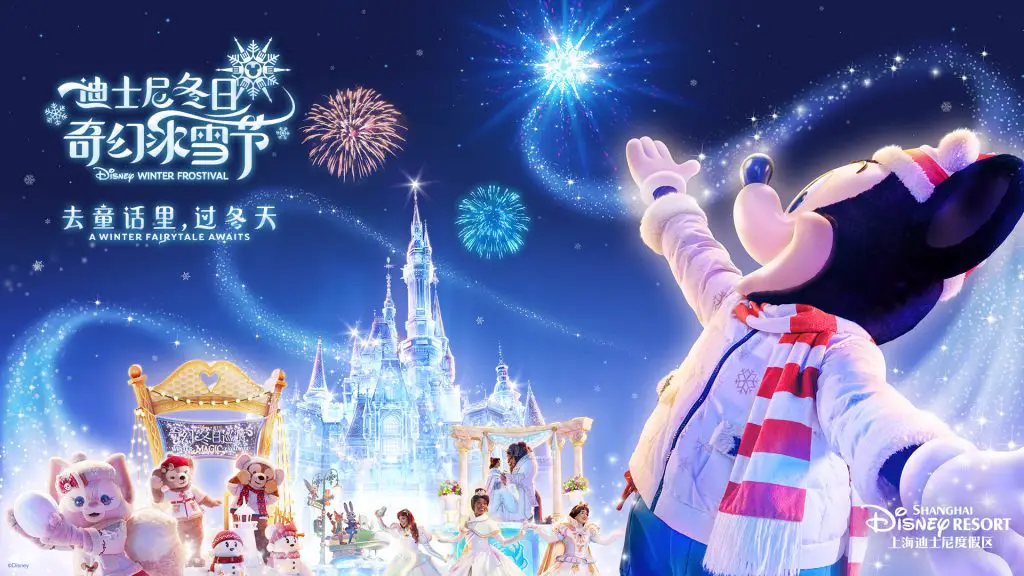 The unmissable Disney Winter Magic Cavalcade returns
Following its spectacular debut last year, the dazzling Disney Winter Magic Cavalcade became an instant sensation among guests, adored for bringing Disney winter stories to life in a whole new way. This year, the magic returns to Shanghai Disney Resort, offering guests another opportunity to experience this unmissable celebration of winter. During the Cavalcade, guests will be immersed in snowy scenes from their favorite Disney stories as extravagant floats and Disney characters dressed in their captivating winter outfits make their way along the parade route. As darkness falls, the cavalcade takes on an extra sprinkling of magic as dazzling lights illuminate the dream-like winter scenescape.

This year, guests can get closer to their beloved Disney characters with hugs and greetings that feel like reuniting with family for the holidays. From November 10 to 22, Disney Royals will be decked in their special winter regalia to greet guests in a way like no other. Fans of the Walt Disney Animation Studios film Frozen will be delighted to know that Elsa and Anna will also be making an exclusive seasonal appearance, giving guests a rare opportunity to meet the graceful Queens of Arendelle. Winnie the Pooh and his friends will also be waiting to show off their new outfits to guests over in the Hundred Acre Wood. Another winter exclusive experience guests can enjoy is the return of the adorable Snowies, who are set to show up everywhere in the park this winter, from the Cavalcade and castle projection, to the park décor and a social wall. The four beloved snow critters have also been given their own names this year, and guests can look forward to seeing the joyful and happy Sparkle, the shy but friendly Drifty, the hilarious and loveable Breezy, and the innocent but curious Glimmer.
Alongside these special experiences, winter magic can be found everywhere you look across the resort, as enchanting winter décor and fan-favorite entertainment shows return once again. Over at the Enchanted Storybook Castle and Gardens of Imagination, dazzling projections and immersive soundscapes transform these scenes into a winter wonderland for guests to enjoy at their leisure. Meanwhile, every evening on Mickey Avenue, guests will feel as though they've been transported into a giant-sized snow globe as delicate snowflakes dance and drift through the air all around them in the much-loved Frozen Snow Celebration.
Celebrate a festive Christmas and New Year in this winter fairytale
Winter is a season of fun festivities, and there's nowhere quite like Shanghai Disney Resort to celebrate the year-end magic with friends and family!
From November 23, 2023 to January 1, 2024, Christmas cheer will be cast across the resort, blanketing everything in a snowy, ethereal state. From giant Christmas trees and the enchanting Mickey's Magical Tree Lighting Ceremony, to festive decorations and holiday-themed shows, there are countless surprises waiting to be unwrapped all the way through to the New Year. At this year's Mickey's Magical Tree Lighting Ceremony, Duffy and LinaBell will join Mickey Mouse and Minnie Mouse under the Christmas tree alongside guests to enjoy the dazzling tree lighting moment for the first time. Guests will also have the opportunity to meet Anna, Elsa and the heartwarming Olaf from Disney Animation's Frozen to celebrate the winter magic in the park together.
The whole cast of Disney characters can't wait for this year's Christmas season, and they're all busy getting ready to put on their holiday outfits to join guests in celebrating the season of joy. This year, Mickey and Friends are making a nod to the fashions of Christmas past with dashing bowler hats, cozy wool plaids, and dandy long coats, all with a dusting of shimmering snow. Never one to miss a chance to get warm and snuggly in the winter, Duffy and Friends have gone full-on plaid with their seasonal outfits. Each sweater, hat, scarf, and fleece features colors and patterns unique to each friend while reflecting a shared theme of family spirit during the winter holidays.
The Christmas spirit continues in Disneytown, where the hugely popular Disneytown Tree Trail returns. This year will see the appearance of new trees at Disneytown, each themed to beloved Disney characters and stories with enhanced storytelling elements and intricate ornaments that make each sparkle in its own unique way. Guests can also immerse themselves in the festivities late into the night and even stop by Santa's cabin where Santa Claus himself will be greeting children and granting wishes every weekend and throughout the holidays.
And when the New Year finally begins, guests will be in for a heartwarming treat and an extra magical way to start the year with an evening of special entertainment, including the legendary New Year's fireworks display at Shanghai Disney Resort to celebrate the arrival of 2024!
Savor warm and comforting new menus
Christmas at Shanghai Disney Resort is truly the season for those with a sweet tooth! At Il Paperino, Red Date Flavored Ice Cream Cones and Sundaes are on the menu, each featuring warm festive colors and topped with a delightful LinaBell in her new Christmas look. Plenty of treats also await guests at CookieAnn Bakery Café – including warm Apple Crepes with Vanilla Ice Cream and beautifully festive Christmas Donuts. Whether it's a delicious dessert or a snug drink, it wouldn't be Christmas without a generous serving of chocolate-inspired treats too. Alongside the chocolate lovers' paradise at the Royal Banquet Hall Christmas Afternoon Tea, special chocolate desserts and hot chocolate drinks have been added to menus all around the resort. Guests eyeing up an indulgent drink will find their taste buds satisfied with delicious hot chocolate served in a limited-edition LinaBell souvenir cup, making the perfect partner to a thick slice of rich chocolate cake or a handy on-the-go winter warmer for the colder months. LinaBell fans can even get their hands on a special LinaBell Holiday Themed Bucket with popcorn to conveniently munch away on while enjoying the magic in the park.

For the cold months ahead, a delightful new selection of winter warmers have been conjured up to make every dining occasion with family or friends a moment to remember, including a new menu at Tangled Tree Tavern and a revamped menu at Pinocchio Village Kitchen featuring new crispy base pizzas and an upgraded Pinocchio's Family Feast. Over at Disneytown, Donald's Dine 'n Delights has also revamped its menu with new winter specialties, including the Crab Feast Set Menu featuring in-season crab meat paired with mellow cheese and crispy fried soft-shell crab creatively served on a pizza.

For the final feast of 2023, or the first unforgettable meal of 2024, guests are invited to Shanghai Disneyland Hotel's Aurora to enjoy an exclusive New Year's Eve Semi-buffet Dinner on December 31, 2023 and January 1, 2024. While savoring the breathtaking views of the New Year's Eve Fireworks from the restaurant's terrace, guests will also experience a taste of magic with signature dishes including the classic Aurora Beef Wellington, a bountiful dessert buffet, and more!
Share the winter magic with new seasonal gifting options
With the holiday gifting season just around the corner, guests will find unlimited inspiration for their wish list at Shanghai Disney Resort. Fresh in for the season is the 2023 Winter Duffy and Friends Snowman Collection, featuring the whole team transformed into fluffy snowmen in their new winter outfits. The collection includes a number of fun items including keychains, accessory, and home décor.
The 2023 Winter Duffy and Friends Collection and the 2023 Winter Mickey and Friends Collection are sure to melt the heart of every guest too, with each collection filled with items to make the home feel extra festive this year. Further details of these two collections, including the launch date, will be announced at a later date through the resort's official channels.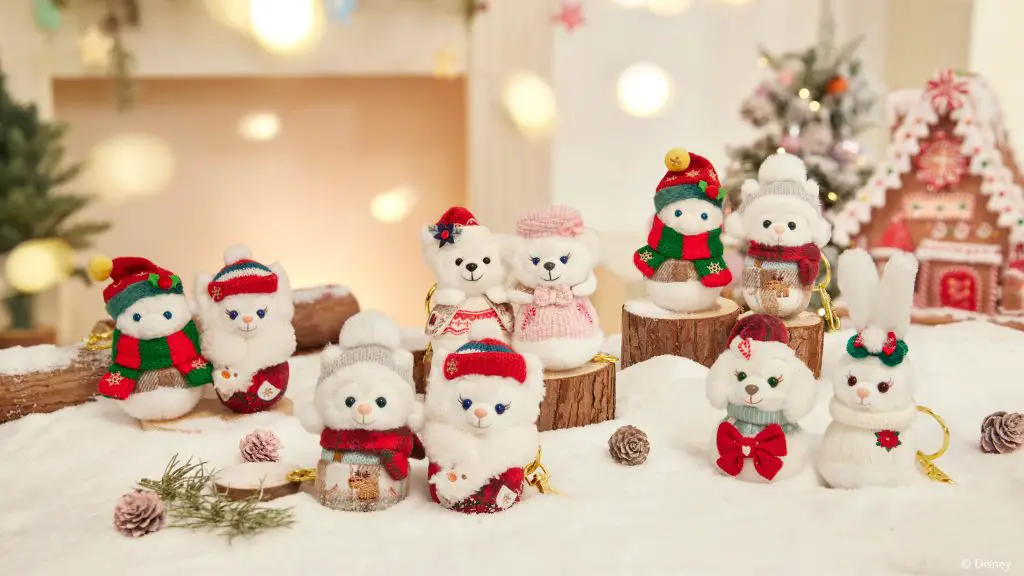 And if that wasn't enough winter cuteness, the 2023 Winter Winnie the Pooh and Friends Collection and the 2023 Winter Stitch Collection will bring extra magic to any celebration or occasion this year. In the collection, guests will find Winnie the Pooh, Tigger, Piglet and Eeyore plushes dressed in new winter apparel, as well as a Stitch plush wearing cute ear muffs, each guaranteed to make great holiday gifts for friends or family.
Embrace the winter warmth with staycations and special offers
With so much to see and experience at Shanghai Disney Resort this season, guests have more reasons than ever to enjoy overnight stays at Shanghai Disneyland Hotel and Toy Story Hotel, both of which are filled to the brim with a festive atmosphere and holiday decorations.
For guests who want to fully experience both the day and nighttime editions of the Disney Winter Frostival, Shanghai Disney Resort is launching a new Disney Dream Vacation – Winter Frostival Package available for purchase from November 4, 2023 through February 20, 2024. The package includes a one-night stay at one of the two resort hotels, plus a breakfast buffet and dinner buffet for two adults, two one-day dated park tickets, one Park Dining Voucher Set of Three A, Disney Premium Access Family Set of 3 for two adults, and Disney Premium Access of the first performance of "Disney Winter Magic Cavalcade" for two.
Multiple Frostival Dream Day Packages will also make a wonderful choice for guests to enjoy a premiere winter experience that suits their own plans and schedules for the holidays. Guests will be able to purchase these packages from November 6, 2023 through February 23, 2024.
In this season filled with enchanting festivities, Shanghai Disney Resort provides a fairytale setting for friends and families to embrace the joy of winter, celebrate the end of the year, and welcome in new beginnings for 2024!