Sunday, October 15, 2023, marked the eve of the Walt Disney Company's 100th Anniversary. To commemorate this auspicious date, a Royal Anniversary Ball was held by D23, the official Disney fan club. The magical affair was presented on the historic Disney Studio lot. While a movie studio may not seem the most fitting location for an elegant evening, Disney does know a thing or two about making fantasies and dreams come true
Invitations stated that the ball would be held from 6:00 to 9:00pm, so naturally, guests began arriving shortly after 4:00. Disney was prepared, with a smooth registration and a waiting area for the inevitable queue.  While making their way in, members of the public were able to catch some rare behind-the-scenes glimpses of a working studio. (Disney had also thoughtfully made arrangements for early arrivals to shop in the Disney Studio Store, and participate in a late afternoon book signing.)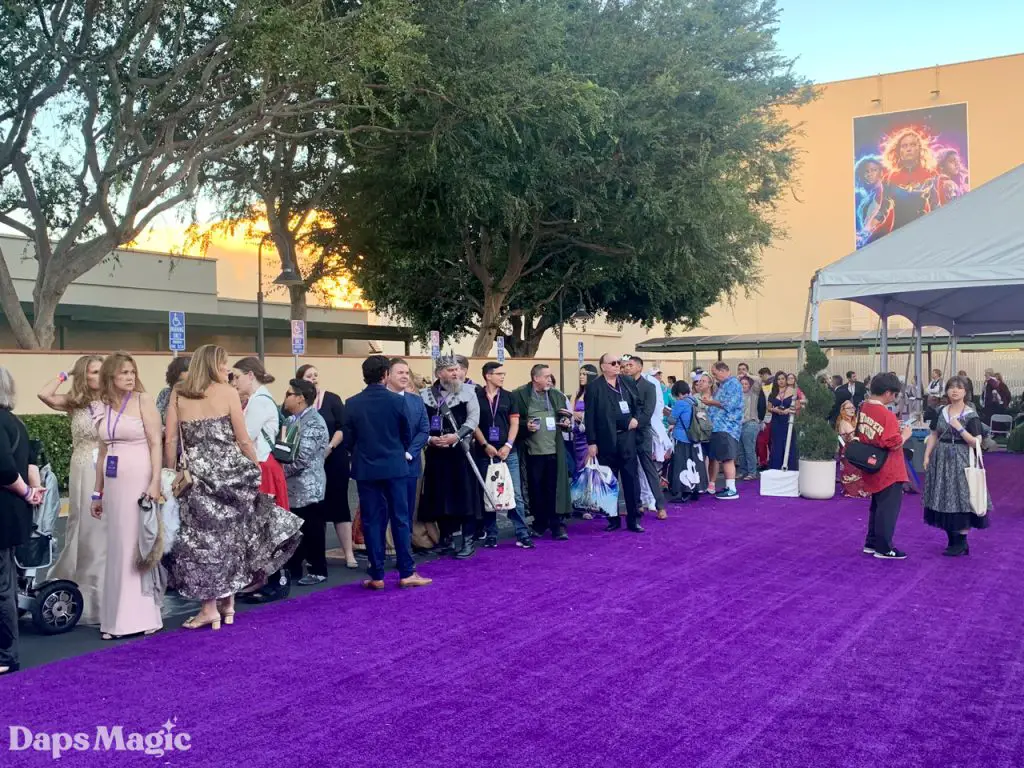 Although schedules and programs were not offered, there was a large map with directions posted. Town Criers and amplified announcements directed guests to the evening's scheduled activities. At 6:00 sharp, the Ball was opened with a royal fanfare, and a procession of (mostly) elegantly clad guests. Festive blue champagne was offered for spontaneous toasting.
As one would expect for a public event in 2023, photo opportunities abounded. Disney characters, iconic locations, and a few surprises were available all through the evening.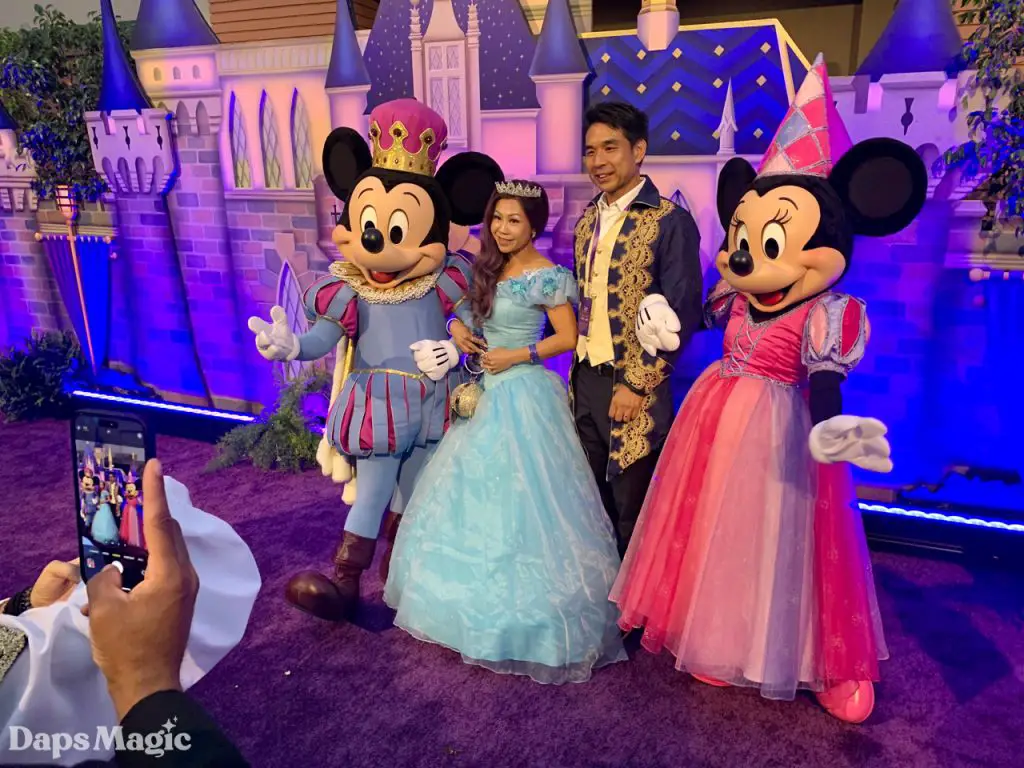 One participatory activity was a large storybook that functioned as a guest book. As photos were taken, guests were encouraged to make their wish for Disney's next 100 years, as they added their signature to the page.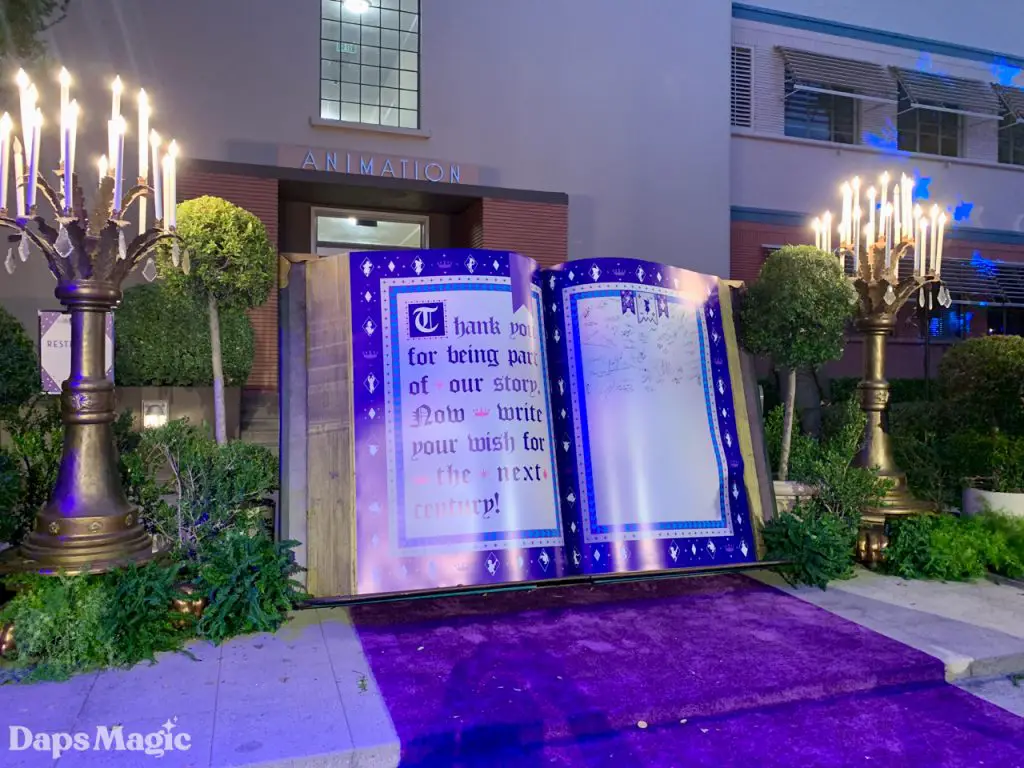 But, of course, this was a Royal Ball, and so it was that the Disney Legends Plaza had been magically transformed into a ballroom, complete with checkered dance floor, a string quartet, and crystal chandeliers. Before the signature Royal Toast to kick off the evening, the musicians played familiar tunes, a few guests tried out the dance floor, and a spirited trio of couples performed an elegantly choreographed number.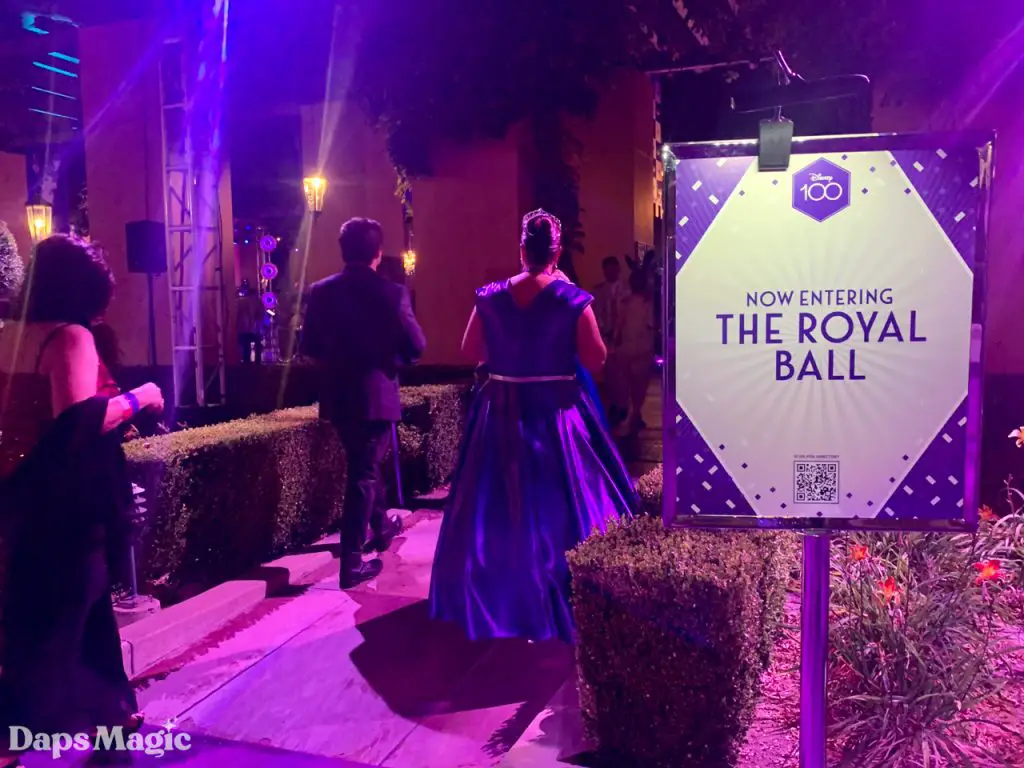 The royal Toast was presented by Michael Vargo, the head of D23. He first welcomed all to this D23 Celebration of the Century, the Royal Anniversary Ball, celebrating 100 years of Disney magic. In his remarks he quoted Walt Disney: "Fantasy, if it's really convincing, can't become dated, for the simple reason that it represents a flight into a dimension that lies beyond the reach of time." Vargo went on to add, "And that's what tonight is all about…"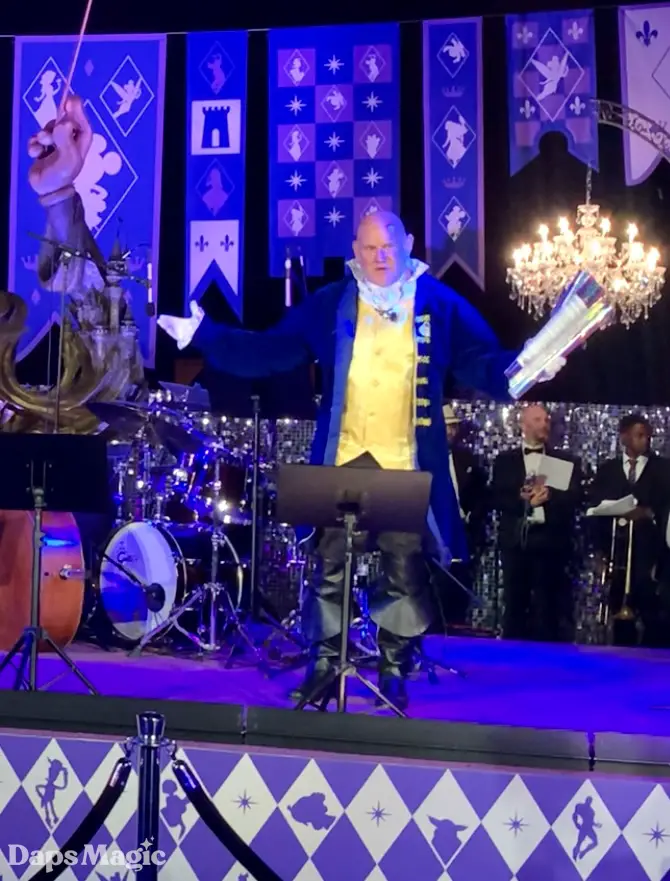 Vargo then called on Mickey and Minnie to help bring in some "very special guests, who have made incredible contributions to Disney's past, present and future." Disney Legends all, the group consisted of:
Wing Chao, Mastermind of Disney Imagineering around the world;
Bill Farmer, the voice of Goofy'
Bob Gurr. Walt Disney Imagineering ("A man on the move");
Don Hahn, producer (Beauty and the Beast, The Lion King, Hunchback of Notre Dame, DisneyNature and others);
David Stollery, Marty of Spin and Marty;
Mark Henn: animator (Aladdin, Pocahontas, Big Hero 6, Moana and others);
Bret Iwan: voice of Mickey Mouse; and
Kaitlyn Robrock: voice of Minnie Mouse.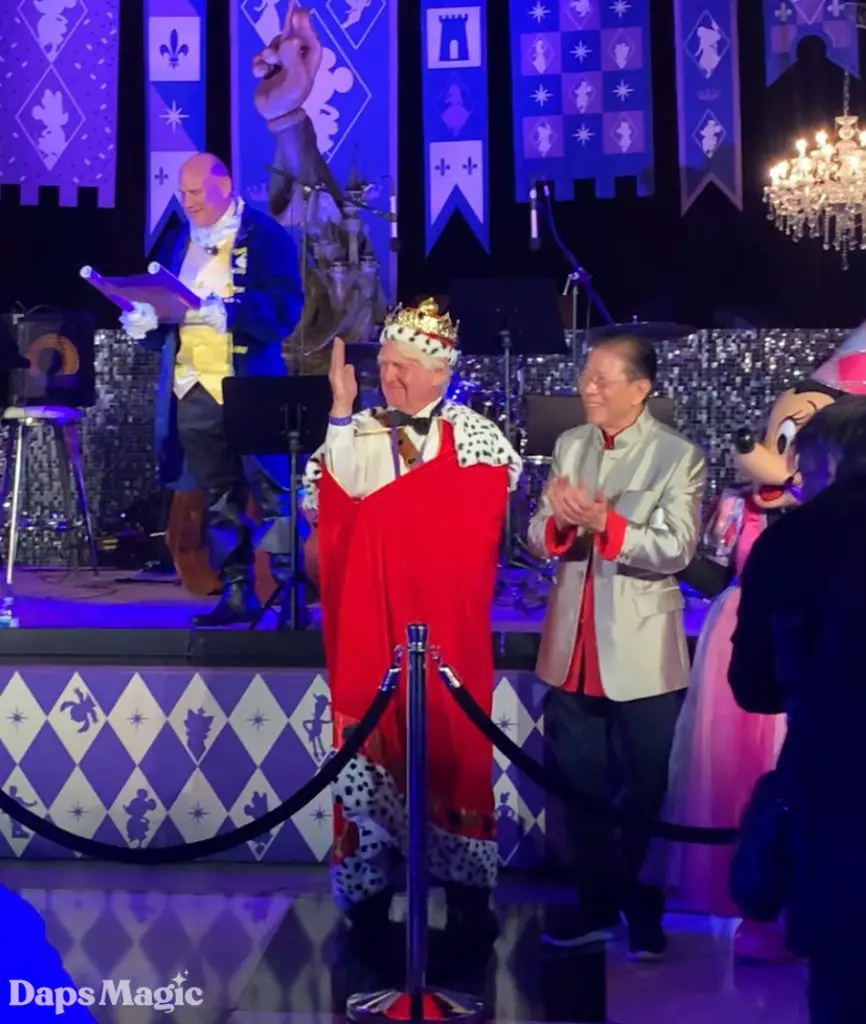 "A toast to all our Legends, all of you, and all our Disney fans around the world." After raising their (imaginary) glasses, the Legends made their way back into the crowd. But Bret Iwan had one other happy task to perform. Making his way up onto the stage, he announced that he wished to share the official Mickey Mouse 95th birthday portrait he had created for the Walt Disney Company. But the original was in London, part of the touring 100th anniversary exhibit. In lieu of that, Iwan and Vargo announced that every guest would receive their own print of the image as a parting gift.
With the Royal Toast concluded, it was time to explore the rest of the Royal Anniversary Ball. As a swing band took over the stage, guests began seeking out other venues, not the least the many food and drink options that had been arrayed around the studio's historic Animation Building.
Food stations had been themed by the decades. Working backward, they were:
2010s – The Incredibles Nom Nom Cookies;
2000s – The Princess and the Frog Tiana's Beignets;
1990s – Beauty and the Beast "The Grey Stuff;"
1980s – TRON Light Cycle Sliders (with fried chicken or crispy cauliflower);
1970s – Freaky Friday Mini Quiche Swap;
1960s – Mary Poppins Practically Perfect Tea Sandwiches;
1950s – The Lady and the Tramp Tony's Meatball Speciale;
1940s – The Three Caballeros Three Cheese Empanadas;
1930s – Snow White and the Seven Dwarfs Waldorf Salad with Enchanted Apple Bites (with or without chicken);
1920s – Walt's Hometown Dusty Miller Sundaes from Marceline, Missouri.
In addition, bars and a hot beverage stations were strategically set up, with several areas designated as "lounges" with conveniently placed tables and chairs.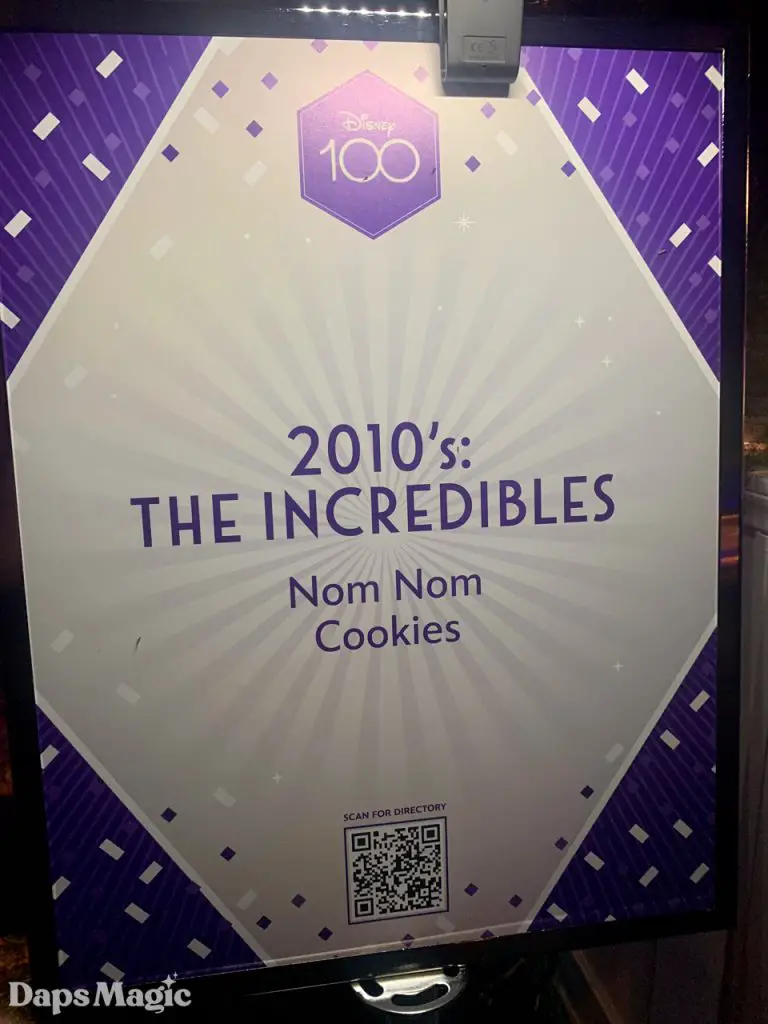 Now toasted and fed, guests who were not quite up to dancing could attend a screening of the 100th Anniversary Celebration short film "Once Upon a Studio." Scheduled screenings were held at the iconic Disney Studio Theater. Before each screening producers Dan Abraham and Trent Correy shared background and stories about creating the film.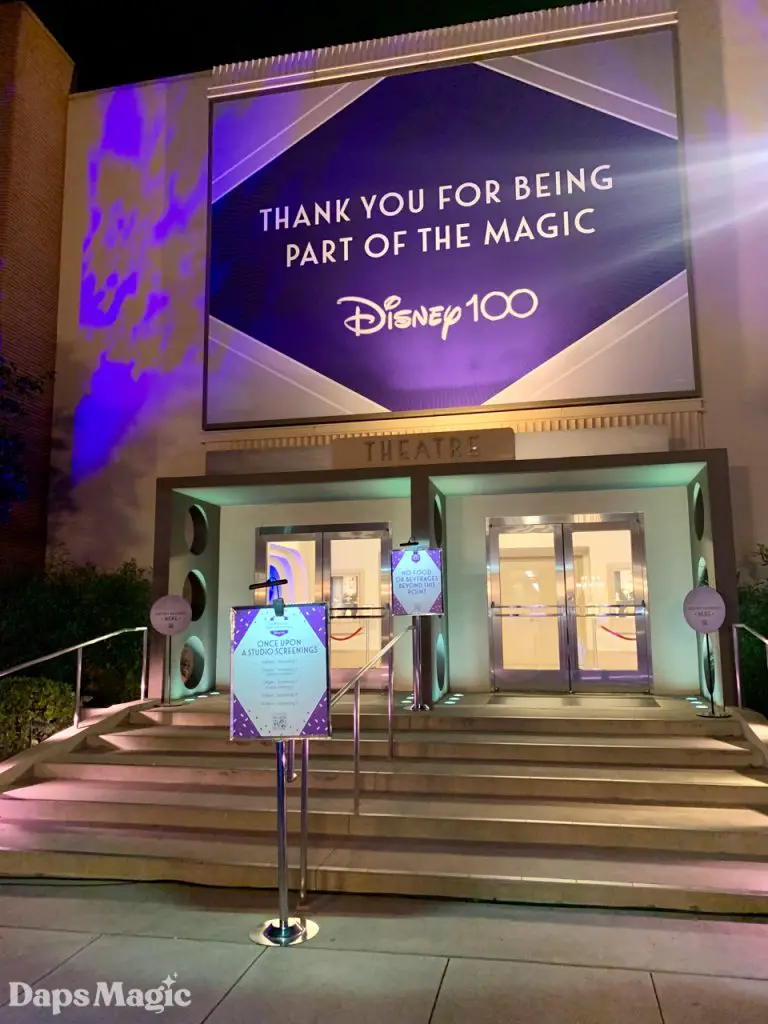 Spotted outside the theater: Josh D'Amaro, Chairman of Disney Parks, Experiences and Products.
Another popular location was the Disney Archives, located in the Frank Wells Building, just across the newly christened (for one night only) Platinum Lounge. Inside, the Archives Lobby promised a Royal Runway, and did not disappoint. A plethora of regal gowns and robes were on display, along with a couple of thrones and some royal regalia.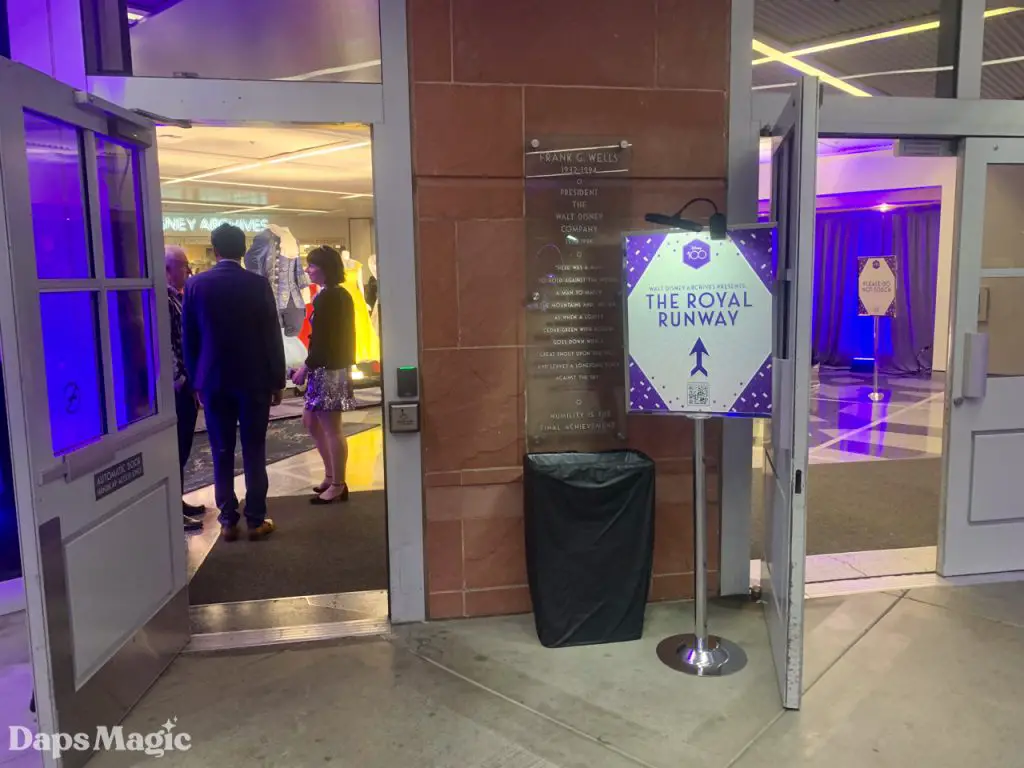 On permanent display in the Archives are an early animation camera and one of the studio's multi-planes. Not on permanent display, but providing vocal support for the evening, were Bill Rogers and Camille Dixon, the voice of Disneyland and Disney California Adventure, respectively.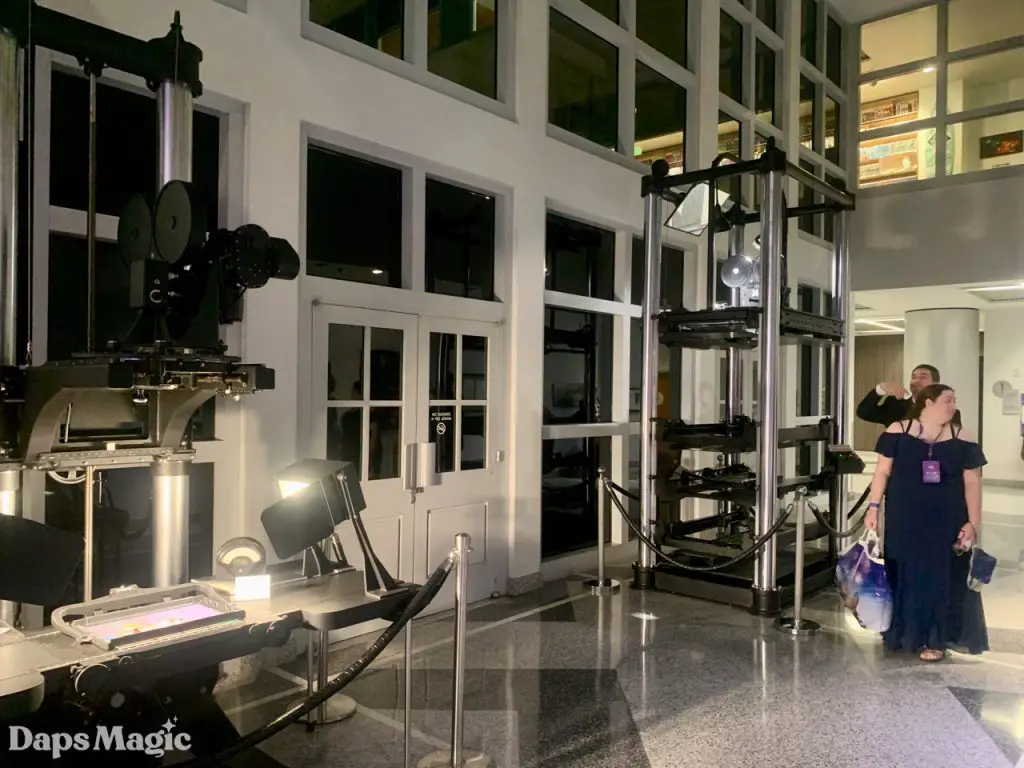 The Archives also opened their doors for the event, offering gusts an opportunity to tour their reading room. Among the items on display are Walt Disney's original Hyperion Studio desk and a portion of the vast library of books by, for, and about the Disney Company and its history.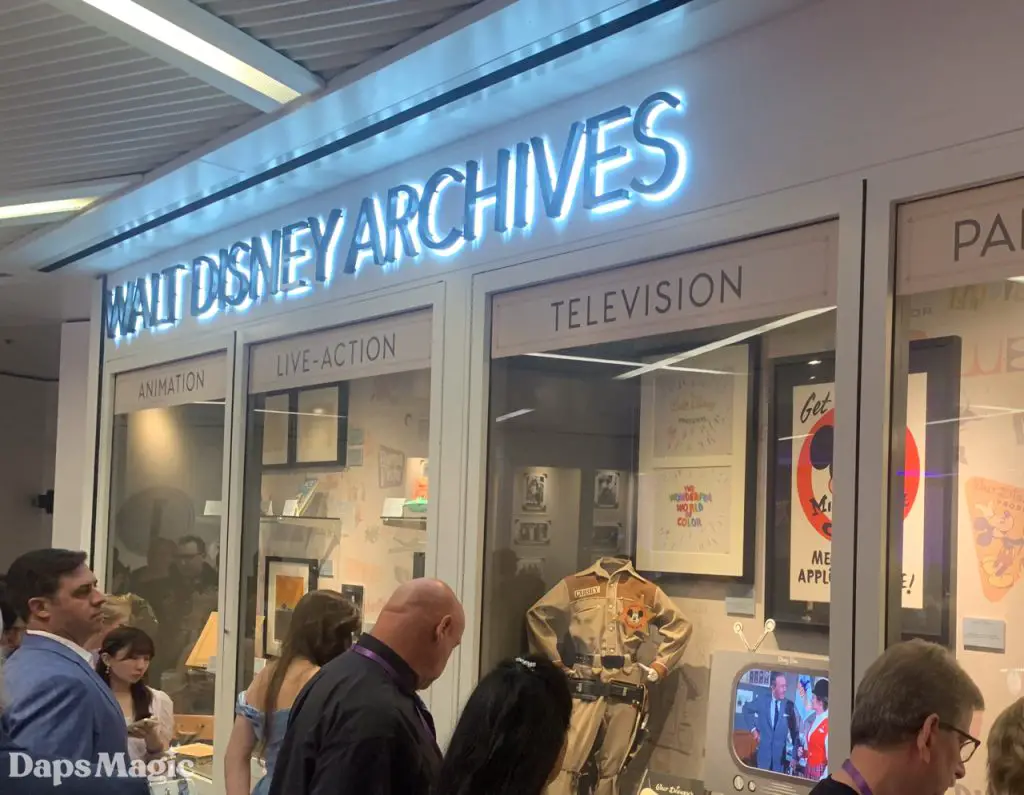 All too soon, heralding trumpets announced that the "witching hour" had arrived: 9:00pm. After a late night greeting from Rebecca Cline, director of the Disney Archives, there was one last stop we had to make on our way out. Although only the ground floor of the historic Animation Building was open, guests could gaze up at the corner windows where Walt's third floor office was located. It was not hard to find, as it was the only one marked with its own starburst.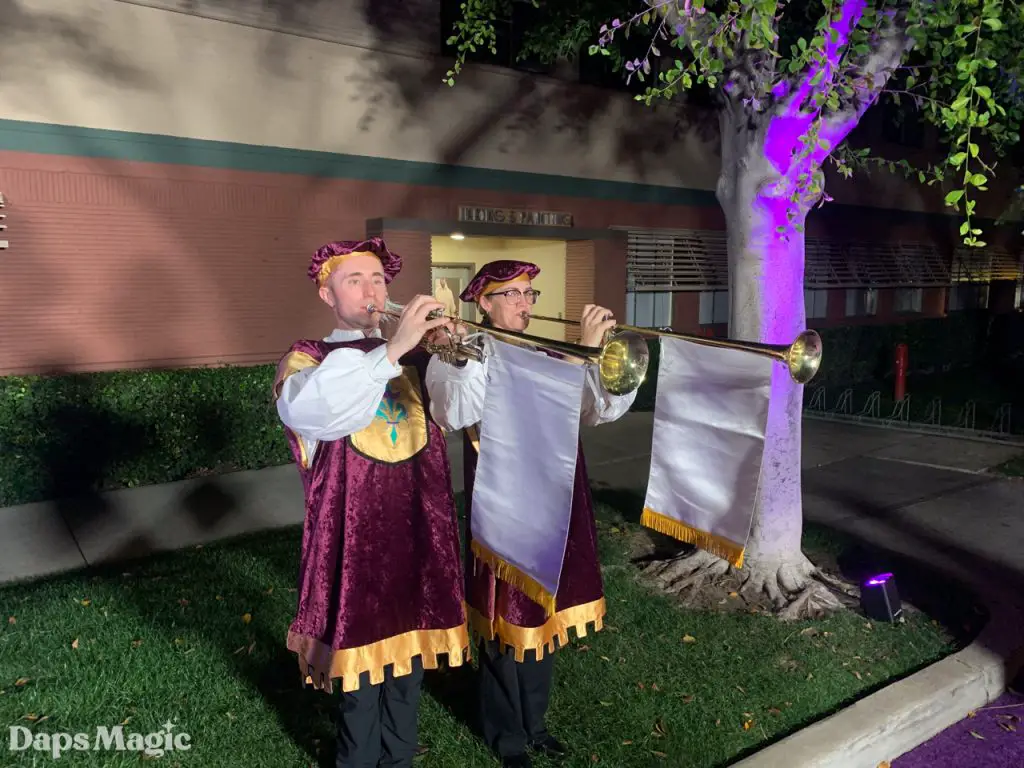 Thank you Walt, for 100 years of Disney magic. Here's a toast to the next 100!