A new trailer has been released for the second season of The Santa Clauses. In this season, Scott Calvin/Santa Claus is turning his role into a family museum. His daughter is going to be taking over the reindeer and he is looking to his son Cal to eventually take over the Santa role. However, things don't go exactly as planned when Magnus Santa (The Mad Santa) shows up. See a preview of what happens in the trailer below.
Season Two of The Santa Clauses Official Description
In the series' sophomore season, the Calvin family is back at the North Pole, as Scott Calvin (Tim Allen) continues his role as Santa Claus after his retirement plans were thwarted when he failed to find a worthy successor in season one. Now that Scott and his family have successfully saved Christmas, Scott turns his focus towards training his son Cal (Austin Kane) to eventually take over the "family business" as Santa Claus.

In addition to Tim Allen, who will executive produce and reprise the beloved role of Santa/Scott Calvin, season two stars Elizabeth Mitchell as Mrs. Claus/Carol, Austin Kane as Cal Calvin Claus, Elizabeth Allen-Dick as Sandra Calvin Claus, Devin Bright as Noel, Gabriel "Fluffy" Iglesias as Kris Kringle, and Eric Stonestreet as Magnus Antas, aka The Mad Santa. Matilda Lawler will also reprise her role of Santa's chief of staff, Betty, as a recurring guest star along with Marta Kessler as Olga, Liam Kyle as Gary, Isabella Bennett as Edie, Sasha Knight as Crouton, Ruby Jay as Riley, Mia Lynn Bangunan as Pontoon, and Laura San Giacomo as La Befana, the Christmas Witch.

Alongside Allen, award-winning Jack Burditt ("30 Rock," "Modern Family," "Frasier," "Unbreakable Kimmy Schmidt") will continue as executive producer and showrunner. Kevin Hench ("Last Man Standing"), Richard Baker ("Last Man Standing," "The Santa Clause," "The Santa Clause 2") and Rick Messina ("Last Man Standing," "The Santa Clause," "The Santa Clause 2") will serve as executive producers along with Jason Winer and Jon Radler for Small Dog Picture Company.
Along with the trailer, new key art has been revealed for the second season of The Santa Clauses.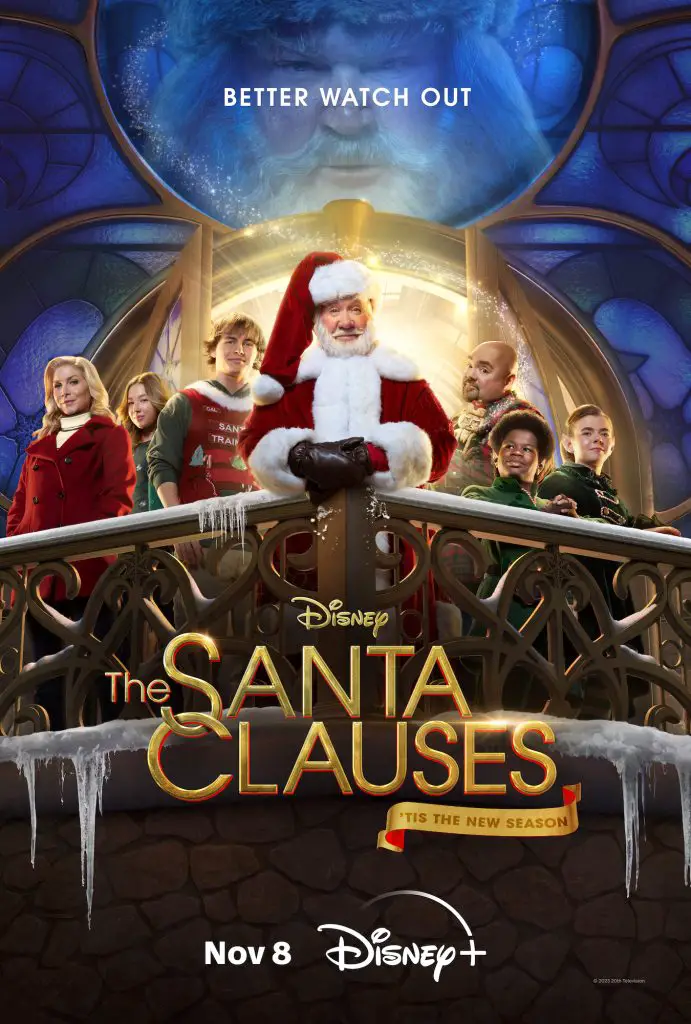 The second season of The Santa Clauses will be arriving on Disney+ on November 8th, when the first two episodes will be released. This will be followed by new episodes being released on a weekly basis. What do you think of what you are seeing of this second series of this season? Are you looking forward to watching it? Share your thoughts and opinions in the comments below!