This year at Disney's Hollywood Studios there is a new holiday party being offered. Tickets are still available for a couple of the Disney Jollywood Nights that begin on November 11 and continue through December 10, 2023 on ten select night.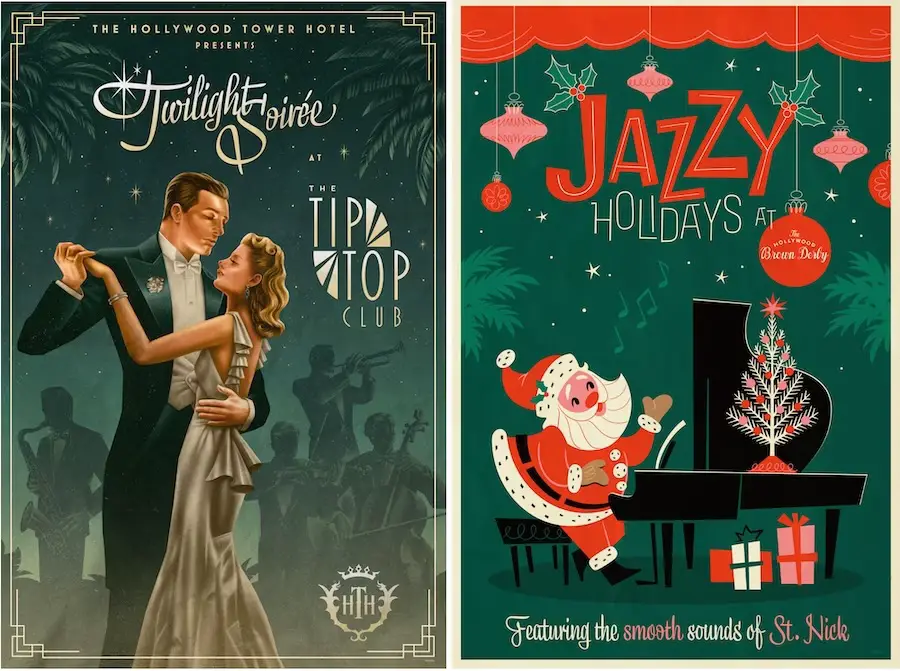 This evening of holiday magic will have multiple different offerings throughout the night. This includes the HOliday Fiesta en la Calle in Commissary Lane where the streets will be filled with Latin holiday tunes, colorful décor, and plent of eats and sips that are inspired by Latin holiday traditions. There will also be Jazzy Holidays at The Hollywood Brown Derby where the restaurant will transform into a smooth jazz joint with holiday tunes playing in the midst of its holiday décor. At this location there will be craft cocktails and an exclusive menu of light bites that will couple nicely with the classy music and ambiance. Over at the courtyard of The Hollywood Tower Hotel there will be the Twilight Soirée at The Tip-Top Club. This swingin' soiree will include a live band that will bring holiday spirit in jukebox style and fancy cocktails will also be found here too.
There will also be other holidays flavors to be enjoyed throughout the party as well. This includes the Holiday Turkey Popover at Fairfax Fare, the Tiramisù Puff at PizzeRizzo, and the Sandy Claws Hot Cocoa from Dockside Diner. There will be plenty to be found and enjoyed by those who attend Disney Jollywood Nights.
The entertainment for Disney Jollywood Nights will be a highlight of the night as well. Kermit the Frog and Miss Piggy will be hosting a musical variety show along with some other special guests. The nighttime seasonal spectacular Jingle Bell, Jingle BAM!, will also be lighting up the night. Disney is suggesting wearing classic "holiday best with an old Hollywood flair" for the event.
Disney has released all of the foods that will be offered at Disney Jollywood Nights. Take a look below at what will be available at these ten nights throughout the holiday season at Disney's Hollywood Studios.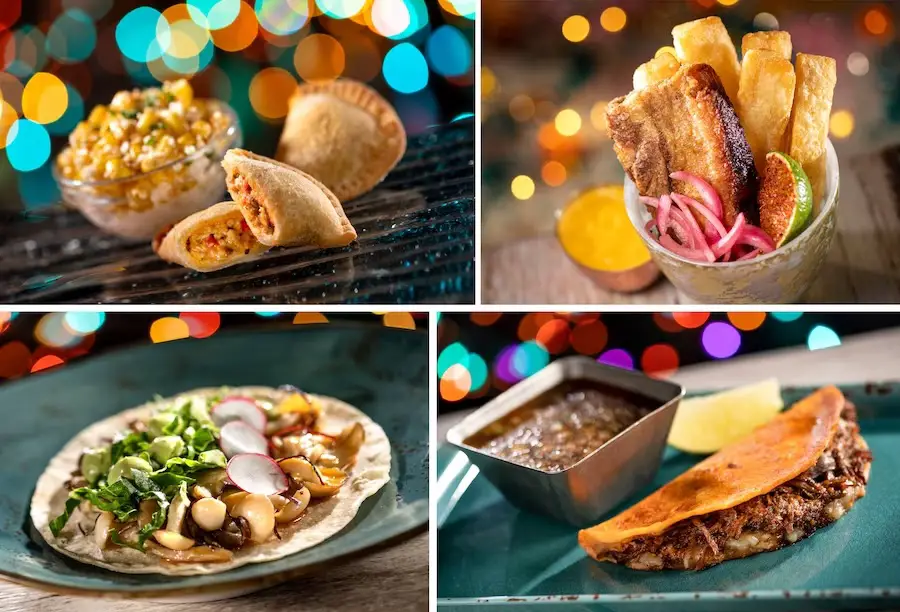 Holiday Fiesta en la Calle at ABC Commissary
Chicken Empanadas with Street Corn: Chicken empanadas served with a side of street corn salad topped with chili peppers, lime, and cotija cheese
Yuca con Chicharrón: Fried pork belly, yuca, red pickled onions, and chili pepper-lime seasoning with a yellow pepper aïoli
Mushroom Taco: Chili-roasted Mixed mushrooms, avocado crema, baby gem lettuce, and garnished with sliced radish (Plant-based Item)
Birria Taco: Shredded short rib and Monterey jack served with beef consommé for dipping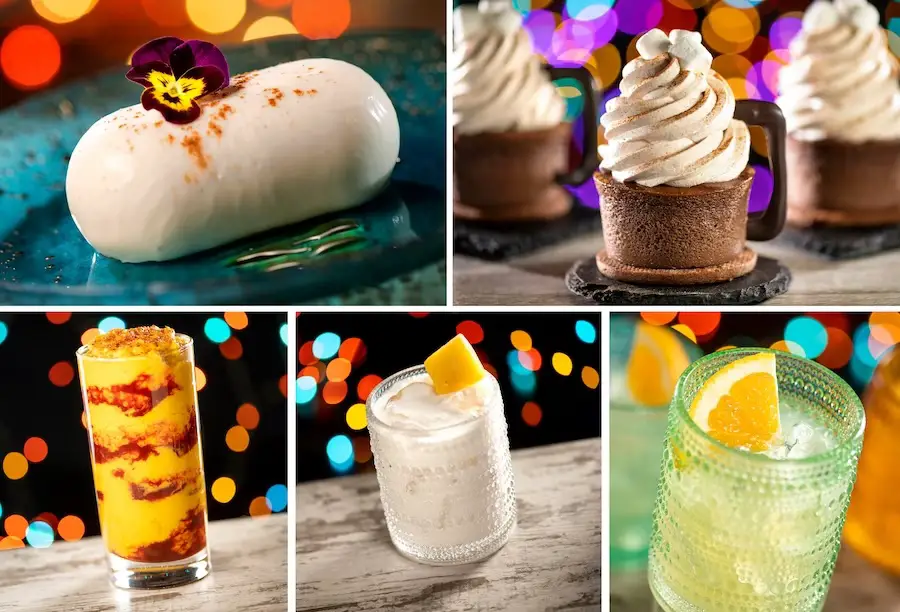 Tembleque: Coconut rice pudding with caramel rum sauce and cinnamon
Mexican Hot Cocoa Cheesecake: Spiced chocolate cheesecake on a chocolate cookie base topped with vanilla whipped cream and cocoa powder with a chocolate handle
Mangonada: Frozen mango beverage with mango-chili pepper-lime sauce and chili pepper-lime seasoning on top (Non-alcoholic)
Zero-Proof Piña Colada: Lyre's Spiced Cane Spirit, coconut, pineapple, and lime
Oaxaca Old Fashioned: Casa Dragones Blanco Tequila, Del Maguey Vida Mezcal, agave nectar, Mexican chocolate, and orange bitters served over ice garnished with an orange
Baseline Taphouse
Tuna Ceviche: Marinated ahi tuna, pico de gallo, and avocado cream topped with cilantro
Charcuterie Cup: Manchego, chorizo, serrano ham, pickled vegetables, olives, and toasted focaccia bread
Beer Margarita: Blend of Patrón Silver Tequila, Cointreau Liqueur, and lime juice topped with Scrimshaw Pilsner over Ice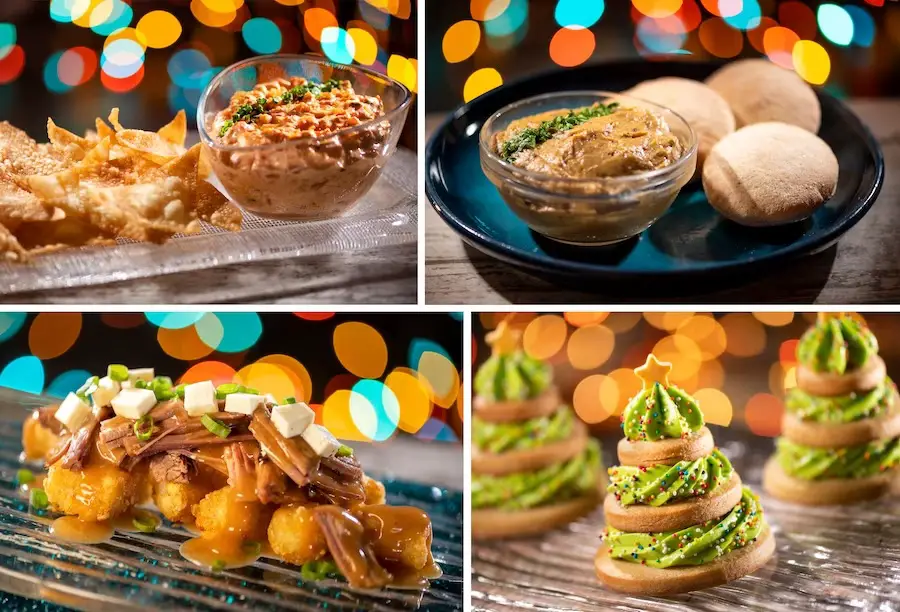 Dockside Diner
Spicy Pimento-Kimchi Dip topped with chives and served with fresh house-made wonton chips
Roasted Eggplant Dip topped with chives and served with warm pita bread (Plant-based Item)
Poutine Tots: Potato barrels topped with gravy, brisket, mozzarella curds, and chives
Christmas Tree Cookie Stack: Vanilla cookie stack filled with pistachio buttercream, cranberry, and raspberry jam topped with sprinkles and a yellow candy star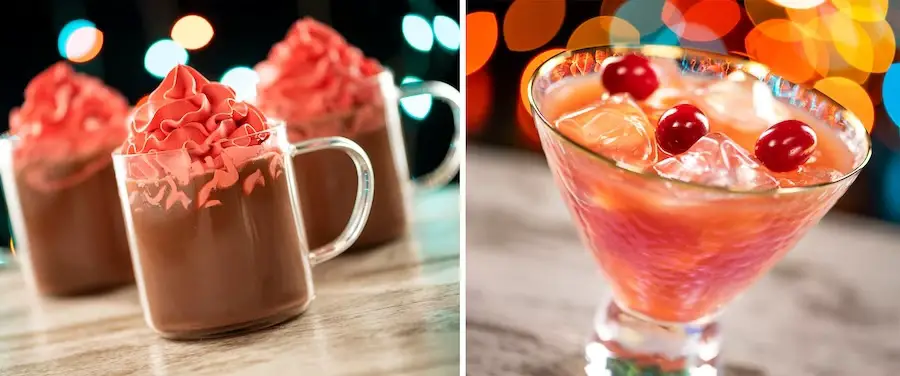 Sandy Claws Hot Cocoa: "Tim Burton's The Nightmare Before Christmas"-inspired dark chocolate hot cocoa topped with cherry whipped cream (Non-alcoholic)
Naughty or Nice: Crown Royal Whisky and ginger mixed with orange, cranberry, and grapefruit juices topped with fresh cranberries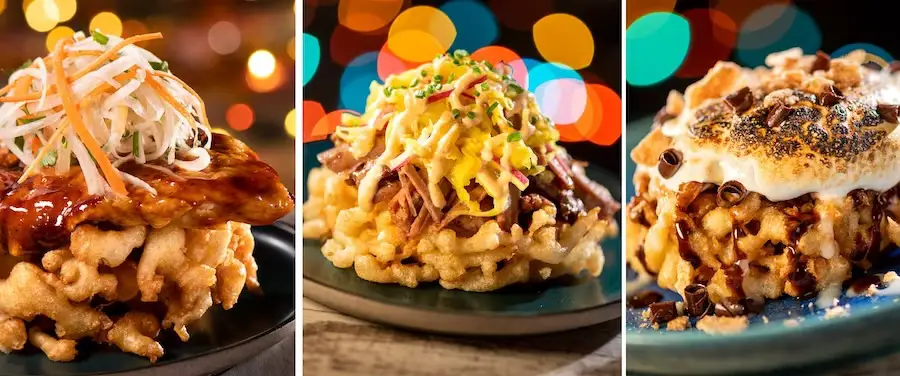 Epic Eats
Spicy Korean Chicken Funnel Cake: Spicy fried Korean chicken with pickled vegetables served on a mini funnel cake
Brisket Reuben Funnel Cake: Beef brisket and sauerkraut slaw topped with thousand island dressing served on a mini funnel cake
S'mores Funnel Cake: Giant roasted marshmallow with chocolate and marshmallow sauce, topped with chocolate curls and cinnamon cereal served on a mini funnel cake
Samuel Adams Winter Lager: Spiced with cinnamon, ginger, and orange peel for a deep flavor and malty finish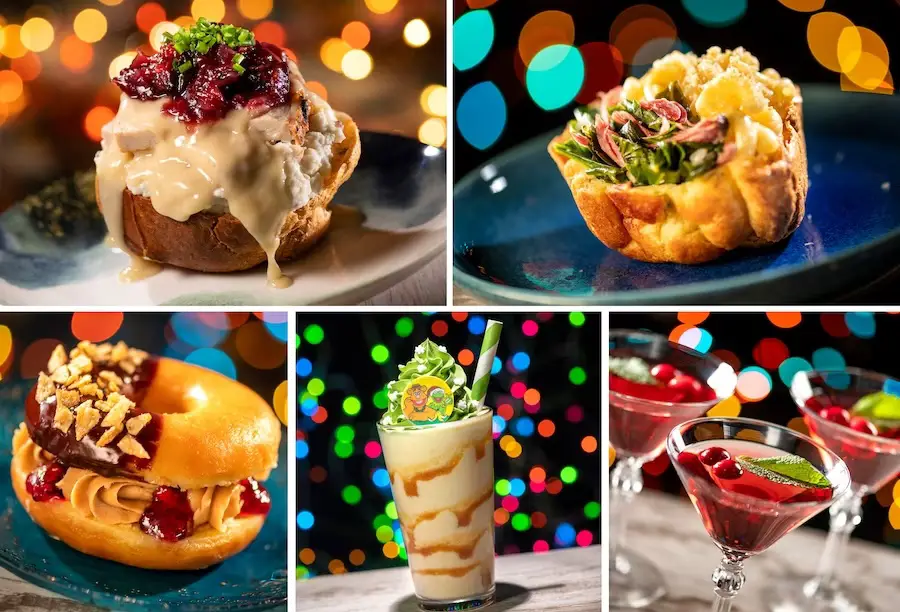 Fairfax Fare
Holiday Turkey Popover: Roasted turkey and creamy mashed potatoes topped with gravy, cranberry chutney, and chives in a house-made popover
'Just the Sides' Popover: Macaroni & cheese and savory collard greens with ham topped with cornbread crumbs in a house-made popover
PB&J Doughnut: Glazed doughnut with creamy peanut butter and grape jelly dipped in dark chocolate topped with crushed house-made salt and vinegar chips
Kermit's Frozen Banana Bliss: Frozen banana and white chocolate with caramel swirls topped with matcha whipped cream and sprinkle (Non-alcoholic)
Mistletoe Martini: Tito's Handmade Vodka and St. Germain Elderflower Liqueur mixed with cranberry juice and topped with fresh cranberries and mint leaves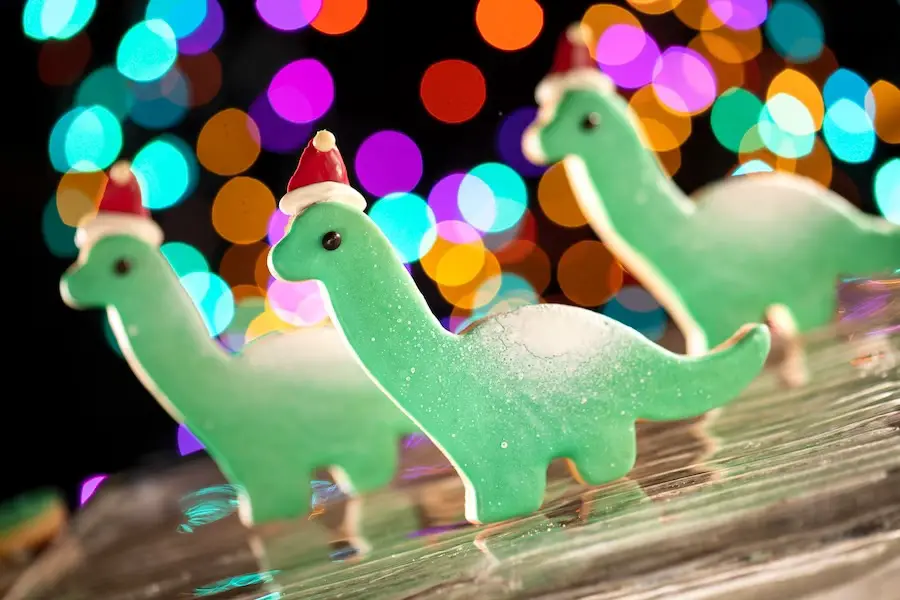 Gertie's Ice Cream of Extinction
Christmas Gertie Cookie: Sugar cookie with mint icing (Also available with mint soft-serve)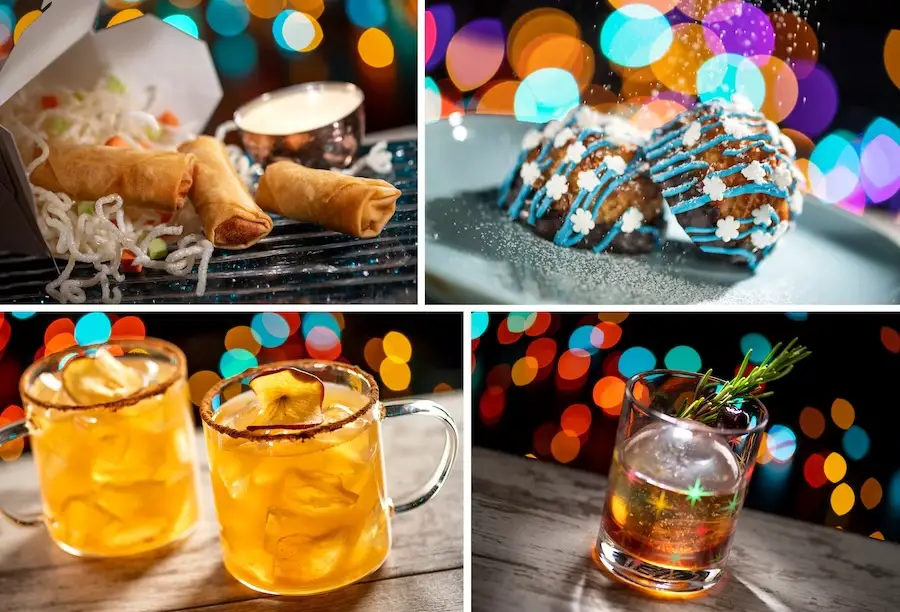 Market
Buffalo Chicken Spring Rolls: Fried spring rolls served with a jalapeño-ranch dipping sauce and fried rice noodles
Frozone's Snowball Macaroons: Coconut macaroons drizzled with blue vanilla frosting and topped with white snowflake sprinkles
Spiced Apple Cider: Apple cider and cinnamon with an apple chip garnish (Non-alcoholic)
Zero-Proof Apple Cider: Lyre's Spiced Cane Spirit, apple cider, Angostura Bitters, and cinnamon topped with an apple chip and cinnamon rim
In Holiday Fashion: Buffalo Trace Kentucky Straight Bourbon, rosemary syrup, cranberry and lime juices, and cinnamon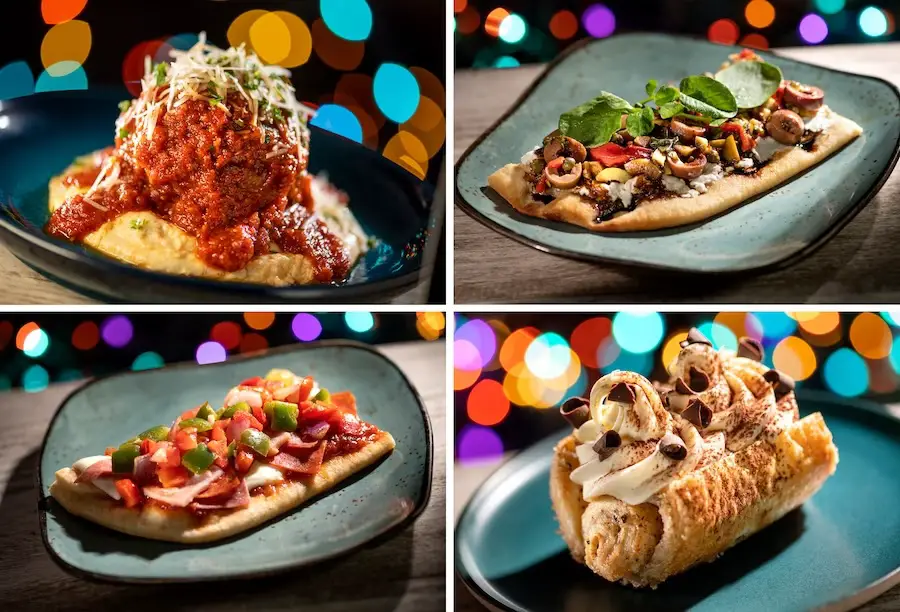 PizzeRizzo
Meatball and Polenta: Giant meatball with marinara and creamy cheese polenta
Olive and Goat Cheese Flatbread: Olive oil-toasted flatbread, creamy goat cheese, rustic olive and tomato spread, balsamic glaze, and lemon watercress
Antipasto Flatbread: Fresh mozzarella, salami, peperoni, country ham, olives, peppers, onions, pepperoncini, and marinara
Tiramisù Puff: Sweet-and-savory with flavors of espresso, chocolate, and a coffee-infused custard and mascarpone cream
Benvolio Pinot Grigio
Banfi Chianti Superiore
Peroni Nastro Azzuro Lager Draft
Heineken 0.0 Non-Alcoholic Lager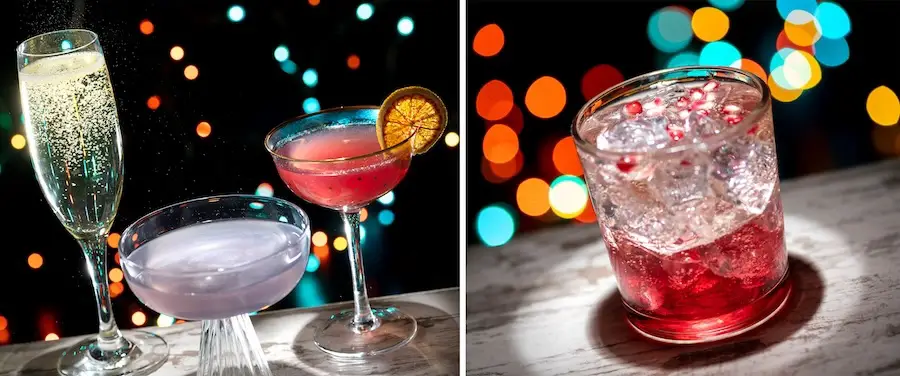 Twilight Soirée at The Tip-Top Club
The 5th Dimension Royale: Teremana Blanco Tequila, Cointreau Liqueur, desert pear, agave nectar, and lime juice topped with Domaine Ste. Michelle Brut and garnished with a dehydrated blood orange wheel
Twilight Daiquiri: Parrot Bay Coconut Rum, ube, lime juice, and a splash of shimmer
Sparkling Pomegranate-Apple Cider: Pomegranate-green tea topped with sparkling apple cider and pomegranate seeds
Domaine Ste. Michelle Brut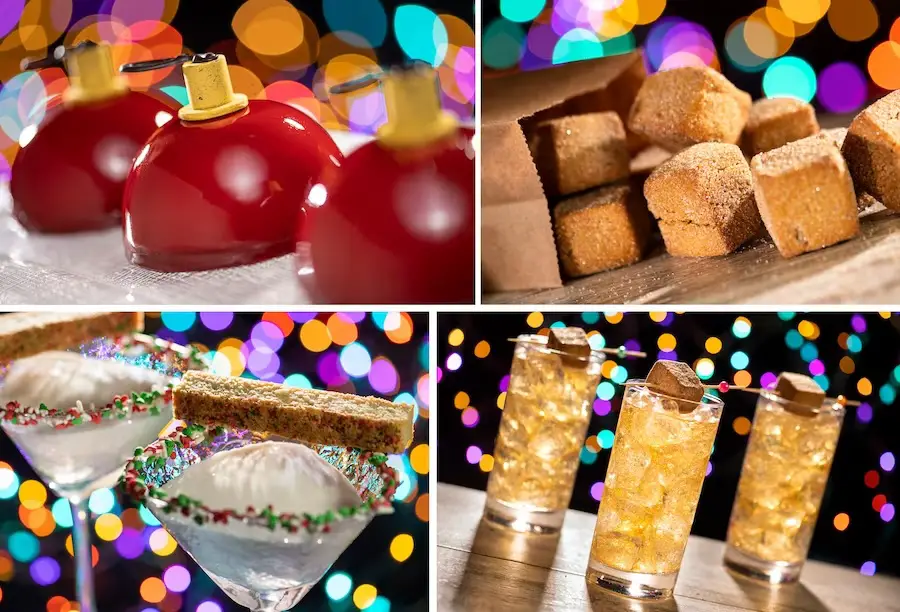 The Trolley Car Café
Ornament Mousse: Dark chocolate-cherry mousse
Outdoor Vending Locations
Gingerbread Bites (Plant-based Item)
Bar Locations
Zero-Proof Gingerbread Spritzer: Lyre's Spiced Cane Spirit, gingerbread syrup, and club soda garnished with a gingerbread bite
Sugar Cookie Martini: Stoli Vanil Vodka, Baileys Irish Cream Liqueur, and DISARONNO Originale Liqueur mixed with milk and sugar in a sprinkle-rimmed glass with a sugar cookie garnish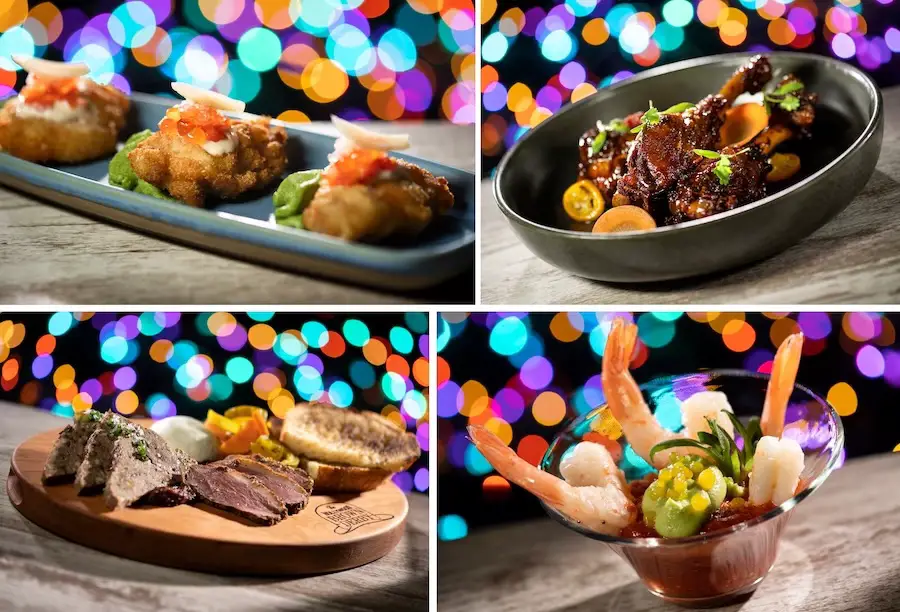 Jazzy Holidays at The Hollywood Brown Derby
Oyster Rockefeller: Spinach foam, shaved parmesan, rocoto pepper relish, and salmon caviar
Crispy Duck Drumettes: Spicy orange glaze, carrots, and kumquats
Charcuterie: House-made cured meats and accompaniments, blue cheese mousse, and toasted sourdough
Shrimp Cocktail: Classic cocktail sauce, citrus pearls, avocado mousse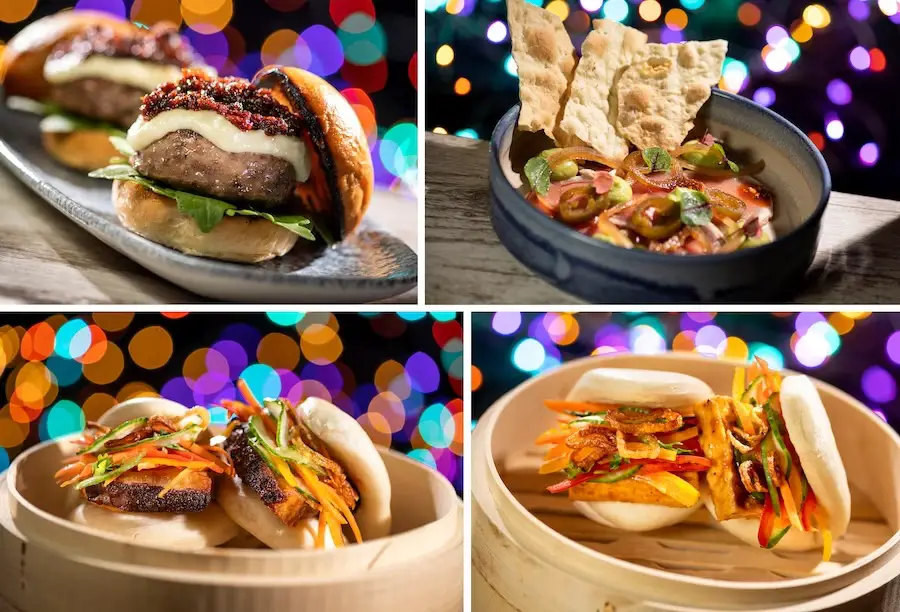 Derby Slider: Bison and pork belly blend, taleggio cheese sauce, and fig stout jam
Tuna Carpaccio: Mezcal pickled vegetables, salsa macha, and avocado crema
Pork Belly Bao: Korean BBQ, cucumber slaw, and soy vinaigrette
Tofu Bao: Seared tofu, cucumber slaw, and soy vinaigrette
An assortment of classic cocktails, zero-proof and non-alcoholic beverages, wine, and beer
To experience the festive fun of Jazzy Holidays at The Holiday Brown Derby, you can request to join the walk-up waitlist on the My Disney Experience app. Learn more here!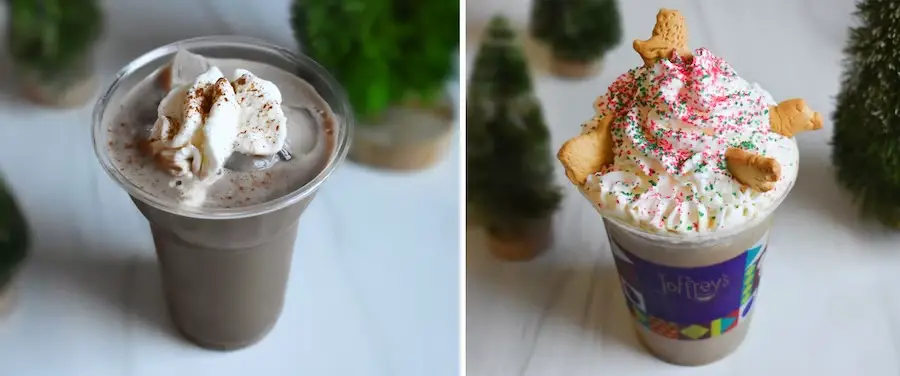 Joffrey's Coffee & Tea Company
Tinseltown Tini: Toast to holiday cheer with this cold brew coffee topped with Kahlúa, Grey Goose Vodka, a hint of light cream, and a dash of whipped cream with cocoa (Available at the location near The Twilight Zone Tower of Terror)
Round 'Em Up Latte: A merry blend of espresso, cookie butter syrup, dulce de leche sauce, and milk topped with fluffy whipped cream, playful animal crackers, and festive sprinkles; available hot or iced (Non-alcoholic Beverage) (Available at the location in Toy Story Land)
What do you think of the food and beverage offerings for Disney Jollywood Nights? What are you most looking forward to trying? Are you attending this holiday party? Share your thoughts and opinions in the comments below!