HONG KONG, OCTOBER 25, 2023 — In less than 30 days, World of Frozen, the world's first and largest "Frozen" themed land, will open at Hong Kong Disneyland Resort. The royal sisters have appointed the adorable snowman, Olaf, as global ambassador, sending heartfelt invitations to guests from around the globe to visit Arendelle!
The sun-loving Olaf has set his footprint in all corners of Asia and is now en route to Hong Kong today. The 10-meter Olaf will oversee the Hong Kong skyline at the city's iconic landmark, Hong Kong Observation Wheel in Central, inviting all to visit the new travel destination, Arendelle, once the gates open on November 20!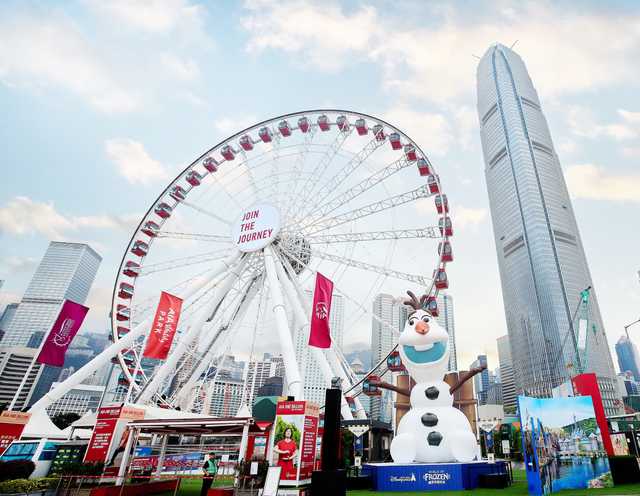 Adventurous Olaf is Traveling Far and Wide
Made of curiously malleable snow, Olaf's likenesses will appear in various shapes and forms, from an oversized waterfront appearance to a surprising shopping mall emergence and even in augmented reality. Stay tuned to the resort's social media channels to follow Olaf's adventures.
The 10-meter tall, inflated Olaf installation has already made an appearance at the cosmopolitan landmark ICONSIAM, in Bangkok, and was adored by guests from Thailand. The giant Olaf will also travel to other cities including Shenzhen, Guangzhou, Singapore and Taipei starting from October 28, while a playful Olaf will debut in augmented reality (AR) in Tokyo and Seoul and reach the iconic landmark Prince Shiba Park and Seokchon Lake (East) respectively!
Guests can take photos with Olaf with the backdrop of the iconic city Hong Kong skyline from today till November 15! For fun photos, where giant Olaf can be seen right above you, stand under the Hong Kong Observation Wheel for the best angle. Remember to include the hashtags #WorldOfFrozen #LetItGo and tag your friends on social media to share the excitement and joy.
With more surprises in store now that Olaf is in town, be prepared to be amazed.
Save the date!
Hong Kong Disneyland Resort is ready for World of Frozen to open on November 20. This is the perfect time to gather with friends and family and experience this cinematic, living land together!
Olaf's appearance in Hong Kong
Location: The Hong Kong Observation Wheel | AIA Vitality Park
Date & Time: Now till November 15
###
Hong Kong Disneyland asks for guests' kind understanding and compliance with the following requirements when visiting the park. Guests must:
purchase their tickets in advance and make park visit reservations up to 90 days in advance of their visit, via the Hong Kong Disneyland reservation website; and
Comply with the latest visit arrangements at https://www.hongkongdisneyland.com/guest-services/health-and-safety/.
* Wearing face mask is optional for guests and cast members across the resort.
About Hong Kong Disneyland Resort
Hong Kong Disneyland Resort offers unforgettable, culturally distinctive Disney experiences for guests of all ages and nationalities. Filled with your favorite Disney stories and characters, Hong Kong Disneyland offers guests the opportunity to explore seven diverse lands that are home to award-winning, unique attractions and entertainment. Complete your adventure with stays at the resort's luxurious Disney hotels. The magic doesn't end at our doorstep; as a dedicated member of the local community that cares deeply about societal wellbeing, Hong Kong Disneyland Resort spreads its magic through community service programs that help families in need, boost creativity among children and families, encourage the protection of the environment and inspire healthier living.
Mobile app gives the latest updates & helps plan your visit
The Hong Kong Disneyland mobile app keeps guests informed of all the excitement at Hong Kong Disneyland Resort, from operating hours to entertainment schedules. Reserve your park visit and get Disney Standby Pass to meet Disney friends inside the park. Use the GPS-enabled map to find your way around the park or make reservations for park and hotel restaurants, and make every moment count with wait times for each attraction. Magic Access members can also view block-out calendars and membership privileges, designed to make your visit even more magical.
Download the Hong Kong Disneyland mobile app for free:
iOS users: https://itunes.apple.com/app/id1077550649
Android users: https://goo.gl/ZbHHbP