The DisneylandForward project took one more step forward with the release of an Environmental Impact Report. On Thursday, the 17,000 page was released, marking a fairly substantial step in the process of approval of Disney's plans for the future of the Disneyland Resort. On October 9th, there will be a public workshop at the Anaheim City Hall that outlines the highlights of the Environmental Impact Report for DisneylandForward. Disney is hoping that before the end of 2024, the Anaheim City Council will approve its plans for the DisneylandForward Project.
While there are thousands of pages to be sifted through in this Environmental Impact Report, there are some highlights that can be gleaned and simplified from it. The biggest impacts will include air quality, greenhouse gas emissions, and noise pollution. However, transportation and neighborhood aesthetics are not expected to be impacted.
One significant area of impact for the construction and operation of any DisneylandForward project would be that of air quality. When the last master plan for the Disneyland Resort District was approved, greenhouse gas effects were not studied. Because of this, these results are viewed as significant. However, Disney is already working to mitigate the impact it has on greenhouse gases. Compared to the 1990s, Disney has worked to reduce the number of vehicle miles that are traveled through employee carpool programs, shuttle services, telecommuting, and public transit. Other mitigation efforts that the DisneylandForward Environmental Impact Reports focus on are energy efficiency, water conservation, waste reduction, and sustainability measures that are already in practice at the Disneyland Resort.
There is also a great deal of attention focused on the potential for noise pollution during construction and during the operation of the parks' expansion. There would be 12-foot-tall noise barriers erected around the outside property lines of the park expansion. Fireworks would also not be allowed in the proposed expansion areas. A graphic shows a tentative plan for the western part of the expansion plans regarding the noise impact. This includes a study of where noise would have the highest impact and also how Disney would mitigate the noise pollution. The graphic shows a general idea of where attractions could go and what type of attraction would be there.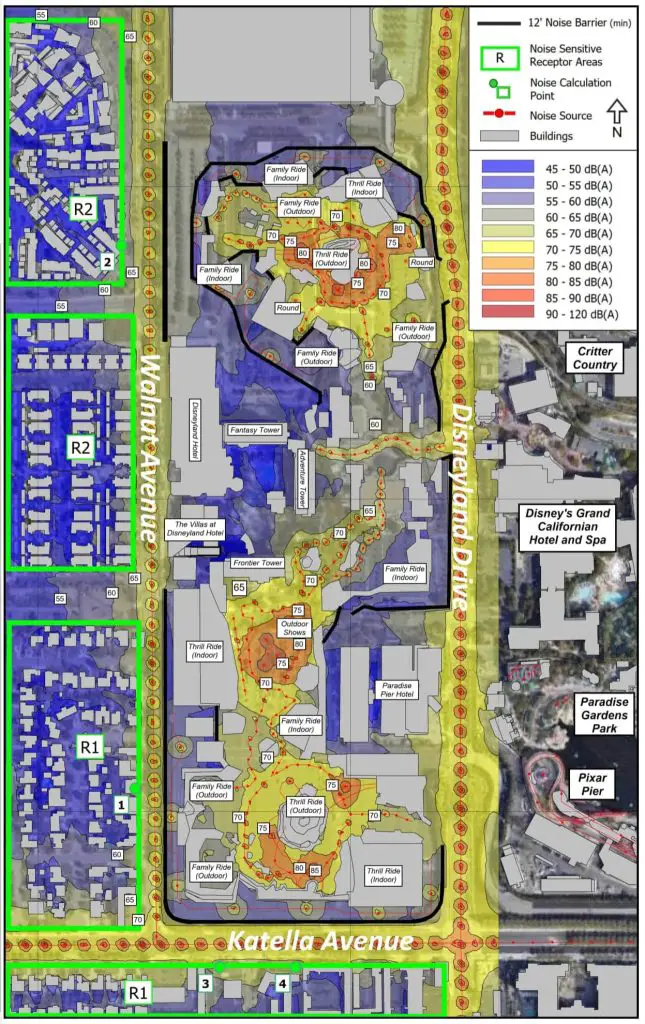 Another area of impact that was studied in the report was the historical Disneyland Resort itself. The 68-year-old park has cultural and historic resources that the DisneylandForward would have an unavoidable impact on. Disneyland could potentially be a Historic District that could be eligible to appear on the California Register. However, Disneyland was never meant to be static. The Historic Resources Group, which wrote this part of the report, noted that the moves toward the future should be balanced with preserving the "original character, history, and intent of Disneyland," which Disney has done in the past it was noted.
There were some other details that came out of this report. The Disneyland Resort revealed a 360-degree architecture design program. This means that any large attractions or architectural features would be built in a way that looks good from every direction. A good example of this is Matterhorn, which was built to look like a mountain from every direction. Examples of where this was not done would be the backside of both Cars Land and Star Wars: Galaxy's Edge. Both of these are immersive in the areas that face into the parks, and the backsides are simply walls and buildings.
There would also be a limit on certain sized rides being within 200-300 feet of residences. This would most likely prohibit major outdoor elevated roller coasters from being built in the expansion area that is west of Disneyland Drive. Any new buildings along Walnut Street would have a 50-foot height max and landscaped setback requirements. The plans also show that parts of Magic Way could end up being removed. Access to this expansion looks like it would be through two footbridges, one from Disneyland on the Northern half and one from Disney California Adventure on the Southern half. The new expansion would also appear to link up in the middle where the former ESPN Zone and AMC Theater once were located.
The East side of the Disneyland Resort would also be seeing changes as well. A new parking structure could be erected on the East side of Harbor Boulevard. They would be linked to the parks via footbridges that would cross Harbor Boulevard. The area where the Toy Story Parking Lot currently can be found could potentially become an entertainment and dining district. A noise impact study was shared for this area as well. It should also be noted that Disney would like to reserve the right for this to become a third park at some point in the future.
At this point, there are a lot of plans with details that could be recognized as possible attractions from Disney theme parks around the world. However, none of these attractions have been set in stone yet. These decisions and announcements will come at a later date if this project continues to move forward. Disney has previously used attractions and lands from its other theme parks around the world that include six possibilities including Frozen, Tangled, Peter Pan, Zootopia, Toy Story, and Tron.
The release of this report begins a 45-day public comment period. More details can be found on the Anaheim website here. Following the period of public comment, a final Subsequent Environmental Impact Report will be released. This will be followed by votes from the planning commission and then the city council next year.
What do you think of what you are seeing in this report? Does anything stand out to you? What are you most looking forward to or hoping for with the DisneylandForward project? Share your thoughts and opinions in the comments below!