Disneyland Paris has given a royal look at the reimagined Disneyland Hotel. Along with sharing about all of the magical offerings that guests will get to experience when visiting, Disneyland Paris also announced that this flagship hotel will be reopening on January 25, 2024. Reservations are open now for those who would like to stay (book through Mouseways Travel, the official travel partner of Daps Magic!).
"This marks a new chapter for Disneyland Paris, as we continue to be one of the leaders of the European tourism industry with our unique blend of immersive storytelling and world-class hospitality," said Natacha Rafalski, Présidente of Disneyland Paris. "We are thrilled to unveil the newly reimagined Disneyland Hotel, a one-of-a-kind five-star property celebrating Disney's beloved royalty and storytelling. Our commitment to innovation and unparalleled guest experiences remains unwavering, and we look forward to welcoming guests to one of the most immersive hotels in Europe."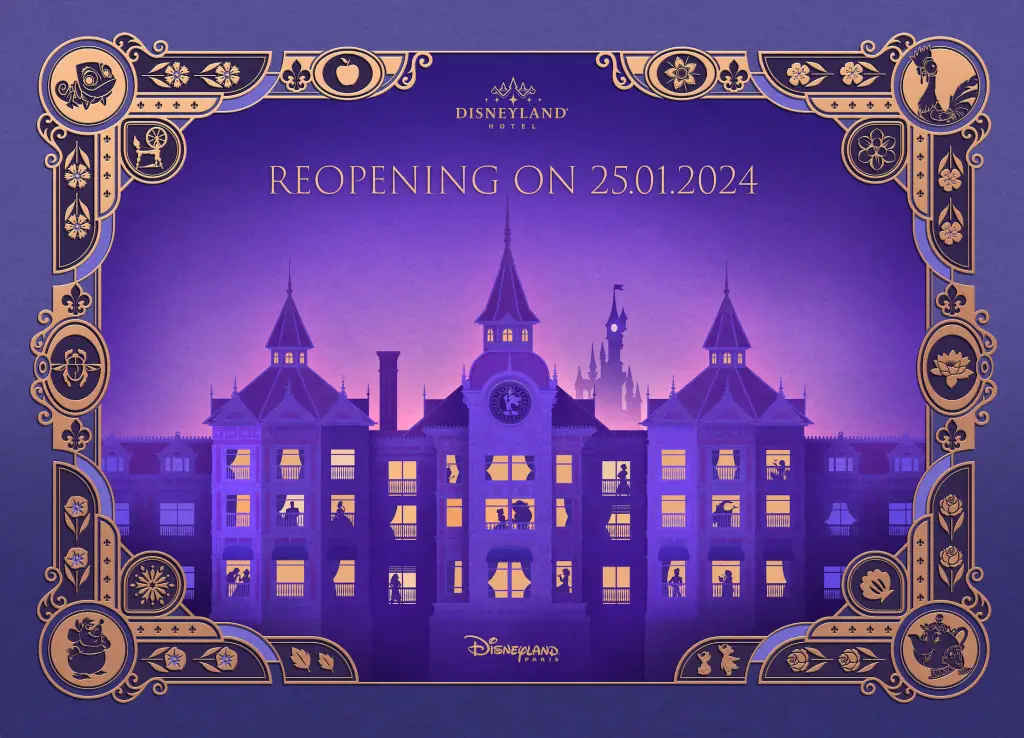 A Royal Return
During a special live stream, Disneyland Paris shared all of the magic that will be experienced when guests return to the Disneyland Hotel in January. To say it will be a royal return, will be an understatement. The focus of the reimagining has been completely royal. As the Disney teams worked on this new iteration of the hotel, great care was taken to create a regal experience. Inspiration was taken from castles throughout Europe to create incredible details throughout the hotel. These royal inspirations get a healthy dose of Pixie Dust as well to create a hotel experience that is uniquely Disney and royal. There are also plenty of opportunities to meet some Disney royalty while staying at the hotel as well!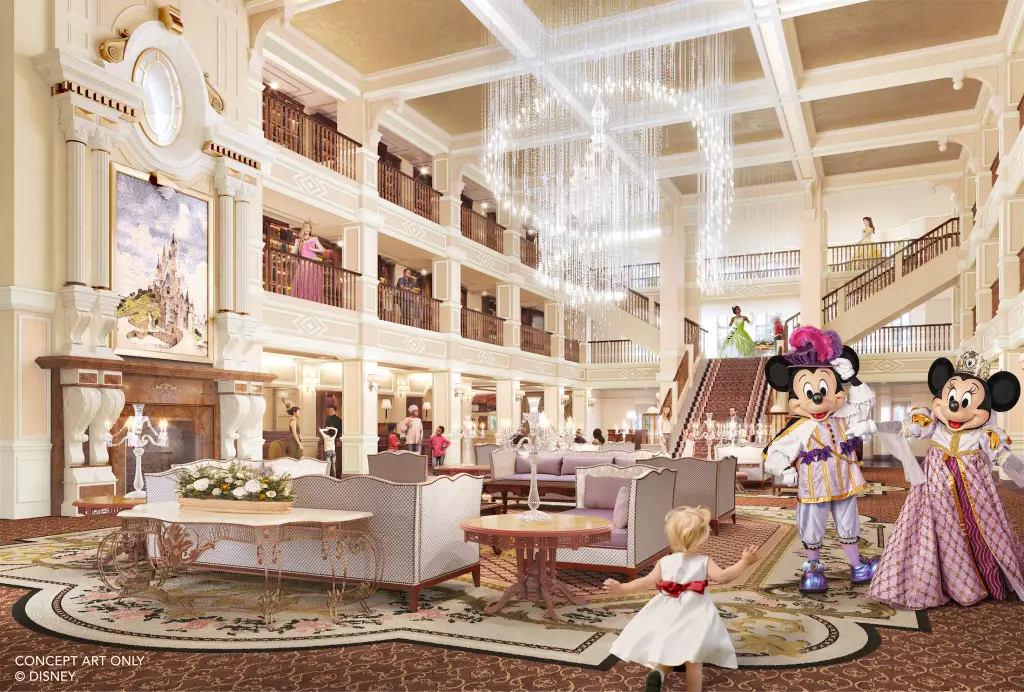 A Royal Welcome
When guests enter the Disneyland Hotel at Disneyland Paris they will receive a royal welcome. The lobby is inspired by the royal libraries found throughout France. The center of the lobby will showcase a beautiful chandelier made of Bohemian crystal and represents Sleeping Beauty Castle in a magical and beautiful way. The chandelier will extend into the lobby with a beautiful ribbon of magic rising above the staircase and up to a wood and marble mezzanine where 15 displays can be found. These display cases are filled with books and parchments that showcase Disney stories. This beautiful chandelier was created in the Czech Republic by a glassmaker who combined Bohemian crystal with modern glass-blowing techniques.
Upon entering the lobby, guests will also receive a royal welcome from a Royal Greeter. La Troupe Royale Disney, a duo of comedians, will entertain with sing-alongs and royal stories. At times, La Troupe Royale Disney will be joined by a Disney character like Cinderella or Rapunzel, Disneyland Paris shared.
At the front desk, guests will receive a complimentary welcome book produced by a French papermaker, which includes the story of the hotel along with other information that is helpful for a visit. The concierge team works to make each guest's visit tailor-made. Guests can even pick their pillow from seven types of pillows.
Royal Rooms
There are several categories of rooms that will be at Disneyland Paris when it reopens in January 2024. There are 487 rooms and suites including 346 Superior Rooms, 82 Deluxe Rooms, 41 Castle Club Rooms, 16 Signature Suites, one Princely Suite, and one Royal Suite. Each room is elegantly themed with magical details throughout. They include nods to Disney stories and luxury amenities. The Castle Club rooms and suites also add extra luxury amenities and access to select VIP services as well.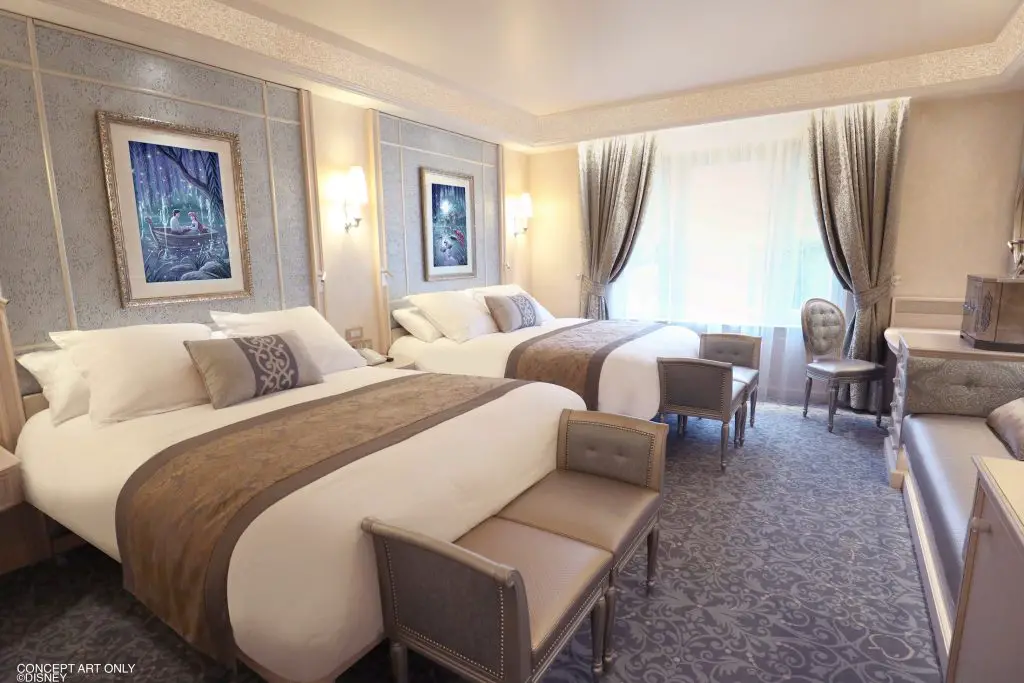 Superior Rooms
There are 346 Superior Rooms found at Disneyland Hotel. These will be featuring blue and silver colors along with exclusive artwork that depicts moments from one of 11 classic and contemporary Disney animated films. This includes Snow White and the Seven Dwarfs, Cinderella, Sleeping Beauty, The Little Mermaid, Beauty and the Beast, Aladdin, The Princess and the Frog, Tangled, Frozen, Moana, and Raya and the Last Dragon. There are some beautiful elements found in these rooms, including a golden mirror that has a subtle nod to Rapunzel's golden hair or Aladdin's magic lamp woven into the carpet. Another element in the room that was highlighted by Disney is a beautiful jewelry box that has the makings for coffee and tea. There are also other magical elements to be found in the comfort of this magical home away from home after a day in the parks.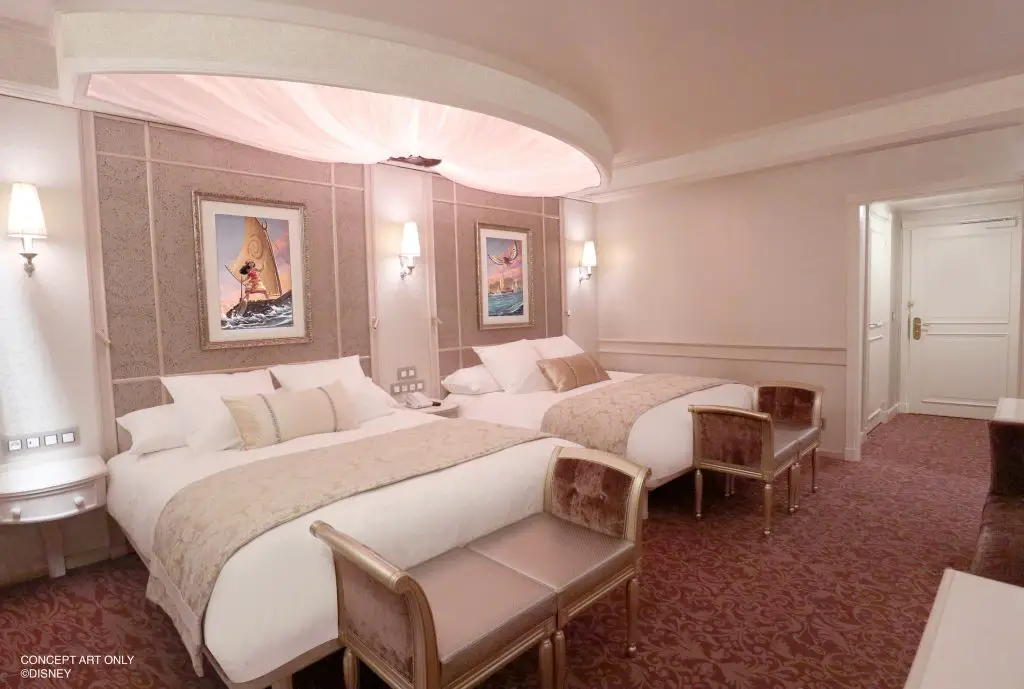 Deluxe Rooms
There are 82 Deluxe Rooms that go to the next level in the storytelling and celebration of the 11 featured Disney animated stories that are also found in the Superior Rooms. The Deluxe Rooms have added magic, including a magical bedtime experience utilizing a beautiful animated canopy above the bed. There are also more exclusive pieces of art that showcase iconic moments in Disney stories. There will be some added magic here as well as they come to life with some "special enchantment" in these rooms. The colors in the Deluxe Rooms are described as soft pearly and powdery colors. Guests staying in Deluxe Rooms will also get to enjoy dedicated check-in and concierge services along with exclusive access to the Deluxe Lounge.
The Castle Club
The Castle Club is a hotel within a hotel. This offers an elevated experience for guests staying at the Disneyland Hotel with exclusive benefits and even more magic. The Castle Club offers a more private experience with personalization that promises to create a "refined, distinctly Disney atmosphere." This will pamper guests in a way that only a Disney five-star hotel can. This will be found on the top two floors of the hotel and provide a private elevator, dedicated check-in area, and also new and upgraded luxury amenities. Guests staying in Castle Club rooms will also have access to the Castle Club Lounge where breakfast with Disney Princesses will be offered.
The Castle Club Rooms
There are 41 Castle Club Rooms at the Disneyland Hotel. These rooms will also take guests into the celebration of the 11 featured Disney royal stories. They will also have the magical bedtime ritual experience to add extra enchantment to the room. These rooms are decorated with "gold-standard elegance and royal refinement." They also offer exclusive access to the Castle Club.
Signature Suites, Princely Suite, & Royal Suite
There are 16 Signature Suites, one Princely Suite, and one Royal Suite. These accommodations offer the most high-end experience for guests staying at the Disneyland Hotel. The designs are inspired by royal Disney stories. Guests will be able to pamper themselves with "deluxe products and amenities such as walk-in closets and spacious spa bathtubs."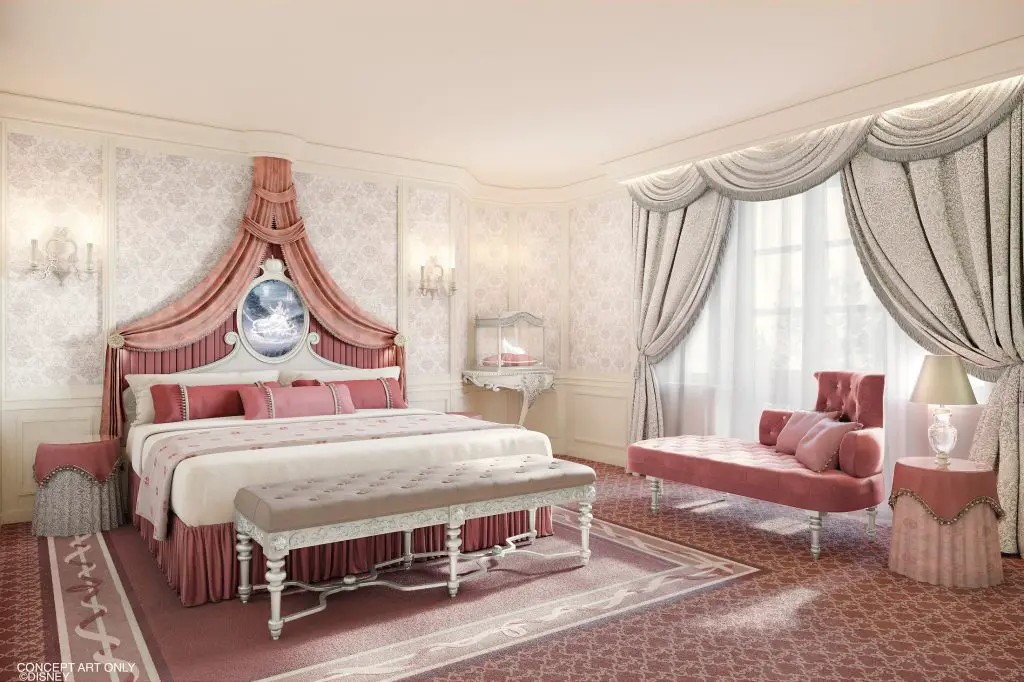 Cinderella Signature Suites
Inspired by the Disney animated classic film Cinderella, there are three Cinderella Signature Suites at the Disneyland Hotel. This suite has been imagined as a boudoir with elegant furniture and beautiful materials. The color palette is soft and powdered with pink in the living room along with blue and ivory in the living room. Throughout the suite, guests will find references to different elements of the Cinderella story. This will include references to the décor, story, and characters from the film. Details that can be found include the chimney from Cinderella's home, her ball gown, and even her glass slipper that will magically light up.
Rapunzel Signature Suites
There are four Rapunzel Signature Suites at the reimagined Disneyland Hotel. These suites are described as giving guests the opportunity to stay in Rapunzel's creative bubble. The suites are cozy and include wooden elements and a warm color palette that has subtle hints of purple. There will be multiple elements found in the suites that are nods to Rapunzel's story. This includes a Sundrop flower that will magically show its power shine into the room. The suite was created through a close collaboration of Walt Disney Imagineering, Walt Disney Animation, and local craftspeople like Atelier Bournillat, a local and historical supplier of specialized decor for Disneyland Paris. The goal was to create references to Tangled that were accurate to the story that Disney fans know and love.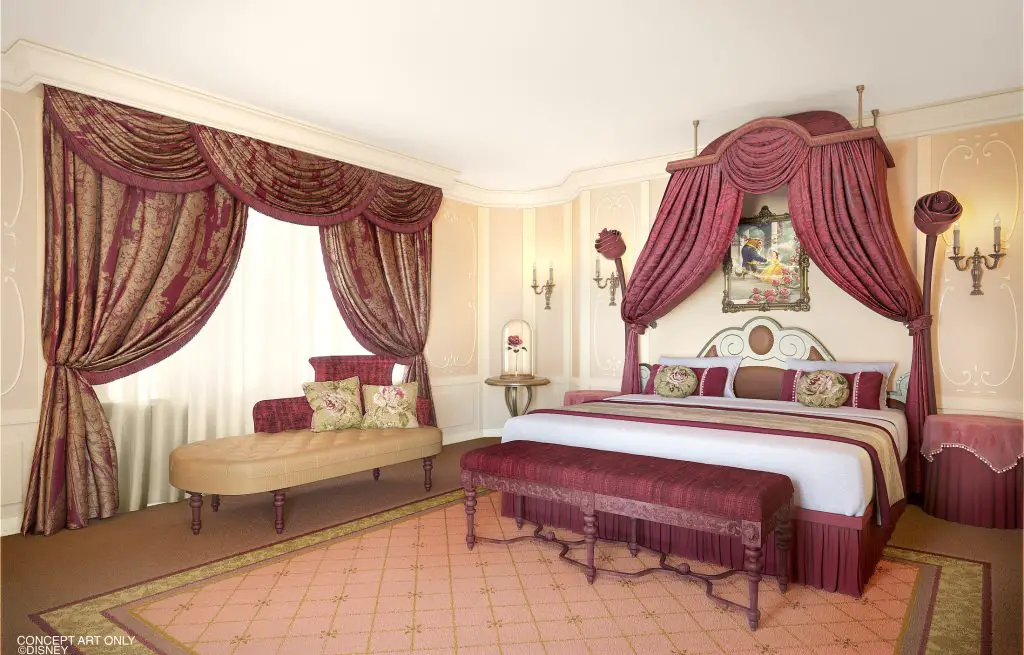 Beauty and the Beast Signature Suites
There are three Beauty and the Beast Signature Suites at the Disneyland Hotel. These suites promise to be immersive and will transport guests into the magnificent Beast's Castle and its "mythical fireplace surrounded by a large display of books and warm and elegant materials." Throughout the suite, guests will find Belle's enchanted friends like Lumiere and the Wardrobe. There will also be the Enchanted Rose which will illuminate the space.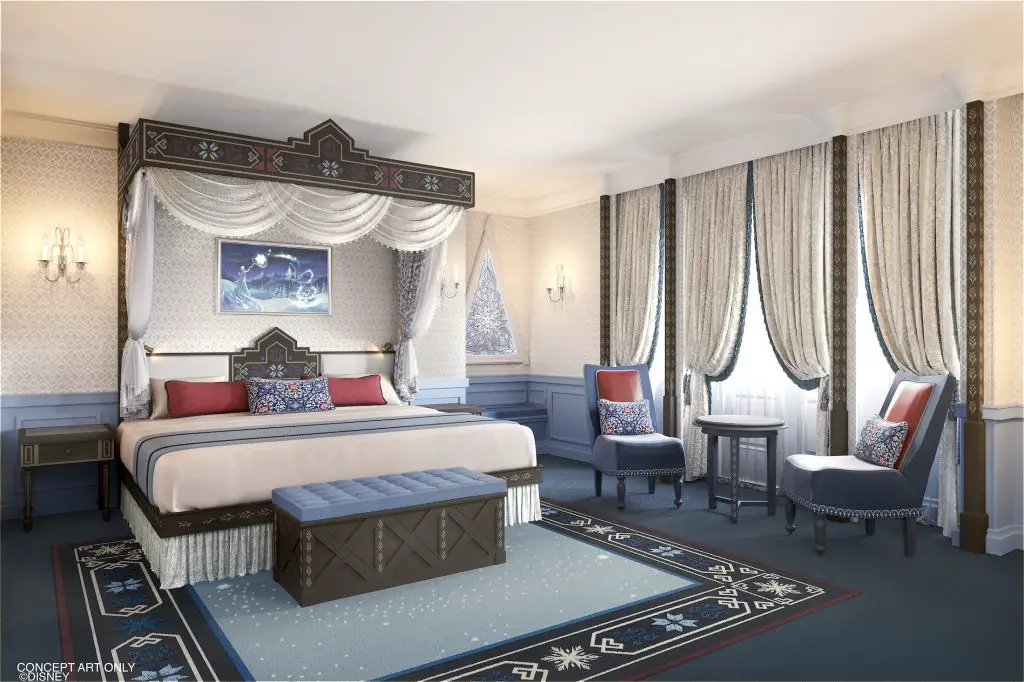 Frozen Signature Suites
There are three Frozen Signature Suites that are inspired by the Scandinavian interiors and are embellished by designs and motifs that are representative of Arendelle. This will include the crocus flower, the official emblem of the land, and symbolizes rebirth and spring. There will also be a beautiful portrait of Anna and Elsa found on a magnificent mantelpiece. There will also be a window overlooking a magically glittering snowflake that will be alive all year round.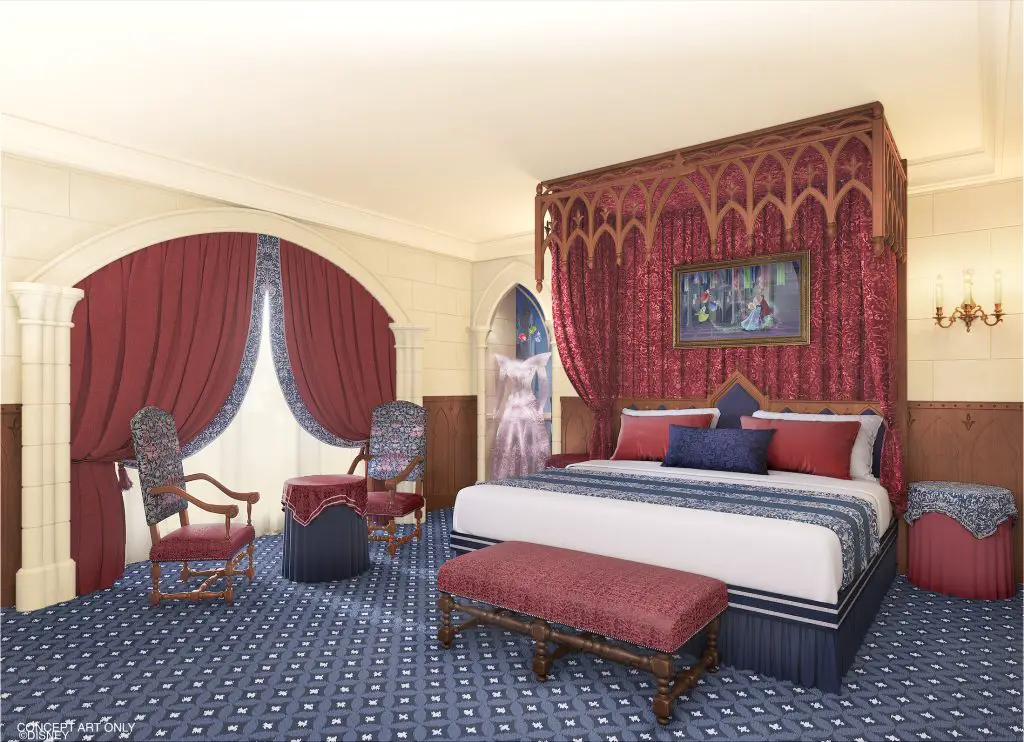 Sleeping Beauty Signature Suites
There will also be three Sleeping Beauty Signature Suites. These suites will take guests on a trip back to the late medieval times with stone walls, columns, arches, wooden finishes, and regal deep reds and blues. This suite also includes recreations of décor elements that were seen in Disney's animated classic. This will include Aurora's dressing table and her elegant dress that will magically change colors, thanks to the magic of some fairy friends.
Princely Suite Beauty and the Beast
The Beauty and the Beast Princely Suite is a beautiful way to experience the story seen on the silver screen in the live-action version of Beauty and the Beast. The suite will be full of lavish baroque décor ("If it's not Baroque, don't fix it." – Cogsworth). This entire suite brings to life this enchanted tale as old as time with its beautiful chandeliers, fireplace, and even a glittering rose adoring the headboard.
Royal Suite Frozen
The Frozen Royal Suite transports guests to Queen Elsa's Ice Palace on the North Mountain as seen in Frozen. This is the grandest and most immersive experience the Disneyland Hotel has to offer. It has a bedroom, living room, kitchen, and dining room. All of these are decorated with plenty of ice magic. There is a beautiful ice chandelier that elevates the room's elegant silver and blue motif along with other elegant materials that create transparency, light, and reflections enhancing every detail in the room. The goal is to help guests have an emotional connection with the story. This suite also has an incredible balcony with a look over Disneyland Paris and a beautiful view of Sleeping Beauty Castle!
Royal Restaurants
There will be several options for dining at the Disneyland Hotel. All of these have been reimagined to bring to life royal stories from Disney animation. The dining locations will continue the royal storytelling found throughout the hotel, they will also offer a "unique gourmet dining experience infused with a French savoir-faire and the spirit of creativity inherent to all things Disney."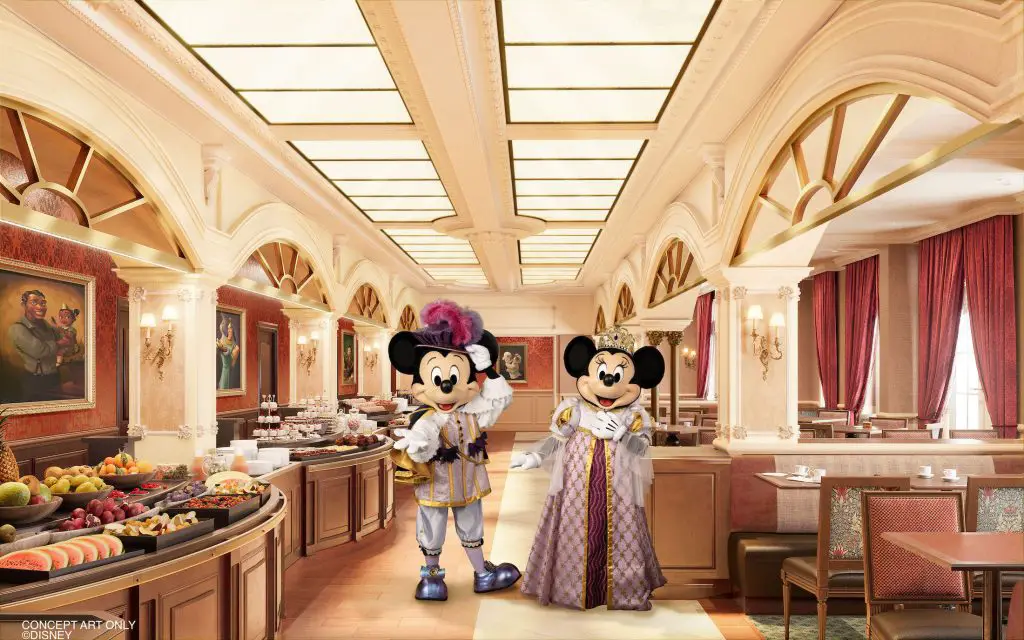 Royal Portraits Gallery at The Royal Banquet Buffet Restaurant
Royal Portraits Gallery at The Royal Banquet Buffet Restaurant will offer breakfast, lunch, and dinner. This dining location is inspired by reception rooms found in castles throughout Europe. In this case, guests will feast in the gallery of paintings that portray multiple Disney royal families. Guests will see portraits of King Triton and his 7 daughters from The Little Mermaid, the Queen of Hearts from Alice in Wonderland, Prince John from Robin Hood, and even Kronk from The Emporer's New Groove! There will also be different cultures represented on the menu that are inspired by Disney stories. This includes the Spicy Cajun Shrimp that was inspired by The Princess and the Frog and Tiana's home in Louisiana. If that isn't enough, there will also be an oyster and seafood bar and a meat carving stand. For younger guests, there will be plenty of offerings including personalized desserts that they can customize themselves!
To add even more royal magic to the experience at The Royal Banquet, guests will be able to have lunch and dinner with Mickey Mouse, Minnie Mouse, and other friends decked out in their finest new and exclusive regal attire. These outfits were made specifically for this location. Disney describes the experience by saying, "Having received an invitation to join a festive banquet celebrating the royal families from across the lands, these very special attendees will enchant guests from far and wide, posing for photos and taking part in interactive moments for future treasured memories."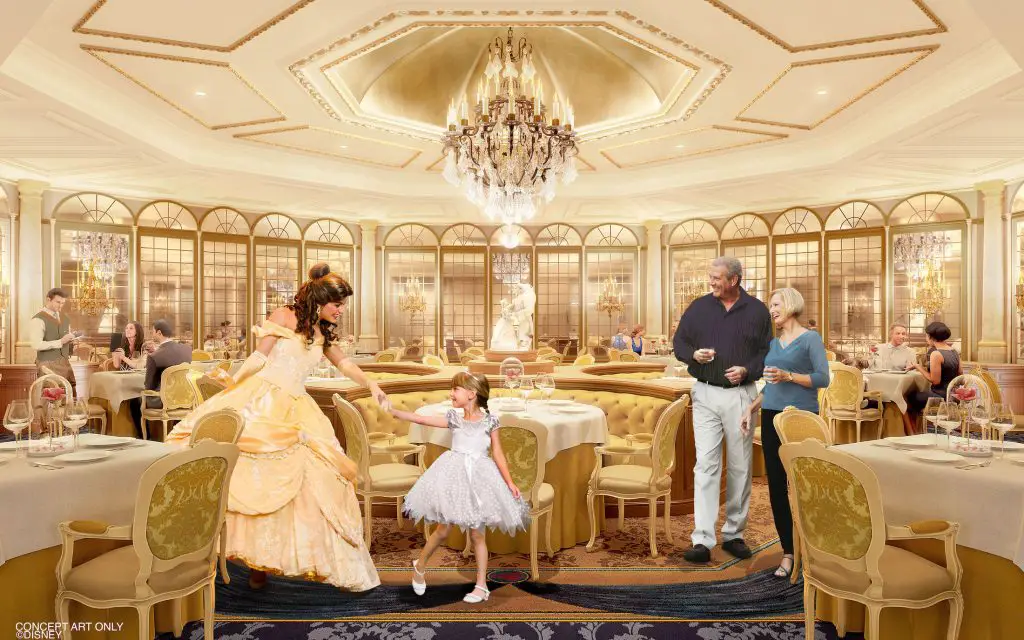 Fine Dining at La Table de Lumière Table Service Restaurant
La Table de Lumière is a fine dining establishment at the Disneyland Hotel. The location is inspired by the Hall of Mirrors in Versailles Castle and brings to life the ballroom scene from Disney's animated Beauty and the Beast. The experience is described as follows by Disney: "Elegant mirrors and crystal add sparkle to an elegant atmosphere finished off with distinguished tableware including rose-emblazoned china and thorn-themed napkin rings. The menu will feature French fine dining using local, gourmet delicacies such as roses from Provins, and will serve sea treasures like sole fished off the coast of France or European lobster with white cabbage and Meaux mustard remoulade."
Guests will also be able to enjoy quality meat that is cooked in an open rotisserie. There will also be plant-based options like delicate mushroom velouté, sourdough bread croutons, and roasted hazelnut served with pepper-spiked Isigny cream. This famous French dairy product is used in several recipes in the restaurant as a wink to the Walt "D'Isigny" ancestors from Normandy. There is also a dish of quinoa with broad beans and morels, vegetable juice with red peppers, and pomegranate seeds on the menu.
There is also a large selection of wine and champagne that pairs beautifully with the dishes on the menu. There are also gourmet dessert experiences to be enjoyed. Delicacies pay tribute to royal Disney stories and a celebration cake inspired by Belle's rose is perfect for special occasions.
If all of that wasn't magical enough, Table de Lumière also gives guests the opportunity to enjoy their regal meal with Royal Disney Couples. This includes Belle and her Prince (Beauty and the Beast), Aurora and Philip (Sleeping Beauty), and Tiana and Naveen (Princess and the Frog). All of the Disney Royals will be wearing new royal regalia in this grand setting.
Dinner is only available to Disneyland Hotel guests AND with a reservation.
Fleur de Lys Bar
The Fleur de Lys Bar is open all day and offers guests to enjoy a beautiful view of the Fantasia Gardens. The bar offers a fleur-de-lys (French royal symbol) themed setting cast in regal shades of blue and silver. It will offer something for any member of the family. The menu will also feature flower-themed signature cocktails and a wide range of quality wines.
There will also be an exclusive premium afternoon tea offering along with a snacking offering and a Champagne experience with premium products and exclusive Disneyland Hotel Cuvée. This was produced by Maison Pierre Mignon, a 5-generation family champagne producer that is based near Epernay in France.
The bar is right next to the central rotunda. The rotunda provides access to all of the hotel wings and restaurants. It is an elegant lounge area and is adorned with blue décor accentuated by fleur-de-lys stitching, a dramatic cathedral ceiling, as well as mirrored walls, and a central banquette shaped like a royal crown. Both of these were designed in collaboration with a French family-owned business specializing in fittings and joinery since 1877. They have also contributed to the design of many of the hotel's features, such as the libraries of the lobby and the Royal Kids Club.
Deluxe Lounge
The Deluxe Lounge is only available to those staying in Deluxe Rooms. It offers a lovely view of the Fantasia Gardens and offers buffet breakfasts along with complimentary afternoon sweet and salty snacks.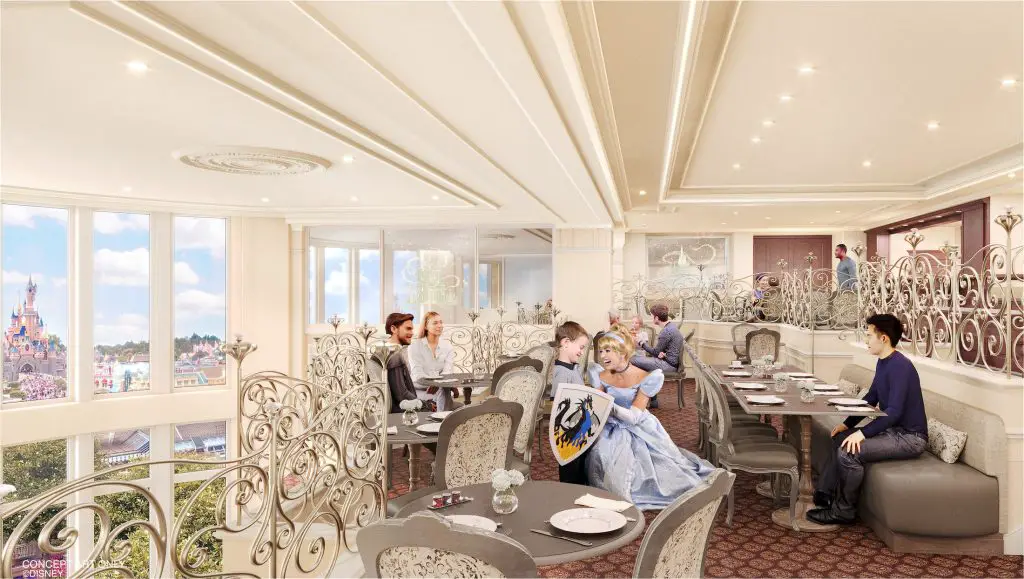 Castle Club Lounge
The Castle Club Lounge is offered exclusively to those staying in the Castle Club rooms and suites. It also offers a beautiful view of Sleeping Beauty Castle. The lounge is full of refined, bright décor that is inspired by several different Disney castle interiors. There are also elegant engravings that are designed by Walt Disney Imagineering Paris teams and then made by hand using ancestral techniques.
This dining location offers a gourmet breakfast buffet that is topped off with an à-la-carte menu. There is also a complimentary tea time that includes a selection of hot and cold beverages and sweet and savory snack options. Everything is served with delicate tableware specially created by Maison Haviland. This manufacturer specializes in Limoges porcelain and was founded in 1842. It combines both modernism and creativity with finishing touches and artistic decoration that is made by the hands of highly skilled craftsmen. To top it all off, every day at breakfast Disney Princesses appear. This could include Aurora, Rapunzel, Merida, Cinderella, or Moana.
Royal Room Service
The Disneyland Hotel royal experience also comes with extensive premium and personalized Room Service options. Hotel guests can enjoy a wide variety of premium dining and drinking options along with pastries and fresh fruits.
Royal Treatments & Offerings
The Disneyland Hotel will be the place to be royally pampered. This includes access to other Disney Hotel benefits, like Extra Magic Time in the Disney Parks to allow guests to have early access. Cast Members at the Disneyland Hotel are upping their game by being offered 13 new exclusive training courses to empower them to offer royal treatment to guests when they return in 2024.
Disneyland Hotel Spa by Clarins and the Crystal Pool & Health Club
Disneyland Hotel Spa by Clarins is a wonderful way to relax for guests at Disneyland Hotel. Clarins is a brand with unique French savoir-faire that has been lovingly perfected for over 70 years in their Beauty Institutes. Expert Beauty Therapists, in 4 double treatment rooms, including one room specifically designed with additional accessibility in mind, will provide classic and signature treatments, manicures and pedicures, blow-dry & flash make-up, for guests to enjoy alone or to share as a couple or with children.
The Crystal Pool & Health Club will allow guests to relax and bask in its main pool, kids' paddling pool, or hot tub. This will all be enjoyed under the beautiful glass and metal roof echoing the Laeken Royal Greenhouses in Brussels. Guests can also enjoy stretching out to take in the rays on the exterior sun deck as well.
The Health Club at Disneyland Hotel will also provide the latest in smart fitness equipment from Technogym. This space will be open 24/7 and also include a wellness program that comes from a partnership with wellness technology company Three Sages. There will also be a digital entertainment system to give guests access to yoga and mindfulness practices to unwind and then reset after a day in the parks.
Royal Collection Boutique
The Royal Collection Boutique at the Disneyland Hotel is inspired by the illuminated manuscripts and ancient books gracing the shelves of the most famous castle libraries. This location has been completely reimagined and features gold tones with subtle references concealed in its details that feature things like Disney Princesses emblems painted on elegant medallions. It is where guests can go to shop for exclusive products of the Disneyland Hotel. Merchandise at the Royal Collection Boutique will have emblematic features like the Mickey Mouse clock, the hotel's famous facade, a Rapunzel-inspired mirror, elegant tableware, a Mickey plush toy in his royal attire, or even the Disneyland Hotel interior fragrance. This will allow guests to bring home memories from their trip to Disneyland Paris with these special gifts and treasures.
A Royal Experience For Young Ones
There are also royal experiences to be had by young princes and princesses. This includes a royal dedicated arrival experience and many other opportunities.
The Royal Kids Club
The Royal Kids Club allows children to become a part of their favorite Disney royal stories. This is done in a magical library where the dedicated Cast Members will welcome the children as they take part in exciting interactive and augmented reality experiences. Families can also book a Disney Royal Encounter to pose alongside a Disney Princess like Snow White, Jasmine, or Ariel.
Disneyland Hotel will provide a free nursery service for children that are aged four to eleven. They are supervised by certified Cast Members (BAFA certificate holders) for up to two hours.
Personalized Royal Styling
Young royal guests can have their dreams come true with the My Royal Dream experience. Cast members will act as personal stylists and transform young guests into elegant princesses or shing princes through the magic of make-up, hair, nails, costumes, and accessories. These paid offerings will offer different packages for children and adults. Costumes will be available for young guests who are three to fourteen years old. The experience ends with a professional portrait session and includes a high-quality photo print and frames for a souvenir that will be able to be taken home and last a lifetime.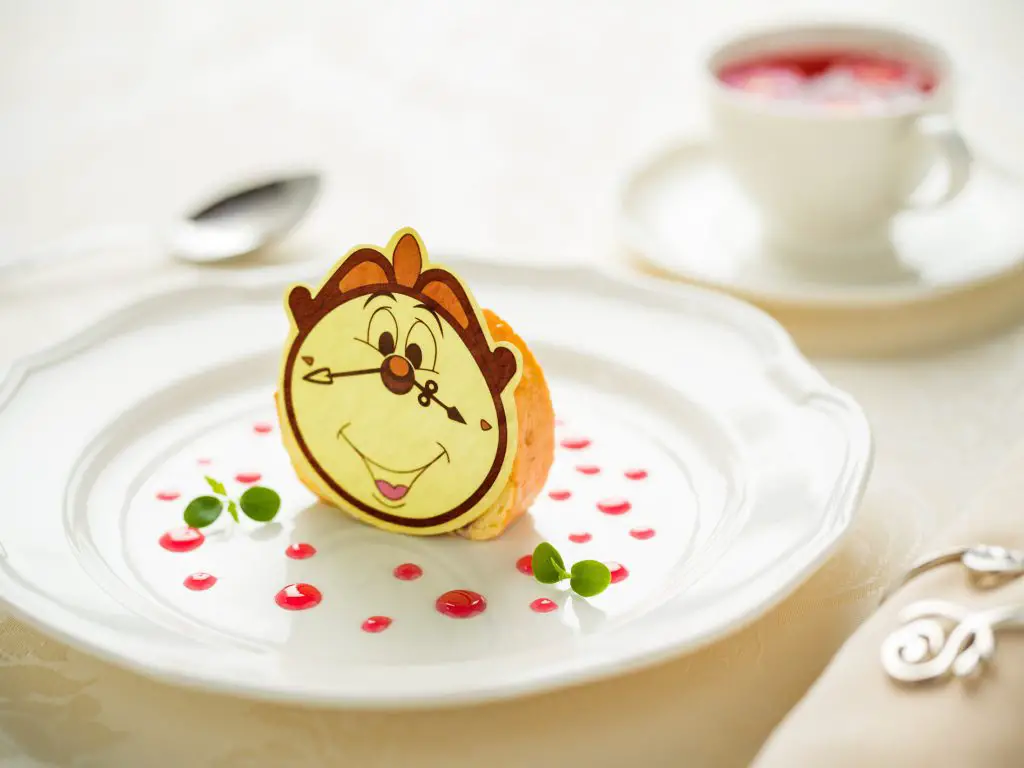 Food & Beverage for Young Palates
There will also be plenty of food and beverage options throughout the Disneyland Hotel for young palates. Menus throughout the hotel have been specially curated for young ones. This includes the Royal Banquet and La Table de Lumière restaurants with menus that include deliciously restyled French traditional delicacies that are inspired by Disney characters. This includes beef and carrots Parmentier or a POD (Protected Designation of Origin) Comté cheese puff pastry.
At the Fleur de Lys Bar, expert mixologists have created delicious mocktails for young guests. There are also a wide variety of juices, soft drinks, and snacks available as well.
Tailored Spa and Wellness Time
Spas at the Disneyland Hotel are for guests of all ages! The Disneyland Hotel Spa by Clarins and pool are proof of this. They have been designed to allow young guests to unwind with their accompanying adults. There is also a kid-friendly pool, paddling pool, and spa treatments with kid-friendly products that are provided by Nougatine Paris at Disneyland Hotel Spa by Clarins.
The Royal Facts About the Disneyland Hotel
As can be seen above, there are a lot of incredible offerings of royal Disney magic to be found throughout the reimagined Disneyland Hotel. This hotel has basically been rebuilt from the inside out. Disneyland Paris also shared the following facts about the Disneyland Hotel ahead of its reopening in January:
Rooms and Suites That Tell Royal Tales
487 Rooms and suites
5 floors and 3 wings
346 Superior Rooms – 32m2 to 40m2
82 Deluxe Rooms – 32m2 to 40m2 Including The Castle Club
41 Castle Club Rooms – 33m2 to 43m2
16 Signature Suites – 60m2 to 90m2
1 Princely Suite Beauty and the Beast – 116m2
1 Royal Suite Frozen – 206m2 Services and equipment
Accessible rooms
Luxury bedding and linen
Ultra HD TV screen behind mirror (55″)
TV experience with Chromecast
Free high speed WIFI access
Themed bedroom and bathroom amenities
Coffee and Tea facilities
Safe
Turndown service
Pillow menu
Concierge
Only for Deluxe Rooms:
• Exclusive access to Deluxe Lounge
• Magical bedtime ritual experience
• Dedicated check in and concierge desk
Only for Castle Club Rooms and Suites:
• Exclusive access to Castle Club Lounge
• Castle Club themed bedroom amenities
• Themed bathroom amenities by Clarins
• Exclusive set of cosmetics from Nougatine for children • Magical bedtime ritual experience
• Dedicated seated check in or in-suite check in
• Private reception, concierge and elevators
Only for the Royal Suite Frozen:
• Kitchen fully equipped
• Separate dining room
• Balcony view over Main Street and Sleeping Beauty Castle
• Grand piano
• Whirlpool
Themes and Decor
Superior, Deluxe, and Castle Club Bedrooms
• Celebration of 11 Classic Royal Stories from Walt Disney Animation Studios: Snow White & The Seven Dwarfs, Cinderella, Sleeping Beauty, The Little Mermaid, Beauty & The Beast, Aladdin, The Princess & The Frog, Tangled, Frozen, Moana, Raya & The Last Dragon.
• 22 exclusive pieces of Art created in partnership between Walt Disney Imagineering and Walt Disney Animation Studios.
Signature Suites
Immersion into the world and period of 5 iconic Classic Royal Stories from Walt Disney Animation Studios: Cinderella, Frozen, Sleeping Beauty, Beauty & the Beast, and Tangled.
Exclusive pieces of Art created in partnership between Walt Disney Imagineering and Walt Disney Animation Studios.
Princely Suite
• Immersion and invitation in the world and the period of Walt Disney Studios' Live Action Beauty & The Beast.
Royal Suite Frozen
• Immersion and an invitation into the world and the period of Walt Disney Animation Studios' Frozen.
Royal Experience for the Little Ones
MY ROYAL DREAM
(Additional charge)
Royal hairdressing, make-up, costumes, and shooting with a professional photographer depending on the selected option
Photo experience in a dedicated corner
ROYAL KIDS CLUB
Wide range of playful activities for kids of all ages, from interactive storytelling to artistic experiences
Augmented reality library
Discovery quest
Nursery for kids between 4 and 11 years old (supervised by a BAFA Cast Member during a two-hour slot)
Disney Royal Encounter
Crowning Gourmet Experience
LA TABLE DE LUMIERE
Dinner in the company of Disney Princess Characters and princes
Table-service inspired by Disney's Beauty and the Beast
In a setting inspired by the famous Hall of MirrorsFrench fine dining contemporary food
ROYAL BANQUET
Lunch and dinner in the company of Mickey, Minnie and their friends in royal costumes
Grand reception room honouring Disney royalty through art and portraits
All-you-can-eat buffet inspired by royal families from around the world
FLEUR DE LYS BAR
Classic and floral signature cocktails
Carefully curated kids' mocktails
Selection of premium wine and exclusive champagne cuvée
Sweet and savoury finger food
THE DELUXE LOUNGE
All-you-can-eat breakfastAfternoon tea and snacks
All-day non-alcoholic drinks
THE CASTLE CLUB LOUNGE
All-you-can-eat buffet and à la carte breakfast in the company of Disney Princesses
Afternoon tea and snacks
All-day non-alcoholic drinks
ROOM SERVICE
ROYAL TREATMENT FOR THE ULTIMATE STAY
Présentation PowerPoint
CRYSTAL POOL
Inside pool, Kids paddling pool and Hot tub
Inside resting areas and outside sundeck
Women & men's changing rooms each with sauna, steam bath, restrooms
PMR changing rooms and restrooms
Selection of amenities & Dyson hair dryers
Clarins body and hand lotion
High quality pool linen
Free high-speed Wi-Fi
HEALTH CLUB
TechnoGym fitness equipment (6 cardio & 2 strength machines)
TV screen connected
Fully equipped yoga & meditation area powered by 3 Sages (virtual classes)
Free high-speed Wi-Fi
Mini-fridge and towels available
Fruit infused water & water fountain
DISNEYLAND HOTEL SPA by CLARINS
Dedicated area with private entrance by the pool
Luxurious spa menu including signature treatments and families and children's treatments
Blow dry bar and make-up
Manicure and pedicure
Direct access to the Crystal Pool & Health Club
ROYAL COLLECTION BOUTIQUE
Princesses product ranges
Exclusive DLH range and collab
Pandora offer
Majbritt Iaconis – Disneyland Hotel General Manager
Présentation PowerPoint
Under the leadership of Pilar HAMIL, Vice President Hotels and Convention Centers, Majbritt IACONIS joins Disneyland Paris to assume the management of the Disneyland Hotel, the destination's five-star jewel. As a true force for transformation, she inspires and guides her teams towards excellence. This luxury hotel enthusiast firmly believes in the importance of offering innovative luxury experiences that are accessible to all.
Native of Denmark, Majbritt IACONIS graduated from Cornell University, School of Hotel Administration, and took her first steps into the food and beverage industry in the United States. She quickly followed her instincts, and her love of hospitality led her to Paris to explore the world of luxury hotels. She climbed the ladder one by one, from Housekeeping to Operations Manager at renowned addresses. From the Ritz Paris, the Hôtel Plaza Athénée or the Mandarin Oriental Paris for the opening in 2011, she played a significant role in crafting unforgettable experiences for the world's most discerning travelers. Deeply committed to accessibility issues, Majbritt IACONIS is not only a leading figure in the hotel industry, she is also a strong sponsor of Francis Van De Walle's Senses Room.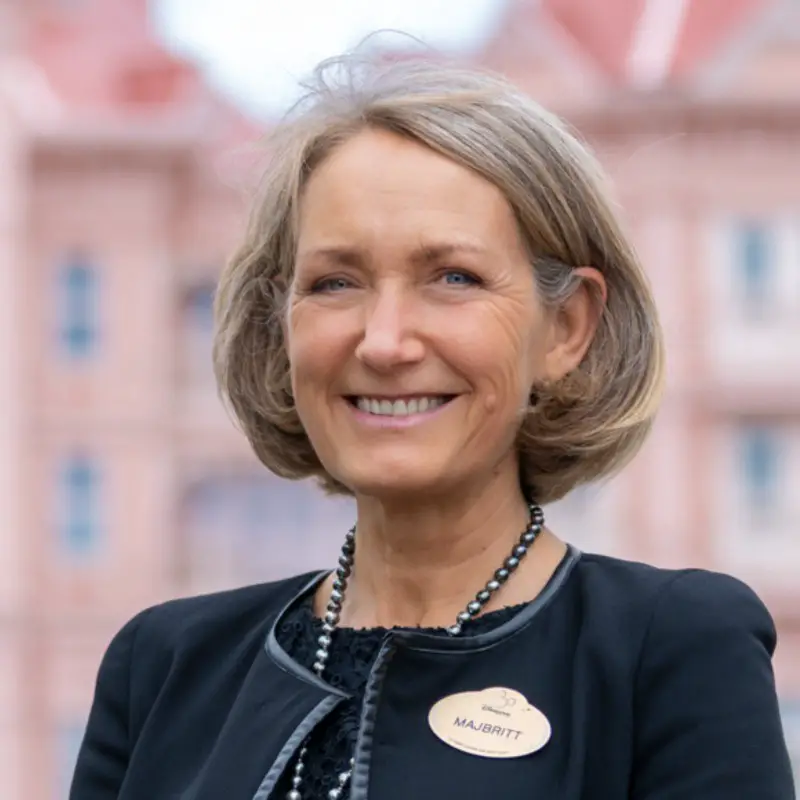 Reservations can be made for the Disneyland Hotel through Mouseways Travel, the official travel partner of Daps Magic. Book your next Disneyland Paris adventure today!
What do you think of the reimagined Disneyland Hotel? What are you most looking forward to at it? What would you most like to experience? Share your thoughts and opinions in the comments below!