Disney has announced that it intends to invest roughly $60 billion over the next 10 years "in expanding and enhancing domestic and international parks and cruise line capacity." This is nearly twice the amount it spent in the last 10 years. The news comes as Disney CEO Bob Iger and other senior executives including Disney Parks, Experiences and Products Chairman Josh D'Amaro have been joined by Wall Street analysts and investors at Walt Disney World Resort for an investor summit.
"Throughout our history, we've created enormous growth by investing the right amount of capital into the right projects at the right moment," said Iger. "We are planning to turbocharge our growth yet again with a robust amount of strategic investment in this business."
"We're incredibly mindful of the financial underpinning of the company, the need to continue to grow in terms of bottom line, the need to invest wisely so that we're increasing the returns on invested capital, and the need to maintain a balance sheet, for a variety of reasons," said Bob Iger. "The company is able to absorb those costs and continue to grow the bottom line and look expansively at how we return value and capital to our shareholders."
"We have an ambitious growth story that is supported by a proven track record and a bold vision for the future of our Parks business," said D'Amaro.
According to a filing with the SEC, Disney says that for every 1 Disney fan who visits its parks, there are 10 who have an affinity for Disney who aren't visiting yet. Disney would like to change that.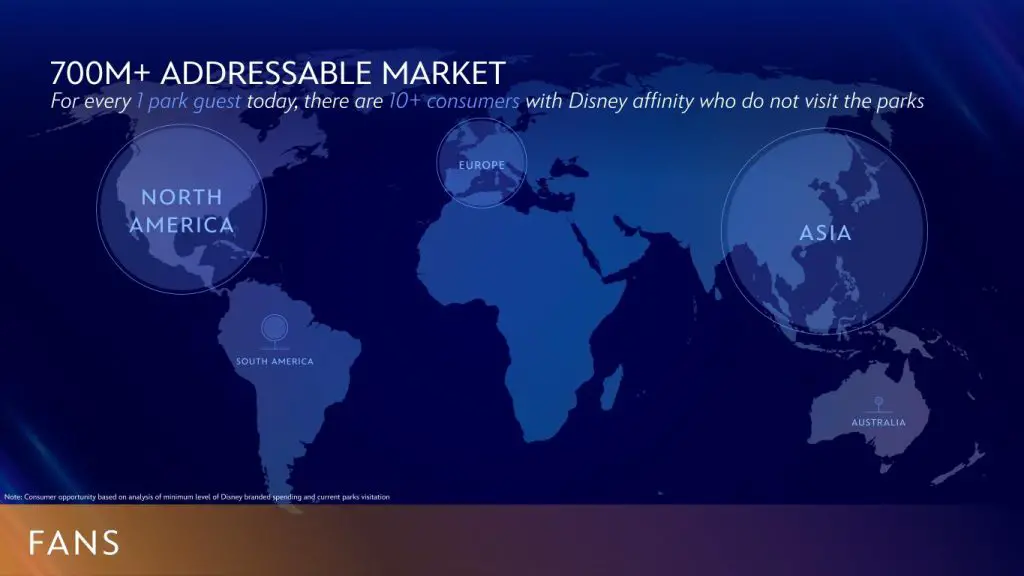 Along with plenty of possibilities for new consumers/guests, Disney also noted that there is a lot of room for future growth in its parks. In fact, there are over 1,000 acres available for future development by Disney. This is about the equivalent of seven Disneyland Park theme parks. Along with the parks expanding their footprints, there is plenty of room for capacity growth for the Disney Cruise Line. In the next two years alone, the Disney Cruise Line will double its capacity with the arrival of the Disney Treasure, the Disney Adventure, along with another yet-to-be-named ship.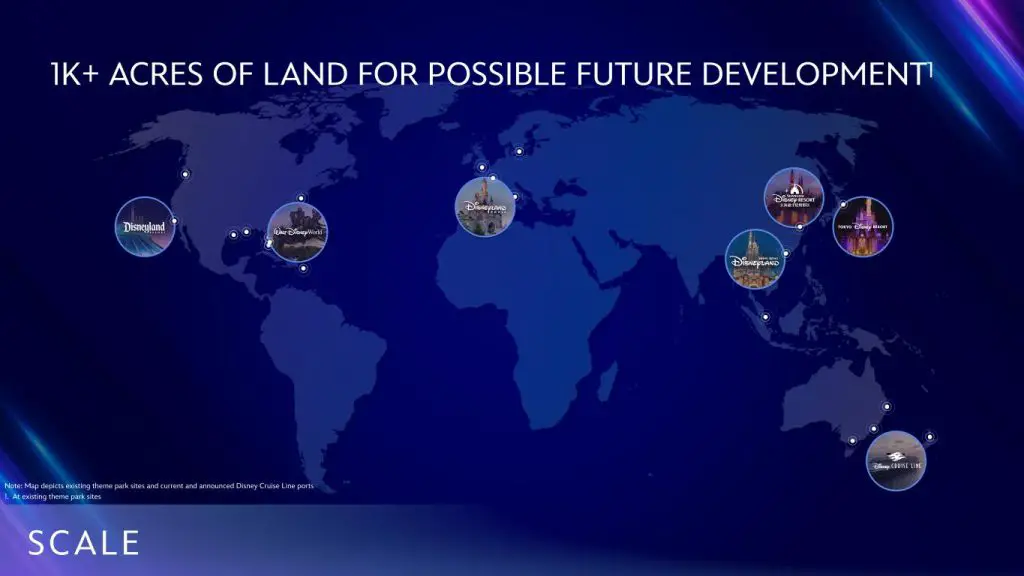 Disney's growth strategy moving forward will be focused on three things. Disney says they will be:
Stories

All over the world, Disney leverages its incomparable library of intellectual property through immersive storytelling experiences in its Parks and Resorts, on board its cruise ships, and through its consumer products and licensing business. The Parks business serves as a powerful platform where Disney's beloved stories come to life in innovative ways, and where fans across generations and geographies can connect with and explore the Disney brands and franchises they love, from Avatar to Zootopia, and everything in between.

Disney continuously reimagines its theme park offerings to appeal to more guests by incorporating new stories from its popular films and series. Disney Parks has seen growth following previous periods of significant investment, which included the additions of Cars Land at Disney California Adventure, Star Wars Galaxy's Edge at Disneyland Resort and Disney's Hollywood Studios at Walt Disney World, Avengers Campus at Disney California Adventure and Walt Disney Studios Park in Paris, and more.

Today, as Disney considers future growth opportunities, there is a deep well of stories that have yet to be fully explored in its theme parks.

Already, new Frozen-themed lands are coming to Hong Kong Disneyland, Walt Disney Studios Park in Paris and Tokyo Disney Resort, as well as a Zootopia-themed land at Shanghai Disney Resort. However, Disney will explore even more characters and franchises, including some that haven't been leveraged extensively to date, as it embarks on a new period of significant growth domestically and internationally in its parks and resorts.

"We have a wealth of untapped stories to bring to life across our business," said D'Amaro. "Frozen, one of the most successful and popular animated franchises of all time, could have a presence at the Disneyland Resort. Wakanda has yet to be brought to life. The world of Coco is just waiting to be explored. There's a lot of storytelling opportunity."

Scale

Today, Disney has the largest physical footprint of any global theme park travel business, with 12 parks across six sites around the world. Its newest resort, Shanghai Disney Resort, opened in 2016. Disney Cruise Line visits 94 ports in 40 countries, and Disney's industry-leading consumer products division brings Disney IP into fans' homes across the globe.

Notably, Walt Disney World Resort is twice the size of the island of Manhattan, Disneyland is the most "Instagrammed" place on Earth, and tens of millions of guests travel on Disney's transportation networks each year.

Disney's Parks business is a key driver of value creation for the company, and positive segment results in recent past quarters through FY23Q3 have come in part from strong performance at Disney's international parks, particularly those in Asia. Shanghai Disney Resort and Hong Kong Disneyland, which have both shown meaningful growth coming out of the pandemic through Q3 FY23, have even further growth opportunities with the expansions set to open later this year.

However, in addition to development plans already underway, there is significant room for further expansion on land and at sea.

"We stand alone when it comes to scale," said D'Amaro. "And while our scale is impressive, we have no shortage of space or regions of the world in which to tell new stories."

In fact, Disney Parks has over 1,000 acres of land for possible future development to expand theme park space across its existing sites – the equivalent of about seven new Disneyland Parks.

Meanwhile, Disney Cruise Line serves as a powerful ambassador for the brand in ports and markets around the globe beyond its theme parks, including Australia and New Zealand for the first time later this year, extending the reach of Disney's high-quality experiences. As previously announced, over the next two years, Disney will nearly double the worldwide capacity of its cruise line, adding two ships in fiscal year 2025 and another in 2026, delivering even further growth potential and introducing new markets to Disney experiences, including a new homeport in Singapore beginning in 2025 to expand its reach further into the Asia-Pacific region.

Fans

Today, Disney has seven of the top ten most attended theme parks in the world, including Walt Disney World's Magic Kingdom Park, which has been the #1 attended theme park on earth for decades. Disney Parks welcome approximately 100 million guests each year.

Yet there is still enormous untapped potential for reaching more consumers. According to Disney's internal research, there is an addressable market of more than 700 million people with high Disney affinity it has yet to reach with its Parks. In fact, for every one guest who visits a Disney Park, there are more than ten people with Disney affinity who do not visit the Parks.

"Ultimately what is most important to us is the relationship that we have with every guest," said D'Amaro. "Guests can spend a day with us at our Parks, a week with us on a Cruise, or the rest of their lives with us through Disney Vacation Club membership."

As Disney expands its footprint and offerings, not only will the company be able to reach more of its existing fans, but it will create new fans and loyal consumers.

– The Walt Disney Company
The newly announced investment in Disney's Parks moving forward come after Disney made announcements about future projects in its parks and resorts around the globe at its Destination D23 event last weekend.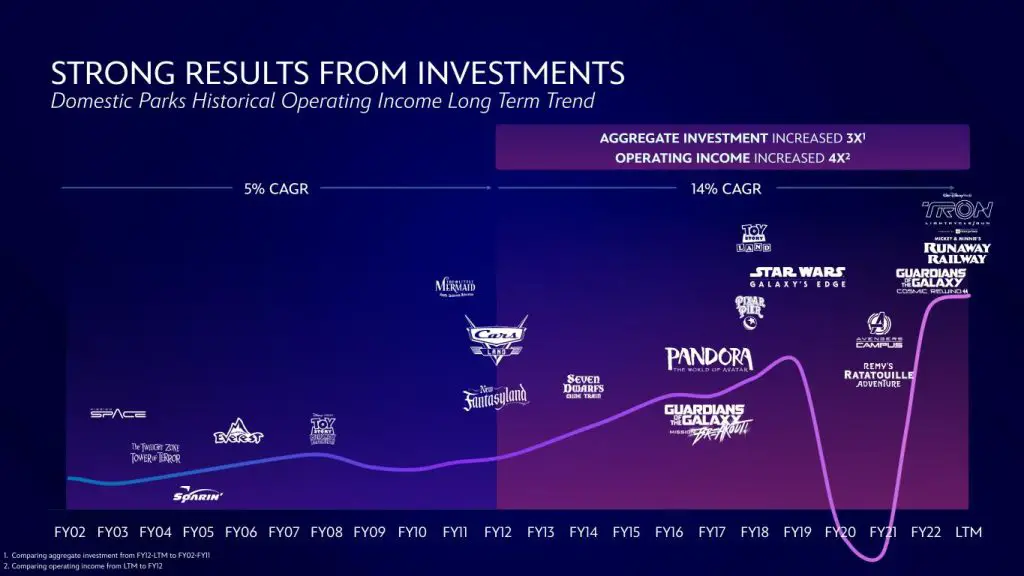 The investor summit in Florida is focused on "Disney's Parks business and its track record of investing aggressively and intelligently in experiences that leverage the powerful and ever-growing library of Disney stories, which has proven incredibly effective." This comes as Disney has found itself navigating some difficult waters in some of its businesses, particularly those regarding its traditional linear television networks and studios. As the world moves from a traditional media viewing model that was built on linear television and traditional movie-going to a new world of cord-cutting consumers, Disney is looking to evolve to create a profitable streaming model. However, this is still very much a work in process. Despite the challenges, the Disney Parks, Experiences and Products segment continues to be a shining star for the company. It makes sense that this is something that Disney would like to highlight for investors and also spend more on moving forward.
What do you think of Disney spending $10 billion on its Parks segments moving forward? Where do you think how it will be utilized? Any predictions? Share your thoughts and opinions in the comments below!
**This article is being updated with more details as they are released throughout the day**