Hurricane Idalia is set to hit Florida on Wednesday somewhere between Gainesville and Tallahassee. When it does, it is expected to have peak sustained winds of 125 mph with gusts up to 155 mph and storm surge that could top 15 feet by mid-morning Wednesday. As Florida braces to deal with this hurricane, Walt Disney World is offering to help as well. This morning Walt Disney World Resort announced that it would be offering a 50% discount to Florida residents who were evacuating from the storms at Disney Resort hotel. The discount also applies to first responders who are providing aid with storm recovery efforts. The discounts are available for the nights of August 29-31, 2023.
The following post could be found on the Walt Disney World Resort website on Tuesday:
Evacuees & First Responders Support: Florida residents evacuating from the storm and first responders assisting in storm-related recovery efforts may also receive 50% off Disney Resort hotel stays on the evenings of August 29-31, 2023. For evacuees, please call (407) W-DISNEY for details. For first responders, please call (407) 828-3200 (Option 3). This applies to new bookings only and is based on availability.
Along with offering a discont for Florida residents and first responders, Walt Disney World Resort has also offered to be a staging area for storm-related recovery efforts for the state of Florida.
For those who were already scheduled to stay at Walt Disney World Resort hotels, the change and cancellation fees imposed by Disney will be waived for check-in dates of August 28, 2023 through September 5, 2023. Guests who find themselves at the Walt Disney World Resort and find their travel plans disrupted by Hurricane Idalia may also receive a discounted rate to extend their stay through August 31, 2023. Simply visit the front desk to inquire about these options.
Finally, Walt Disney World Resort also requested that those who are staying at the Fort Wilderness Resort & Campground to remove and stow all outside items, including décor, and take in camper awnings by 6:00 PM on Tuesday, August 29. Disney has also said that if guests would like to depart early or discuss alternative options for their vacation, they should call (407) 939-2744.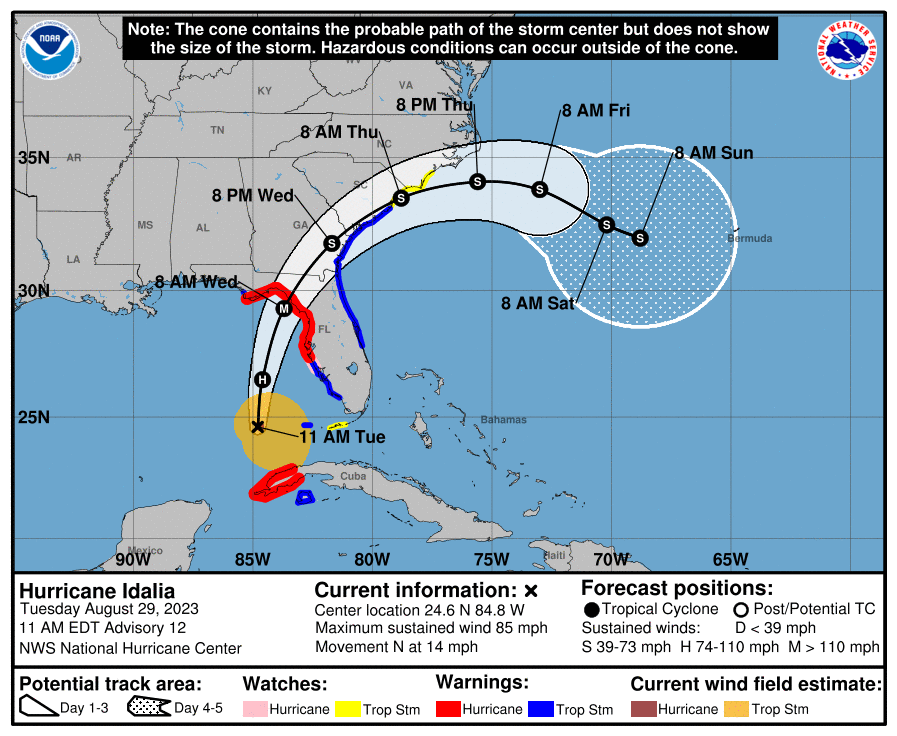 At this point, Walt Disney World Resort is continuing to operate in a normal fashion. No operational changes have been made ahead of Hurricane Idalia's arrival. The current track of the storm has it pushing further North, which means that in theory the storm shouldn't affect Walt Disney World Resort as much as if it had tracked further south.
Last year Hurricane Ian led to Walt Disney World Resort closing its theme parks and modifying its operations at its hotels. Hurricane Ian became a category 1 hurricane on September 26, 2022. The once-in-a-lifetime storm hit Florida on September 28. It caused massive flooding, storm surge, and other damage. Daps Magic covered the progress of this storm and provided updates on how it impacted Walt Disney World Resort and the Disney Cruise Line. It does not appear that this storm will be impacting Walt Disney World Resort in the same way that Hurricane Ian did. Hurricane Idalia did cause the Disney Fantasy to change its course to avoid the storm.
Daps Magic will continue to follow the progress of Hurricane Idalia and share updates as they become available.