Tiana's Palace officially opens on September 7, 2023. When it does, guests will get to taste Tiana's take on authentic food from her hometown of New Orleans. Members of the media were able to get a preview of what that menu will be like ahead of the official opening of Tiana's Palace in New Orleans Square. Daps Magic was among the invited guests for this special preview. In short, the all-new menu is delicious. However, there is so much more to the story than this. In fact, there are more stories that led to the creation of this new and unique menu at Tiana's Palace. These stories include imagineers, animators, culinary experts, chefs, and all of the people who surround them. Everyone had a perspective and story to offer in the creation of Tiana's Palace and its menu. All of these came together, just like a recipe, to create something beautiful thanks to all of the differences.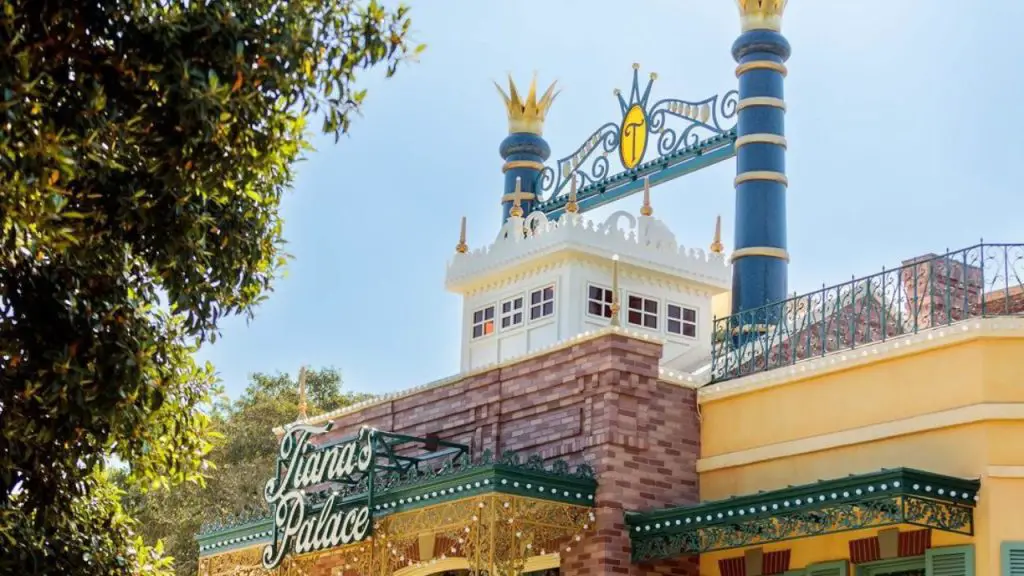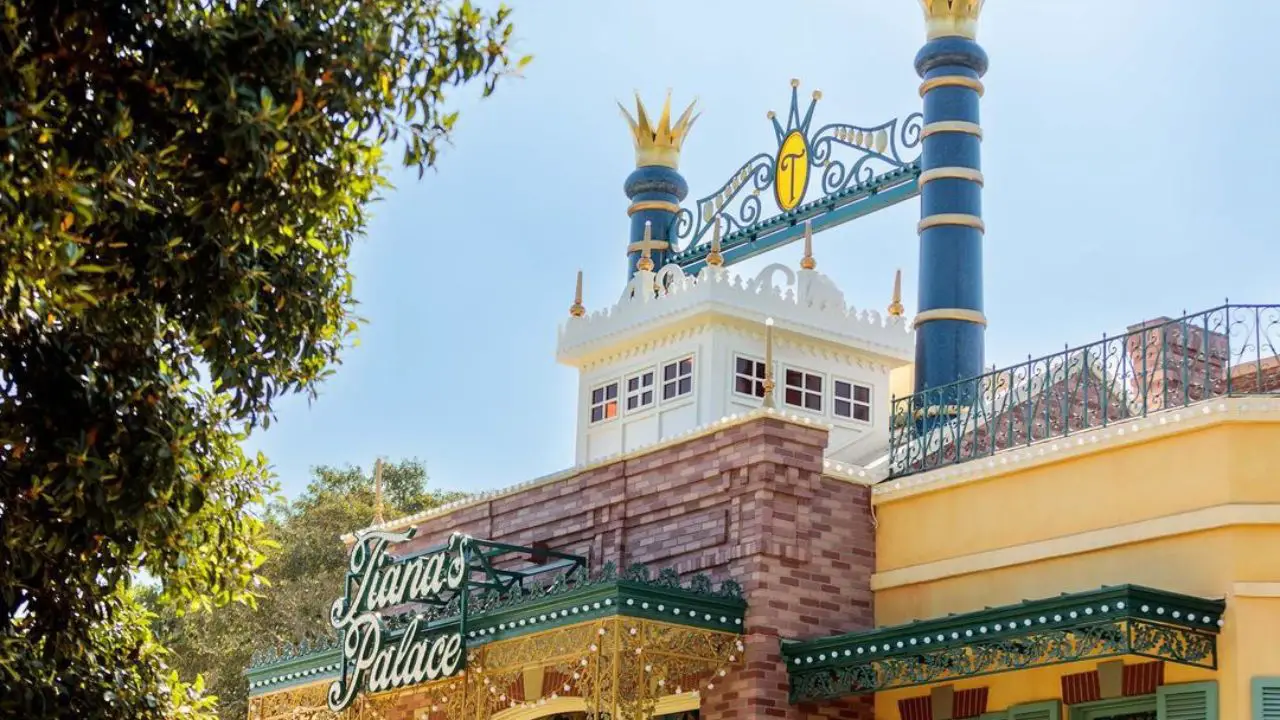 The Stories
The preview began with dessert, just as Tiana would argue a good meal should. Along with the dessert came a presentation about Tiana's Palace. The presentation began with a look at the physical creation of the new restaurant. The event was hosted by Disneyland Ambassador Mark Everett King Jr. who first invited James Finch to the stage. James is a Visual Development Artist at Walt Disney Animation who worked on The Princess and the Frog. For this movie, he designed environments and sets as a production designer. This was what he returned to decades later with the development of Tiana's Palace.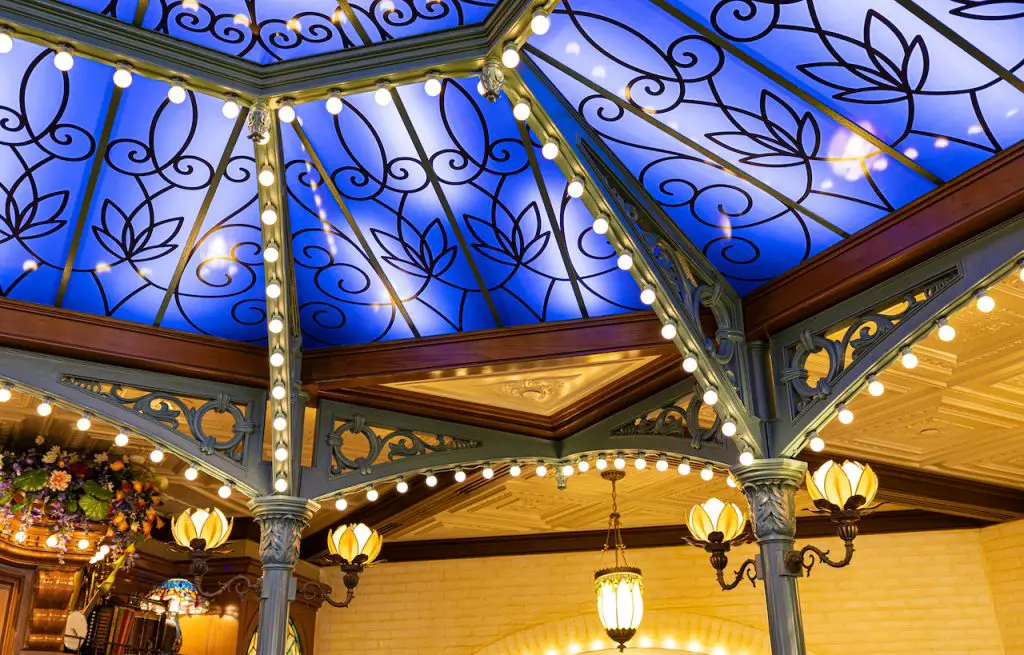 Imagineer Kim Irvine came to the stage next and shared about the process of creating the actual restaurant. This included multiple research trips to New Orleans (where she discovered pretty much every restaurant has a black and white checkered floor), creating a new way to respect the past, while also continuing to move forward with a new story and era for this location. The foundation of the new came from the past, in particular, the drawings from Dorothy Redmond and Herb Ryman. Herb Ryman created a beautiful rendering of New Orleans. Walt Disney brought Redmond in to create watercolor paintings of the interiors and exteriors of buildings in New Orleans Square. Redmond was a production designer known for her work on the Alfred Hitchcock films. The renderings she made of New Orleans Square were sent to the Model Shop, which made pencil renderings from her artwork and then actual physical models. Many of the details that started in Redmond's renderings made it all the way through construction and will still be found in Tiana's Palace. This includes the rod ironwork in the restaurant and the skylight.
Both Kim Irvine and James Finch shared how research is such a key component in what they do. Watching the presentation, it is clear that a LOT of research went into bringing this location to life. This includes research in New Orleans and many locations found in the Crescent City. It also includes research among fellow cast members, friends, and family members. This is particularly true in regards to the food. For the presentation, several people who brought the food to life at Tiana's Palace stepped on stage. First was Michele Gendreau, the director of Food & Beverage for the Product Optimization team of Disney Parks Experiences & Products. She shared the big picture of what the team was striving for with the culinary experience for Tiana's Palace. In short, they wanted to continue Tiana's story and they wanted everything to be as authentic as possible to New Orleans. This means sourcing ingredients from New Orleans and the surrounding areas and offering dishes that someone from New Orleans would taste and feel are authentic. A guest at the preview was from New Orleans and confirmed Disney's success with this. In fact, she confirmed the menu's authenticity several times.
Another person from New Orleans was Lindell Skinner. Skinner is the Co-Chair of PULSE Employee Resource Group along with being Operations Manager of food and Beverage, at Disneyland® Resort. Specifically, he works in New Orleans Square. Skinner shared about the process of creating foods for Tiana's Palace. This included getting opinions from multiple people and their families to really nail the authenticity. He also several times noted that there are a lot of different opinions on what is the best or right way to make a certain dish in New Orleans. He even expressed. some of his own opinions during the presentation. He was joined by Chef John State, the Culinary Director, Food and Beverage, at Disneyland® Resort. Together they shared the menu that will be offered at Tiana's Palace when it opens on September 7, 2023. It can be seen below.
Both Skinner and Chef State shared multiple times about how important it was to them to be authentic, source locally when they could, and also include the experiences and stories of family members from New Orleans. The result is a restaurant that offers a full dining experience that is so much more than food.
The Menu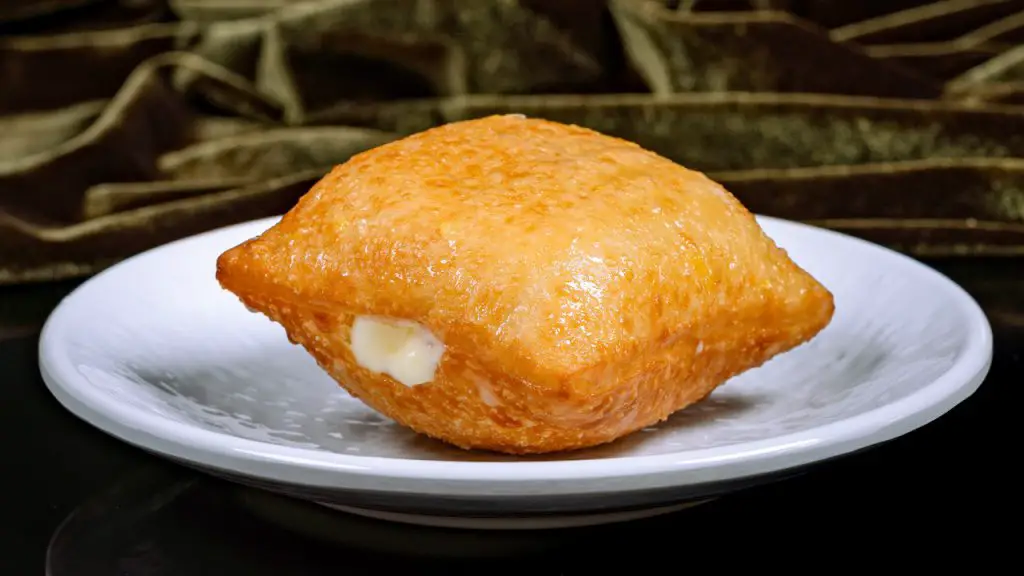 House-filled Beignet
About: Tiana loved to start with dessert first so let's do the same. The House-filled Beignet is made on the spot where guests can watch! This is Tiana's famous beignet that is filled with lemon ice box pie filling topped with lemon glaze. The lemon ice box pie is a traditional dish in New Orleans.
Verdict: The House-filled Beignet is a great way to start a meal with dessert. The beignet itself is light and delicious. It is filled with the lemon ice box pie filling, which has a strong lemon flavor. However, it didn't make me pucker up which I am prone to do with lemon. The lemon glaze on top was also subtle and delicious. Definitely grab a napkin or two with this one as Tiana's team is generous with the filling! I look forward to getting this one again!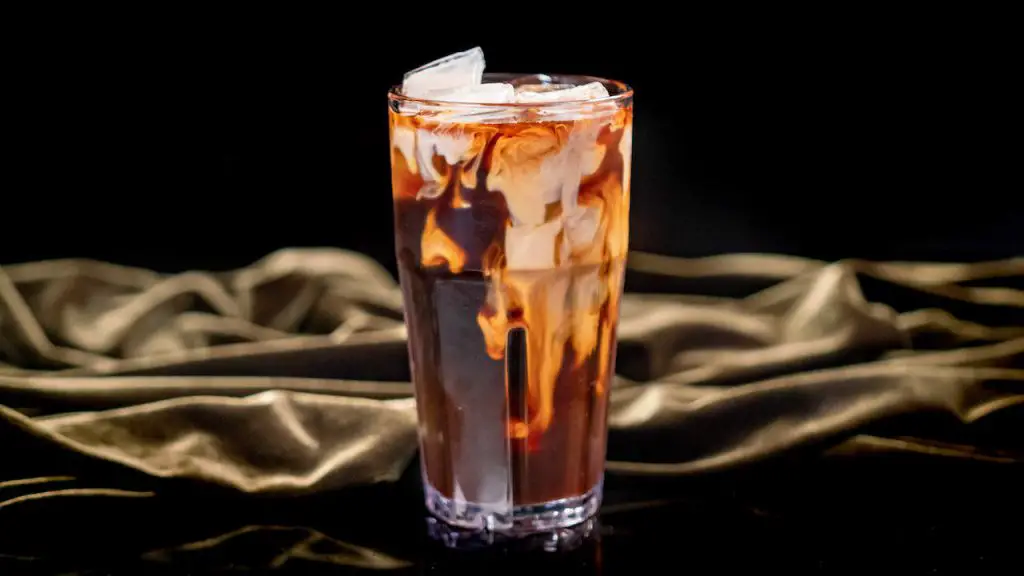 Joffrey's Coffee Chicory Cold Brew
About: The Joffrey's Coffee Chicory Cold Brew is topped with sweet cream. A Ray Firefly Glow Cube is also available to add to the drink when purchasing it (there IS a limit of ten per purchase per customer for this glow cube).
Verdict: This was such a pleasant and refreshing surprise. I am not a cold brew guy. In general, I find it either too sweet or too bitter. This was neither. It was a nice cold brew that I think most people will really enjoy. The sweet cream wasn't overly sweet and added a nice contrast to the coffee. When it was being brought out I expected to sip it and be done. By the end of the presentation, I had finished most of it.
7 Greens Gumbo
About: The 7 Greens Gumbo is a plant-based option. It includes white beans, okra, yams, sweet potatoes, and heirloom rice. Chicken & Andouille Sausage can also be added for those who want to have some meat included.
Verdict: This was a delicious dish. It was unlike any gumbo I had eaten before but I really enjoyed it. The different vegetables in it created a variety of flavors. It also was not too spicy. However, there will be hot sauce available at Tiana's Palace if you want to spice it up a bit. We did not try it with the meat, however, the chicken and sausage were offered in the House Gumbo and were delicious.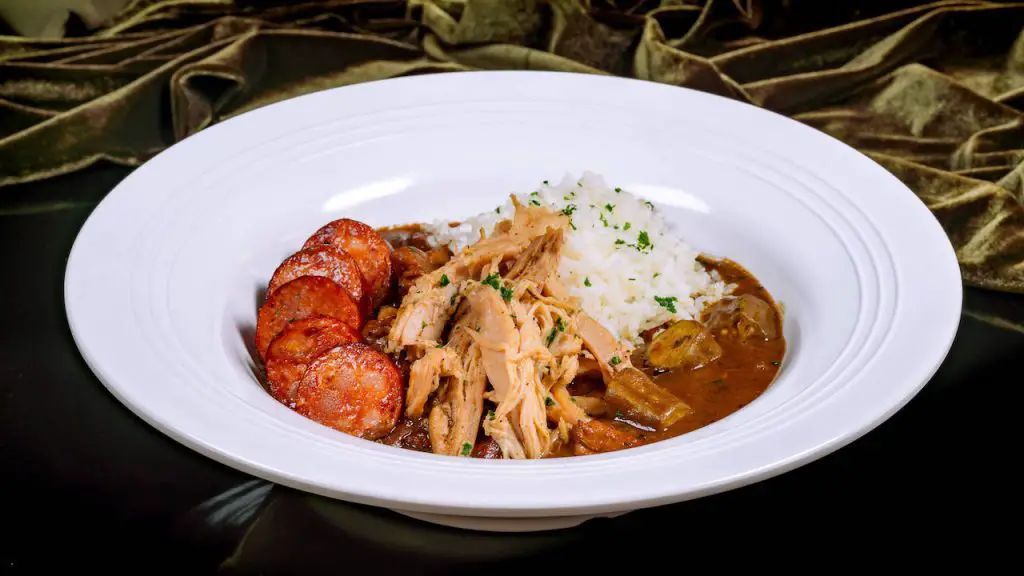 House Gumbo
About: The House Gumbo is based on the recipe that Tiana's father once taught her. It is a New Orleans staple. It combines braised chicken, andouille sausage, and heirloom rice that is put into the base of a roux.
Verdict: This was a favorite dish at the preview of Tiana's Palace. It had a nice kick to it, but it wasn't unbearable. The roux was delicious and dark and was a wonderful compliment to the two meats. The rice was a nice contrast to the heavier roux and meat. It also balanced out the spice. This one did make me sweat a little bit. This might be the first one I eat again when Tiana's Palace opens on September 7, 2023.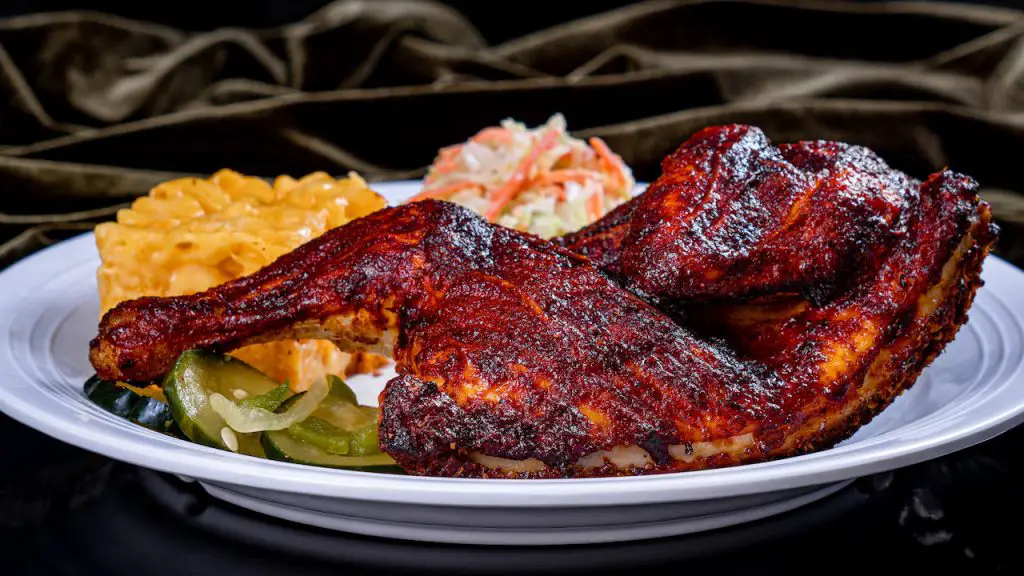 Cajun Spice Half Chicken
About: The Cajun Spice Half Chicken is served with house-made pickles, baked macaroni cheese, and coleslaw. The chicken itself is brushed three times throughout the course of its cooking process with house-made chicory BBQ sauce.
Verdict: This dish was not offered at the media event.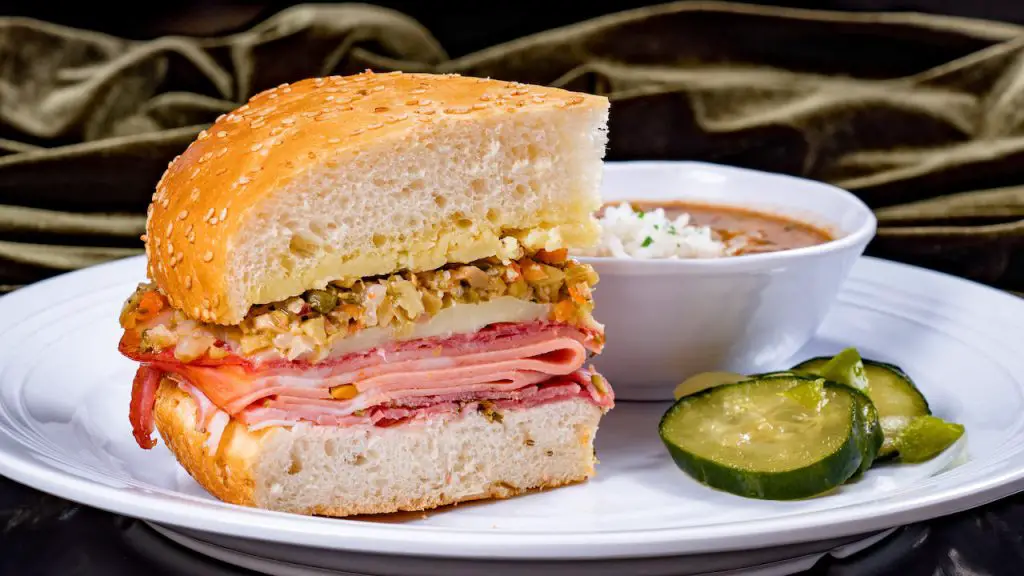 Muffuletta Sandwich
About: This is a sandwich that is made with mortadella, salami, rosemary ham, cheddar, provolone, and house-made olive relish on toasted New Orleans sesame seed bread. This is served with red beans and rice and house-made pickles.
Verdict: This sandwich was not offered at the media event.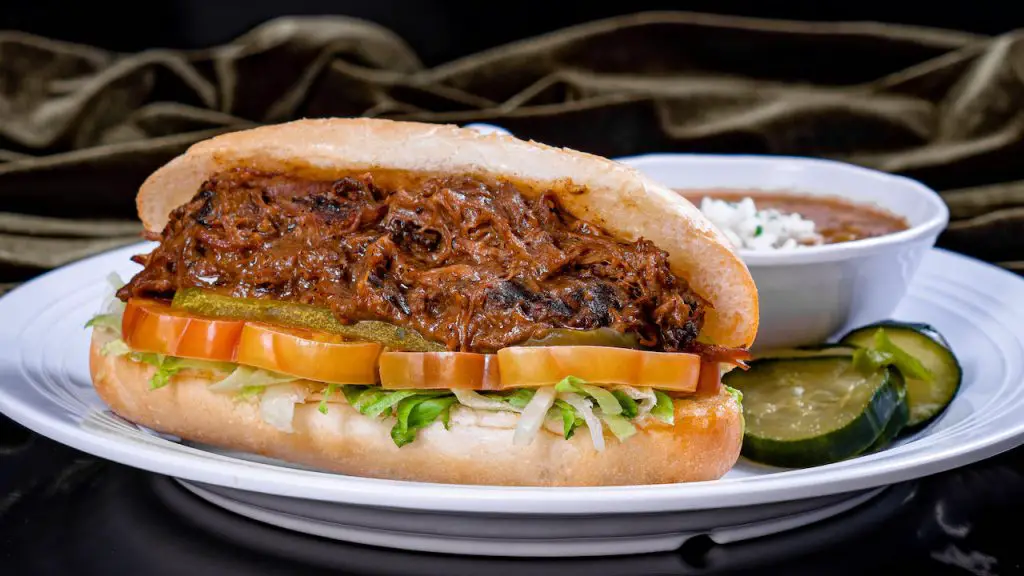 Beef Po-boy Sandwich
About: The Beef Po-boy Sandwich has slow-cooked beef that is coated with gravy and then fully dressed with shredded lettuce, tomato, and mayonnaise. It is served on toasted New Orleans French bread, that comes from New Orleans. It is served with red beans and rice and house-made pickles.
Verdict: To put it simply, this was delicious. It is a nice and hearty sandwich. The meat was very tender and delicious. The lettuce and tomatoes added a pop of freshness and contrasting texture. The bread that this is served on I would love to just simply eat all the time. This dish is not spicy but the red beans and rice that accompany the sandwich have a kick. The pickles helped balance it all out though and the combo of the whole plate was lovely.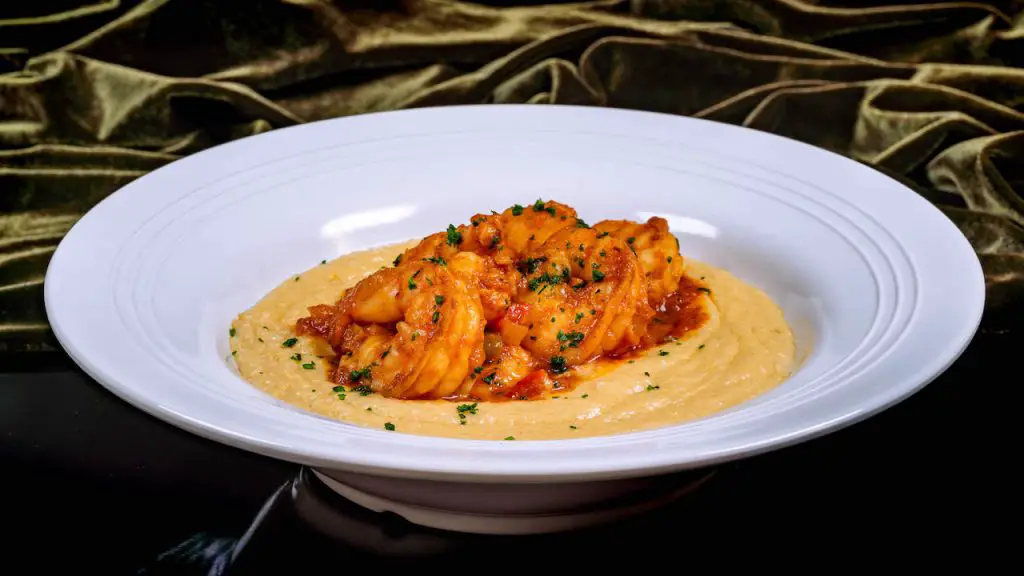 Gulf Shrimp and Grits
About: The Gulf Shrimp and Grits are made up of shrimp that are sourced from the Gulf of Mexico. The shrimp are first slow roasted, then quickly grilled and then tossed in Creole sauce. Then it is put on top of cheesy grits with the sauce.
Verdict: This was a delicious dish. It really isn't spicy so if that is a concern, this is definitely a safe option. The shrimp was not overcooked and was very enjoyable. I have found this dish in other places to be very hit-or-miss for me. This was a definite hit. I'm still thinking about how creamy and cheesy those grits were!
Sides
Buttermilk Cornbread
Baked Macaroni and Cheese
Red Beans & Heirloom Rice
Coleslaw
Cheesy Grits
Plant-based Heirloom Rice
The sides for Tiana's Palace were created with heart and care by the team at Disney. A couple of these sides were offered to the media at the preview. The buttermilk cornbread was a nice moist cornbread with a little bit of sweetness to it. The Red Beans & Heirloom Rice were delicious. It did have a kick and was one of the spicier offerings of the day. However, it really was good and I look forward to having it again.
The Cheesy Grits and Heirloom Rice were part of other dishes that were previewed by the media and were both delicious. The Baked Macaroni and Cheese and Coleslaw were not a part of the offerings, however, the team that created these two dishes was quite passionate about them.
Kid's Meals
About: There are three options for kids at Tiana's Palace. This includes a Roasted Chicken Drumstick. It is served with Heirloom Rice and is covered in sweet BBQ sauce. There is also a Toasted Ham & Cheese Sandwich that has savory ham and provolone. Finally, there is also an option for the Baked Macaroni and Cheese. Each kid's meal comes with a Cuties Mandarin Orange, applesauce, and the choice of DASANI water or a small low-fat milk.
Verdict: Kids meals were not previewed. Based on the crossovers with the adult menu, however, it appears that the kid's meals will be delicious and fairly healthy!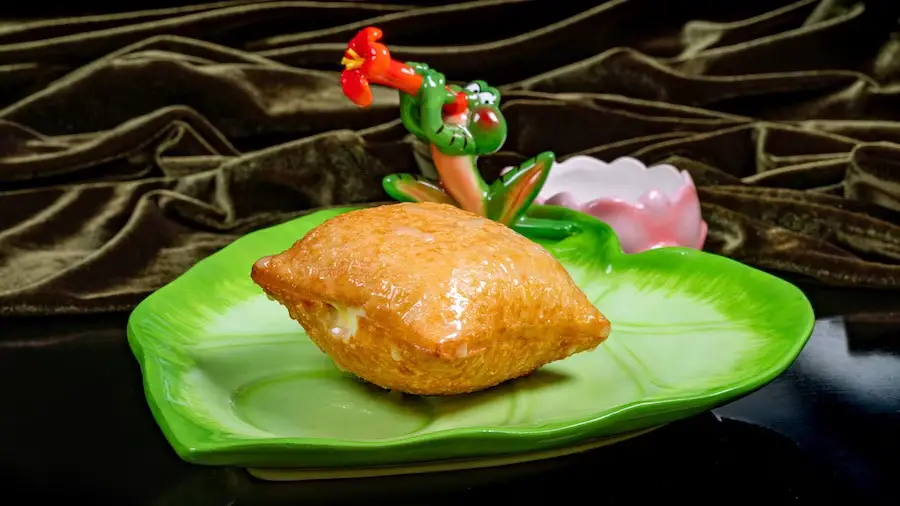 Lily Pad and Lotus Cup Ceramic Set
About: The Lily Pad and Lotus Cup Ceramic Set comes with a House-filled Beignet and is bound to be a popular souvenir for guests at Tiana's Palace. This set is limited to two per person, per transaction.
Verdict: This looks like a lovely set that fans of The Princess and the Frog, Disneyland, and Tiana's Palace will want to bring home.
The Experience
When guests visit Tiana's Palace they are in for a treat. Inside the restaurant, they are going to find a beautifully refreshed location. The directors of The Princess and the Frog saw this particular location and thought it looked like the sugar mill that could be transformed into her restaurant. Then the collaboration between Walt Disney Animation, Walt Disney Imagineering, and the Disneyland team took that dream and made it a reality that guests will soon be experiencing. When they do, they will get to find some Easter Eggs at the location, some beautiful artwork and details that reference the film, and also some incredible food.
Once outside, the experience will continue. Disney confirmed that there will be live music performing on the stage. There will be popcorn lights that will bring even more magic to New Orleans Square at night. The seating area has also been expanded. Guests will also be able to experience the foods of Tiana's Palace by utilizing the Disneyland App and mobile ordering. There will be a seating area for these guests as well. Finally, for those who love the classic Mickey Mouse Beignets and Mint Juleps, the Mint Julep Bar will be reopening on September 7, 2023, as well!
The transformation of the French Market to Tiana's Palace is one that has involved lots of heart, care, love, and even family. This was not done in the void of an office somewhere. Instead, this is a project that went beyond Disney employees as they sought to find the best ideas, the best designs, and the best recipes. This was all in the quest for a magical and authentic experience for guests visiting the Disneyland Resort. Judging by the media preview, they were successful. Expect this location and its menu to be quite popular when it opens.