It was a rainy morning as thousands of supporters made their way into Disneyland before dawn on Sunday, August 20, 2023 for the CHOC Walk in the Park. This year marks the first year that the CHOC Walk had returned to the parks since 2019 due to the pandemic. Spirits were high as supporters waited for the return of this annual tradition in the rain.
The kickoff ceremony began shortly before 6:00 AM. It appeared to be modified because of the weather. As the rain came down, the Disneyland Ambassador team kicked things off along with with some other familiar faces. This included Disneyland Resort President Ken Potrock, CHOC CEO Kimberly Chavalas Cripe, and perhaps most importantly, the CHOC Ambassador with this family. This year's CHOC Ambassador, Hudson, was diagnosed with kidney cancer when he was only 15 months old. This morning he celebrated, with all in attendance, 12 years of being cancer free! He shared his story, as can be seen in the ceremony below. After Hudson and his mother shared his story and the impact of CHOC and the CHOC Community, the family was joined by Mickey Mouse and Minnie Mouse on the stage for a quick photo. This was followed by a quick countdown and CHOC Walk began!
This year's CHOC Walk was unlike any other CHOC Walk that has ever been experienced, at least for Team Daps Magic. Disneyland Resort President Ken Potrock joked about it being the first CHOC Walk to happen during a hurricane. In reality, Tropical Storm Hilary had arrived and was delivering rain on the area around the Disneyland Resort. The rain began before guests entered the park and then continued on and off throughout the CHOC Walk.
The rain led to some changes to the CHOC Walk. This included some characters being placed in locations where they could stay dry. The bands that often help cheer on the walkers were also not around this year. However, the spirits of those who were walking were still very high. People were laughing, having fun, taking pictures, and enjoying a very unique experience that many never imagined would ever happen for CHOC Walk.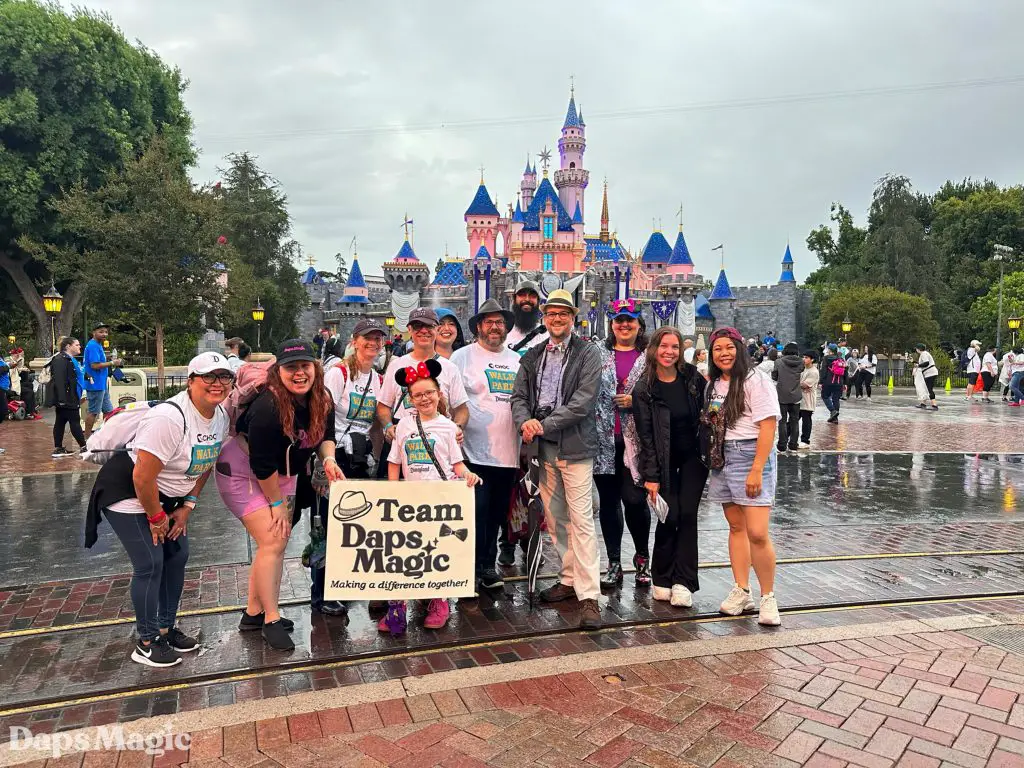 This year's CHOC Walk raised funds to support the initiatives for the children that receive care at the Children's Hospital of Orange County. This makes all the difference in the world for these children. Hearing their stories is often a moving experience. So many people know someone who has been helped by CHOC. CHOC comes alongside children and their families in their most desperate hour and preserves their dignity and also their childhood while also providing incredible medical care. CHOC doesn't just provide the medical care, it also cares about giving kids the opportunity to continue to be kids while in the hospital.
For the thousands of people who registered to walk in this year's CHOC Walk, few (if any) could have ever imagined this walk happening during a tropical storm. However, Tropical Storm Hilary struck and the walk went on as scheduled. For many who did make the walk through the rain, this became a day that will be remembered for years to come. It will be a "remember when" CHOC Walk.
This year's CHOC Walk was nothing like anyone could have ever predicted months ago. However, it was a very special CHOC Walk in the Park. Those who showed up had no regrets for walking in the rain. In fact, everyone that this humble reporter talked to all were ready to do it again! Memories were made and more importantly, a difference was made!
If you'd like to help make a difference for this year's CHOC Walk in the Park, there is still time! Donations can still be given to help Team Daps Magic reach its goal of fundraising $5,000 for CHOC. You can help us reach this goal by donating at chocwalk.org/dapsmagic! Every dollar you donate makes a difference. We hope you will help us make a bigger difference together!
In the coming days, Daps Magic will be sharing more photos, videos, and stories from this year's CHOC Walk! Be sure to keep your eyes on Daps Magic (and/or subscribe) so you don't miss anything! Did you walk in this year's CHOC Walk in the Park? If so, what was your favorite part of the walk? Also, why did you decide to walk? Share with us in the comments below!