Knott's Berry Farm has made a big event out of their announcements for the 50th anniversary of its Scary Farm seasonal nights. The stage was set for there to be some big maze previews that showcased new and nostalgic tributes. Jeff Tucker was the main emcee for the announcement show, and he was accompanied by co-host Leanna Vamp.
The Announcement Show
This is always an anticipated event to see what is coming up for the Scary Farm nights. The new mazes announced are Cinema Slasher and The Chilling Chambers. Both were explained to pay homage to past mazes. For The Chilling Chambers, a new character was announced: The Keeper. He is the guide through the maze, which pieces a few mazes from Scary Farm past. The Keeper appeared on stage as well! Room 13 was another new maze announced, and will take its cue from the popular scare zone of Gore-ing 20s. It will explain the origins of the Devil's Elixir and a seemingly haunted hotel.
With Scare Zones, some of the returning favorites of Ghost Town, Carnevil, and Forsaken Lake will be back. In addition is a new, but returning favorite: The Gauntlet. Brought back and reimagined from the past, the medieval themed horror area will bring the scares and the nostalgia.
Knott's will bring in new entertainment to Scary Farm this year. Music, Monsters, and Mayhem will be a full musical show that brings the audience through some of the history of Scary Farm in song fashion. Brand new songs and mesmerizing sets will be used. Dr. Cleaver Returns is a reimagined show from the Scary Farm past in the Birdcage Theater that has a comical take on magic shows. The big applause went for The Hanging Uncanceled which brings the popular long-running show back after 4 years! This time it will take place at the Wagon Camp Theater where the hosts pointed out you can sit down and enjoy it that way for the first time.
The time concluded with the Sheriff declaring he would find the witch Sarah Marshall and have a hanging. He declared it to be later in the night…which meant there was more to do and see at this event!
Lounging and Eating
We did get to go into a special lounge which displayed the merchandise and food that will be offered when Scary Farm happens. In addition, we were able to preview some of the food itself! Blood Bags that are offered at the buffet were given (in cups though), which were fruit sweet drinks with a good alcoholic kick to them. The Spookghetti Pie was a great spaghetti casserole that was put together in a way that makes it look creepy and crawly. Some slider versions of the Gauntlet Garlic Overlord Burger offered some savory sandwich bites. In the dessert realm, our favorites were the Bloody Mary Cake and Raspberry Beignets. Both had a great sugary flavor that was not overwhelming. One mention to some of the more interesting bites are the Gator Sausage rolls and the Ostrich Hoagie, both made of their respective ingredients. Don't be too thrown off of the food that it is. They are tasty treats (Mr. Daps enjoyed the gator sausage and I have had it elsewhere) and the Ostrich is said to taste…like chicken of course.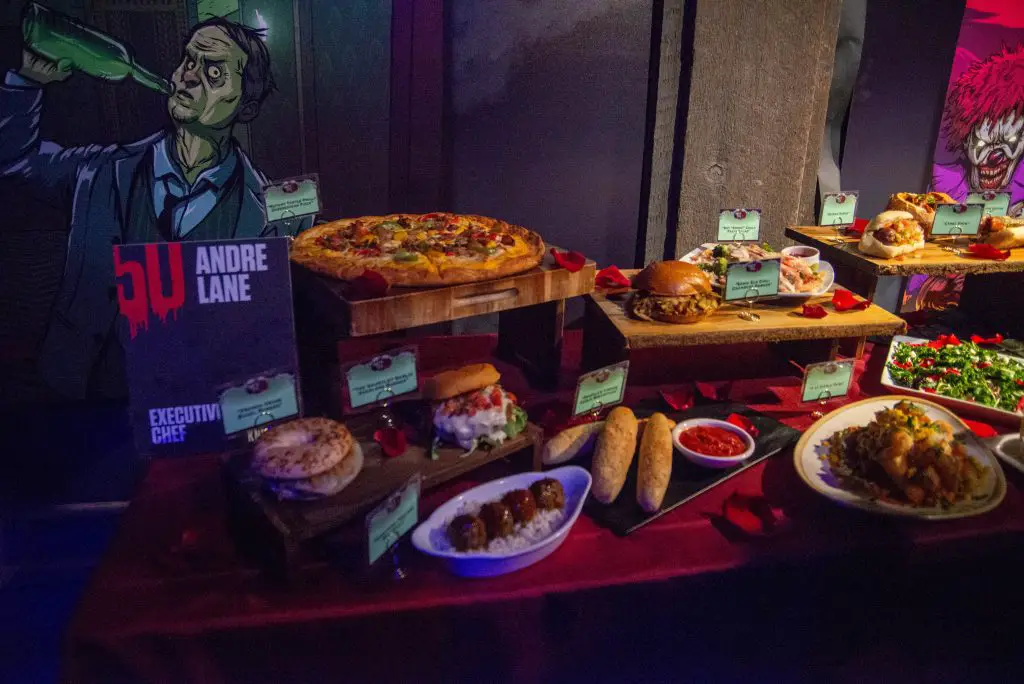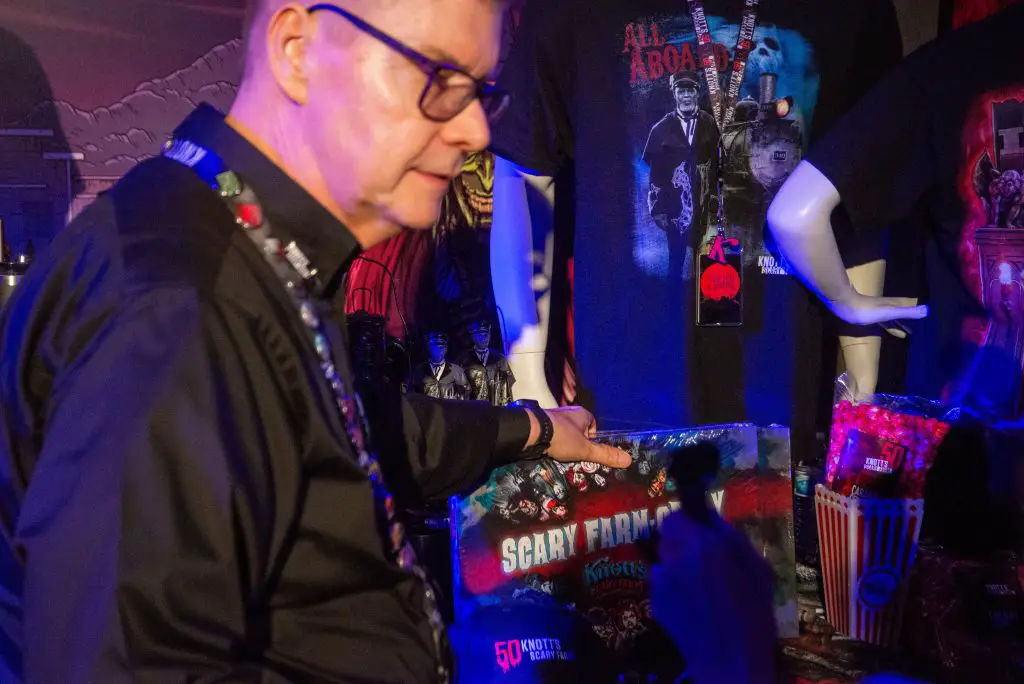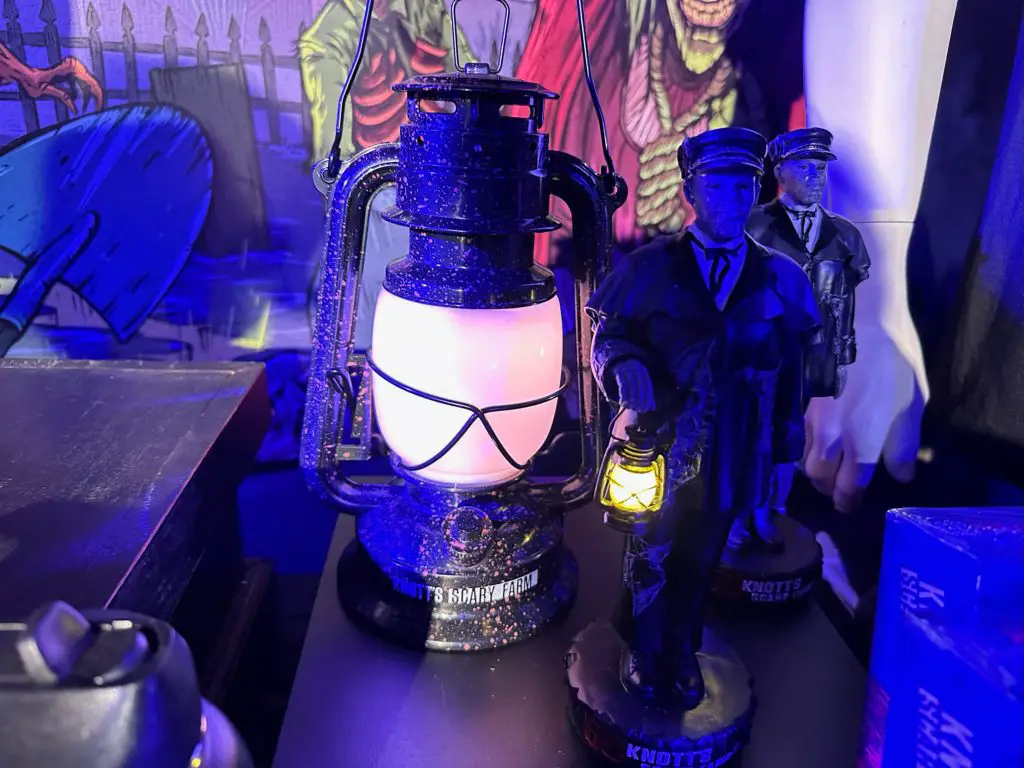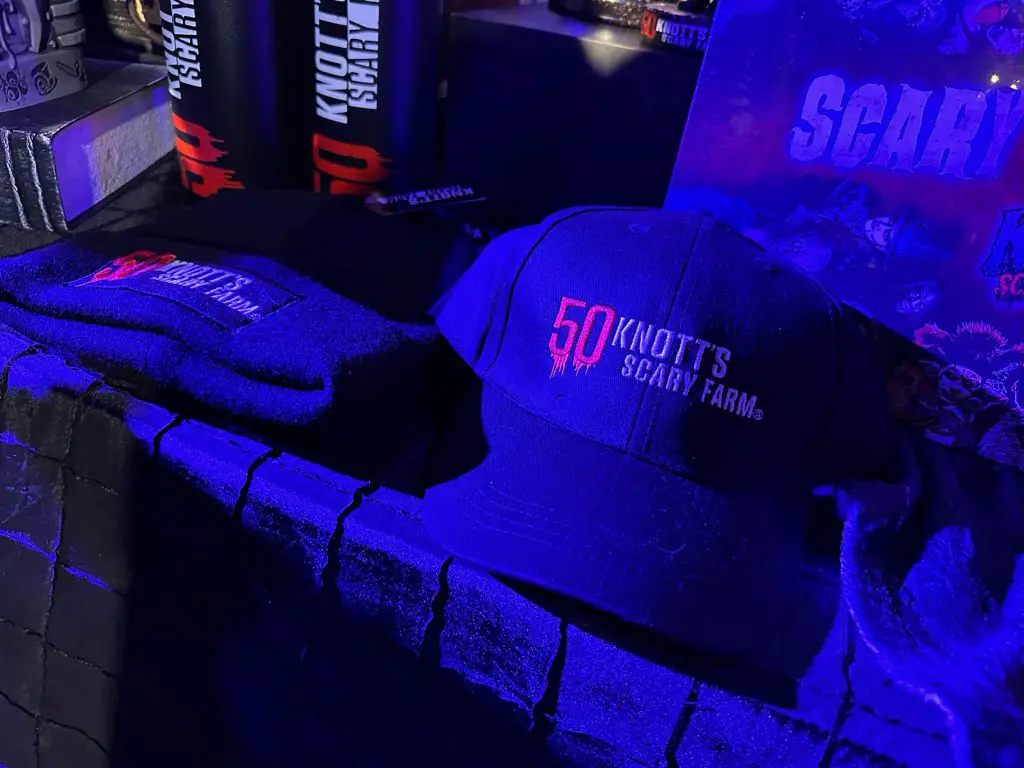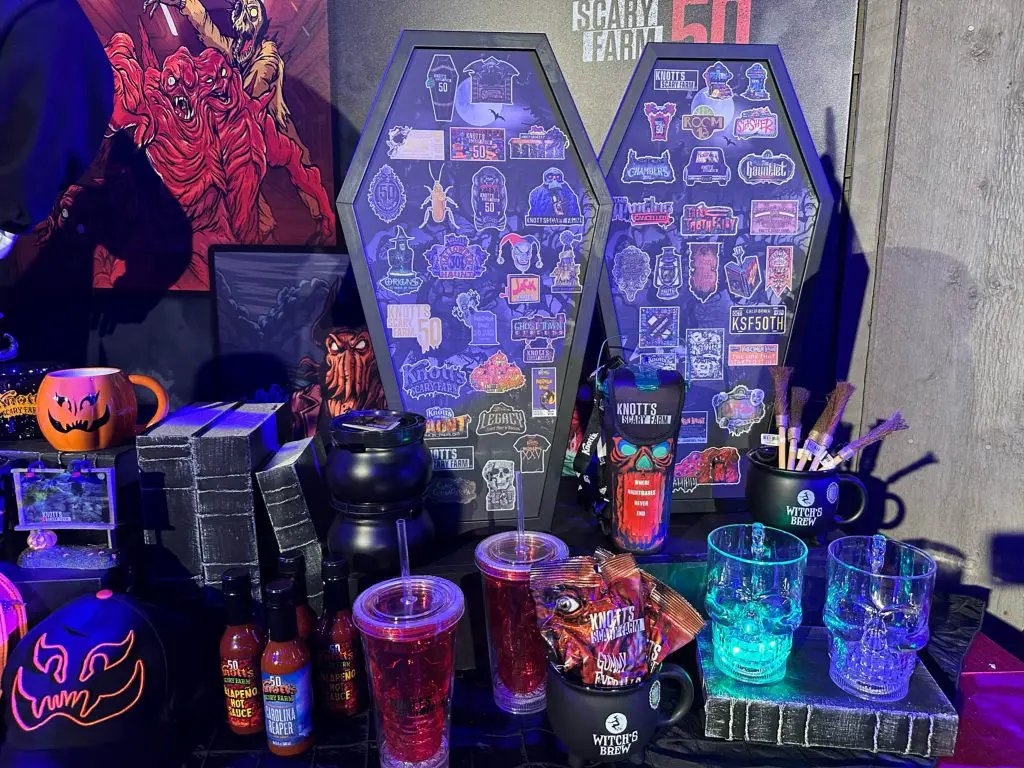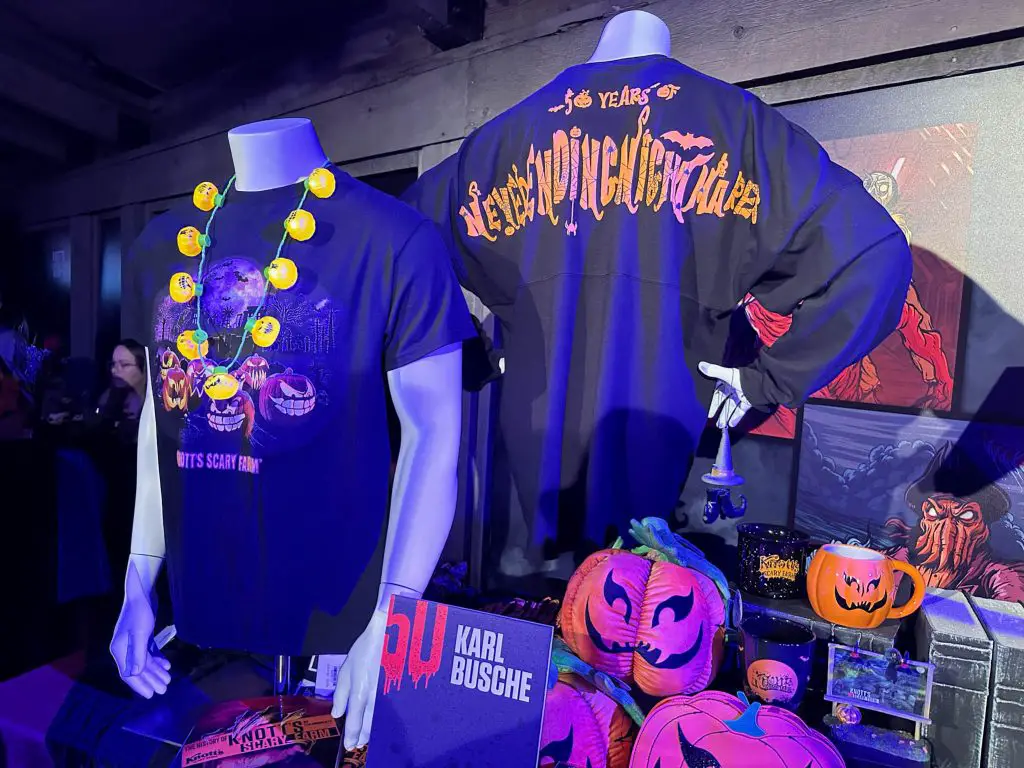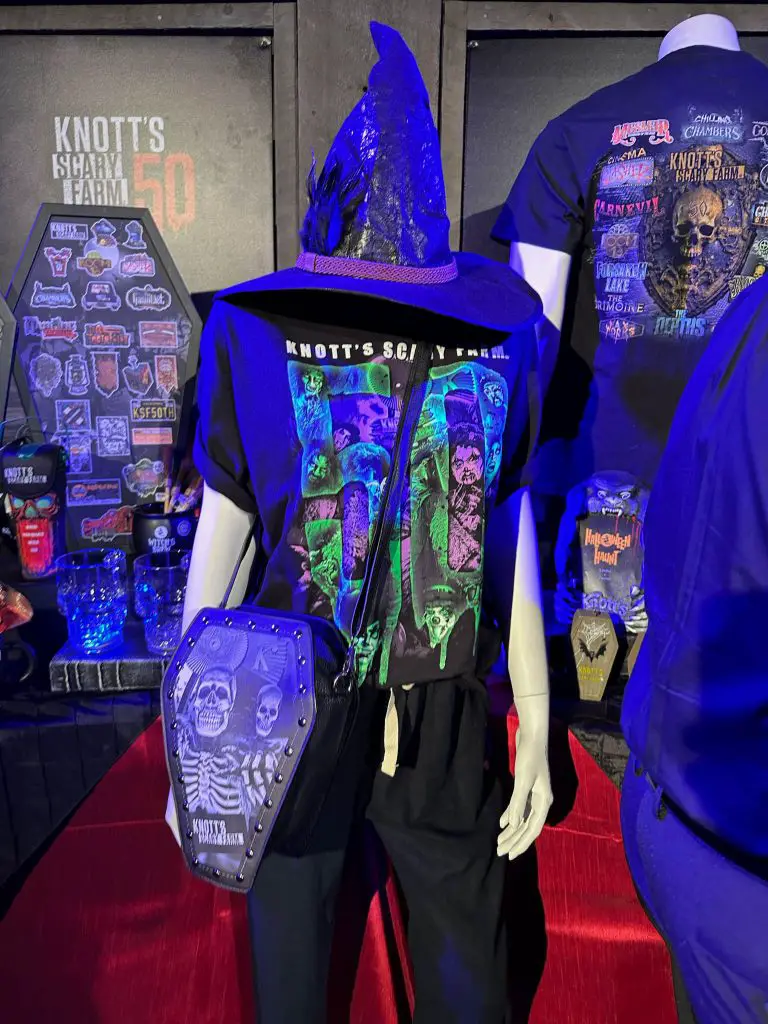 Scaring Through
At different parts of the night was a run through of the history of Scary Farm. It was a very quick run through that also highlighted Cinema Slasher and Chilling Chambers and their connection to the past. In a great presentation we learned that The Keeper is an homage to original host and catalyst for Scary Farm: Seymour. Cinema Slasher will actually have "movie" scenes that are updated portions of former mazes, like Trick or Treat.
Following the presentation, we decided to go through the Origins maze with its lights on…a special for attendees of the night. It was less intimidating, but still had a big creepiness factor as we went through. No scare actors were present, but all other elements were there but with us being able to see the full structures and hidden effect elements of the maze. It made us appreciate just how much detail goes in to each maze. We were even able to take our time with a huge block of the townscape.
What You Don't See
Throughout the night were many other offerings we weren't able to get to! A periodic trivia contest was held at Fireman's BBQ. The Legacy Store was open for some purchases of upcoming items, including the interactive lantern that will unlock effects in the scare zones and mazes. There were a few scare actor characters, like The Keeper, that were available for photos as well. Ghost Town was in its scare zone ambiance with a few of the scare actors present. In all, it was a remarkably packed night that made it like a mini-Scary Farm night.
The Hanging
At the conclusion of the night, we all gathered back at the Calico Stage to see the Sheriff, hopefully, bring about justice. Sarah Marshall was almost hanged, but was able to break free with a spell that included fireworks and an appearance on the Calico Mine. It was a show-stopping pyrotechnic conclusion to an already memorable night. We are definitely hoping they continue this new tradition next year, and are looking forward to the start of the 50th Scary Farm year!
Knott's has released details of what to expect and we have the press release below. Be sure to get tickets soon, and also if you're looking for the Scary Farm pass as those will most likely sell out soon! And tell us what you are most looking forward to at it in the comments!
BUENA PARK, CA – It all started in 1973 as a fun three-day Halloween Haunt. Today, 50 years later, Knott's Scary Farm is Southern California's longest-running and most haunting Halloween theme park event. With five decades of never-ending nightmares, unimaginable scares, and innovative thrills, Knott's Scary Farm has left no tomb unearthed, no crypt unrattled, and no fear untouched. This golden anniversary's lineup includes three new frightening mazes (for a total of 10), five sinister scare zones and four hair-raising shows. Guests can expect to uncover unforgettable experiences that will usher in characters from Haunt history. The 50th year of Knott's Scary Farm starts on September 21 and runs through October 31, for a total of 29 terrifying nights. There will be nowhere to hide as hair-raising scares loom around every turn, with the debut of our newest terrifying mazes, a newly reimagined fan-favorite scare zone, and a gruesome lineup of new shows. These new haunting experiences add to the original scares that can't be found anywhere else. New OfferingsCinema Slasher (Maze) – Venturing through the mystical Midnight Theater, guests travel through the silver screen and into a trilogy of slasher movies. As they are swallowed into the world of gothic horror, they become the movie characters who try to escape the wrath of the dangerous Slasher. Will everyone survive, or will they become forever ensnared in the decaying reality from a bygone era? The conniving Midnight Theater wickedly opens its doors, daring those brave enough to buy a ticket to Cinema Slasher!The Chilling Chambers (Maze) – In honor of the first maze in Knott's Scary Farm's prestigious history, the "10 Chilling Chambers" is a ghastly new attraction that gives a nostalgic nod to Scary Farm's past while terrorizing the audience of today. Guided by The Keeper, the sinister caretaker of the conservatory of horrors, guests are thrust beyond the threshold of an ominous towering cathedral that leads to terrifying classic maze themes from Knott's Scary Farm's infamous history. Scream from countless fears of seasons gone by as 50 years of terror are unleashed in The Chilling Chambers.Room 13 (Maze) – Violent murders at The Blind Tiger interrupt the Prohibition-era revelry on Memory Lane. A dangerously delicious new cocktail named The Devil's Elixir seems to be at the root of the mayhem, but where did the mysterious green aperitif come from? The answers may lie at the heart of the extravagant Argive Hotel, where many have checked in to Room 13… but none have checked out.The Gauntlet (Scare Zone) – In this reimagined version of the fan favorite, classic characters return to invade Camp Snoopy, but with an updated twist. Guests will again encounter the King and Queen of the realm, maniacal jesters, brutal barbarians, wicked wizards, and lawless peasants. They've all returned with an onslaught of fresh terror. All Hail the King or suffer the wrath of The Gauntlet!Dr. Cleaver Returns (Show) – Your favorite demented doctor is back for more Halloween hijinks! Grab a seat at the world-famous Bird Cage Theatre for a wicked journey into the great beyond.The Hanging: Uncancelled (Show) – The Lawman has returned to track down the vilest villains of the past year in this pop culture parody stunt extravaganza. No one is safe when the gates of the Wagon Camp swing open.Music, Monsters & Mayhem (Show) – "Music, Monsters and Mayhem" takes you on a scintillating and provocative musical journey celebrating 50 years of terror and frights. Featuring a rockin' score, wild laughs, and a cast of singing and dancing monstrosities bound to get your heart racing with screams of delight! Returning MazesBloodline 1842 (Maze) – Enter the battlegrounds of the war-torn streets of the city of Valdonia as you take a perilous journey into the heart of a raging war between the immortal Daybreakers and the bloodthirsty Valhymphri. Armed with only your wits and courage, find the remaining Daybreakers and help them destroy the King of the Valhymphri. The Grimoire (Maze) – Turn the page and enter the world of an ancient relic whose dark stories exist purely to turn your greatest nightmares into reality. Enter the world of a mysterious spell book and escape the demonic creatures inside or be eternally trapped within! Mesmer: Sideshow of the Mind – Within the canvas tent lies the secret of the most potent force in the universe: the human mind. A hypnotic session with Professor Mesmer can cure all phobias, including snakes, spiders, darkness, claustrophobia and much more! Enter the professor's dark world of hypnosis and come face to face with what lies beyond. Wax Works – Buy a ticket and enter the most amazing wax museum the world has ever seen! The figures look so lifelike you'll swear you saw them move…or scream. It's rumored that blood-curdling screams can be heard echoing through the halls of Wax Works as victims are horrifyingly submerged into a scorching hot cauldron of bubbling wax. Origins: The Curse of Calico – Pierce the veil of time and discover the secret of the evil fog that hangs over Knott's Scary Farm in Origins: The Curse of Calico. Unearth the sinister paranormal activity that plagues the town as Sarah Marshall is put on trial for her suspected crimes of witchcraft. All will be revealed as the Green Witch rises and curses those who have accused her. The Depths – Follow in the steps of a doomed mining team as you plunge deeper and deeper into the catacombs beneath the sinister seaside town. All who have entered have never resurfaced. Myths of the terrifying horrors that lurk within the cave have often been whispered but never confirmed. But be warned, as this is your last chance to walk this treacherous path through a sunken ship and into the dark unknown that lies beyond. Dark Entities – Teleport beyond Earth in a shattered space station, launching you through a zero-gravity descent into chaos. Strange forces have taken over, and the crew has been transformed into multi-dimension mutants. Escape quickly, as the dark entities plan to eliminate all living forms aboard the station for good. There's nowhere to escape as time is running out. Returning Scare ZonesKnott's Scary Farm is far more than a collection of haunted attractions. Every night monsters take over the streets and turn theme-park midways into murderous scare zones. From the world-famous Ghost Town Streets to the Boardwalk area filled with evil clowns, there's nowhere to hide in Knott's Scary Farm. Ghost Town Streets is where Scary Farm all began! The dark streets of Calico are the original and largest, most fear-filled scare zone that started it all. Terror is around every corner as the fog-filled alleys hold monsters of every size. Good luck finding a safe passage through the cursed town. Step back into the dark decadence of a bygone era as The Gore-ing 20's scare zone terrorizes even the bravest and most brutal souls. The revelers at The Blind Tiger, the secret speakeasy on Memory Lane, danced their way into oblivion when their decadence brought upon them a deadly curse. Now, once a year, these wicked spirits of the past are allowed to haunt visitors with their deadly dance. Step right up and come face to face with your worst nightmares on the Boardwalk. Deviant clowns and circus freaks are dying for your undying attention in the CARNEVIL scare zone. Smell the cotton candy as the maniacal midway monsters close in on you. The Lake underneath Silver Bullet recedes to reveal the Forsaken Lake scare zone, where gothic creatures ravaged by the dark and murky waters wander from their crypts. Each night brings new terrors as a funeral procession makes its way to the spirit world. Don't be fooled by their elegant dress; these creatures seek fresh blood to join them in their death march. Returning FavoritesTimber Mountain Log Ride: Halloween Hootenanny (Attraction Overlay) – The Timber Mountain Log Ride residents celebrate the Halloween Hootenanny, which adds a seasonal twist to a park favorite. Mysterious creatures of Timber Mountain that live out in the woods and caverns join the citizens as they honor the season at the Halloween Hootenanny. The Ride's interior features surprises as guests venture past the Calico Coffin Creeper band, the town's green witch, and splash down Skull Mountain through a labyrinth of jack-o-lanterns all set to an original soundtrack by Krazy Kirk and the Hillbillies. Into The Fog: A Scary Farm Tribute Art Show – The Factory StoreInto the Fog is an art show specially curated for the discerning Scary Farm fan. The show is home to a collection of original art by unique and talented artists from across the country. These artists have drawn inspiration from Knott's Scary Farm's rich 50-year history, and you're sure to find an original or print you'll want to take home. Along with the Scary Farm art show, you can find all sorts of souvenirs any Halloween fan will be dying to get their hands on. Le Magnifique Carnaval du Grotesque (Show) – Calico Mine StageStep right up and walk into the mystique and darkness of the malevolent Le Magnifique Carnaval Du Grotesque. A collection of death-defying feats and carnival acts that will delight your darkest desires and fill your senses with terror and delight. Knott's Scary Farm AdmissionScary Farm Season Pass – Celebrate this year's anniversary with unlimited visits to all event nights. 2023 Season passholders can purchase the pass at $149 plus applicable taxes and fees. Non-Season 2023 Passholders can purchase standalone Scary Farm Season Passes for $159, plus taxes and fees. Single night tickets – Buy tickets at knottsscaryfarm.com and save up to $50 off the regular main gate price of $109.99. Knott's Season Passholders receive a discount on single-night tickets. Applicable taxes and fees apply to online orders. Fright & Fast Lane – Ride and scream all night long with unlimited priority access to all mazes plus priority boarding on all Fast Lane rides. Fright & Fast Lane starts at $145 and varies by night. Separate Scary Farm event admission is required and not included. Knott's Scary Farm Boo-fet – Boo-fet offers a special chance to dine with the monsters of Scary Farm. Meals include a 2023 souvenir bottle, which gives unlimited refills on the night of your first visit, plus only $5 all-day refills for each additional visit through 2023. After dinner, enjoy early entry into select areas of Knott's Scary Farm a few minutes before it opens to other mortals. Boo-fet early entry will be to the mazes Bloodline 1842, Dark Entities, The Depths and Wax Works, and exclusive photo opportunities with the monsters. The Knott's Scary Farm Boo-fet dinner starts at $45 + applicable taxes and fees when purchased online. Separate Scary Farm admission is required and not included. Knott's Scary Farm Gruesome Getaway Resort Package – Turn your Scary Farm experience into a gruesome getaway with an overnight stay at The Knott's Hotel. The Gruesome Getaway Hotel Package includes a one-night stay and hotel parking. Each registered guest also receives daytime admission to Knott's Berry Farm, admission to Knott's Scary Farm on the night of arrival, an exclusive Knott's Scary Farm t-shirt, Fright & Fast Lane for unlimited priority access to all mazes and select rides at the park, Pre-Scare Dinner Experience at the Knott's Hotel with early entry into select areas and a breakfast buffet for each morning of your stay. Event Parking – All season-long parking is valid for Knott's Scary Farm nights. Knott's Scary Farm General parking is $35 per vehicle and can be purchased online or at the parking booth upon arrival. Applicable taxes and fees apply to online orders. For those looking to park closest to Knott's Scary Farm, Preferred Parking is $50 per vehicle at our Grand Preferred Lot and subject to availability.  Event DetailsKnott's Scary Farm has welcomed millions of visitors for 50 years of never-ending nightmares and has become an institution in the Southern California theme park landscape. This year, the event returns on September 21, 22, 23, 24, 28, 29, 30, October 1, 4, 5, 6, 7, 8, 11, 12, 13, 14, 15, 18, 19, 20, 21, 22, 25, 26, 27, 28, 29 and 31. Knott's Scary Farm is open 7:00 pm – 2:00 am on Fridays and Saturdays and 7:00 pm – 1:00 am on select Wednesdays, Thursdays, and Sundays. Due to the explicit and frightening nature of the event, it is not recommended for children under 13.A chaperone policy will remain in effect for all Knott's Scary Farm event nights. Under this policy, all guests ages 15 years old or younger must be accompanied by a chaperone who is at least 21 years old in order to be admitted into the park. The chaperone must present a valid government-issued photo identification with date of birth at ticket entry. One chaperone may accompany no more than ten guests ages 15 or younger per day. In addition, the chaperone must accompany their party during entry, remain inside the park during their visit, and be available by phone throughout their stay. Guests 16 years of age or older may be asked to present a valid government-issued photo identification (Driver's license, State Issued ID Card, Passport) with date of birth at entry to verify their age. If unable to verify proof of age, guests may be denied entry into the park. Guests ages 15 years old or younger who are found inside the park unaccompanied by a chaperone will be subject to ejection.In addition, an updated bag policy will remain in effect for this year's Knott's Scary Farm. Clear plastic bags smaller than 12″ x 12″ x 6″ as well as non-clear wristlets or clutches no larger than 5″x 8″x 2″ are allowed at Knott's Scary Farm. All bags are subject to search prior to entry. For more information on the 50th anniversary of Knott's Scary Farm, including admission, park hours, and events, visit knottsscaryfarm.com. Join the scary conversation by using #ScaryFarm on Facebook, Twitter, Instagram, and TikTok.
<i>Daps Magic received a sample product or experience for this review in exchange for an honest review. The views of the reviewer are wholly their own. Read full disclosure policy at dapsmagic.com/disclosurepolicy.</i>