Some Disney+ original series are making their way to 4K UHD and Blu-ray for the first time ever. Today it was announced that WandaVision, The Mandalorian seasons 1 and 2, and Loki are all getting released in physical formats. This comes after recently Disney CEO Bob Iger suggested that there would be a reason to pivot back to physical media earlier this year. The new releases will be collector's editions from both Marvel Studios and Lucasfilm and include Steelbook packaging. There will also be exclusive art and bonus features included. Read all of the details below!
The arrival of physical media of these titles will undoubtably be met with enthusiasm by fans of these series who have been requesting more releases like this to add favorite titles to home entertainment libraries. This will be even better with the release including Steelbook packaging and bonus features. If this is something that is a priority to you, get them quick.
It is unknown at this point if there will be more titles from Disney+ series being given the physical format treatment in the future. However, if these sell well, it would not be a surprise at all.
PRESS RELEASE:
FOR THE FIRST TIME ON 4K UHD™ AND BLU-RAY™!LOKI SEASON 1, WANDAVISION, ANDTHE MANDALORIAN SEASONS 1 AND 2
NEW COLLECTOR'S EDITIONS FROM MARVEL STUDIOS
AND LUCASFILM WITH STEELBOOK® PACKAGING,
EXCLUSIVE ART AND NEW BONUS FEATURES
BURBANK, CA. (AUG 21, 2023) – The Walt Disney Company today announced a number of popular series from Marvel Studios and Lucasfilm will be available on Collector's Edition 4K UHD and Blu-ray for fans to add to their movie collections, featuring Steelbook packaging, concept art cards and some never-before-seen bonus features.
The titles and dates announced are:
Marvel Studios' Loki: The Complete First Season: September 26, 2023
Marvel Studios' WandaVision: The Complete Series: November 28, 2023
Star Wars The Mandalorian: The Complete First Season: December 12, 2023
Star Wars The Mandalorian: The Complete Second Season: December 12, 2023
All four titles will be available to pre-order from August 28.
Each title will be available nationally on Blu-ray Steelbook with cohesive and collectible brand-new box art designed by popular artist Attila Szarka and collectible concept art cards.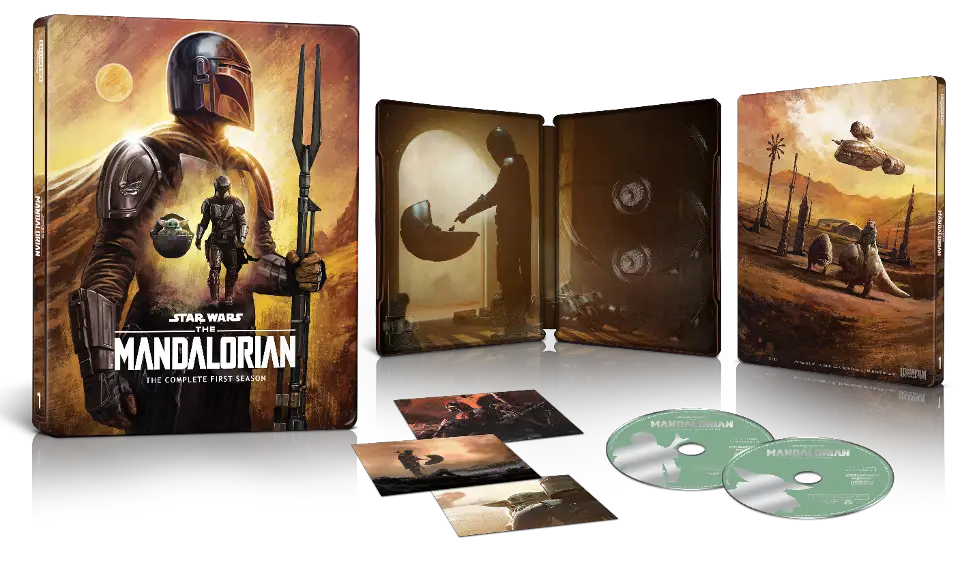 Arriving just in time for the Disney+ debut of Loki Season 2 this October, disc details for Loki S1 are below. Full details for the other TV series will be shared at a later date.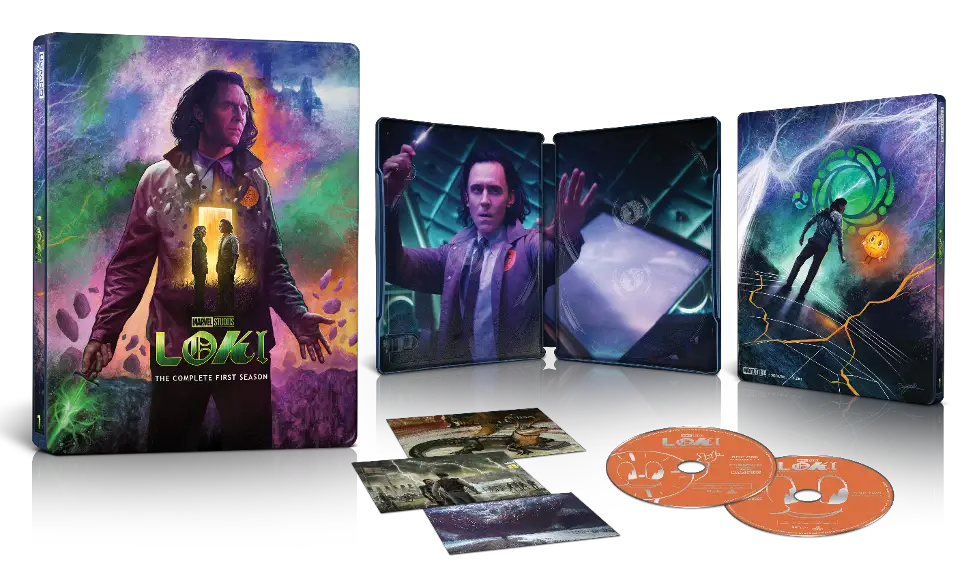 Loki S1 Synopsis
Marvel Studios' Loki features the God of Mischief as he steps out of his brother's shadow. Set after the events of Avengers: Endgame, this action-packed, time-defying thriller stars Tom Hiddleston as the title characters with Owen Wilson as agent Mobius.
Loki S1 Bonus Features
Designing the TVA – Step into the incredible set of Loki Season 1 with Production Designer, Kasra Farahani, and Tom Hiddleston while getting a sneak peek into Season 2.
The Official TVA Orientation Video – Miss Minutes explains the inner workings of the TVA timeline in her orientation video.
Gag Reel – Take a look at some of the fun outtakes on set with the cast and crew of Loki Season 1.
Deleted Scene: Loki's Coronation – Mobius reviews some moments from Loki's timeline, in which Frog Thor makes an appearance during Loki's coronation.
Deleted Scene: The Standoff – Loki holds Sylvie hostage against the TVA in a standoff.
Assembled: The Making of Loki – Loki explores the series centering on the MCU's chief mischief maker.
** Bonus Material Not Rated
Loki S1 Product Specifications
Release Date
Physical: September 26, 2023
Product SKUs
Physical: 4K Ultra HD Steelbook (2 discs), Blu-ray Steelbook (2 discs)
Total Run Time
Approx. 287 Minutes
Aspect Ratio
Physical: 1:78:1
Disc Size
4K UHD Blu-ray: 100GB
Blu-ray: 50GB
U.S. Audio
4K Ultra HD: English Dolby Atmos and 2.0 Dolby Digital Descriptive Audio, Spanish and French 5.1 Dolby Digital
Blu-ray: English 5.1 DTS-HDMA and 2.0 Dolby Digital Descriptive Audio, Spanish and French 5.1 Dolby Digital
U.S. Subtitles
4K Ultra HD: English SDH, Spanish, French
Blu-ray: English SDH, Spanish, French