Work continues on the reimagining of the Disneyland Hotel at Disneyland Paris. Right over the entrance to Disneyland Paris, this beautiful tell is iconic and memorable. One element that could easily be overlooked by day to day guests is the costumes that Cast Members will be wearing at the reimagined Disneyland Hotel. One person who would not overlook this, however, is Karine Soares. She is a fashion designer that recently was interviewed and shared insight about the Cast Members new costumes and also how they enhance the story of the royal kingdom of Disney Princes and Princesses. Read her interview below.
There are a few things to note about the new costumes. They are only possible because of Dutel, a Lyon-based company that specializes in making jacquard fabric. For the Disneyland Hotel reimagining, there are 14 new outfits that were designed. This includes four different types of neck accessories, two hats, and three models of belt pockets. In total, 27,777 costume pieces were created for the cast of the reimagined Disneyland Hotel. There are three main categories of costume that the Cast Members will wear. This will help guests identify their roles in creating the magic. The three styles are for:
Front desk / Concierge desk / Shops
Room Service
Restaurants / Bars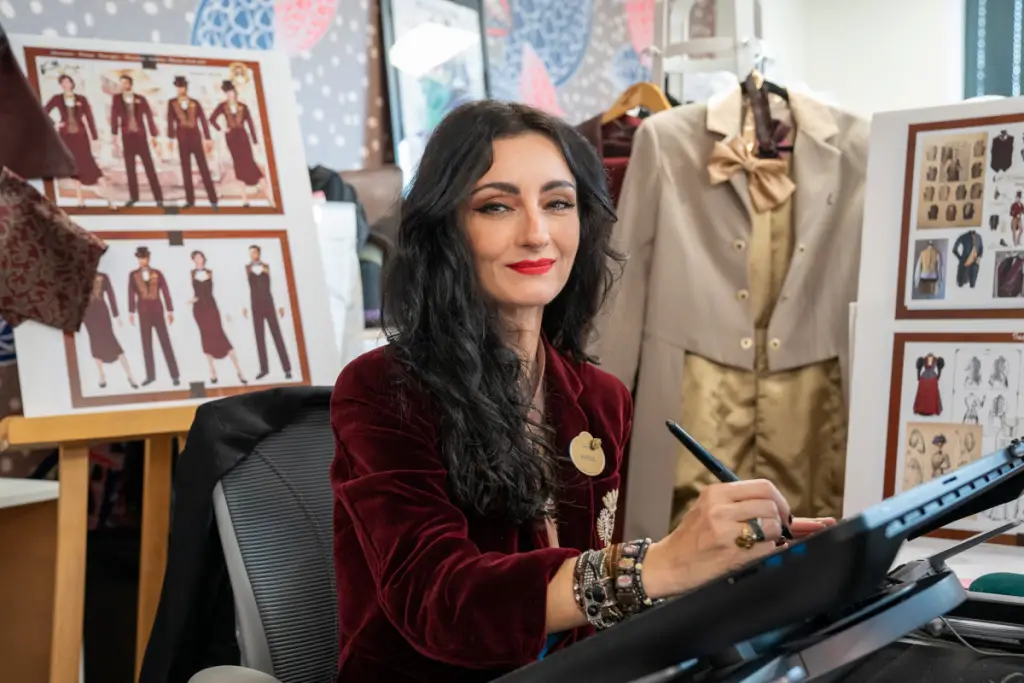 Karine, what were your sources of inspiration? 
I mainly drew my inspiration from Disney princes and princesses to ensure the materials, patterns and details of my designs would be in perfect harmony with the royal theme. I also wanted the outfits to be representative of both the Victorian and medieval eras, all the while bringing a modern touch to them. 
The costumes I create every day are also inspired by current trends. To find new ideas, I enjoy watching fashion shows. I admired Vivienne Westwood's work, as she was able to seamlessly combine royalty with modernity. This combination of styles is inspiring. 
What is the process behind the creation of a costume? 
The costume creation journey includes several stages: 
The artistic brief: for this project, I collaborated with Walt Disney Imagineering, and especially with Sylvie Massara, the artistic director for Disneyland Paris hotels. Once I learn more about the story we want to tell, I gather information about the materials used in the hotel to have a clear idea of the shades and colors that need to be used, along with the finishing touches to be added, etc.  
The mood board creation stage (creative intention) corresponds to the phase during which initial sketches are drawn. I simultaneously start searching for shapes and materials by meeting with suppliers with whom we have a long-standing relationship. I also go to fashion trade shows to find new materials, accessories, and technical innovation ideas.
The artistic review is a decisive step during which I show my designs to artistic directors. Once they have been approved, I submit sketches to the design office. 
The initial toiles are then designed to help us adjust shapes and volumes in our workshop. 
Prototypes are then presented to artistic directors. 
Once prototypes are approved, the production can be launched in Europe! 
Can you tell us more about the design and materials used for these new costumes? What makes them comfortable? 
It was important for us to design costumes that would be both stylish and modern, all the while incorporating some details that are reminiscent of royalty, such as vests with high collars, frock coats and tailcoats. Lacing, puff sleeves and accessories such as ascot ties are also a nod to the royal dress code. Shapes and styles are incredibly refined to reflect the high level of prestige associated with the hotel. The high-quality materials that have been used to bring the costumes to life notably include beautiful jacquard fabric that was tailor-made in France. This special type of textile – which produces changing effects based on light reflection – was adorned with jewel buttons that vary depending on the costume category. Besides, we have been fortunate to collaborate with Dutel – a Lyon-based family-owned company that specializes in weaving jacquard fabric – for many years now. Mr. Dutel's expert knowledge of materials and his familiarity with our specific dry-cleaning needs were key in adapting materials while preserving the initially sought aspect, making it possible for us to create costumes that are both beautiful and stylish, but also comfortable and resilient. 
Among these outfits, which piece are you most proud of? 
I am very proud of the fleur-de-lis jewel, which was created based on an already-approved graphic charter. It will be pinned onto the ascot ties and the hats worn by Cast Members at the Disneyland Hotel. It's a beautiful little touch that makes costumes even more stylish and royal!
What do you think of what you are seeing of and reading about the new costumes for the Disneyland Hotel? Share your thoughts and opinions in the comments below!