A fun tradition that has been created for the ships of the Disney Cruise Line is the creation of scenes on the stern of the ships. These scenes not only include the ship's name, but also a sculpture of a character or characters painting the name on the stern. This tradition is continuing with the upcoming Disney Treasure, set to launch in 2024.
For the Disney Treasure, a fun scene was created with sculptures of both Peter Pan and Captain Hook on the stern of the ship. This duo is quite appropriate since the ships theme is that of adventure. The sculpture of Peter Pan can be seen harnessing the power of Tinker Bell's pixie dust to decorate the ship… and also mess with Captain Hook along the way. Captain Hook can be seen leaning out of a porthole and covered in paint.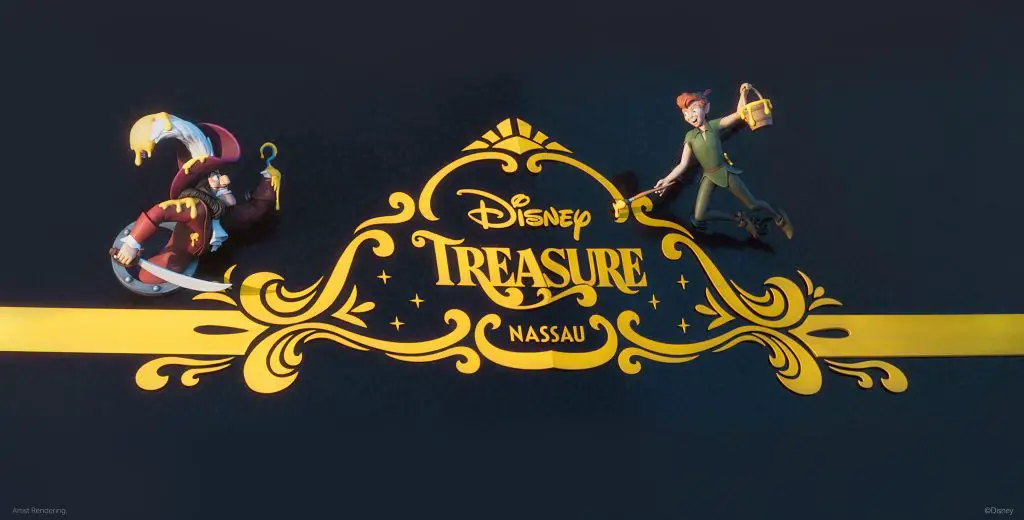 Disney Cruise Line Stern Sculptures
The other ships in the Disney Cruise Line fleet also have sculptures on the stern. They are:
Disney Magic – Goofy
Disney Wonder – Donald Duck and Huey
Disney Dream – Sorcerer Mickey and Enchanted Brooms
Disney Fantasy – Dumbo and Timothy Mouse
Disney Wish – Rapunzel and Pascal
About the Disney Treasure
The Disney Treasure is a Wish class ship and is powered by liquefied natural gas. It also features 1,254 guest staterooms. The ship is being build at Meyer Werft in Papenburg, Germany. This is also where the Disney Wish was built. The Disney Treasure's theme of adventure was inspired by Walt Disney's lifelong love of exploration. At the D23 Expo in 2022, Disney revealed what the Grand Hall for the Disney Treasure would look like. It includes a magic carpet ride statue with Aladdin and Jasmine. The reveal video can be seen here:
The Disney Treasure promises to be a treasure trove of magical adventures for guests who sail aboard her when she joins the Disney Cruise Line fleet in 2024. What do you think about the newest details on the stern of the Disney Treasure? Are you going to be cruising aboard this ship after it launches? Share your thoughts and opinions in the comments below!