Hocus Pocus: The Official Cookbook is a cookbook that includes 70 recipes that are inspired by the classic Disney Halloween flick Hocus Pocus. It includes recipes that are inspired by the Sanderson Sisters, Max, Dani, and more! Daps Magic was sent a copy of this beautiful cookbook to review ahead of the Halloween season (which really could be year round?). In short, this is a delightfully devious cookbook that has recipes that are perfect for a fun night at home or a Halloween party.
This cookbook is divided into four main sections of recipes. This includes Appetizers and Sides, Main Dishes, Desserts, and Drinks. Each section has somewhere between one or two dozen recipes included in it. The largest chapters are the Main Dishes and Desserts chapters. The recipes appropriately themed for the movie with names like "Billy Butcherson Zombie Fingers," "Sanderson Sisters Barbecue Fillet," or "Winnie's Spellbook Cake" to name a few. The illustrations that accompany the recipes are wonderful examples of what the various dishes could look like.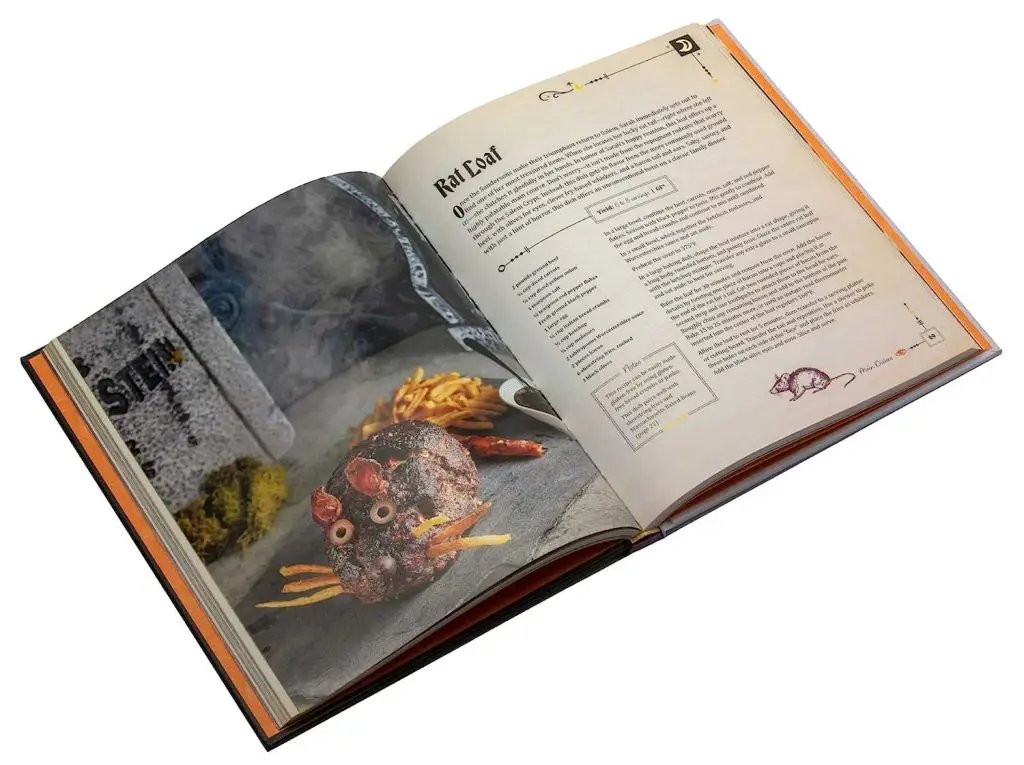 The recipes themselves start with a brief description about each dish/drink along with how it connects with Hocus Pocus. Each recipe says what the yield is and if it is gluten-free, easily adapted to be gluten-free, vegetarian, easily adapted to be vegetarian, vegan, or easily adapted to be vegan. The ingredients utilized in the recipes are fairly easily accessible. There were one or two that might take a little more searching. But for the most part, they all can be found at a local grocery store.
For those worried about the level of cooking experience needed for the recipes in Hocus Pocus: The Official Cookbook, fear not! This is a very doable cookbook. The directions are very straight forward and easy to understand. There aren't any super fancy French cooking techniques that are impossible to replicate at home. There are some decorating/presentation things that may be easier or harder for some people. However, just talke the "Nailed it!" approach and have fun with it and everything will be fine. After all, this is basically a Halloween themed cookbook, things can look a little scary, right!?
Hocus Pocus: The Official Cookbook is a wonderful cookbook that, while focused on a Halloween movie, is a lot of fun for year round cooking. The theme is fun. The recipes are doable. The results are goulishly good. This is a cookbook that is fun for making themed dinners, parties, or just a random food or drink for the heck of it. I very much enjoyed reviewing this book and love that it is now a part of my cookbook collection! I definitely take my hat off for this cookbook!
Order Hocus Pocus: The Official Cookbook on Amazon here.
<i>Daps Magic received a sample product or experience for this review in exchange for an honest review. The views of the reviewer are wholly their own. Read full disclosure policy at dapsmagic.com/disclosurepolicy.</i>
Mr. DAPs Hat Rating Scale
No Hat – Didn't meet expectations
Hat Nod – It was ok
Hat Tip – It was good
Hat's Off – Loved it!
This post contains affiliate links that help support Daps Magic.