Jump to recipe
Wrapping up the series of salad recipes that are perfect for a summer is the Papaya, Avocado, Grapefruit Salad. This is a refreshing salad that can be found at Walt Disney World Resort's Boma – Flavors of Africa at Disney's Animal Kingdom Lodge. It is about what one would expect and makes for a perfect side salad for brunch or dinner or a wonderfully cool snack on a warm day. Disney has shared a recipe that was modified for making at home that can be found below. Check it out and then share how it turned out in the comments!
GEEK EATS: Papaya, Avocado, Grapefruit Salad Recipe From Boma – Flavors of Africa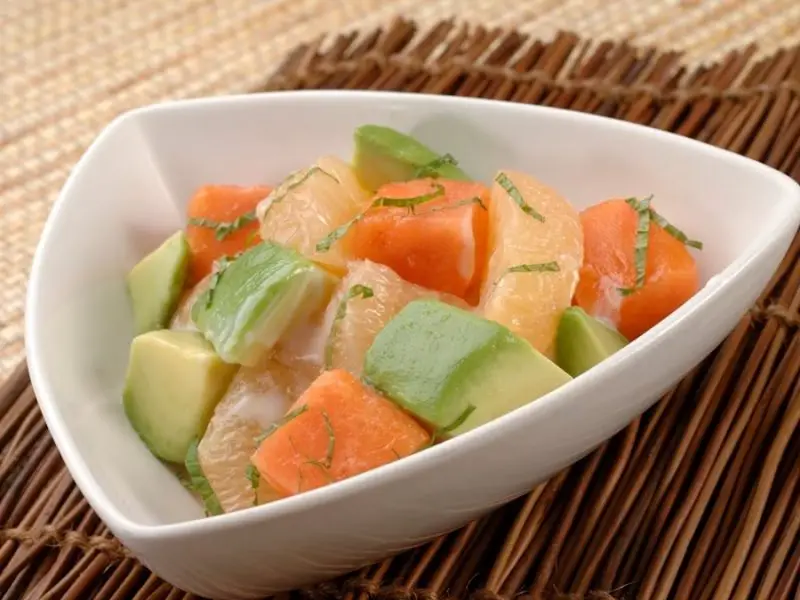 Ingredients
1 small papaya, cut into 1-inch cubes
1 ripe but firm avocado, peeled and cut into 1-inch cubes
1 grapefruit, peeled and sectioned
10 mint leaves, cut into thin strips
1/2 cup plain yogurt
2 tablespoons grapefruit juice
1 tablespoon honey
Instructions
Combine papaya, avocado, and grapefruit in medium bowl. Stir in mint leaves and set aside.
In a small bowl, stir together yogurt, grapefruit juice, and honey.
Pour the dressing over the fruit and toss gently. Serve immediately.
© 2023 dapsmagic.com
How did this recipe turn out for you? What did you think of it? Any tips for those that make it in the future? Share your thoughts, experiences, and opinions in the comments below!