Just days after the closure of Splash Mountain at Disneyland, new details are being revealed about its replacement Tiana's Bayou Adventure. Today Carmen Smith, Senior Vice President, Creative Development – Product/Content & Inclusive Strategies, shared more details about Tiana's Bayou Adventure that includes more about the music and also more about the characters being found in the attraction.
Music Collaboration for Tiana's Bayou Adventure
Carmen Smith shared via the Disney Parks Blog that the music for the attraction will be created via a collaboration between Walt Disney Imagineering and also award-winning artists PJ Morton and Terence Blanchard. Both musicians are natives of New Orleans. Smith says that "PJ and Terence will help us score a lyrical love letter to the region that first inspired our endeavor with Princess Tiana." There will be a new original song composed by PJ Morton along with new versions of music from The Princess and the Frog. Smith promises that more details will be coming in the future.
About PJ Morton
PJ Morton is working on writing, arranging, and also producing a new original song for Tiana's Bayou Adventure. He will also be performing on and producing the sessions which will take place in New Orleans. There will be all-new arrangements of the song along with songs that are known and loved from The Princess and the Frog.
About Terance Blanchard
Terence Blanchard is in charge of the musical arrangements for the queue for Tiana's Bayou Adventure. Terence is collaborating with Walt Disney Imagineering to pick songs from The Princess and the Frog along with iconic themes from New Orleans. Disney shares that the music will be a beautiful combination of instrumental ingredients to make a medley that is worth savoring, just like Tiana's recipes. Fans might recognize Blanchard as the trumpet player behind Louis' trumpet in the original film.
The music found in the queue and the attraction will borrow from a variety of musical styles that either originated or took up permanent residence in New Orleans. Laughing Place is reporting that the queue will include a radio show (think The World Famous Jungle Cruise) "that talks about the celebration we're about to visit and informs us that Tiana needs assistance."
New Audio-Animatronics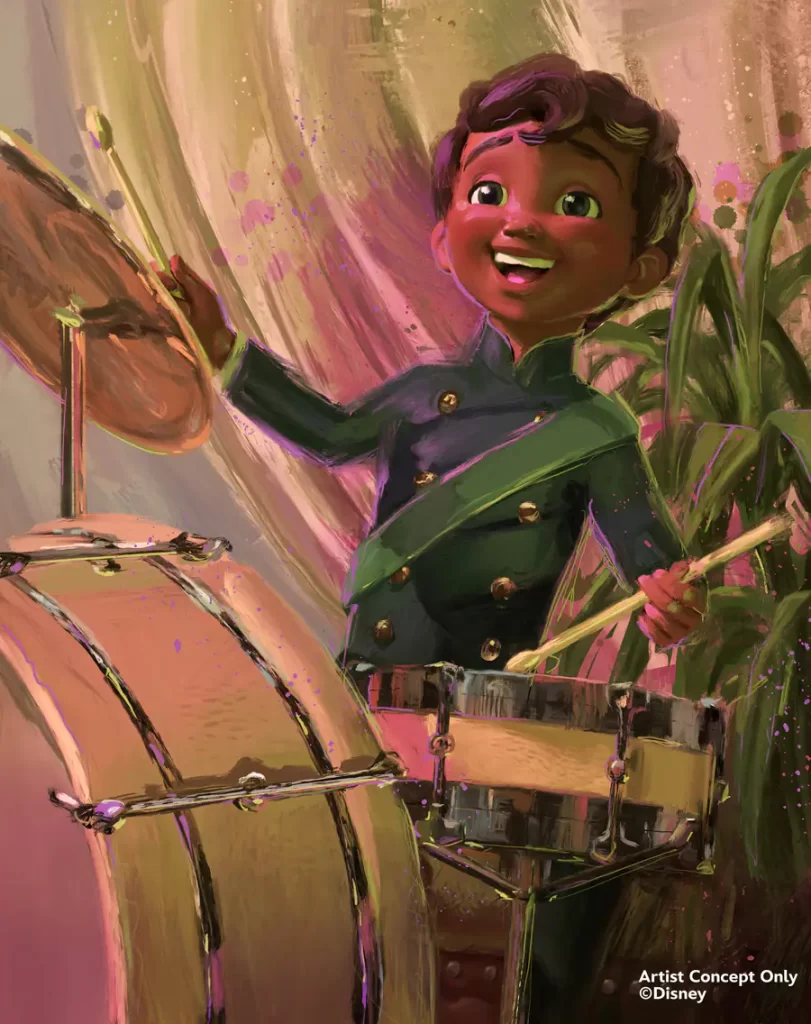 There will also be new audio-animatronics found throughout the attraction. They will be a part of bringing the sounds of New Orleans to life. One of the new characters that will be brought to life through the magic of audio-animatronics is Prince Naveen's brother Ralphie. Disney shared some concept art of Ralphie playing the drums in a scene that is very common to New Orleans: the joie de vivre influencing his every move. This adds to other new previously announced audio-animatronic characters that happen to be critters playing the joyful Zydeco-style music in the bayou. In all, there will be 17 new audio-animatronic figures of new characters that will be found in the attraction. This will be along with audio-animatronics of the main characters that are already known and loved.
Connecting with New Orleans
Walt Disney Imagineering is going to great lengths to create an authentic New Orleans experience for guests when they experience Tiana's Bayou Adventure in late 2024 at both Disneyland and Magic Kingdom. This has meant that Imagineers have spent lots of time in New Orleans. The music and culture of New Orleans are a big part of the efforts being made by Imagineers to accurately represent the City's culture in the new attraction. Disney has worked to connect with New Orleans locals to help bring this new story of Tiana to life.
One of the places that Imagineers have visited in New Orleans is Dooky Chase's Restaurant. The founder of this restaurant, Leah Chase, was one of the inspirations for Princess Tiana. While visiting the restaurant recently, Imagineers talked about the impact of Tiana over the last decade and the connection between Disney and the Chase family. Imagineer Carmen Smith shared how much the family has taught them about the essence of New Orleans. Leah's daughter, Stella Chase Reese shared that "if we have children and grown people coming here because of Tiana, they're not coming here just because of Tiana's restaurant and the food, it's the value, it's what she meant to them. Dream big and you can make it happen."
Another aspect of the process that Imagineers go through for creating an attraction is digging a little deeper into projects to get inspiration for their work. In this case, four pieces were commissioned from New Orleans artist, Sharika Mahdi. This was to help add an extra dimension to the creative process by adding a local's perspective to the project. The recent trip by Imagineers included a visit to Sharika where she unveiled her final commissioned piece for Tiana's Bayou Adventure. Imagineer Carmen Smith shared that the piece was unveiled at Sharika's alma mater YAY (Young Aspirations Young Artists) Arts Center where "Sharika walked us through this beautiful painting which serves as a compilation of Tiana's story and emphasizes the importance of family, food and of course, music." This art is solely for inspiration and doesn't focus on a specific moment or scene from the upcoming attraction. It is simply inspiration that focuses on the key theme of family in Tiana's story.
Sharika Mahdi was born and raised in New Orleans. She is known for how she paints with a free-flowing and colorful style. The now complete four-piece inspirational project has included paintings of Tiana and Friends, a jazz club scene that has a band of frogs, and also Mama Odie with her "seeing eye snake," Juju. The full collection can be seen here:
The updates from Carmen Smith come as work begins on Tiana's Bayou Adventure at Disneyland and continues at Magic Kingdom. The attraction is set to open in 2024 and will include a new story that takes place approximately a year after the events of The Princess and the Frog. Guests who experience the attraction will see many favorite characters from the movie, along with some new ones (as seen above). The attraction will also include new animation from Walt Disney Animation Studios which is "character animation and magical scenic enhancement animation."
After the closure of Splash Mountain at Disneyland on May 30, 2023, spiels for both the Mark Twain and Disneyland Railroad were updated to reflect the work that is being done on Tiana's Bayou Adventure. Walls also are now up around the attraction.
What do you think of the updates about the music and audio-animatronics that where shared about Tiana's Bayou Adventure today? Are you excited about them? What are you most looking forward to with this new Disney attraction? Share your thoughts and opinions in the comments below!