"Elemental" is Pixar's newest animated feature telling the story of our world's elements – earth, air, fire, and water. The story follows two elements – fire element Ember Lumen and water element Wade Ripple, who meet and fall in love after Wade is summoned following a plumbing accident at the Fireplace, a convenience store owned by Ember's dad Bernie.
Story
The story focuses on two of those elements – fire and water. The story begins as Bernie and Cinder Lumen leave their home to start a new life in Element City. They make their home in the fire area of the the city, but face xenophobia from the other elements. They have a daughter named Ember, and the family opens a convenience store called Fireplace. A Blue Flame is set up in the shop that is an homage to their heritage and traditions. Bernie dreams of Ember taking over the shop once he retires, but Ember must first learn to control her fiery temper.
There are a few times where Ember's temper bursts when dealing with unpleasant customers, and flames run through the shop. One time she even runs to the basement to try to control her temper, but unfortunately that outburst busts a water pipe. That's where she meets Wade, a water element health inspector. As part of Wade's work, he gives Ember and her father's shop a few tickets. She does whatever she can to get to City Hall to fight the tickets and the possible closure of her father's shop. While at City Hall, Ember is told what she needs to do to get her father's shop up to code. With Wade's help, Ember embarks on a quest to fix the leak coming into Fire City and the Fireplace. At one point, Ember fixes the leak with a special talent that Wade had noticed during a beach outing.
Wade soon invites Ember to his family's home, but Ember is hesitant as she is a fire element knowing what happens with fire when it gets hit by water. Wade starts to fall in love with Ember, and Ember's mother starts to get a bit sneaky as she considers herself a matchmaker. She eventually gives them a reading, and finds that Ember and Wade are very compatible. Cinder agrees to help keep Ember & Wade's relationship a secret from her husband Bernie.
The leak that was once fixed busts and causes huge flooding throughout the fire area of Element City. This causes lots of damage, and even destroys many buildings in the fire area. The Fireplace is also destroyed, and it ruins any chances of Bernie retiring. Wade was also trying to help Ember save her father's shop as the city was being destroyed. However, Wade dissolves, and eventually cries his way back to life. Ember is relieved, and Bernie and Cinder are happy that Ember is happy with Wade. Months later, the city has been rebuilt and the Fireplace reopens as Bernie is finally retired. Ember and Wade move away from Element City as Ember has a great new opportunity. As she is leaving, Ember does a special bow to her father, who then returns the bow. They then hug, and share a moment as Ember leaves.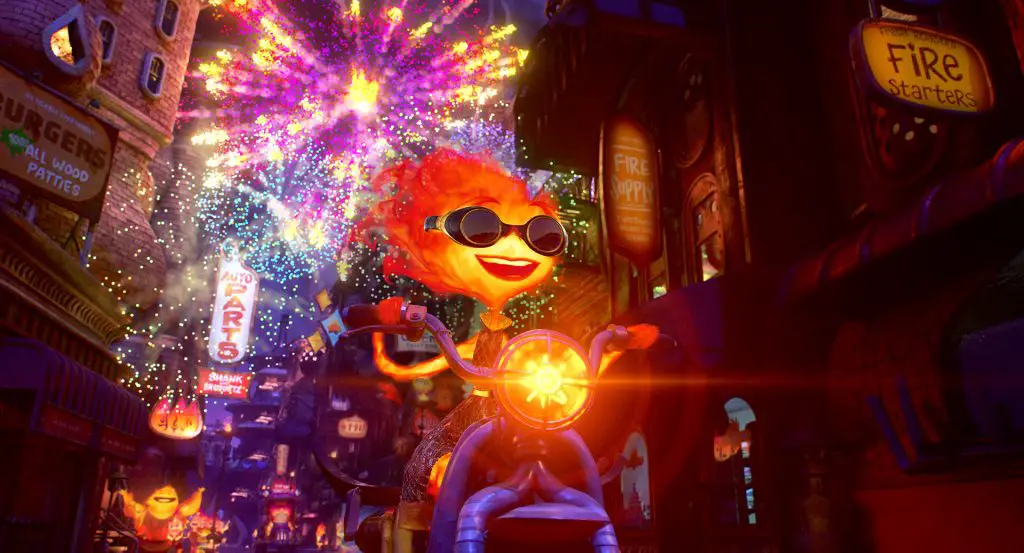 Quality
One thing I enjoyed about "Elemental" was the look of the film. The color and background definitely added to the movie. Lots of red, orange, and blue were the focus because of the characters' stories being told. Fire and Water may have been the focus of the movie, and while it seemed like it could be a challenge for the animators to get right, you can see that they definitely succeeded in making the colors and visual effects work just fine.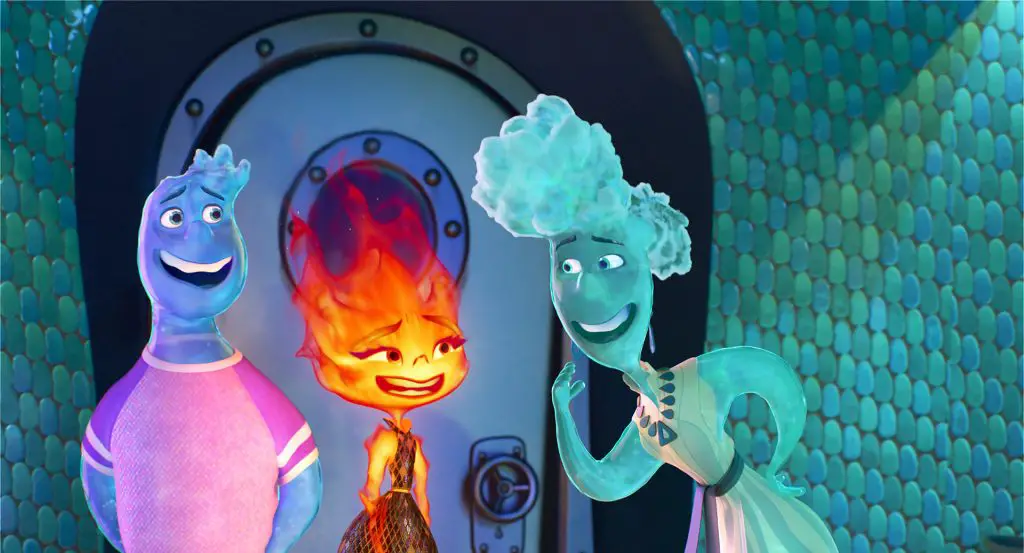 Characters
Character development was important to the movie as we needed to know the background of these characters. Since they were new to us, knowing their backstory helped us get to know these characters. You could feel their emotions throughout the movie, and relate to certain aspects of their lives. Ember has that difficult father-daughter relationship because she's doing everything she can to make her father happy while putting her dreams to the side. Meanwhile, Wade is that happy-go-lucky and positive character who sees the good in people, especially Ember.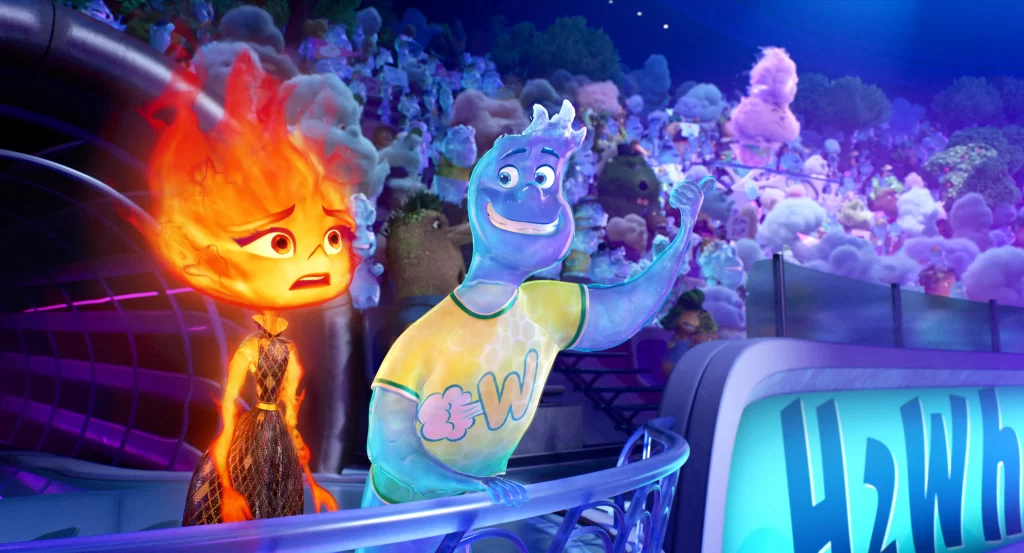 Music
The music of the movie reminded me of classic EPCOT music from the early 2000s, and the score was just beautiful too. There is one original song in the movie called "Steal The Show" by Lauv. It is also featured in the credits. Thomas Newman did a wonderful job with the score tying in the different sounds of each section of Element City. The music also had a futuristic sound, while also having that classic Pixar sound, music, and score we love.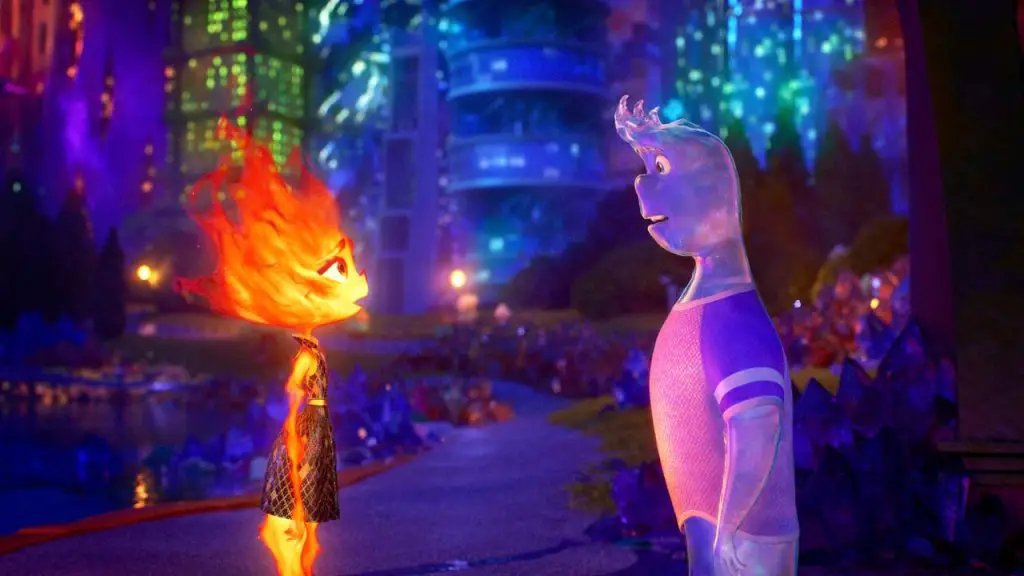 Final Thoughts
"Elemental" may have an "oh no, this is just another version of 'Inside Out,'" type of look to it, but it was more than that. It had that classic Pixar storytelling we all know and love. It had heart, emotion, and it left you wanting more. I really enjoyed this movie, and I'm looking forward to seeing it again once it hits Disney+ in the next few months. Pixar movies are meant to be seen on the big screen to get the scope of the movie and to see the visuals more clearly. So definitely see "Elemental" in theaters because you will enjoy it as well.