It was a day full of Disney for California Governor Gavin Newsom on Tuesday. The Governor was seen at the Disneyland Resort during the day and in the evening, later sharing about it on social media. Governor Newsom met with Disney CEO Bob Iger and Disney Parks, Experiences and Products Josh D'Amaro and was briefed on the plans for DisneylandForward. These are long-term plans that Disney has for the future of the Disneyland Resort.
Photos shared on Governor's social media showed Newsom, Iger, and D'Amaro in front of maps for DisneylandForward both inside somewhere and also on the west end of the Downtown Disney District where work is happening currently on its transformation. The multi-year DisneylandForward plan has been shared with locals in community events. The Governor's support for this project would undoubtedly be a boost to Disney's efforts as it looks to expand the Resort in the coming decades.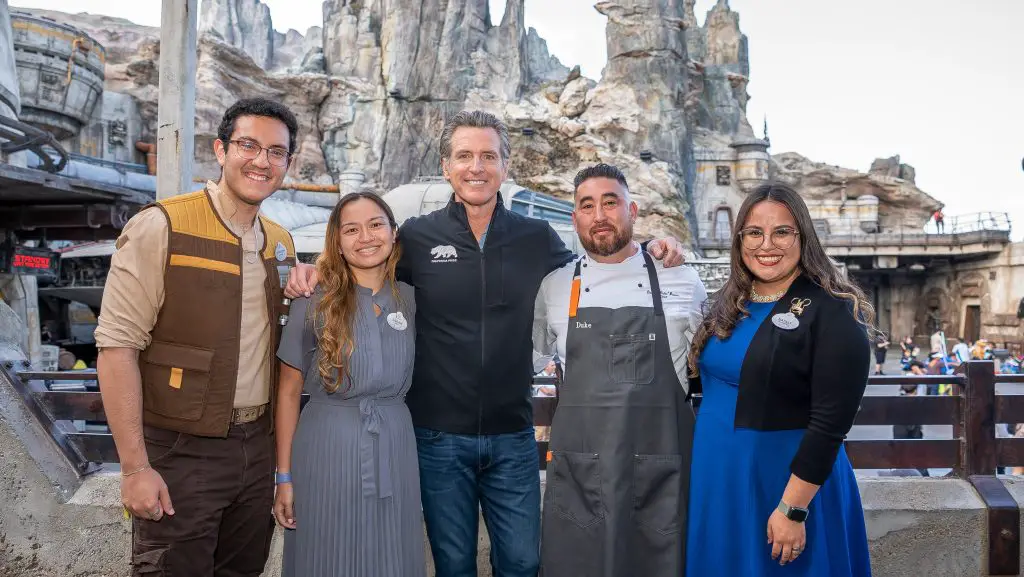 The day at the Disneyland Resort also included a stop by Star Wars: Galaxy's Edge. Disneyland Ambassador Nataly Guzman was one of the cast members that Governor Newsom was seen with while in the land.
In the evening, Governor Newsom was seen at Disneyland After Dark: Pride Nite. He was as popular as Mickey Mouse and other Disney characters throughout the night and could be seen taking photos with guests at the event. He also posted again about the event on Twitter saying,
For the first time, California celebrated Pride Nite at @Disneyland.

Our inclusivity & acceptance attract talent & ideas that drive our economic growth & make us a hotspot for world-leading companies like @Disney to grow & prosper.

All are welcome here.
The Governor's attendance at Disneyland After Dark: Pride Nite and support of Disney came in stark contrast to the actions of Florida Governor Ron DeSantis continues to be at odds with Disney. Governor DeSantis and Disney continue to feud about the future of the former Reedy Creek Improvement District.