Guests who stop by the Japan Pavilion at EPCOT during the EPCOT International Flower & Garden Festival can see the Japanese Clacker Garden, which is really known as shishi-odoshi (pronounced as she-she oh-doe-she). Shishi-odoshi translates to "scare deer" and is made of a segmented tube (usually bamboo), water, and also rocks. Water slowly fills the segment of bamboo and eventually leads to it tipping and thudding as it comes down. This has the effect of scaring away any deer or other herbivores in the area that might want to eat crops.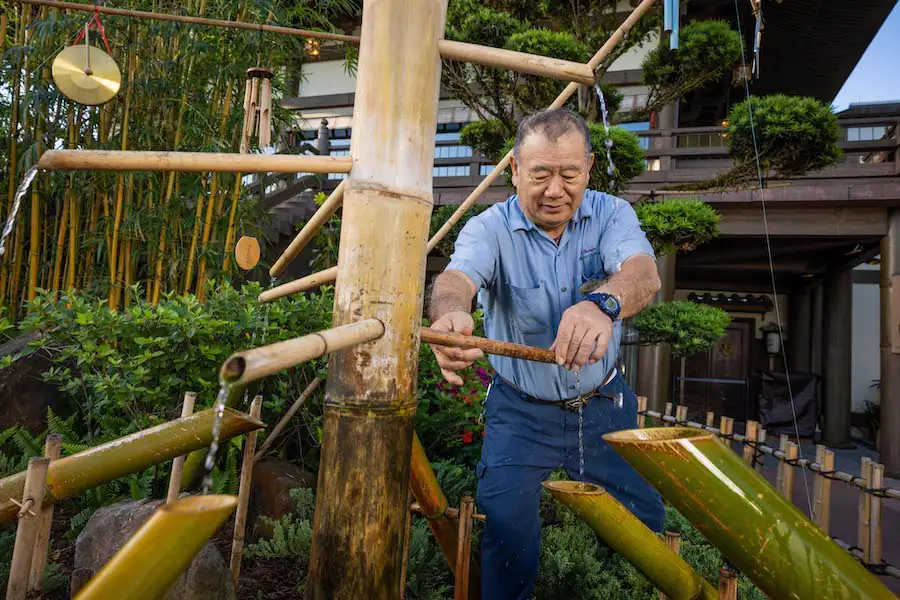 Shishi-odoshi came to the Japan Pavilion in EPCOT thanks to Shoji Kanaoka, an arborist at Walt Disney World Resort. He came up with the idea over 20 years ago and shared it with leaders, who enthusiastically supported the idea. Shoji built and introduced the authentic element and it became a fan-favorite. Since then, this garden has returned intermittently throughout the last two decades.
To make things even more special, Shoji and his team have also incorporated wooden chimes during the festival. Shoji built these himself and guests can find bells, drums, and other noise-making items in the area. The bamboo for this was harvested at Walt Disney World Resort in Disney's Animal Kingdom and also The Jungle Cruise at Magic Kingdom.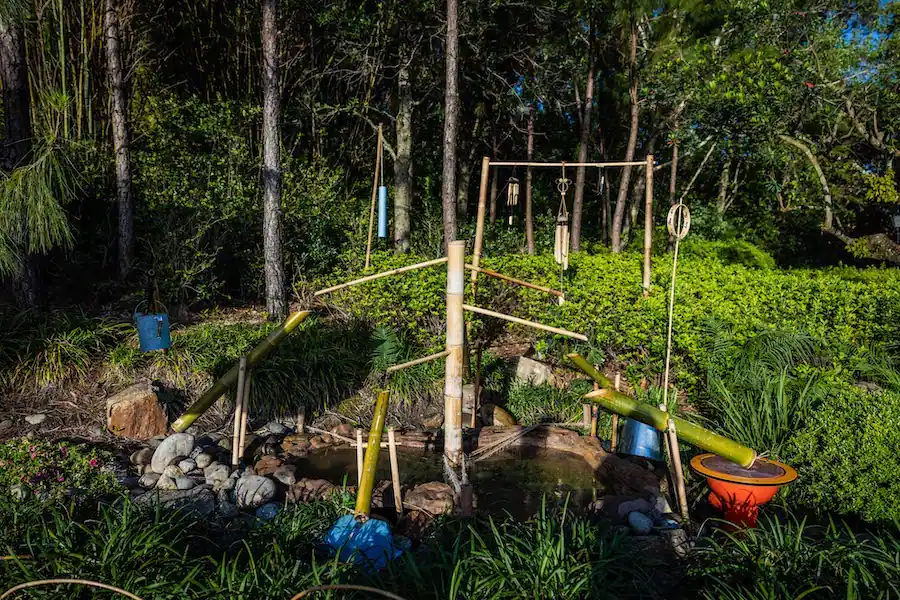 "It's always been important to me to introduce new elements into the landscape at the Japan pavilion as a way to honor my culture and to introduce guests to other heritages," Shoji said. With inclusion and community so important to Disney, it is shared how everyone can make a difference and Shoji is an example of that. He was an opening-year cast member at EPCOT and has made quite a difference in the Japan Pavilion.
Shoji has had a career that spans four decades. Through this time he worked with Disney Legend and Imagineer Bill Evans, among other cast members, to bring new and culturally authentic offerings to life in the parks. Some of these contributions include two Zen gardens and several bonsai trees along with the smaller shishi-odoshis that are found all year round in the stream near Katsura Grill at EPCOT.
Retirement isn't that far away for Shoji and because of that, his leaders thought it was the perfect time to bring back the shishi-odoshi garden to EPCOT. Shoji also trained other cast members, including fellow arborists Leon Fevry and Sierra Ruparelia, on how to build and create a shishi-odoshi so that this tradition can continue in the festival and landscapes for years to come.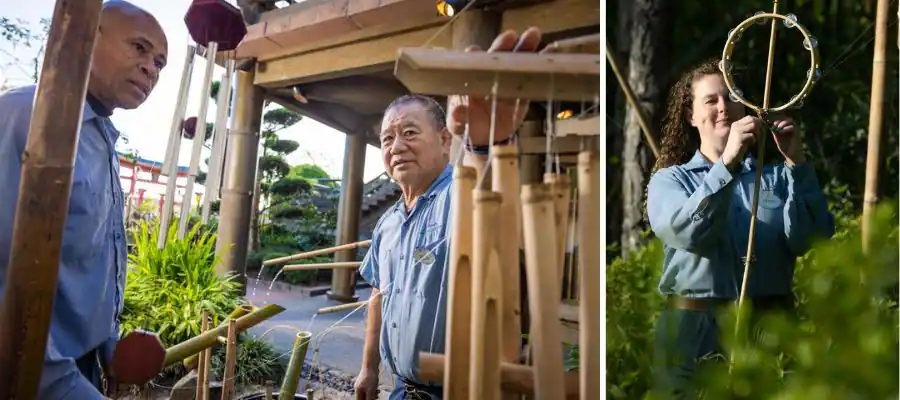 Shoji also shared his years of knowledge with horticulture students in Florida during a a special visit to the theme park. During this visit, he shared career advice and also about the importance of honoring culture and heritage to help dream about the future. He also encouraged them to build their talents and become who they imagine they can be. This was a part of the Disney Future Storytellers initiative. This is a company initiative that is designed to empower and inspire the next generation of storytellers and innovators through distinctly Disney experiences.
"Knowing that my legacy will continue to live on in Japan pavilion is very humbling," Shoji shared. "It's an honor that my fellow cast members showed interest in carrying on my work, and I can't wait to see what they accomplish."  
The shishi-odoshi can be found in the Japan Pavilion near the check-in podium for Takumi-Tei. What do you think of the shishi-odoshi? Have you seen them in person? Share your thoughts and opinions in the comments below!