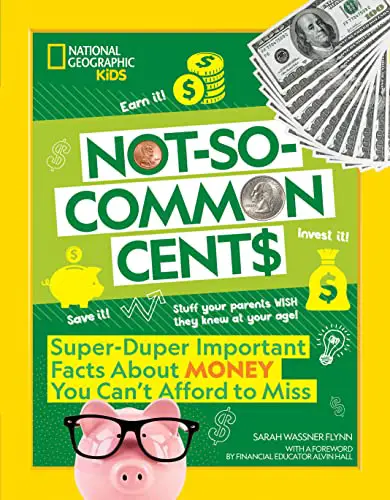 This is the time of year when people have finances on the brain. For many, there is a wish that they had learned this stuff when they are kids. Now, thanks to a National Geographic Kids Book, future generations can approach their finances (and tax season) more confidently. Not-So-Common Cent$ is a practical book that helps empower kids for their financial future, with the help of Chameleonaire, a top-hat wearing chameleon. This book helps kid learn about both earning and budgeting money, how to use a bank account, understanding the history of money, and why we even use it along with how it works.
Not-So-Common Cent$ begins with the history of money. With quite a few pictures illustrating the story being told, the origins of money starts with bartering, eventually leads to cash, credit, and the future of money. The book gives enough details to make sense but also isn't too much to get overwhelming or boring. It is a nice combination between keeping things interesting and also educational.
The book takes a big picture look at money while also keeping things applicable to individual finances as well. Along with giving tips for cash management, it also gives ideas for how to create cash and jobs. Along the way, it shares examples of how different people have succeeded at different ways, including kids who have been successful. For those who are similar ages, this could definitely be inspiring.
Not-So-Common Cent$ isn't just a textbook on money making for young ones. It is a book that will inspire kids to see how money can work for them throughout their lives and not just spending life working for money. This is a book that parents should be adding to their kid's libraries. It is probably a good idea to let kids read it on their own if they are interested. If they aren't, read it together in a fun way. The information found in the book could really help set future generations up for financial success in a way that often hasn't been done in the past.
This book is easy to read, definitely aimed towards elementary aged audiences, and has a lot of valuable information in it. It is very easy to give a hat tip to Not-So-Common Cent$. This is an easy book to endorse and I wish it had existed when I was a kid!
<i>Daps Magic received a sample product or experience for this review in exchange for an honest review. The views of the reviewer are wholly their own. Read full disclosure policy at dapsmagic.com/disclosurepolicy.</i>
This article includes affiliate links that help support Daps Magic.