New dates have been released for Star Wars: Galactic Starcruiser cruises. Starting in October 2023 the amount of cruises will go from being consecutive back to back cruises to two cruises per week. The availability calendar on the Walt Disney World Resort website shows what this will look like.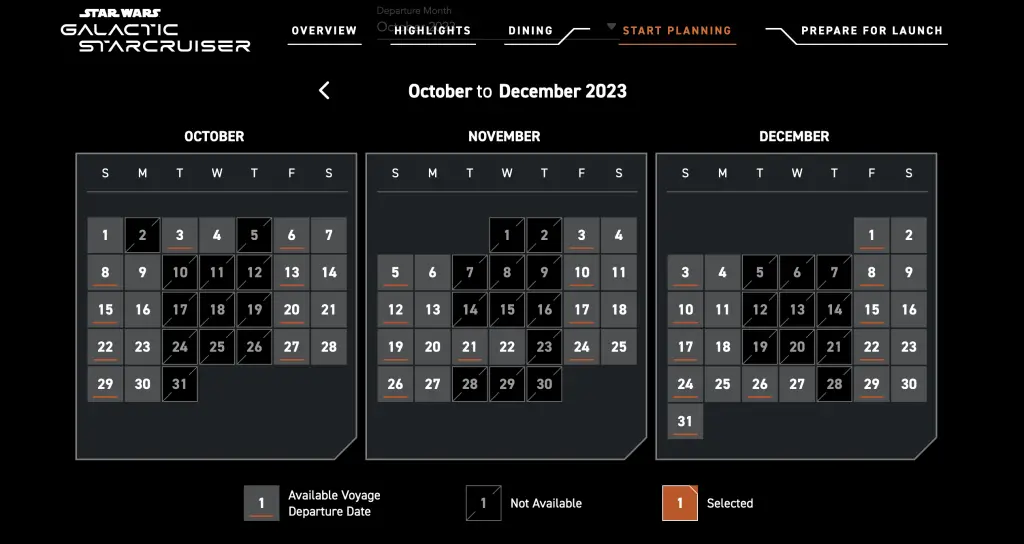 Along with reducing the number of cruises starting in October, a new cancellation policy has been introduced. The cancellation window has moved from 90 days out to 30 days out. This offers guests a full refund. The policy is in effect for all bookings that includes existing bookings and new ones through September 2023 along with new bookings for October through December 2023.
Disney said the following about the new schedule:
The schedule has been modified to provide two voyages per week, except for holiday weeks where we may have three voyages. We've been learning a lot during our first year of operation and have adjusted voyage dates to meet the needs of our guests.
These changes come after a recent deal was offered for Disney guests who want to extend their stay at the Walt Disney World Resort around their voyage on the Star Wars: Galactic Starcruiser.
What do you think of this new schedule for the Star Wars: Galactic Starcruiser ? Have you been on this cruise yet? Do you hope to someday? Share your thoughts and opinions in the comments below.