For fans of Impressions de France at the France Pavilion in EPCOT it has been an interesting week watching changes happen to its operations. The show shares a space with the Beauty and the Beast Sing-Along for most of the day.
Impressions de France is one of the remaining EPCOT opening-day experiences and is found in the Palais du Cinéma on five screens that span 200°. It is a beautiful tour of France as seen in the early 80s that is coupled with classic French music (Boieldieu, Debussy, Offenbach and Saint-Saëns) and is scored by Buddy Baker. The show holds a spot in the Guinness Book of World Records as the "longest running daily screening of a film in the same theater." Impressions de France was directed by Rick Harper, written and co-produced by two-time Academy Award nominee Bob Rogers. Claude Gobet narrates this tour through France.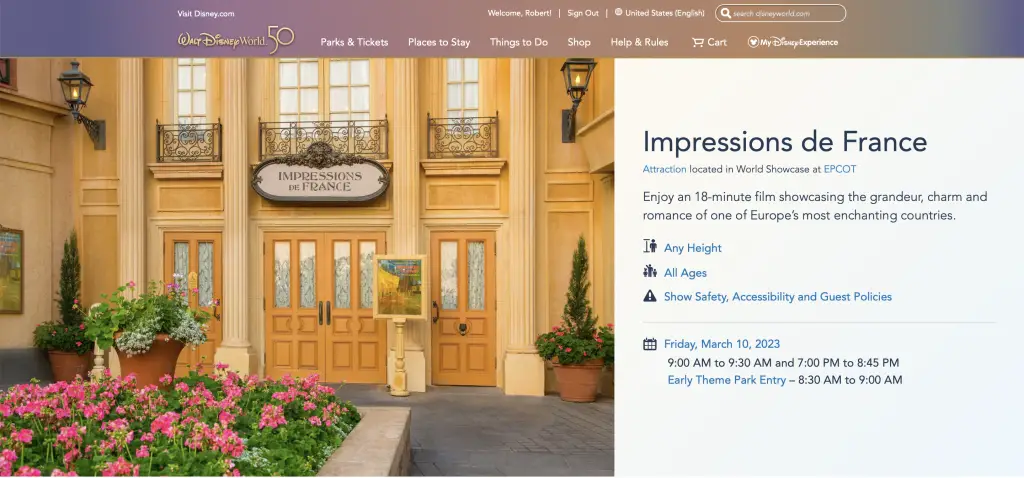 The attraction recently had its how's reduced and then expanded again today. Walt Disney World Resort updated the schedule for the show with Impressions de France being offered from 9:00 AM – 9:30 AM. The rest of of the day was given to Beauty and the Beast Sing-Along from 10:00 AM to 8:45 PM. However, the website with the times has been updated again. The new hours for Impressions de France actually include a new option for guests with early entry, park opening, and then again in the evening. The new hours for Impressions de France are as follows:
8:30 AM – 9:00 AM – Early Entry Theme Park Entry
9:00 AM – 9:30 AM
7:00 PM – 8:45 PM
The expansion of the hours for this show was welcomed by fans who were concerned when the hours were reduced. It remains to be seen if this is a permanent change or testing hours to see how the attraction performs in the morning. For those who can't make their way to EPCOT to experience the attraction in person, here is a video of the attraction from several years ago:
Impressions de France Official Description
Vive La France!

Be transported to another time and place, a land of princesses and enchanted castles, as the Loire Valley and its magnificent chateaux appear in a stunning 200-degree widescreen view. 

On your virtual journey, ride along with horsemen and hunting dogs in the Cheverny Forest, reflect on the Hall of Mirrors at Versailles, visit a bustling marketplace in Normandy and see vintners and cognac makers at work. 

Watch Bugattis racing in Cannes, hot-air balloons floating along the Loire and celebrate Bastille Day in grand Gallic fashion as you listen to an emotional soundtrack by French composers like Claude Debussy, Maurice Ravel and Paul Dukas. 

Their joie de vivre leaves an indelible impression!

Tales As Old As Time: French Storytelling on Stage and Screen

Step into some of the world's most enchanting stories. At the Palais du Cinema, you'll explore 6 distinct gallery cases honoring the costumes, music and artwork that brought French literature to life through cinema, theater, ballet and opera. Catch a glimpse of how these stories inspired artists from around the globe, including those who created such timeless Disney classics as Sleeping Beauty, Cinderella and—of course—Beauty and the Beast.

Beauty and the Beast Sing-Along

Sing along with your favorite songs from the animated classic film, Beauty and the Beast while enjoying a new twist on this enchanting tale.
As with all things at Disney, guests who like this (or any attraction) should make sure to make an effort to experience it whenever possible. Every person who experiences an attraction is a vote to keep that attraction. An attraction with lots of people experiencing it regularly, in general, is in a much safer place from going away than one that sits empty. There are always exceptions to the rule. However, the best way to see what is important to someone is by seeing how they spend their time and money.
What do you think about these updated times for Impressions de France? Are you excited about the expanded hours or do you think they should be reduced even more? Share your thoughts and opinions in the comments below!