Shanghai, March 18, 2023 – The highly anticipated tradition at Shanghai Disney Resort, Earth Month, is returning in April this year. Beginning April 1, guests, Cast and community members are invited to join an engaging array of initiatives to be introduced at the resort, where they can be inspired by creative ideas to protect the world we share and learn how small, everyday actions can make big changes. This celebration is all a part of Disney's commitment to take action to support a healthier planet for people and wildlife by reducing our environmental footprint, caring for wildlife and their habitats, and creating stories that inspire action. We call these collective efforts Disney Planet Possible – tangible actions we are taking to put possibility into practice and inspire optimism for a brighter, more sustainable future.
Earlier this year, Shanghai Disney Resort was awarded the LEED Platinum certification under LEED v4.1 for Communities: Existing rating system, recognizing it to be the world's first resort to achieve this highest level of LEED certification. This noteworthy achievement is another clear reflection of Shanghai Disney Resort's long-term commitment to sustainability and environmental conservation.
"We are proud to be the world's first resort to receive the LEED PLATINUM Certification under LEED for Communities," said Joe Schott, President and General Manager of Shanghai Disney Resort. "We developed a holistic approach to sustainability and conservation ranging from our resort operations, to how we promote awareness, provide platforms and creative ideas, and encourage people to take meaningful actions. We look forward to everyone's participation during our Earth Month celebrations as we strive to inspire our guests, Cast and local community through our commitment to making the world a better tomorrow."
An array of fun-loving Earth Month initiatives right around the corner
An array of fun and educational activities are right around the corner at Shanghai Disney Resort, where guests visiting the resort this April will be invited and encouraged to join in as we celebrate the planet together.
The 42nd Shanghai Bird Loving Week will be launched at Shanghai Disney Resort for the first time. Known for its bird-monitoring program that has recorded 121 different bird species over a period of almost ten years, the resort's beautiful Wishing Star Park will host the opening ceremony on April 8. Collaborating with Shanghai Forestry Bureau and Shanghai Wildlife Conservation Association, the resort will introduce eye-opening activities throughout the week, highlighting the beauty of nature while also raising awareness and encouraging guests to protect wildlife through simple, yet actionable steps.

The first Disney Nature Conservation Forum will be hosted on April 19, engaging leading nonprofit organizations, industry partners and the resort's nature experts who will share insights and exchange ideas on major biodiversity conservation topics. The forum will be followed by the return of the Earth Month Fair at Disneytown, with multiple entertaining booths and activities such as bird matching games for guests to explore. Joined by renowned non-profit organizations and associations, this year's Earth Month Fair will continue to generate awareness and inspire guests, Cast and communities to take positive actions for environmental protection.
Our commitment to the environment is also reflected throughout Shanghai Disney Resort's daily operations. Guests can pick up their favorite Disney Princess Dolls with plastic-free packaging. This adjustment has been made with the intent of reducing the resort's carbon footprint through modifications to daily operations. This new approach to packaging aligns with The Walt Disney Company's recently released 2030 environmental goals, by bringing the business closer to reaching its packaging materials targets.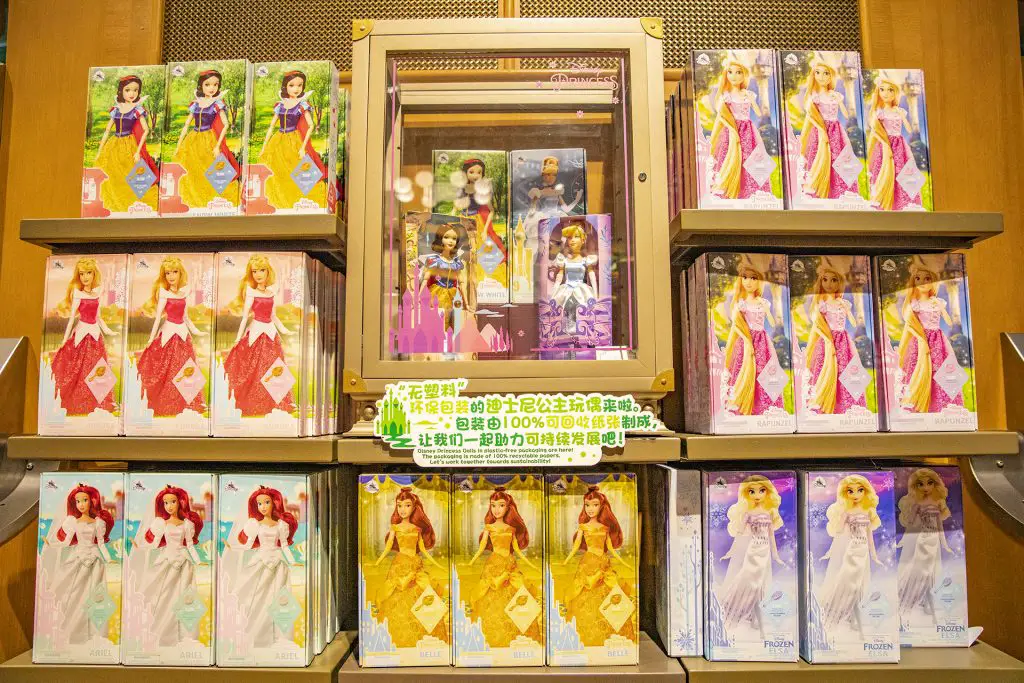 The world's first LEED Platinum certified resort project under LEED v4.1 for Communities: Existing
Shanghai Disney Resort was recently certified LEED PLATINUM, making it the first resort to receive the highest-level LEED certification awarded. Leadership in Energy and Environmental Design (LEED) is the world's most widely used and recognized green building system, and PLATINUM is only certified to those whose performance achieves high scores in all nine sectors of its rating system.
The LEED PLATINUM Certification, awarded in recognition of the resort's dedicated sustainability efforts throughout the years, highlights Shanghai Disney Resort's achievement in preserving the community's sustainability and quality of life. The resort has been carrying out its commitment to environmental protection and resource conservation in daily operations, and optimizing its performance from a variety of aspects, including, but not limited to: natural systems and ecology, water efficiency, energy and greenhouse gas emissions, material and resources, and quality of life. Wishing Star Park, for example, is a great combination of the resort's sustainability initiatives. To ensure the clear and transparent water quality of Wishing Star Lake, which serves as a precious water source for wildlife, Shanghai Disney Resort has built a comprehensive water treatment plant to treat both the lake water and the incoming river water, which proves to be effective in both enhancing biodiversity in the area and creating a safe and healthy environment for all guests.

Disney VoluntEARS launch Earth Month with a wetland restoration project in Qiandao Lake
With the start of Earth Month being just two weeks away, Disney VoluntEARS from Shanghai Disney Resort embarked on a journey to Chun'an County in the nearby Hangzhou City, Zhejiang Province this weekend. During this two-day trip, Disney VoluntEARS were engaged in a series of activities, including joining lectures that further deepened their understanding and appreciation of watershed conservation, and restoring wetlands for aquatic environment and biodiversity.

The VoluntEARS program is part of the Qiandao Lake-Inlet Wetland Restoration and Water Stewardship Project, which is funded by Disney and jointly implemented by Shanghai Disney Resort and Qiandao Lake Water Fund project of The Nature Conservancy. Launched in 2022 and running through 2024, the project aims to demonstrate lake-inlet wetland restoration and maintenance with nature-based solutions by collaborating with multiple stakeholders including the local government, relevant scientific research partners, local communities, and many more, to form a cost-effective mechanism for water conservation in East China, and at the same time enhance public and local community engagement and raise awareness education of water stewardship.
As Earth Month approaches, Shanghai Disney Resort is ready to celebrate the magic of nature with guests and Cast. Join in the resort's month-long celebration filled with joy, wonder, and education, to honor the planet we all share and reflect on how each of us can take action for a world in balance.