D23 has announced a new D23 Gold Member Exclusive in the form of a Disney's Mickey Mouse & Minnie Mouse Handcar. The handcar is made by Lionel Trains and is a reproduction of the classic 1934 handcar featuring Mickey Mouse and Minnie Mouse. D23 Gold Members can pre-order Disney's Mickey Mouse & Minnie Mouse Handcar in the D23-exclusive platinum finish. This comes as the Disney100 celebration continues in honor of the 100th anniversary of The Walt Disney Company.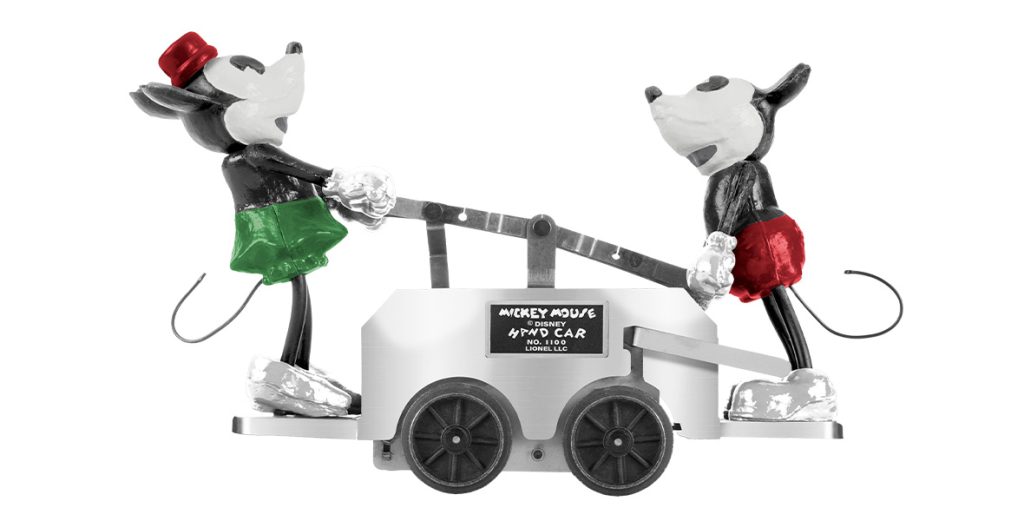 D23 released the following about Disney and Lionel's Partnership:
In 1934, Joshua Lionel Cowen and Walt Disney joined forces and helped save Lionel during the Great Depression with a licensing agreement to feature Mickey Mouse on a new train toy. Neither party could have predicted the massive success of "No. 1100 Mickey Mouse Handcar" that sold more than 250,000 pieces, saving Lionel from bankruptcy. So, to celebrate Disney's 100-year anniversary, Lionel is releasing a Disney100 edition of the groundbreaking '34 handcar—including offering D23: The Official Disney Fan Club an exclusive version in platinum!
For D23 Gold Members who would like to pre-order this exclusive Disney's Mickey Mouse & Minnie Mouse Handcar, visit the D23 website here and sign in as a D23 Gold Member, or sign up to become one. The handcar will arrive in the fall of 2023.
How to purchase
Log into Gold Member account to access the pre-order link.

Not a Gold Member? Sign up today!
Return to this article or visit our Discounts and Offers page.

Click or tap 'Purchase Now' below.
What do you think of this D23 Gold Member Exclusive? Will you be purchasing it? Share your thoughts and opinions in the comments below!