Disney has released a POV video of TRON Lightcycle / Run at Magic Kingdom. This comes as cast members begin previews of the new attraction at Walt Disney World Resort. The video was shared on social media with the following captions:
>◎//: Welcome users. Cast Member preview testing has begun, error detected in simulation footage. Are you ready? TRON Lightcycle / Run presented by @Enterprise opens officially 04/04/23 at Magic Kingdom.

404 error code – footage in question must be seen in person.

Disney Parks Twitter
The new Tomorrowland attraction will be opening at Magic Kingdom on April 4, 2023 to the general public. Recently photos were shared of how the attraction looks at night with pictures by Steven Miller. In a post on the Disney Parks Blog, Miller shared about photographing the attraction ahead of its opening.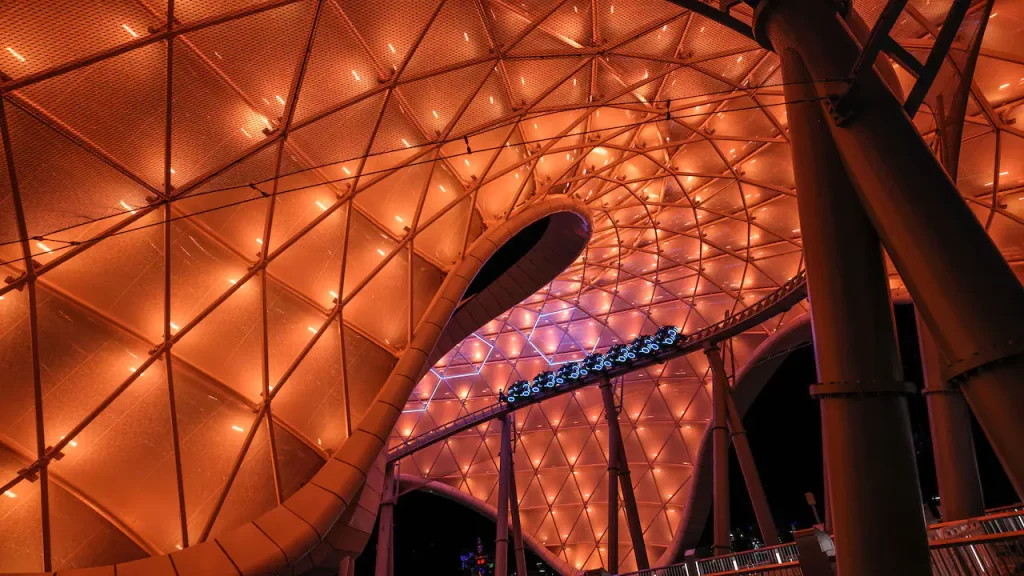 Greetings, Programs! As a kid, I spent countless hours playing video games at my local arcade. The anticipation of hearing a quarter drop into an arcade machine only fueled my excitement at the ensuing video competition (which was most likely me playing "Discs of Tron" again). I felt that same joy last night with my camera in hand as the "curved wave" canopy, called the Upload Conduit, was officially powered on in its entirety at TRON Lightcycle / Run presented by Enterprise. And I wanted you to be among the first to see these breathtaking images from this major milestone moment.

The Upload Conduit will serve as the digital bridge into The Grid for your Lightcycle when this attraction opens in Magic Kingdom Park on April 4. As a lifelong "TRON" fan, I was in awe. The massive structure was constructed of nearly 40 pieces, strategically assembled and aligned, to create the perfect system for moving Lightcycles to The Games.

I've seen the Upload Conduit from afar while riding the Tomorrowland Transit Authority PeopleMover and the Tomorrowland Speedway, but nothing prepared me for being directly under it. When Lightcycles whiz by overhead, lights dance across the conduit leaving glowing hexagons.

These visuals are enhanced by familiar music from the "TRON: Legacy" soundtrack (something that is on heavy rotation in my house). I could have watched the colorful stripes of blue, orange and white chase along the canopy for hours.

Here are a few more images I captured from this milestone moment. Stay tuned in the coming weeks as I'll be sharing even more details about this thrilling new attraction coming to Walt Disney World Resort. I can't wait to race you on The Grid. End of line.
Here are the official details about TRON Lightcycle / Run that have been released by Disney:
TRON Lightcycle / Run – Opening April 4, 2023

Speed across a world with no horizons in a high-stakes race based on the Disney sci-fi film TRON: Legacy.

LIMIT: NOT FOUND_

Lean forward into the ultimate race of survival! Leave the real world behind and join Team Blue in an epic quest across the Grid—the dark, computerized world with no horizons from TRON. Here, there's no limit to the excitement.

Climb aboard your very own Lightcycle and take off on a high-speed adventure, racing against the Grid's most menacing Programs. Surge past your fierce opponents as you attempt to cross through 8 Energy Gates and secure your team's victory—so you can survive to race another day.

Scheduled to open April 4, 2023, TRON Lightcycle / Run will be one of the fastest coasters at any Disney theme park in the world.

From the Big Screen to the Theme Park

In 1982, Disney made filmmaking history with TRON, the first production of its kind to mix live action with computer-generated visuals and backlit animation. This iconic film went on to inspire video games, comic books, an animated series and the 2010 sequel TRON: Legacy—as well as this new Disney theme park attraction.

Request to Join the Virtual Queue

A virtual queue will be in place when TRON Lightcycle / Run opens on April 4, 2023. Guests will need to use the My Disney Experience app to enter the attraction. A standby queue will not be available. Each Guest can enter the virtual queue no more than once per day during regular park hours.

Walt Disney World
What do you think of all that you are seeing of TRON Lightcycle / Run? Are you excited to experience it at Magic Kingdom? What do you think about ride through and the lighting package? Share your thoughts and opinions in the comments below!