Disney Alice in Wonderland: The Official Cookbook is now available fore pre-sale. This cookbook allows families to go down the rabbit hole and experience the world of Alice in Wonderland in a completely fun and new way. The culinary way! This cookbook can be great for a fun cooking experience or for making a whole Alice in Wonderland themed viewing party!
The Disney Alice in Wonderland: The Official Cookbook is available for pre-sale today here and will be released on March 28, 2023.
The following details have been released about this upcoming cookbook: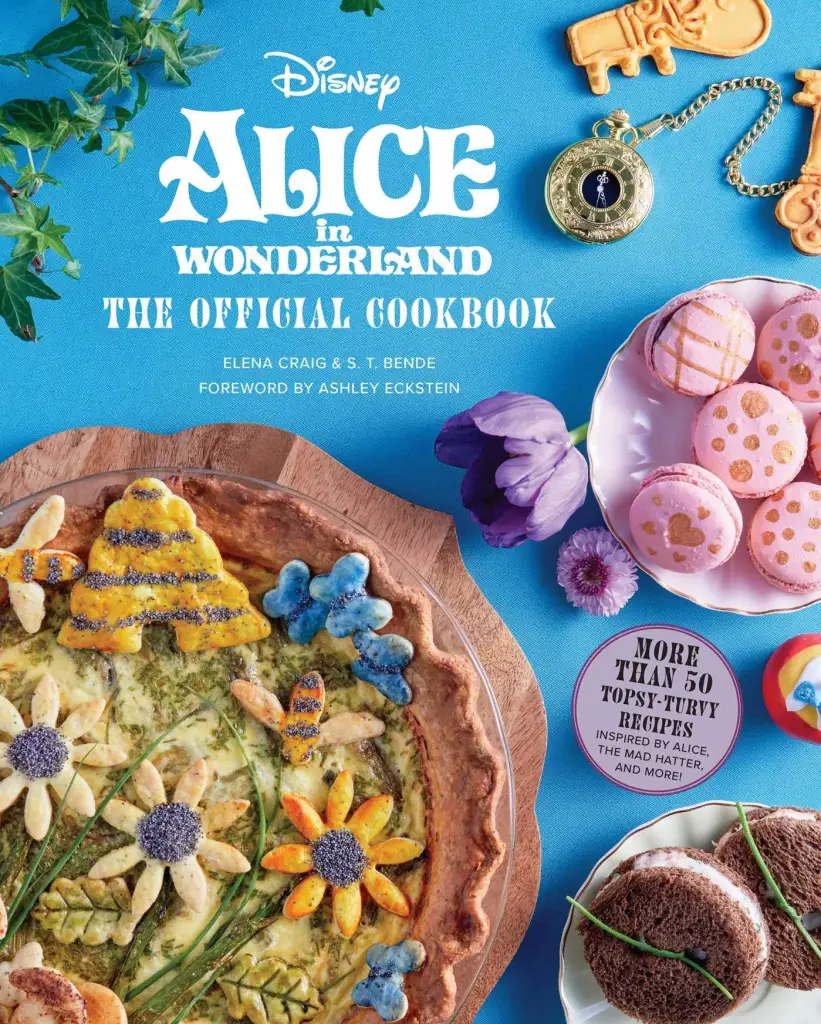 Alice in Wonderland: The Official Cookbook

By Elena Craig and S.T. Bende

Mealtimes keep getting "curiouser and curiouser," with this delightful cookbook featuring over 50 delicious recipes inspired by Walt Disney Animation Studios' Alice in Wonderland! Filled with fantastical appetizers, mains, and desserts, this all-ages cookbook includes an exciting range of recipes that fans will love, such as Unbirthday Cake, Curiosi-Tea, and more!

Featuring full-color photography, suggestions for alternate ingredients, and tips and tricks from your favorite characters, Alice in Wonderland: The Official Cookbook is the perfect companion for a mad tea party!

Recipes include:

Unbirthday Cake
Curiosi-Tea
Lazy Daisies Garden Quiche
Caterpillar Crostini 

And more! 

Perfect for kids, adults, and families, this book has easy-to-follow recipes and everyday ingredients, making it ideal for every chef, meal, and occasion.

Alice in Wonderland: The Official Cookbook

By Elena Craig and S.T. Bende

Insight Editions | 8 x 0.35 x 10 in | 128 pages

Hardcover | $27.99

ISBN: 978-1-64722-480-6 | March 28, 2023

About the Authors:

Elena Pons Craig is a food and prop stylist and recipe developer with more than 25 years of experience in culinary design, marketing, photography, and publishing. With a deep love for pop culture, she enjoys hiding Easter eggs in depictions of fictional worlds.  With her husband and two children, she has developed superhero cooking skills that cross generations, genders, and genres.

S. T. Bende is a young adult and children's author, known for the Norse mythology series Viking Academy and The Ære Saga. She's also written books for Disney and Lucasfilm. She lives on the West Coast where she spends far too much time at Disneyland, and she dreams of skiing on Jotunheim and Hoth. Website: www.stbende.com.

About Insight Editions:

Celebrated for its unwavering dedication to quality, Insight Editions is a bestselling publisher of books and collectibles that push the boundaries of creativity, design, and production. Through its licensed publishing program, Insight Editions strives to produce unique books and products that provide new ways to engage with fan-favorite characters and stories. Insight Editions' award-winning art and photography titles celebrate the artistry and history of a wide range of subjects, from rock history to nature conservation. Insight Editions' New York Times bestsellers include Bowie: Stardust, Rayguns & Moonage Daydreams, Henry Winkler's I've Never Met an Idiot on the River, and Radhanath Swami's The Journey Home. Recent national bestsellers include Friends: The Official Cookbook, Harry Potter: Knitting Magic, and The Elder Scrolls: The Official Cookbook.  For more information, visit insighteditions.com.
You can pre-order Disney Alice in Wonderland: The Official Cookbook here:
What do you think about Disney Alice in Wonderland: The Official Cookbook? Are you excited about it? Would you like to see some of these recipes come to life in a video on our YouTube channel? Share your thoughts and opinions in the comments below!
This article includes affiliate links that help support Daps Magic.