On April 15, 2023, the 40th anniversary celebration of Tokyo Disney Resort will kick off. The Tokyo Disney Resort 40th Anniversary "Dream-Go-Round" will continues through March 31, 2024. The celebration will include a new daytime parade, decorations at both Tokyo Disneyland and Tokyo DisneySea, along with special food and merchandise.
In both Tokyo Disneyland and Tokyo DisneySea there will be colorful layers of "Dream Garlands" as guests enter the parks. Cinderella Castle will be celebrating with the number 40 emblazoned on its front. Tokyo Disneyland has been welcoming guests since it opened on April 15, 1983 and this celebration will continue on the legacy that has been growing for the last four decades.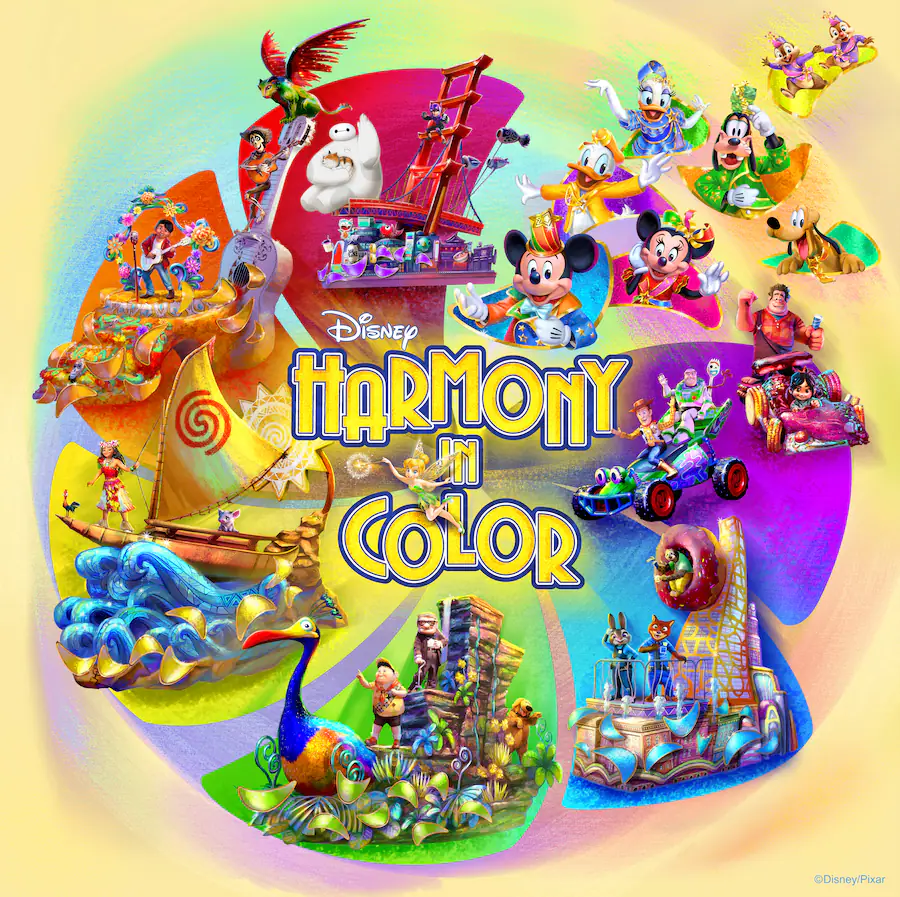 There will be plenty of new entertainment to enjoy for the anniversary celebration. Disney Harmony in Color will be the first new daytime parade at Tokyo Disneyland in five years. It will showcase themes of adventure, courage, family bonds, and friendship as seen in stories from Walt Disney Animation Studios and Pixar Animation Studios. It will open with Tinker Bell on top of a rainbow-colored float that is adorned with beautiful petals. There will be Disney and Pixar friends new and old included in this parade for guests at the Tokyo Disney Resort. Some of the new ones will include Vanellope and Ralph from Wreck-It Ralph, Wasabi, Fred, Honey Lemon and Go Go from Big Hero Six, and others!
In Tomorrowland at Showcase, there will be a special 40th anniversary version of Club Mouse Beat with Mickey Mouse and friends showing off their best moves to multiple musical styles like hip-hop, Latin, and also pop. The grand finale of the show will have the characters showing off their 40th-themed outfits as they dance to the 40th anniversary theme song.
Over at Tokyo DisneySea, Mickey and Friends, along with Duffy and ShellieMay, will be welcoming guests in their festive 40th anniversary outfits in a new Harbor Greeting called Let's Celebrate with Colors. At the end of the night, Sky Full of Colors will light up the sky at both Tokyo Disneyland and Tokyo DisneySea with the 40th anniversary theme song and other favorite Disney songs.
There will also be some fun festive food offerings throughout the anniversary celebration. This includes anniversary-themed ice cream cones at Tokyo Disneyland and other dishes that are inspired by the Aquatopia attraction at Tokyo DisneySea. There will also be special Duffy and Friends menu items found throughout the resort as well.
There will also be exclusive new merchandise that will be arriving with the 40th anniversary. This will include dream-filled items sprinkled with Tinker Bell's pixie dust, stylish pieces that feature the iconic Cinderella Castle, and the opportunity to choose "Dream Garland" like what is found throughout the resort during the celebration. There will also be some special merchandise focused on Duffy and Friends that will be revealed soon.
As the 40th anniversary of Tokyo Disney Resort gets closer, expect more details to be released. What do you think of the details that have been released so far? What are you most excited about? Share your thoughts and opinions in the comments below!