Disneyland Paris is different than Disney parks in the United States in several ways. One of the more significant ways it is different is the fact that it can and does snow there! This happened recently and Disneyland Paris shared some pictures of the snow along with some tips for staying warm. The photos show a beautiful day at Disneyland Paris after a light snowfall as Mickey and friends play in the magical winter wonderland.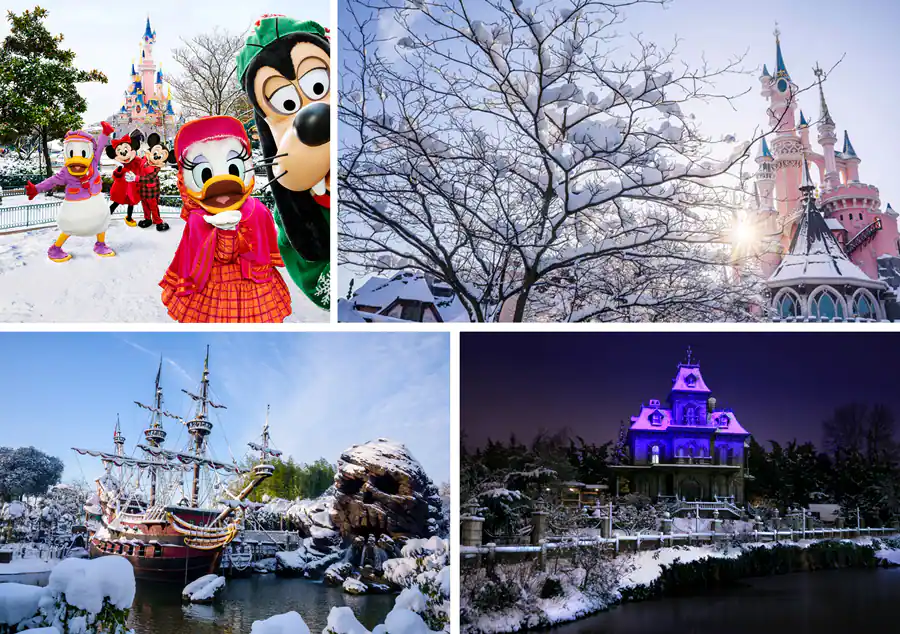 Along with showing a little of the snow, Disneyland Paris also shared some tips for staying warm on a wintery day at the parks as well. They can be seen in this TikTok video or on the Disney Parks Blog. Below, Daps Magic shares some tips on staying warm at Disneyland Paris during a snowy day.
Layer
Check the weather report before you head to Disneyland Paris. With that in mind, be flexible and plan for the unexpected. In general, it is a good idea to be ready to layer at Disneyland Paris. When visiting during the cooler seasons, this becomes the rule. Have a plan for layering if the weather outside gets frightful. Also, be prepared for the snow to be not as dry as in some colder climates. This means you might get wet or the snow might melt and get slushy. Prepare to walk through it and prepare to be in some frigid and wet downfall with whatever jacket, hat, gloves, and/or umbrella you bring!
Strategize
Once at the parks, have some plans for getting out of the cold and warming back up. There are a lot of ways to do this as Disneyland Paris was built in a way that recognized the weather. This includes the Discovery Arcade and Liberty Arcades, behind Main Street on each side of the street. These are both warm walkways that also offer access to shops and have some interesting details as well. Be strategic about what attractions you experience and when.
Not all attractions are created equally in terms of a cold day. For example, Big Thunder Mountain would be quite the frigid experience while something like Phantom Manor will be much warmer. Take into account the queues you will be waiting in as well. Stage shows that are presented inside can also be a very good idea on a cold wintery day!
Build in time to eat and go find a warm beverage when you are cool. Whether it is a cup of hot cocoa or coffee or a warm meal, it is a good way to recharge and warm up. Choose a place to eat where you can sit in a place that will warm you up. Remember that everyone else will have the same ideas as well so consider picking a time that isn't peak dining hours (i.e. normal lunch or dinner times). If you can, get a reservation for a table service restaurant so you can guarantee both a warm place to eat and also a time to do so.
Have Fun!
If you are one of the lucky ones who happen to be at Disneyland Paris when it snows, embrace it! This is a rare experience that most Disney fans will never get! It may be cold. It may be wet. Your toes might be frozen! But grab your phone/camera and take some pictures and show that you were at Disneyland Paris when it snowed! It will be the adventure that other Disney fans will ask you about for years! Remember the magical moments you create and experience that day. Take mental pictures of the beautiful sights that you see throughout the day (take real photos too!). Overall, bring a positive attitude to the day because there are so many people who would love to be running around in the snow at a Disney theme park and you are the one who actually gets to!
Disneyland Paris in the snow is one of the most beautiful and magical experiences to be had at any Disney theme park (in this humble writer's opinion). If one is prepared for it and then embraces the day, it can be made into a core memory that will last a lifetime!
Have you ever been in a Disney theme park when it snowed? Which park was it? What did you do? What was your favorite part? Share your thoughts, experiences, memories, and tips in the comments below!