A popular cake decorating class is returning to Disney Springs next month. Amorette's Patisserie Cake Decorating Experience will be helping guests learn how to decorate beautiful cakes at Amorette's Patisserie at Disney Springs.
The experience lasts 90 minutes and is hands-on. During this, guests will decorate their own edible works of art in the company of a small group of students. During the experience, Amorette's Patisserie cast members will teach how to decorate a classic Mickey Mouse Dome Cake. The cast members will guide guests through the decorating process. This includes the entire process that includes pouring glacage and also placing Mickey's iconic ears. They will also share tips and share some behind-the-scenes stories about Amorette's Patisserie.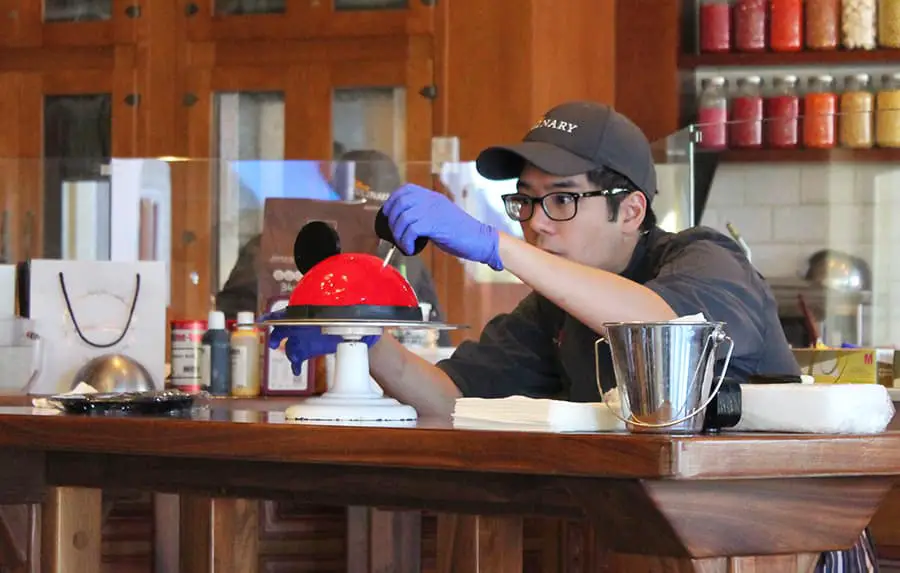 Following the class, participants will not only have created a beautiful character cake, they will get to take it home. They will also get a special send-off from the team. There will also be the opportunity to purchase favorite sweet treats from Amorette's Patisserie before it is open for the day.
The cake decorating experience is $199 plus tax. Up to two guests can decorate one cake. The experience includes as many beverages as one wants. This includes specialty coffees, tees, water, and select alcoholic beverages. Reservations are required for this experience. Guests can book online beginning on November 14th for classes that begin on November 16th. More details will be available soon from Disney Springs social media.
What do you think of the return of this cake decorating experience? Have you done it before? How was it? Share your thoughts and opinions in the comments below!