It is no secret that Halloween is my favorite time of year. In fact, I realized earlier this week that I have been going to Knott's Scary Farm for over 10 years! To me, it is one of my absolute favorite ways to kick off the season. We visited opening night for 2022 and I got a chance to experience almost all of the mazes the event has to offer. In my opinion, here are the five that you shouldn't miss.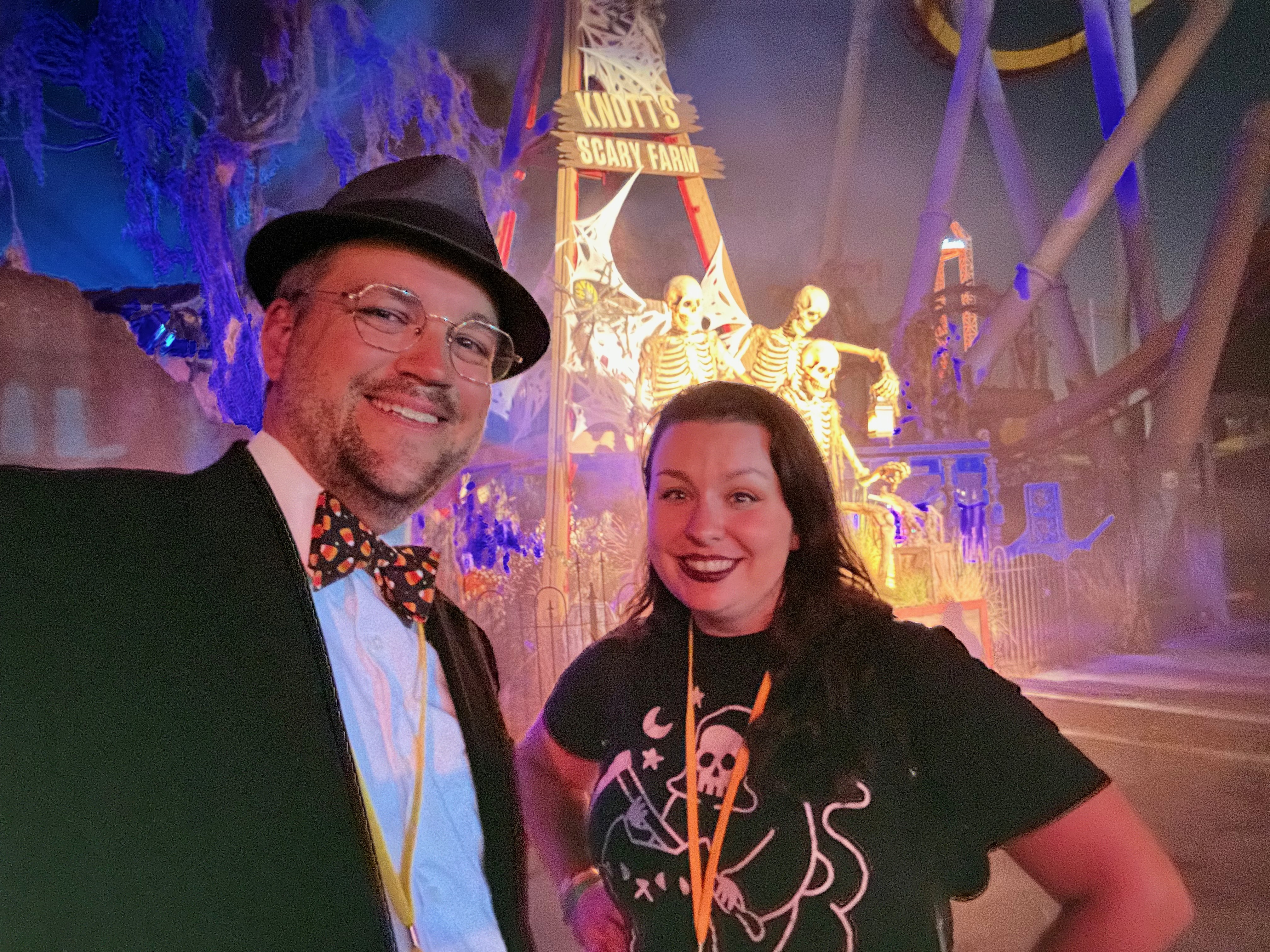 5- Bloodline 1842
This is the only maze of the night that I went through twice! I went through it earlier in the night while it was light out and again later in the evening when it was dark. This is the interactive maze of the year, allowing you to arm yourself with the "weapon" of your choice and basically gives you the chance to play scary laser tag! This year, you are hunting the vampires to bring honor to the order. It has a steampunk theme and is all around very fun! It is new this year, so be sure not to miss it!
4- The Depths
While this is a returning maze, it is one that I always enjoy! This maze brings you underwater as you look for the lost mining crew. This maze uses impressive effects to make it seem like you are walking through the murky water as danger lurks around every turn. As you go farther into the maze, you find that things take a turn from eerie to downright scary. This is one that I will be glad to do, year after year.
3- Dark Entities
I am a sucker for the "everything was supposed to be normal" theme park trope. I especially love it in horror. This maze combines that trope with aliens as you head into space for a tour! As you walk in, you see that there were all types of scanners set in place to make sure the crew never brought alien lifeform aboard. As you get further into the ship, you realize that the lifeforms have completely taken over, even replacing the crew as the programmed robots continue on as normal. This maze is a lot of fun and one that really sticks out in my mind!
2- Origins- The Curse of Calico
Since this maze debuted at Knott's Scary Farm in 2019, I have absolutely loved it. It leans heavily into the "origins" of Calico at Knott's Berry Farm and the Green Witch that has been an icon of the event for over 40 years. It is truly a story that only Knott's could tell and that's what makes it so special! In this maze, you will see the townsfolk condemn Sarah Marshall for witchcraft and the curse she places on the town after. The maze ends with a close encounter with the witch and will certainly be one you're talking about when the event ends!
1- The Grimoire
The second new maze this year took my number one spot! This maze takes you inside a book of mankind's deepest evils as you fight to escape! What made this maze special was the fact that it opened with a pre-show involving some campers from the 80s reading the book as a "campfire ghost story." Things quickly go from bad to worse as one of the campers quickly becomes possessed from repeating the passages. As you head through a tent, you find black and white homes and World War 2-era trenches as the war rages on outside. It has now been half a week since we attended the opening, and I have wanted another visit into the fog just to experience this maze again. If I could only pick one maze, it would be The Grimoire!
Of course, this is my opinion and I would love to hear yours! What are your "can't-miss" moments of Knott's Scary Farm 2022? Be sure to connect with us on Twitter and Facebook to let us know!