Dr. Jill Biden, the First Lady and wife of President Biden, will be delivering the opening remarks for this year's Disney's Veterans Institute Summit. This two-day event will be taking place on August 19-20. According to the Disney Parks Blog, the "two-day event features insights and conversations with speakers with a passion for supporting and enabling veterans and military spouses as they explore meaningful employment outside of their military service."
The First Lady has shown that support for families of service members, veterans, their caregivers, and survivors has been a major priority. She has worked on this cause for over a decade. Dr. Biden and First Lady Michelle Obama also created Joining Forces in 2011 to bring Americans together to recognize, honor, and also take action to support military families. The initiative was relaunched when Biden became First Lady in 2021. Joining Forces focuses on military spouse employment, military child education and health and wellbeing. The event will show the value of military spouses and also veterans in the workplace. This will include sharing best practices for hiring and also encourage more employment opportunities for the military and veteran community.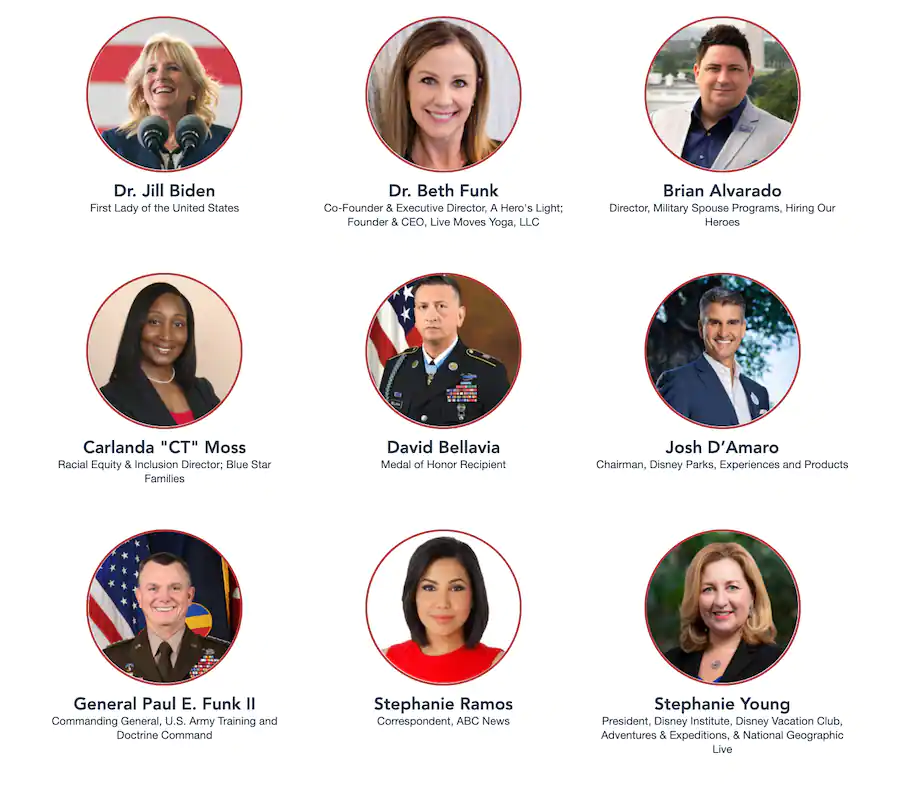 Disney Parks, Experiences and Products Chairman, Josh D'Amaro will also be in attendance as will Dr. Beth Funk, Co-Founder & Executive Director, of A Hero's Light, a non-profit that fosters and sustains a culture of wellness designed for those who actively serve their community. Dr. Funk is also the Founder & CEO of Live Moves Yoga. There will also be some other illustrious speakers that include Rear Admiral Jo-Ann F. Burdian, Assistant Commandant for Response Policy, U.S. Coast Guard and Stephanie Ramos, Correspondent for ABC News. Actor, and humanitarian Gary Sinise, who will be making a video appearance.
The 2022 Veterans Institute Summit will be streamed live from ESPN Wide World of Sports Complex on both August 19th and 20th. There is still time to register. More details about the event and registration can be found on the Veterans Institute Summit website.
The 2022 Veterans Institute Summit will be webcast live from ESPN Wide World of Sports Complex on Aug. 19 and 20 and there is still time to reserve a space. We appreciate the support from event sponsors Wounded Warrior Project, Amazon Global Military Affairs, The Hewlett Packard Enterprise Company, USAA, Optum Serve, Enterprise Holdings, Inc., and JPMorgan Chase & Co., who all share a passion for helping set veterans and military spouses up for success following their service to our country. To learn more about this event and register to attend, please visit our Veterans Institute Summit website.