Since beginning to take guests on voyages to a galaxy far, far away earlier this year, the Star Wars: Galactic Starcruiser has been giving guests an out of this world experiences. They have been getting to step right into the middle of Star Wars when they board the Halcyon. During their two night voyage they get to interact with the Resistance and the First Order, visit Batuu, and create their own Star Wars story based on the decisions they make. This means that no two experiences are exactly the same. It also means that guests who have traveled aboard the Halcyon have been talking about making memories with loved ones that will last a lifetime.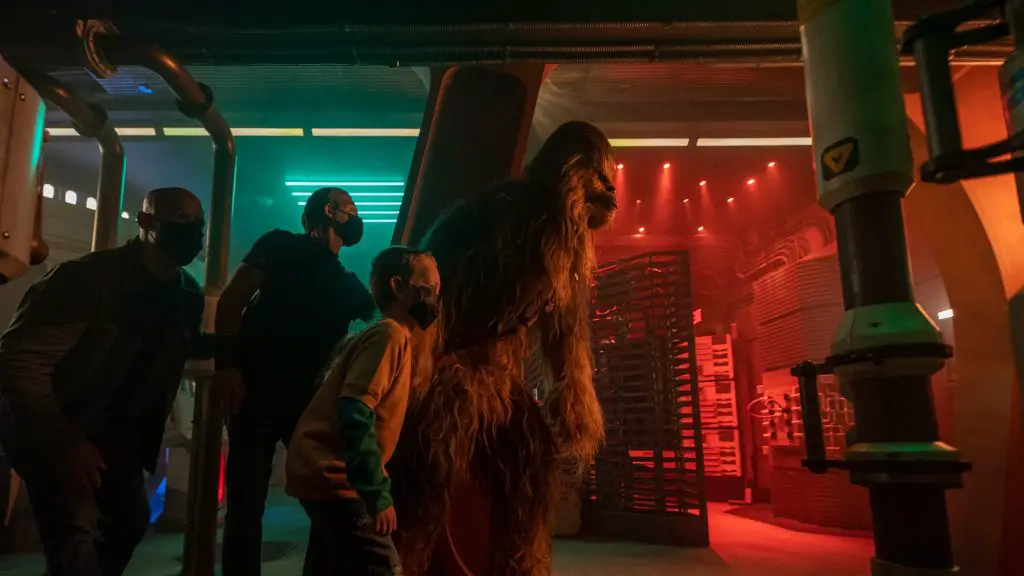 Today, Disney announced that on September 1st booking will open for the Halcyon for 2023. Future guests will be able to book cruises through September 2023. Guests may book their cruise aboard Star Wars: Galactic Starcruiser by visiting starwarsgalacticstarcruiser.com or through Daps Magic's travel partners at Mouseways Travel.
In general, prices range from $749 to $1,209 per person for a two night cruise on the Halcyon. Prices depend upon how many people are in a cabin and the date of the cruise. Currently there are available cruises available through the end of the year ahead of 2023 bookings opening up on September 1.
PRESS RELEASE
New 2023 Voyages Aboard Star Wars: Galactic Starcruiser Set to Launch Sept. 1, 2022
Immersive two-night vacation experiences invite Walt Disney World Resort guests to live their own Star Wars stories in an entirely new way 
LAKE BUENA VISTA, Fla. (Aug. 26, 2022) – New 2023 voyage dates for Star Wars: Galactic Starcruiserwill soon be available at Walt Disney World Resort. Beginning Sept. 1, 2022, guests may book two-night vacation experiences aboard Star Wars: Galactic Starcruiser for voyage dates through the end of September 2023.
Making its debut earlier this year at Walt Disney World Resort, Star Wars: Galactic Starcruiser introduced a first-of-its-kind immersive experience going beyond anything Disney has created before and continues to receive stellar reviews from guests of all ages. Guests become the heroes of their own Star Wars stories during a two-night adventure aboard the Halcyon starcruiser, a vessel known for its impeccable service and exotic destinations. Passengers relax in well-appointed cabins, enjoy exquisite dining and out-of-this-world entertainment, experience Star Wars: Galaxy's Edge at Disney's Hollywood Studios in new ways, and explore the ship in search of hidden secrets and new opportunities.
Throughout the voyage, guests' choices determine their personal stories as they interact with characters, crew and other passengers, becoming part of the action and the broader Star Wars saga. They may be asked to keep a secret, deliver a covert message, take part in a high-stakes heist, defend the ship, hide an ally … the possibilities are seemingly endless. Decisions guests make affect how these tales unfold, intertwining with those of other passengers and well-known characters such as Chewbacca and Rey as momentum builds on an action-packed adventure that may determine the fate of the galaxy.
From Walt Disney World to a Galaxy Far, Far Away
Star Wars: Galactic Starcruiser debuted during "The World's Most Magical Celebration" honoring the 50th Anniversary of Walt Disney World, adding to the abundance of new experiences across the resort during this historic milestone.
The adventure begins when guests arrive at the Halcyon starcruiser terminal near Disney's Hollywood Studios and check in for their two-night experience.
Guests enter a Launch Pod to begin their Star Wars Through viewports, they see their world fall away as they jump to hyperspace and draw closer to the magnificent Halcyon starcruiser.
When the Launch Pod docks and the airlock opens, guests step into the ship's main deck Atrium to begin their journey through a galaxy far, far away.
An Experience Going Beyond Anything Disney Has Created Before
Star Wars infuses every moment onboard the Halcyon starcruiser, where each detail of the experience is meticulously crafted to create a compelling, complete, all-consuming story.
The immersive experience features thrilling onboard activities, such as:

Learning the ancient ways of the lightsaber and facing off against a training remote, where guests may discover their own connection with the Force just as Luke Skywalker once did.
Visiting the starcruiser's Bridge to learn about its systems and how to operate them, including weapons and shields – skills that may come in handy during a journey through this adventure-filled galaxy.
Playing holo-sabacc in the ship's Sublight Lounge, where guests can try their luck against other passengers in this game of skill, strategy and chance.

Passenger cabins feature a viewport out to space that continuously changes throughout the journey. Other special touches include sleeping berths reminiscent of those seen on other famous Star Wars ships such as the Millennium Falcon.
Guests can explore the starcruiser and perhaps discover hidden spaces perfect for uncovering secrets or holding clandestine meetings.
Dynamic, Interactive Storytelling Unfolds in Real Time
A visit on the Halcyon starcruiser invites guests into a two-night, interactive story that interweaves with crew members, other passengers, droids and familiar Star Wars characters such as Rey, Chewbacca and Kylo Ren. As they choose alliances and chart their own courses, guests may encounter the starcruiser's strong and charismatic captain, a plucky mechanic, or a charming scoundrel with an ulterior motive, among others.
Characters may engage with guests throughout the voyage, everything from simply asking about their homeworlds to inviting them to protect valuable information or take part in a mission.
Passengers can deepen their engagement with characters and storylines by using the Play Disney Parks mobile app on their smart devices.* Through the Star Wars: Datapad inside the app, guests can access a plethora of functions.
Dining Is Part of the Show
Star Wars: Galactic Starcruiser boasts a robust and imaginative dining program developed especially for this experience. Passengers discover menus full of familiar tastes but unexpected colors and textures, deepening the immersion of their galactic voyage.
Guests find refreshment each day in an enticing supper club known as the Crown of Corellia Dining Room. This dynamic and welcoming hall offers breakfast and lunch buffets during the day, and then comes alive each night of the voyage with a lavish multi-course, table-service menu of both otherworldly and familiar origins.
The first night's dinner features a live performance from Gaya, the Twi'lek musical superstar who captivates her audience as she moves throughout the room singing her biggest hits. (Passengers may find listening to Gaya's performance brings insight into more of the goings-on around the ship, as well.)
The second night offers the "Taste Around the Galaxy" dinner experience, where each course hails from a different planet.
The Sublight Lounge, located just off the ship's Atrium, offers a stylish locale for passengers to socialize and enjoy casual refreshments, including an assortment of ales, wines and signature cocktails from across the galaxy, along with light snacks.
Merchandise Enhances Immersive Play Onboard the Starcruiser
An extensive merchandise collection for Star Wars: Galactic Starcruiser enhances this role-play vacation experience, inviting guests to further immerse themselves in a galaxy far, far away. The Chandrila Collection boutique offers a wide assortment of premium garments and accessories guests can purchase and wear during their voyage.
Passengers can dress the part with robes, tunics and other authentic fashion apparel evoking Star Wars characters such as Padme Amidala, Leia Organa and Alderaanian officials, among others.
Headwear helps guests transform into an alien species, with Twi'lek "lekku" head tails or the striped, horned montrals of a Togruta.
Other merchandise options include a remote-control SK droid, a light-up model of the Halcyon starcruiser, and the Legacy Lightsaber Training Hilt and Legacy Reflective Shield, as well as commemorative Star Wars: Galactic Starcruiser items.
New Stories Come to Life in Star Wars: Galaxy's Edge at Disney's Hollywood Studios
Storylines from Star Wars: Galactic Starcruiser continue to play out when guests travel to Star Wars: Galaxy's Edge on the second day of their voyage.
Passengers board a special transport shuttle for their planetside excursion to Batuu, traveling to Docking Bay 3 in Black Spire Outpost.
Starcruiser passengers can participate in new missions throughout the land based on characters they've met onboard the starcruiser. Actions guests take while on Batuu may then have ramifications when they return to the Halcyon starcruiser, helping determine how their stories play out.
As part of their secret missions, Star Wars: Galactic Starcruiser guests receive one-time entry to the land's two signature attractions – Star Wars: Rise of the Resistance and Millennium Falcon: Smugglers Run.
Lunch at Docking Bay 7 Food and Cargo (or other select locations) is included.
Guests on a voyage can also request reservations at Oga's Cantina, Savi's Workshop – Handbuilt Lightsabers, and Droid Depot. (Food, beverages and merchandise at these locations are not included in a Star Wars: Galactic Starcruiser)
For more information on Star Wars: Galactic Starcruiser, visit www.starwarsgalacticstarcruiser.com.
###
* Message, data and roaming rates may apply. Availability subject to handset limitations and device settings, and features may vary by handset, service provider or otherwise. Coverage and app stores not available everywhere. If you're under 18, get your parents' permission first.
Certain package experiences may be fulfilled by the Play Disney Parks mobile app. In order to obtain the full package experience, each Guest may need to use or wear a MagicBand, have access to a mobile device with a Wi-Fi or mobile carrier data connection with the Play Disney Parks mobile app installed, and be signed into the application with their Disney account. Message and data rates may apply. Availability subject to device limitations and features may vary by device or service provider. Some features may require the Guest (or the Guest's parent or guardian, if applicable) to grant the Play Disney Parks mobile app access to the location of the mobile device, enable Bluetooth on the device, and/or enable/grant other settings/permissions. Data collected during Guests' stay, including through the Play Disney Parks mobile app, may be used to personalize Guest experiences and for other purposes in accordance with our privacy policy.