Jump to recipe
Throughout the month of June, the Disneyland Resort will continue its Celebrate Soulfully festivities. This will include some incredible musical acts, the Tale of the Lion King at the Fantasyland Theatre, and also some fantastic food and beverages. Today, the Disney Parks Blog shared many of the different food and beverage options that will be offered throughout the month of June. Disney also shared a recipe for the Pride Rock Punch that will be offered at Troubadour Tavern at Disneyland in June. Check it out below, give it a try, and then share how it turned out! Then, check out the other food and beverages that will be offered for Celebrate Soulfully in this post before the recipe.
PRIDE ROCK PUNCH from Troubadour Tavern at Disneyland – GEEK EATS Disney Recipe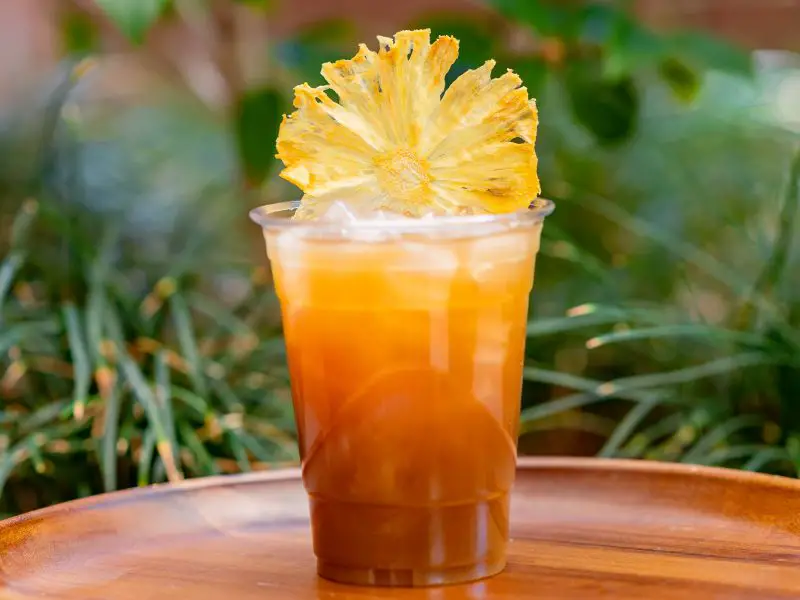 Notes
Cook's Note: If mango beverage syrup is unavailable, you can make your own using water, sugar, and mango. Bring 1/2 cup water, 1/2 sugar, and 1 cup of frozen mango pieces to a boil in a saucepan. Cover, reduce heat to low, and cook for 20 minutes. Cool completely and strain out mango pieces. Refrigerate up to one week.
Always use caution when handling sharp objects and hot contents.
Please supervise children who are helping or nearby.
This recipe has been converted from a larger quantity in the restaurant kitchens.
The flavor profile may vary from the restaurant's version.
Ingredients
1 cup fresh pineapple, cut into 1/2-inch pieces
4 cups freshly brewed unsweetened black tea
1/3 cup mango beverage syrup
1/2 cup orange juice
3/4 teaspoon tamarind paste
Orange slices
Dried mango slices
Dried pineapple
Instructions
Place pineapple in blender or food processor. Blend until smooth.
Combine puréed pineapple, unsweetened tea, mango beverage syrup, orange juice, and tamarind paste in a large pitcher. Stir until tamarind paste is fully dissolved.
Fill 4-6 tall glasses halfway with ice. Add punch and garnish with orange slices, dried mango, and dried pineapple.
© 2023 dapsmagic.com
How'd the Pride Rock Punch turn out for you? Share what you thought in the comments below! Now, check out the other food and beverage offerings during Celebrate Soulfully.
Beginning on May 28th, Troubador Tavern hosted by Dreyer's will have a special menu. This includes:
Salted Plantain Chips
Berbere-spice Popcorn
Chicken-coconut Curry Sweet Potato – baked sweet potato topped with a Malawian chicken-coconut curry
Trio of Animal Print Cookies

Coconut Macaroon
Pineapple Orange Thumbprint
Butter Chocolate Chunk Cookie

Nestle Outrageous Orange Push-up Frozen Dairy Dessert
Cardamom Cold Brew – cold brew coffee, brown sugar, and cardamom over ice. 
Pride Rock Punch – Gold Peak tea, pineapple, mango, tamarind, and orange juice over ice. 
At Disney California Adventure's Award Weiners there will also be some special offerings from June 1 through September 2, 2022. These include:
Foot-long BBQ Pulled Pork Dog – all-beef foot-long hot dog on a toasted bun topped with BBQ pulled pork, fried onions, and creamy slaw.
Peaches and Cream Funnel Cake Fries – dusted with cinnamon sugar and finished with whipped topping and peach glaze drizzle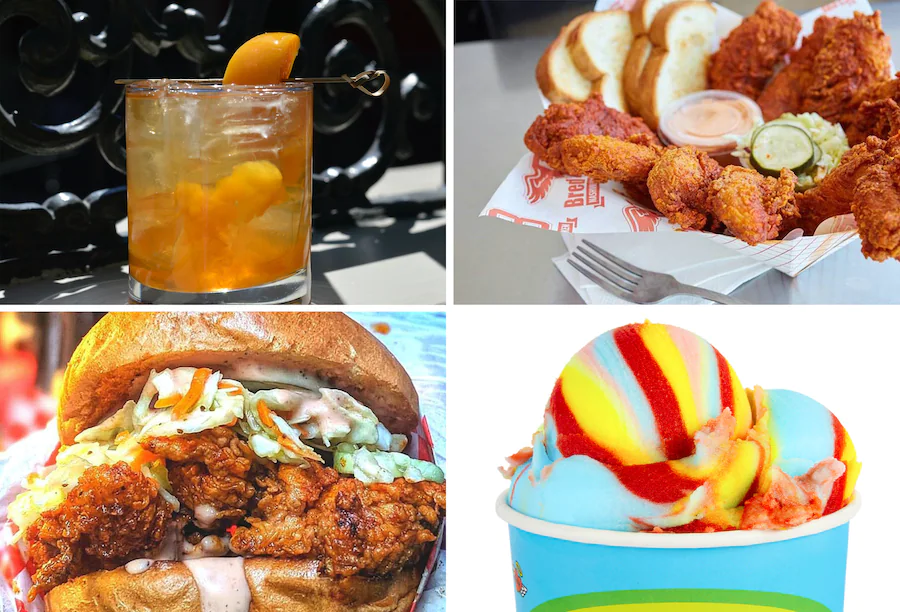 The GCH Craftsman Bar at Disney's Grand Californian Hotel & Spa will also have a dish and cocktail for Celebrate Soulfully. These will begin to be offered on June 1st. They are:
Jerk Seasoned Beef Tenderloin Skewers & Coconut Shrimp – with raspberry rum sauce
Summer Cocktail – a combination of Parrot Bay Rum, Svedka Vodka, orange juice, pineapple juice, and grenadine
The Downtown Disney District also has some delicious foods for Celebrate Soulfully. At Ralph Brennan's Jazz Kitchen there is a Peach Pie Old Fashioned. This has Uncle Nearest Whiskey, a splash of Peachtree Liquor, a dash of Peychaud's Bitters, brown sugar, and peach. Food trucks will also be arriving at Downtown Disney District from June 1 through July 4. This will include Bred's Nashville Hot Chicken truck with spicy fried chicken offerings. Happy Ice will be bringing the Ultra-premium Philadelphia Italian Ice Treats. These will be arriving after 3:00 PM daily at Downtown Disney District.
What do you think of all of the Celebrate Soulfully food offerings and recipe? Share your thoughts and opinions in the comments below!