There are so many fun things to see and do at the EPCOT International Festival of the Arts. From incredible food and entertainment to traditional artwork and untraditional artwork, there is something for just about every type of art lover. There is also a scavenger hunt for kids, or kids at heart, to enjoy as they explore World Showcase.
Figment's Brush with the Masters Scavenger Hunt gives the opportunity to look for Figment painted inside some classic paintings (and one newer one). There are a couple of ways to do this. One, just look for paintings while wandering around World Showcase. Otherwise, purchase a map that looks like a painter's pallet for $9.99. On one side there are stickers that match with empty spaces on the map on the other side of the pallet. These maps can be purchased at Creations, Disney Traders, World Traveler, and also Festival Market booths throughout World Showcase. At the end of the experience, guests can get a paintable figurine.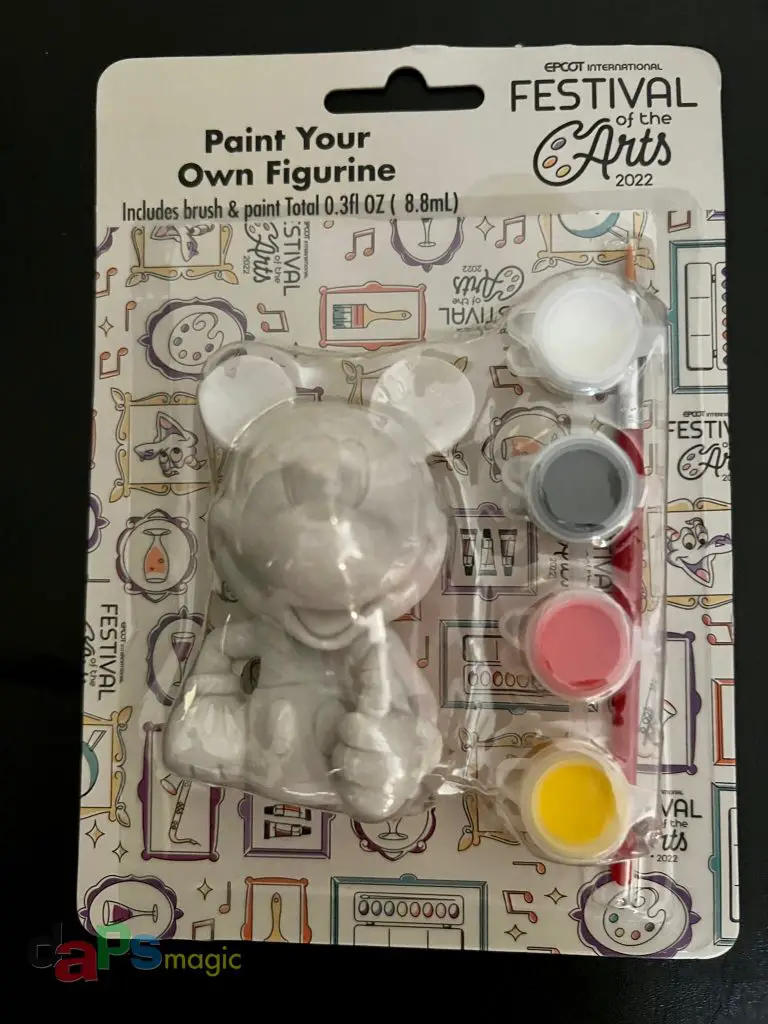 Mr. DAPs and Murray gave this experience a try recently while visiting EPCOT. They chronicled their experience in their daily Vlog from this trip. As they found each painting, Murray shared a bit about the background of each painting. He has a masters in art history so this was a perfect adventure to have him be a part of!
If you don't want to have the Figment paintings spoiled, don't continue on with this post! The video shows specific locations in the pavilions and the photos show a tighter look at where the paintings are. If you don't care about any of this, continue on and enjoy!
Figment's Brush with the Masters Scavenger Hunt
Below is a look at the paintings that were found at each pavilion while doing Figment's Brush with the Masters Scavenger Hunt. For this experience, Mexico was the first location.
Mexico
In Mexico, Figment is found painted into the classic Landscape Near the Volcano Colima at Tolina, Mexico by Johann Moritz Rugenas. This version of the painting is called Landscape Near the Volcano Figment.
Norway
In Norway, Figment can be found inside a painting that was made as a tribute to Maelstrom called Over the Falls. While not necessarily a classic, it is an interesting way to include Figment in a piece of art that represents the styles of Scandanavia.
China
China has Figment found in a piece called The Ox and the Dragon. This was inspired by Picture of Spring Ox on a woodblock print during the Qing Dynasty.
Germany
In Germany Figment can be found in Cupid by Johann Liss. His version of the painting is called At the Heart of All Creation.
Italy
The Mona Lisa by Leonardo Da Vinci is the painting Figment is found in when visiting the Italy Pavilion. This version of the painting is appropriately called Mona Figment.
American Adventure
At the American Adventure Pavilion Figment joins George Washington in Washington Crossing the Delaware in the painting originally by Emanuel Leutze. Figment's version is called Dragon Crossing the Delaware.
Japan
The Japan pavilion has Figment found in a piece inspired by The Great Wave off Kanagawa by Katsushika Hakusai. The Figment version is called The Wave of Inspiration.
Morocco
Morroco has a very interesting version of Figment, or more a piece inspired by Figment. Called Pigments of Figment, it is inspired by Moroccan Zellige tiles.
France
In France, Figment is placed into a beautiful piece inspired by Claude Monet's Bridge Over a Pond of Water Lillies. Figment's version is called Reflections of Imagination.
United Kingdom
The United Kingdom has a very fancy-looking Figment inserted into Thomas Gainsborough's The Blue Boy. This version is called Dragon in Blue.
Canada
Canada has Figment portrayed in a picture inspired by Emily Carr's Deep Woods. The Figment version had the name Dreamer's Woods.
Figment's Brush with the Masters Scavenger Hunt took a couple of hours to complete, with a few stops to try out food along the way from the EPCOT International Festival of the Arts. Pushing through, it would take less time to complete. In the above video Murray shares more about each of these paintings and their origins.
This scavenger hunt is one of the more fun scavenger hunts offered at a festival at EPCOT. The EPCOT International Festival of the Arts continues through February 21, 2022. What do you think of this scavenger hunt? Share your thoughts and opinions in the comments below!