Some books are like a good banket or an old friend. You open their cover and instantly you feel relaxed and happy. Walt's Disneyland: A Walk in the Park with Walt Disney by Marcy Carriker Smothers is one of those books. In this book, Smothers takes the reader on a tour of Disneyland as Walt Disney knew it and brings the magic of a bygone era to life through its pages.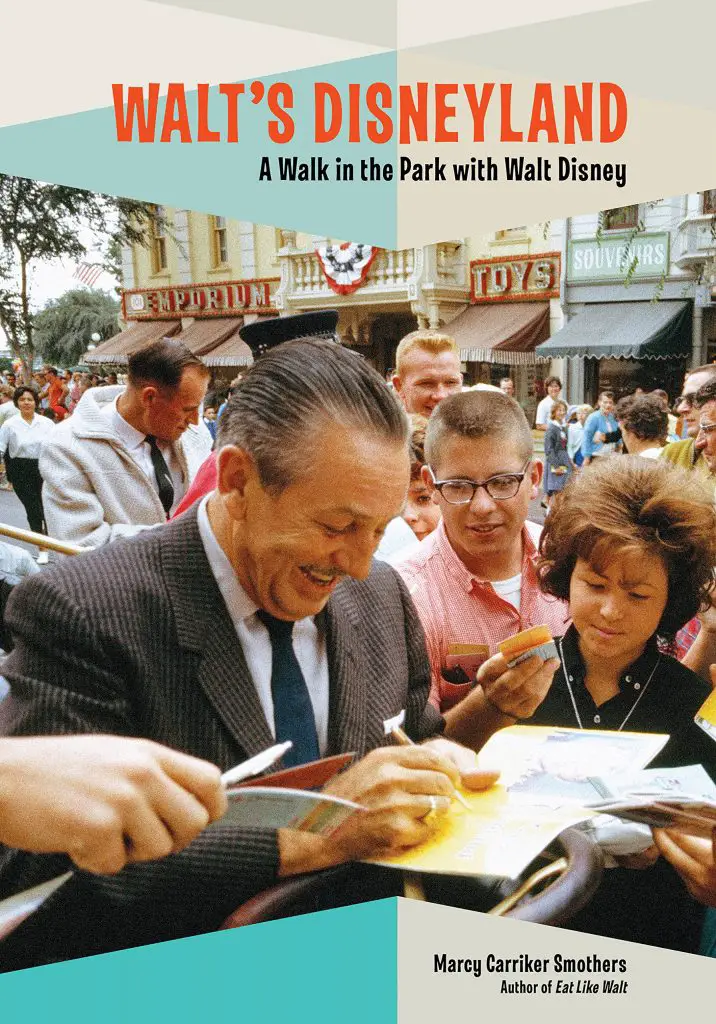 The tour begins on Main Street, USA, and then continues throughout the park as seen through the eyes of Walt Disney himself. It includes a multitude of stories, quotes, and photos from hundreds of sources. The result is a fairly comprehensive, yet simple, look at the Magic Kingdom through Disney's eyes. The tour continues clockwise and visits Adventureland, Frontierland, New Orleans Square, Fantasyland, and Tomorrowland! Following the tour through the lands, it is time for "The Grand Circle" Tour aboard The Santa Fe and Disneyland Railroad. It also gives a glimpse into Walt Disney's last day at Disneyland, which I found fascinating. This is followed by a beautiful epilogue about Walt's dream living on.. even after Disney.
This book is a beautiful book that has a lovely retro style. It is filled with images from Walt Disney's time at Disneyland that are treasures in themselves. It also gives a lovely look at Disneyland from a different perspective. This is the perspective of a tour guide, rather than a more traditional history book. While it is full of history, it feels more like a friend showing you around the park. It has a folksy charm to it that feels very appropriate for a book about Walt's Disneyland. In fact, it is very easy to imagine that Walt himself contributed to this book as you make your way around the park.
Overall, Walt's Disneyland: A Walk in the Park with Walt Disney is a feel-good book that is a must-have for any Disney fan's library. It is a fun and easy read that is chocked full of nostalgia. Reading it makes you feel closer to Walt Disney in a way, especially when you visit the park after reading it. It is a wonderful lens to look through at Disneyland and will get a place of honor on my bookshelf. It absolutely gets a hat tip and I highly suggest getting it today!
<i>Daps Magic received a sample product or experience for this review in exchange for an honest review. The views of the reviewer are wholly their own. Read full disclosure policy at dapsmagic.com/disclosurepolicy.</i>