Meta Quest and ILMxLAB is bringing a preview of a special Quest 2 preview of Star Wars: Tales from the Galaxy's Edge. This will be at Downtown Disney District at the Disneyland Resort from November 21, 2021 – January 5, 2022.
This complimentary preview experience will be available for a limited time daily between 12:00 PM and 8:00 PM adjacent to the Star Wars Trading Post in the Downtown Disney District. Disney says that reservations may be available. A Meta Quest staff member will be on hand to help with reserving a time to come back to participate or to direct guests to a queue outside of the building. This will all be based on availability.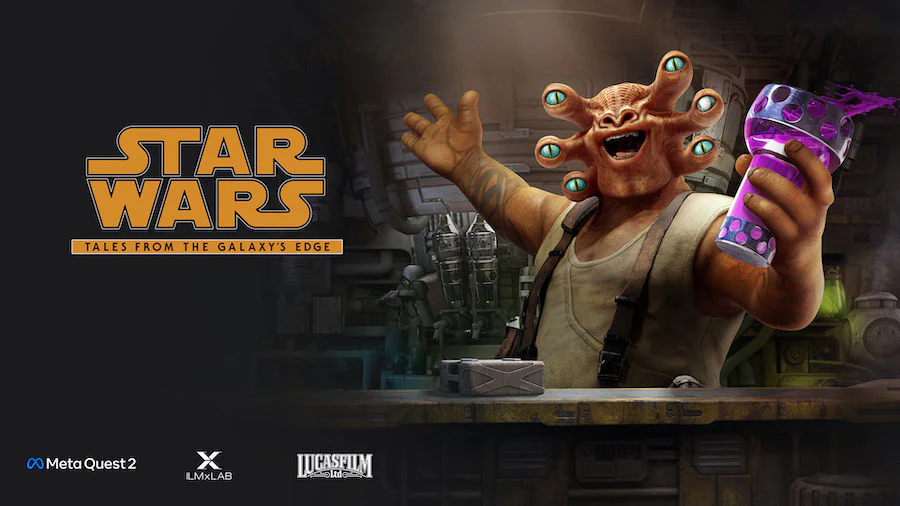 For the preview version of ILMxLAB's virtual reality experience, the world of Batuu will expand in a way that has never been done before. Once inside the Quest 2 headset, guests will be experiencing 360 degree views of the Star Wars galaxy. The adventure will take place on the outskirts of Black Spire Outpost on the planet of Batuu, just as is seen in Star Wars: Galaxy's Edge.
The story for this experience will include both new and also classic characters from the Star Wars galaxy. The gameplay experience is designed for a variety of players that could range from Star Wars fans to VR games, at home on Quest 2.
In Part 1 of the experience, guests will take on the role of a droid repair technician who is operating near the Outer Rim. When a group of pirates attack and then end up causing a crash on Batuu, guests will discover how anyone in the galaxy can be a hero.
Guests will then continue their journey with Star Wars: Tales from the Galaxy's Edge-Last Call, the recently-released expansion. This new add-on allows the opportunity to expand virtual-reality adventures on the Outer Rim and experience even more eras of the Star Wars galaxy.
Details from Disney: Guests must wear face coverings for this experience. For more information and to view important details, visit: https://disneyland.disney.go.com/experience-updates/. Must be 13 years or older to experience. Subject to capacity availability. Subject to restrictions and change without notice.
What do you think of this new limited-time experience coming to Downtown Disney District at the Disneyland Resort? Share your thoughts and opinions in the comments below!