Several stars from the Marvel Cinematic Universe will be assembling aboard the Disney Wish for Avengers: Quantum Encounter. This will be an incredible dining experience aboard the Disney Wish as a part of the Worlds of Marvel.
Avengers: Quantum Encounter will have Ant-Man and The Wasp on a public speaking engagement for the Avengers. In fact, it's their first. They are talking about the advanced technology utilized by Super Heroes. During this presentation, they will be showcasing things like Captain America's shield, Iron Man's arc reactor, and Ant-Man's Pym Particles. The highlight of the presentation is a demonstration of the most recent Pym Tech, the Quantum Core.  However, this is where things get a bit crazy after a few misfires. The bad guys show up wanting to get the Quantum technology. At this point, Captain America, Captain Marvel, and the diners that are viewing the demonstration are called in as reinforcements.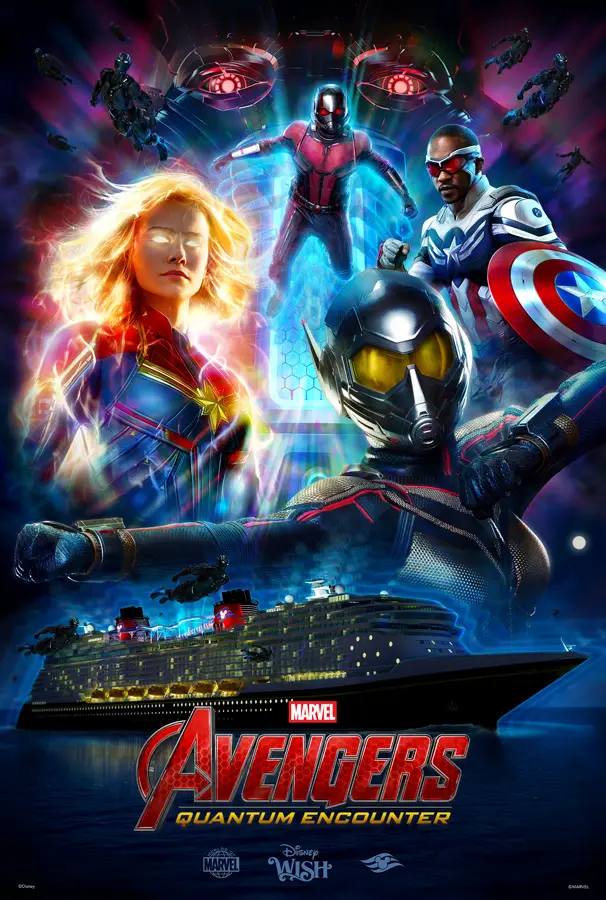 Today it was announced that stars of the Marvel Cinematic Universe will be reprising their roles for this experience. Paul Rudd as Ant-Man, Evangeline Lilly as The Wasp, Anthony Mackie as Captain America, and Brie Larson as Captain Marvel will all be included in this. Kerry Condon is also again lending her voice to F.R.I.D.A.Y. Ross Marquand will also be lending his voice to bring Ultron to life for the dinner adventure. According to the Disney Parks Blog, there will be one more hero arriving to help save the day as well. At this point, it isn't being announced yet.
This "cinematic dining adventure" will be incredibly immersive. The restaurant will have cinematic technology that includes hundreds of screens and special effects all around. Filming for this has already been finished. Work is now being done on the post-production editing and special effects needed to bring this experience to life. Much of the action will be taking place on the upper decks of the Disney Wish so photo-realistic CGI technology was utilized. This was necessary as the Disney Wish still is under construction ahead of setting sail with guests in the summer of 2022.
What do you think of the addition of the Marvel Cinematic Universe actors to Avengers: Quantum Encounter? Are you excited to experience it aboard the Disney Wish? Share your thoughts and opinions in the comments below!