As Walt Disney World Resort kicks off its 50th Anniversary celebration this week, more details about what is coming for the future continue to be released. Details about Guardians of the Galaxy: Cosmic Rewind were unveiled by Walt Disney World Resort. One of the details is that the new attraction will be opening in EPCOT in 2022.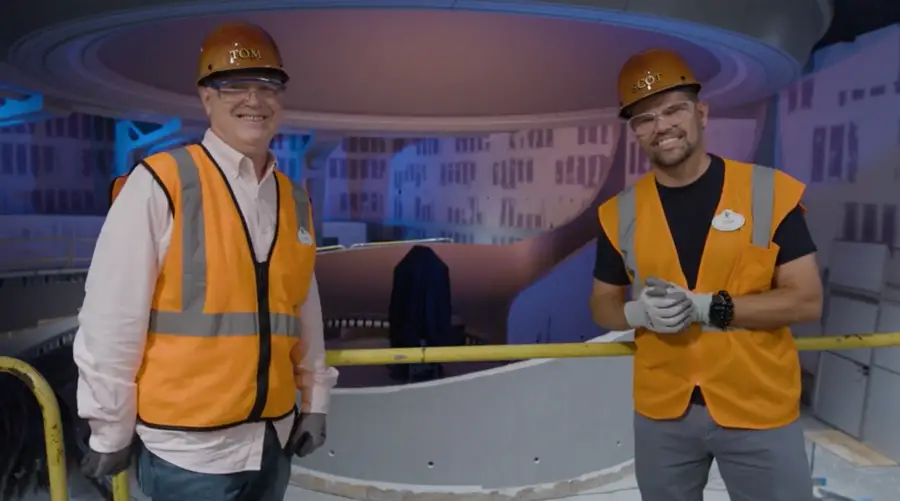 The announcement was made by Imagineer Zach Riddley, along with fellow Imagineers Tom Fitzgerald (left) and Scot Drake (right) who were shown in a picture in what will be the Galaxarium. When it is completed, the space will have a  planetarium-type presentation where the Xandarians show their world to visitors to EPCOT.
Description of Guardians of the Galaxy: Cosmic Rewind:
Guardians of the Galaxy: Cosmic Rewind is a family-friendly adventure, featuring a totally new type of roller coaster experience we're developing just for this attraction – it's a storycoaster that rotates 360 degrees so you're always focused on all the action as you help the Guardians save the galaxy. Not only that, but Guardians of the Galaxy: Cosmic Rewind will also feature the first reverse launch on a coaster in Disney history and is one of the longest enclosed coasters in the world. It's a massive experience that will match the scale and adventure of the Guardians of the Galaxy films.  
Along with some details about this attraction, it was also revealed that the attraction will be its own pavilion, much like the pavilions found around World Showcase. This one will instead be other-world. In fact, it will be the first other-world showcase pavilion that will be found at EPCOT.
The announcement of Guardians of the Galaxy: Cosmic Rewind's 2022 opening was one of many announcements made this week about the future of Walt Disney World Resort. Check out more coverage of Walt Disney World's 50th Anniversary on the DAPS MAGIC page dedicated to the celebration.
What do you think about this announcement and this attraction? Are you excited to experience it? Share your thoughts and opinions in the comments below!