Walt Disney World is now celebrating its 50th Anniversary and Birnbaum's 2022 Walt Disney World: The Official Vacation Guide is now available. This guide takes a look at The World's Most Magical Celebration and offers lots of tips and trips for how to get the most out of a trip to Walt Disney World in 2022. This includes guidance on where to stay, how to get around, where to eat, how to save money, where to shop, and so much more. The Birnbaum Guide has just about everything one could need for visiting Walt Disney World all in one place.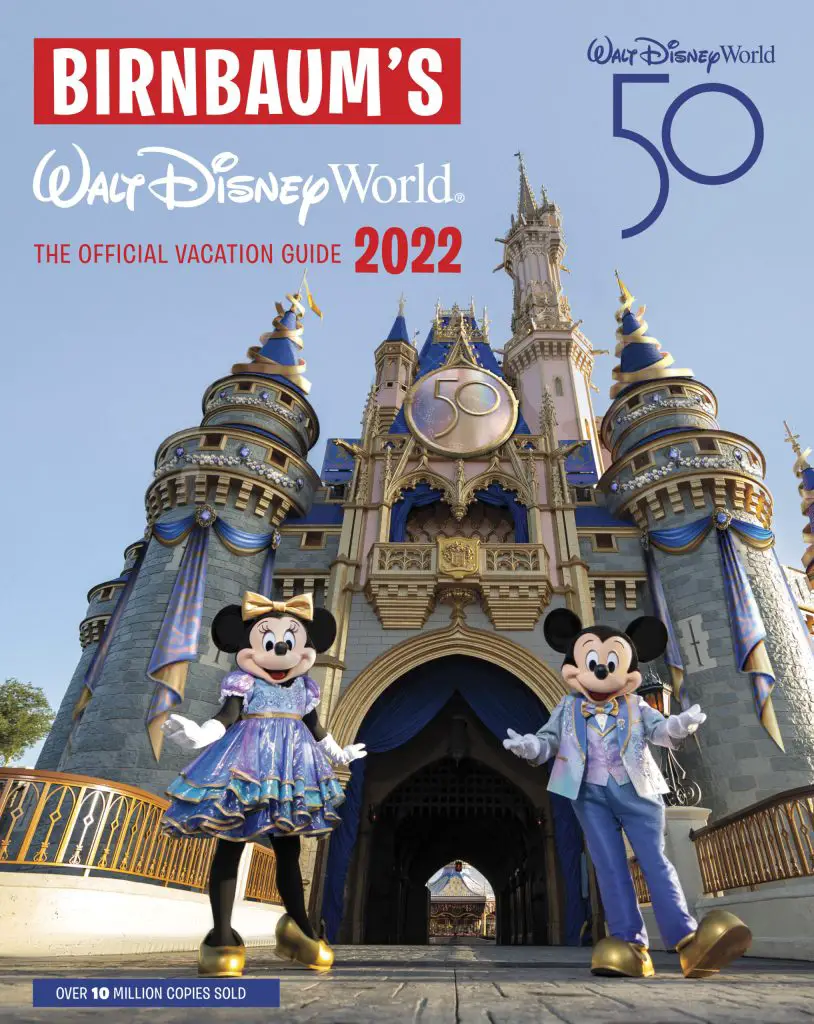 Birnbaum's 2022 Walt Disney World: The Official Vacation Guide is an easy to read and enjoyable guide. It is written in a way that it will be helpful to the first timer and not overwhelming. And for those who already have some knowledge of Disney, there are still come things in there to find interesting. The book starts with a countdown to your trip and what should be done at each point to get ready. It then continues on with all of the things that is needed to be known throughout the trip. It truly is a guide for the entire vacation.
This vacation guide is organized in a way that it is easy to find information. The information it has doesn't go over the top and become boring, instead its almost like a cliff notes look at Walt Disney World. It also saves the future Walt Disney World Guest from having to search all over the internet to find different answers for different things. For the most part, the answers are all right in the book. Overall, I found this book to be comprehensive, easy to use, and a very good tool for someone going to Walt Disney World Resort. There are also plenty of photos to illustrate what is being talked about in the book. This will be a good souviner following the trip to remember what was done and the memories that were made. I would definitely suggest filling it with notes before a trip, during a trip, and maybe even after to reference and remember the experiences for years to come.
Overall, I really found myself enjoying this book. Is it something that as a seasoned Walt Disney World Resort traveling I would absolutely need? Maybe not? However, is it something that I would use and add to the anticipation during the planning process, quite probably. Even though I don't have a trip currently planned I found myself dreaming and planning things I want to do on my next trip.
My only caution with this book is the fact that it is a book and books take awhile to write, print, and distribute. Because of this, there are numerous references to FastPass+ in the book which now are part of the Disney Genie program. There are also some references to some offerings (mainly entertainment) that were impacted by the pandemic where situations have changed since this was written. However, if one goes into the book knowing these things have been changed by Disney since this book was written and to just discount them, this isn't really a problem. When it comes to Disney Genie, Genie+, and Lightning Lane, expect next year's book to have a complete comprehensive look at it.
Birnbaum's 2022 Walt Disney World: The Official Vacation Guide is a solid guide for anyone wanting to go to Walt Disney World Resort during its 50th Anniversary Celebration. It basically has everyone one could want to know (other than Disney Genie) for planning and then going on a trip to The World's Most Magical Celebration. It is on sale now where books are sold for $19.99 and I give it a hat tip. Get it for the guide, or get it for the memories!
<i>Daps Magic received a sample product or experience for this review in exchange for an honest review. The views of the reviewer are wholly their own. Read full disclosure policy at dapsmagic.com/disclosurepolicy.</i>