Jump to recipe
Walt Disney World's 50th Anniversary celebration begins in less than a month. One of the ways of celebrating is with food! To help Disney fans at the parks and not, a new cookbook is coming out in conjunction with the celebration.
This fall, Delicious Disney: Recipes & Stories from the Most Magical Place on Earth, will be released! It is written by Pam Brandon, Marcy Carriker Smothers, and The Disney Chefs. With it, dishes from Walt Disney World past and present will be able to be recreated from the comfort of the home kitchen.
Today Disney shared a recipe from a restaurant that was at Disney Springs until 2013. Cap'n Jack's Restaurant served up seafood for guests along with a wonderful waterfront view. One of the things Cap'n Jack's Restaurant was known for was the oyster bar. The signature dish there was Cap'n Jack's Clam Dip. Today, a recipe from Delicious Disney will allow guests to recreate this signature dish at home.
Give this recipe a try and then share how it turned out in the comments below!
Cap'n Jack's Clam Dip – GEEK EATS Disney Recipe
Serving Size
Makes 2 Cups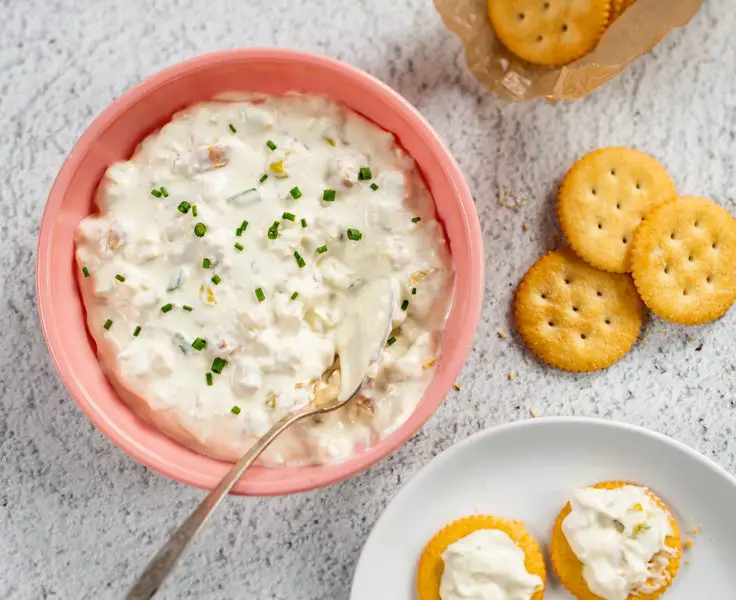 Notes
Note: Always use caution when handling sharp objects. Please supervise children who are helping or nearby. This recipe has been converted from a larger quantity in the restaurant kitchens. The flavor profile may vary from the restaurant's version. 

Ingredients
1 cup canned minced clams, drained
8 ounces cream cheese, softened
3/4 cup sour cream
4 Greek pepperoncini, finely minced
2 teaspoons fish bouillon
1 tablespoon chopped chives, more for garnish
1 teaspoon seasoning salt, more to taste
2 dashes favorite hot sauce
Crackers, for serving
Instructions
Mix together all ingredients in a medium bowl. Refrigerate until ready to serve.
Serve chilled with crackers.
© 2023 dapsmagic.com
Delicious Disney: Recipes & Stories from the Most Magical Place on Earth will be available starting September 28, 2021, on shopDisney.com or at Walt Disney World!
What did you think of this recipe? Share your thoughts and opinions in the comments below!