More dining establishments and experiences are returning to the Disneyland Resort as things continue to reopen. Today it was announced that some fan favorites will be returning to the happiest place on Earth!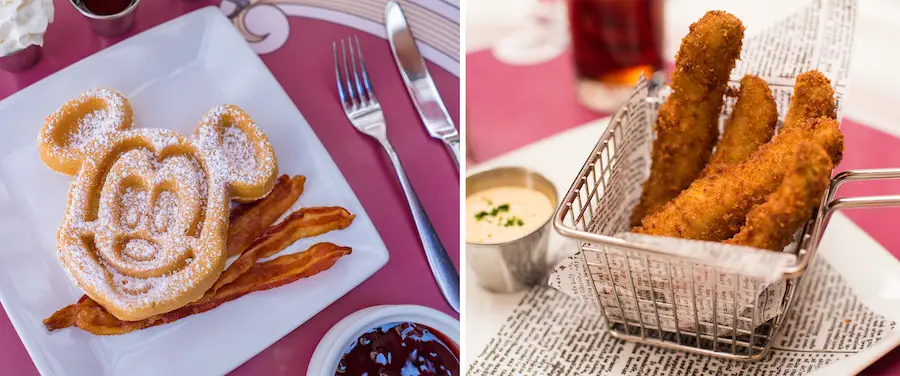 First off, Carnation Cafe will be reopening at Disneyland on September 16. With its return, there will be Mickey waffles, fried chicken, Walt's chili, and more! There will also be some new additions to the menu like a Parmesan-crusted Patty Melt or a new Short Rib with homemade Mac and Cheese.
Disney Princess Breakfast Adventures at Napa Rose are also returning on August 26th. Booking for this experience begins on August 11th. For this special experience, Disney Princesses will greet guests on a private patio for an exclusive photo opportunity.
Along with this magical experience, the food offered includes both breakfast and luncheon offerings. There are three-tier towers of appetizers, which may include chia and granola parfait with mango, kiwi, and coconut; ham and cheese sandwiches with cranberry cream cheese, and lobster salad crostini with a dinglehopper. For the kids, there are options that include house-made mac 'n' cheese, princess waffles, and barbecue beef sliders for the main course. Adults can enjoy scrambled eggs, turkey sausages, vegetables, and a selection of meats, such as applewood-smoked pork belly and braised short ribs as well. There are also some incredible sweet treats to enjoy that include chocolate princess cake pops, petite raspberry tarts, seashell macarons, sorbet, and more to top the whole experience off.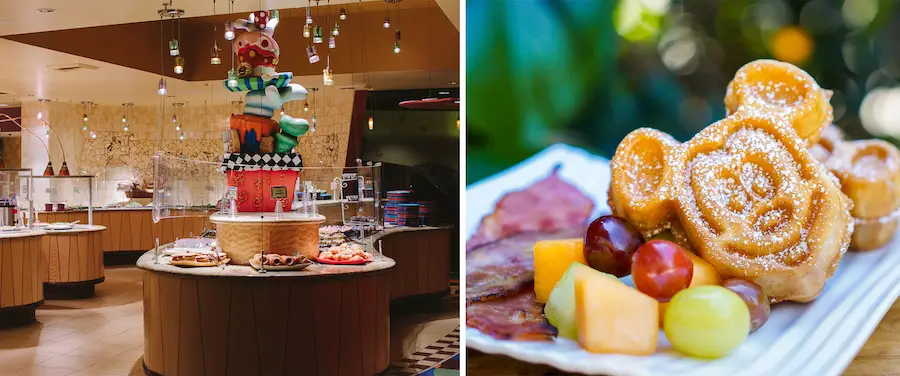 Goofy's Kitchen will be reopening on August 18th with booking opening on August 11th. Although Goofy and his friends won't be there at this time, they will be returning at a later date.
With its reopening, Goofy's Kitchen will again be offering "all-you-care-to-enjoy" breakfast and dinner buffets along with serving stations. For breakfast guests will be able to enjoy Mickey-shaped waffles and pancakes, French toast, sausage, bacon, eggs Benedict, smoked salmon, pastries and fresh fruit, and fresh vegetables. The popular peanut butter and jelly pizza will also be making a return. Dinner will include fresh fish, seasonal vegetables, tossed salads, mac & cheese, and pizzas, as well as an onstage meat carving station. The dessert buffet will also be returning.
DAPS MAGIC will share about the return of Goofy and the other Disney characters once that information is known.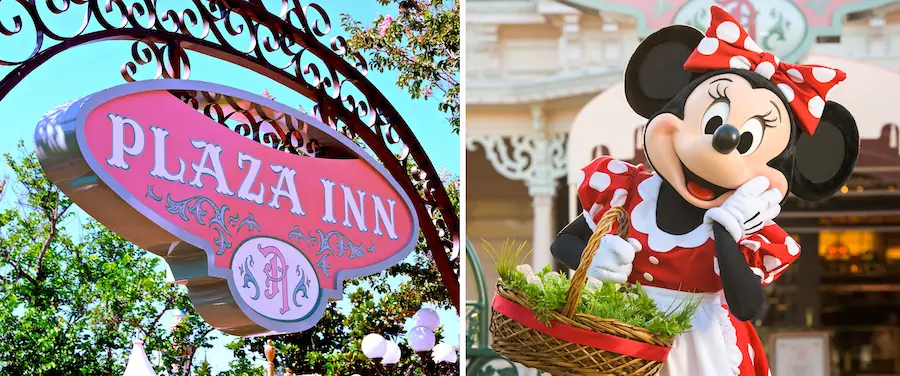 Minnie & Friends – Breakfast in the Park is also returning on August 12th at Plaza Inn. Booking for this experience will begin on August 11th. Minnie and her friends will be on hand as guests enjoy a menu that includes made-to-order omelets and Mickey waffles, French toast, scrambled eggs, bacon, sausage, biscuits and gravy, breakfast potatoes, fresh-baked pastries and breads, fruit, and hot and cold cereals.
With the return of these restaurants and experiences, there are still safety protocols in place. Make sure to visit Disneyland.com and then check out the details for each restaurant to see what the protocols are and also to know what to expect.
A new offering that is coming to the Disneyland Resort is the ability to make lunch or dinner reservations for Trader Sam's Enchanted Tiki Bar. Reservations will open up on August 11th with the first date that reservations can be made for starting on August 15th.
With all of these new and returning offerings coming to the Disneyland Resort. It can be easy to get lost on what is all back and what is available. Below is a dining guide for all the dining opportunities that are currently available at the Disneyland Resort.
Disneyland
Alien Pizza Planet (mobile order available)
Bengal Barbecue (mobile order available)
Blue Bayou Restaurant  
Café Orleans
Carnation Café (opening Sept. 16)
Docking Bay 7 Food and Cargo (mobile order available)
Edelweiss Snacks (mobile order available)
French Market Restaurant (mobile order available)
Galactic Grill (mobile order available)
Gibson Girl Ice Cream Parlor (mobile order available)
Harbour Galley  (mobile order available)
Hungry Bear Restaurant (mobile order available)
Jolly Holiday Bakery Café (mobile order available)
Kat Saka's Kettle
Little Red Wagon (mobile order available)
Market House
Maurice's Treats
Milk Stand (mobile order available)
Mint Julep Bar (mobile order available)
Oga's Cantina
Plaza Inn – Minnie & Friends Breakfast (opening Aug. 12;  booking available Aug. 11)
Plaza Inn
Rancho del Zocalo Restaurante
Red Rose Taverne (mobile order available)
Refreshment Corner (mobile order available)
River Belle Terrace
Ronto Roasters (mobile order available)
Ship to Shore Marketplace
Stage Door Café (mobile order available)
The Golden Horseshoe (mobile order available)
The Tropical Hideaway
Tiki Juice Bar (mobile order available)
Various vending carts serving ice cream, popcorn, churros, beverages, snacks, and hot foods
Disney California Adventure
Adorable Snowman Frosted Treats
Alfresco Tasting Terrace (open exclusively for Legacy Passholders and their guests through Aug. 15)
Angry Dogs
Award Wieners (mobile order available)
Bayside Brews (mobile order available)
Cappuccino Cart – Gourmet Coffee (mobile order available)
Carthay Circle Lounge – Alfresco Dining
Carthay Circle Restaurant
Clarabelle's Hand-Scooped Ice Cream (mobile order available)
Cocina Cucamonga Mexican Grill (mobile order available)
Corn Dog Castle (mobile order available)
Cozy Cone Motel (mobile order available)
Fiddler, Fifer & Practical
Flo's V-8 Café (mobile order available)
Ghirardelli Soda Fountain & Chocolate Shop
Hollywood Lounge (mobile order available)
Jack-Jack Cookie Num Nums
Lamplight Lounge
Lamplight Lounge – Boardwalk Dining
Lamplight Lounge Brunch Fri., Sat. & Sun. only
Lucky Fortune Cookery (mobile order available)
Mendocino Terrace
Pacific Wharf Cafe (mobile order available)
Pacific Wharf Distribution Co. (mobile order available)
Paradise Garden Grill (mobile order available)
Poultry Palace
Pym Tasting Lab (mobile order available)
Pym Test Kitchen featuring Impossible® (mobile order available)
Rita's Baja Blenders (mobile order available)
Schmoozies! (mobile order available)
Shawarma Palace
Shawarma Palace Too
Smokejumpers Grill (mobile order available)
Sonoma Terrace (mobile order available)
Studio Catering Co. (mobile order available)
Terran Treats
Wine Country Trattoria
Various vending carts serving ice cream, popcorn, churros, beverages, snacks, and hot foods
Disney's Grand Californian Hotel & Spa
GCH Craftsman Bar
GCH Craftsman Grill (mobile order available)
Hearthstone Lounge
Napa Rose (dinner only)
Disney Princess Breakfast Adventures at Napa Rose (opens Aug. 26 with booking available Aug. 11)
Storytellers Café (dinner)
Storytellers Café – Mickey's Tales of Adventure Breakfast (Daily breakfast; Friday, Sat., and Sun. Brunch from 11 a.m. – 1 p.m.)
Disneyland Hotel
Goofy's Kitchen (opening Aug. 18 with booking available Aug. 11. Note: Goofy and Friends return at a later date)
Tangaroa Terrance Tropical Bar & Grill (mobile order available)
Trader Sam's Enchanted Tiki Bar
The Coffee House (mobile order available)
Downtown Disney District
Ballast Point Brewing Company 
Black Tap Craft Burgers & Shakes 
Crazy Shake™ Window by Black Tap
Catal Restaurant
Earl of Sandwich
Jamba
La Brea Bakery Café
Marceline's Confectionery
Naples Ristorante e Bar
Napolini Pizzeria 
Ralph Brennan's Jazz Kitchen
Ralph Brennan's Jazz Kitchen Express 
Salt & Straw 
Splitsville Luxury Lanes
Sprinkles
Starbucks 
Tortilla Jo's 
Taqueria at Tortilla Jo's 
Uva Bar & Cafe
Wetzel's Pretzels 
(Note: Dates and locations subject to change.)